Nepali officials have no plan on how to proceed with Airbus bribery revelations
Countries around the world launch formal investigations into the planemaker's local connections, Nepal doesn't have a game plan.

An Airbus A320 jet of Nepal Airlines. Photo Courtesy: Nepal Airlines
bookmark
Published at : February 4, 2020
Updated at : February 4, 2020 23:26
Kathmandu
The fallout from the Airbus bribery scandal has reverberated around the world as a number of countries formally opened corruption probes following the release of settlement documents by French officials. However, Nepali officials, as of Tuesday, appeared clueless.

In Ghana, a political storm erupted over accusations of Airbus payments to a relative of a government official in connection with the purchase of military transport planes, according to media reports.
Read: Airbus admits to paying at least 340,000 euros in bribes to Nepali officials
Sri Lankan President Gotabaya Rajapaksa has ordered a wide investigation after revelations that Airbus hired the wife of a Sri Lankan Airlines executive as its intermediary in connection with aircraft sales negotiations.
In Malaysia, AirAsia Group's CEO Tony Fernandes and Chairman Kamarudin Meranun said they would step aside for at least two months to facilitate the government's investigation.
Read: The rise and fall of Nepal Airlines
But officials at the tourism ministry and various anti-graft bodies and parliamentary committees the Post spoke to were undecided on the course of action regarding Airbus' payment of bribes to Nepali businessmen and public officials. The payments were made for the purchase of two planes, according to a settlement document released by the French National Financial Prosecutor's Office.
The document says that the European aerospace company paid at least 340,000 euros in bribes to Nepali businessmen and officials to secure contracts for two narrow-body Airbus A320 jets for Nepal Airlines Corporation.
The settlement, which alludes to a total financial commitment of $1.8 million, says that this payment is "likely to qualify as bribery of a foreign public official." It is unclear whether the total $1.8 million, equivalent to Rs200 million, was paid to Nepali intermediaries and officials, but the 340,000 euros paid to a third-party is believed to have been routed to Nepali officials.
"We have come across this issue. We will first discuss it before launching any formal investigation," Tourism Minister Yogesh Bhattarai told the Post.
Former Finance Minister Surendra Pandey, also a member of the parliamentary Finance Committee, said that it's a serious case and the Commission for Investigation of Abuse of Authority would launch a wider investigation.
However, a high-level official at the Commission for Investigation of Abuse of Authority, the constitutional body anti-corruption watchdog, told the Post that the commission has not taken any formal decision over the issue yet.
"The issue will also be raised in Parliament," said Pandey, who was the Finance Minister in the Madhav Kumar Nepal-led government in 2009 when the process to purchase a wide-body A330-200 and a narrow-body A320 jet began.
However, according to a number of government and Nepal Airlines officials, all of whom spoke on condition of anonymity, it has long been a common knowledge that Airbus provides a cut to public officials during the procurement process.
"These are the issues—mismanagement and corruption that plagued Nepal Airlines— what was once the country's largest employer and the largest earner of foreign currency," said a Nepal Airlines official.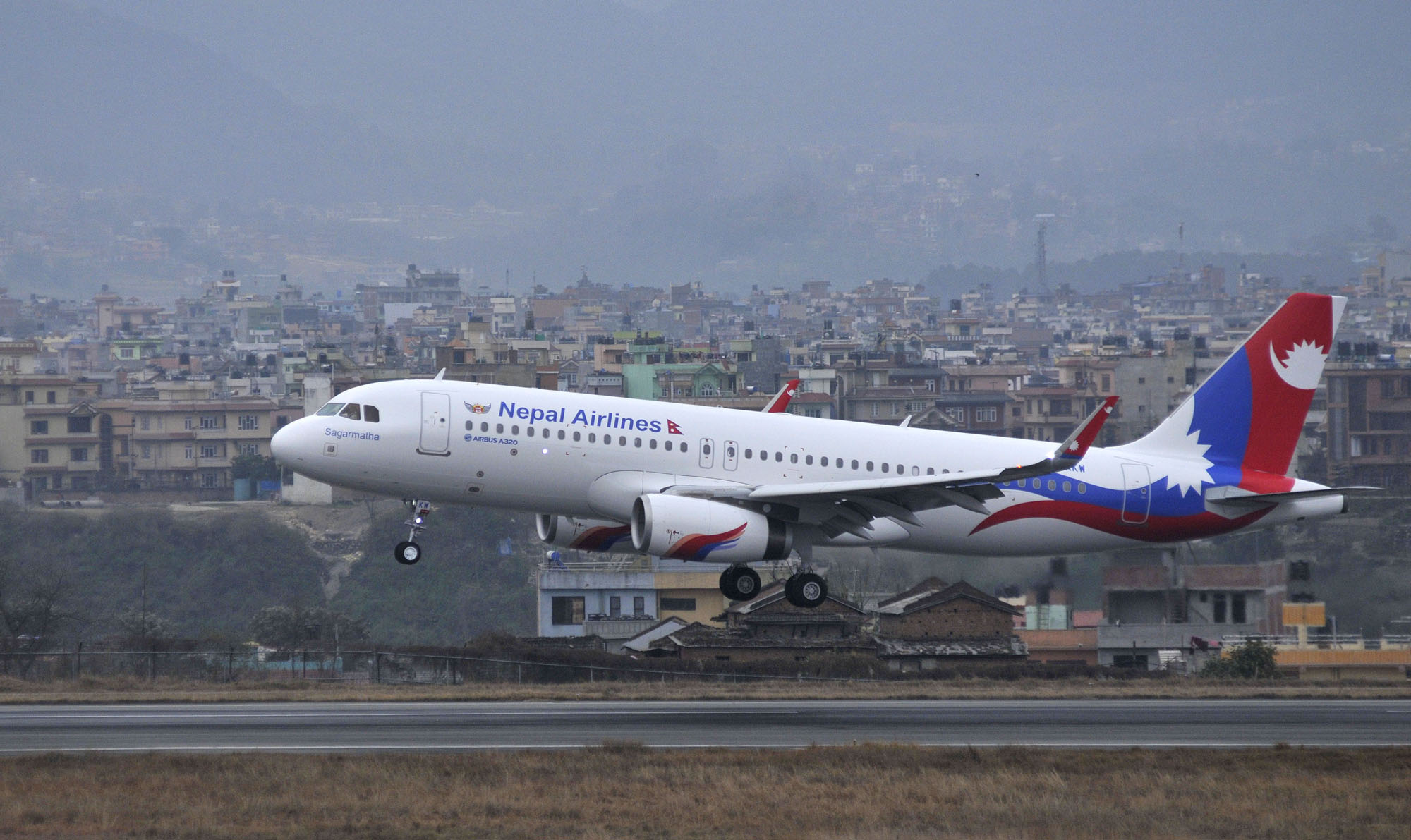 Nepal Airlines took delivery of the first of the two Airbus A320s in February 2015. Post File Photo
Nepali authorities can request their French counterparts to provide them the full report which will include the names of people involved in the case and proceed with legal action, he said.
Lawmaker Dharmasila Chapagain, a member of the parliamentary Public Accounts Committee, told the Post on Monday that if the report suggests bribery or the receipt of commissions in the Airbus deal, the parliamentary committee would take up the issue seriously.
"We cannot keep our eyes shut if it's a proven case of bribery. Though we have investigated irregularities while procuring two Airbus A320 jets, I don't know where the report has gone now," said parliamentary International Relations Committee Chair Pabitra Niraula Kharel.
A retired senior government official, who closely followed the Airbus deal in 2008-09, told the Post that ambassadors from Germany, France and the United Kingdom, along with an Airbus representative, had approached then finance minister Surendra Pandey with a letter to the government clarifying that there's no commission involved in the purchase deal.
"The letter was a sham, leaving ample room to pass illicit money to officials in Nepal because it mentioned that Airbus will not directly appoint an agent in the deal," said the official, who asked to remain anonymous so he could openly discuss his knowledge of the dealings at that time.
"While the letter said that Airbus will not directly appoint an agent, it implied that an agent can be appointed indirectly," he said, adding that the government was not convinced by their plea and the deal was cancelled. "Now, years later, my intuition appears to have been right."
The former bureaucrat said because Nepal is signatory to the United Nations Convention Against Corruption, if there is a report indicating that Nepali officials are involved in corruption, the country can immediately set up an investigation committee and look into the matter.
In 2009, Sugat Ratna Kansakar, then managing director of Nepal Airlines, signed a memorandum of understanding with Airbus to purchase a wide-body (A330-200) and a narrow-body (A320) planes. As per the agreement, the A330 and A320 jets were to be delivered in two years. But the airlines paid $750,000 to Airbus as advance. Kansakar was jailed for flouting procedures and being involved in financial irregularities.
Four years later, in 2013, Nepal Airlines revived the $42 million Airbus deal, which had been revised to $47 million.
After the 2013 deal, none of the anti-corruption watchdogs, despite complaints of corruption, paid much attention to the deal. Sentiments ruled as the national flag carrier hadn't purchased a single jet in two-and-a-half decades.
It was around the same time that the European planemaker blipped the radar of the French, British and US authorities, who eventually investigated its books for transactions between 2004 and 2016.
According to documents filed in court by French prosecutors on January 29, between February 2014 and April 2015, Airbus paid 340,000 euros to Nepali businessmen to facilitate the transmission of funds to Nepali officials.
Last week, Airbus agreed to pay a record $4 billion in fines after reaching a plea bargain with prosecutors in the United Kingdom, France and the United States over alleged bribery and corruption stretching back at least 15 years.
Anti-corruption investigators have described the court's decision as the largest ever corporate fine for bribery in the world after judges declared the corruption was "grave, pervasive and pernicious."
---
---