Nepal Airlines urges government to seek Chinese help for safety audit
China is poised to become one of the largest tourist markets for Nepal.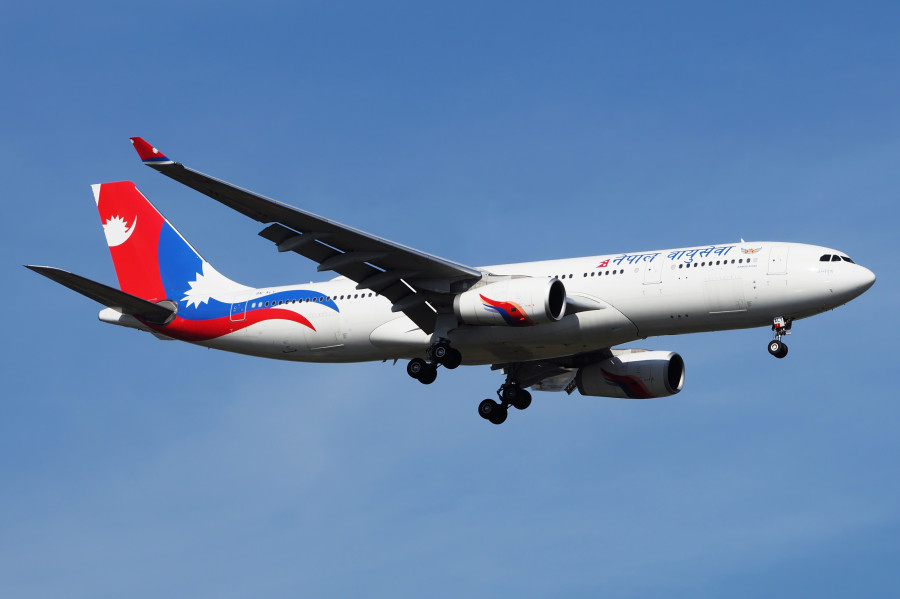 Nepal Airlines Airbus A330-200 Reg. 9N-ALY arrives at Suvarnabhumi Airport in Bangkok Thailand. SHUTTERSTOCK
bookmark
Published at : November 10, 2019
Updated at : November 11, 2019 14:13
Kathmandu
Nepal Airlines has formally requested the government to seek China's cooperation to complete its pending safety audit, a move it hopes will allow the national flag carrier to gain access to Chinese airports.
The carrier has also asked the government to request the Chinese civil aviation body to facilitate Nepal Airlines to get the ground handling services at the Guangzhou Baiyun International Airport, including a number of airports it plans to operate.
Read: Chinese airlines have 48 weekly flights to Nepal but Nepal Airlines hasn't even acquired a permit for Guangzhou
The aspiring trans-Himalayan flight operator Nepal Airlines has been waiting for the green light from the Chinese civil aviation authority to gain access to Chinese airports for a long time. A newcomer—private carrier Himalaya Airlines—began services to Beijing on October 27.
"A formal letter of Nepal Airlines requesting the Chinese authority's help for necessary coordination to complete the pending safety audit has been dispatched to the Foreign Ministry from the Tourism Ministry on Sunday," said Tourism Secretary Kedar Bahadur Adhikari. "The Foreign Ministry will send the request to the Chinese government through a diplomatic channel."
This is the first time that Nepal Airlines has sought government's help to facilitate its plan to operate to Chinese airports since 2015 although there has been verbal discussions to facilitate the process several times before, said the official.
Nepal Airlines had applied to Chinese authorities to fly to Guangzhou Baiyun International Airport in China, one of the world's busiest airports in 2015, but the national flag carrier has not yet received permission because of a pending safety audit.
Last Wednesday, Nepal Airlines said that a planned safety audit by the Civil Aviation Administration of China had once again been postponed to December. The audit had been initially slated for September, but it was pushed to October and then to November. It has again been pushed back by a month.
Read: Nepal Airlines' Chinese planes are flying less and racking up more in operation costs
Madan Kharel, executive chairman of Nepal Airlines, said last Wednesday that the Chinese authority did not send its audit team and the plan to launch flights on Kathmandu-Guangzhou sector in January has been postponed to March.
According to tourism officials and entrepreneurs, China is poised to become one of the largest tourist markets for Nepal. With Visit Nepal 2020 coming up, China will be a "vital market" for Nepal, with at least 350,000 arrivals expected from the northern neighbour, according to the Nepal Tourism Board.
Read: After Xi Jinping's visit, Nepal is expecting a surge in Chinese tourists
However, without a safety audit, Nepal Airlines will lose out on this lucrative route, which Himalaya Airlines is already flying. And it is still uncertain whether the safety audit will even take place in December.
In July, Nepal and China signed a revised bilateral air services agreement allowing 98 weekly flights between the two countries on a reciprocal basis, an increase from the existing 70 flights per week.
At that time, Nepali delegation had held a meeting with Chinese civil aviation authorities for more than three hours over the national flag carrier plans to connect China in the view of upcoming Visit Nepal 2020 campaign.
And the Chinese authority had promised to audit Nepal Airlines. The audit is a regular process conducted by any country's aviation regulator before allowing new carriers to fly to its airports.
"I don't understand why Nepal Airlines is afraid of conducting the audit," the Tourism Ministry official said. "The audit makes the airline more transparent and accountable towards its passengers as well as the country," he said. "It is not clear who and why is the process being delayed."
According to a senior Nepal Airlines captain, the Chinese regulator had named three auditors, but they were from different Chinese states and were busy in other areas; Nepal was not on their priority list.
Read: Nepal to seek access to all Chinese airports in new aviation agreement

Chinese authorities have also rejected Nepal Airlines' application to fly to Beijing's spanking new Daxing International Airport, which opened for business in September, because Nepal Airlines haven't conducted the audit," according to the airline spokesperson Ganesh Bahadur Chand.
Nepal Airlines had applied to fly to China in 2015, when it had only two vintage Boeing 757s in its long-haul fleet, expecting to obtain new Airbus aircraft before the permit came through. Four years later, the carrier has two Airbus A320s and as many Airbus A330s in its international fleet, but the permit hasn't come through because the safety audit hasn't happened yet.
At that time, the Chinese authorities placed Nepal Airlines' application on hold, arguing that there was no slot at Guangzhou airport, and that they would have to wait for the under-construction airport in Beijing to be completed, according to airline officials.
The national flag carrier used to operate a service to Osaka, Japan via Shanghai until 2008 under fifth freedom rights, which allows an airline to carry passengers from one's own country to a second country and onwards to a third country without a permit.
Currently, six Chinese carriers—Air China, China Southern, China Eastern, Sichuan Airlines, Cathay Dragon and Tibet Airlines—operate flights to Nepal.
---
---