First Kathmandu-Beijing flight set to take off tomorrow
Himalaya Airlines plans to operate three weekly services on Sundays, Tuesdays and Fridays.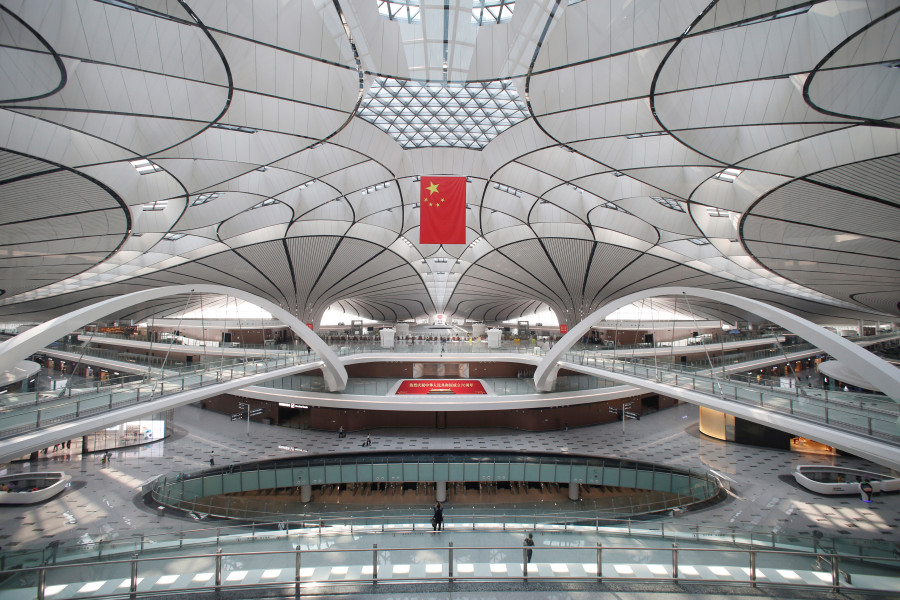 This is the fourth consecutive month that imports have recorded a drop, resulting in a reduction in trade deficit. Shutterstock
bookmark
Published at : October 25, 2019
Updated at : October 26, 2019 08:29
Kathmandu
Private carrier Himalaya Airlines will launch its inaugural flight to Beijing on Sunday, marking the first-ever capital-to-capital direct flight between Nepal and China.
The service will depart from Kathmandu's Tribhuvan International Airport at 8:30 am local time and reach Daxing International Airport at 4:10 pm local time. The return flight leaves at 5:40 pm and reaches Kathmandu at 9:45 pm the same day.
Himalaya Airlines said that it would operate two weekly flights on Tuesdays and Fridays till November 8 using an Airbus A320 jet. From November 10, the carrier plans to operate three weekly flights on Sundays, Tuesdays and Fridays. The Kathmandu-Beijing flight is 5 hours 30 minutes long.
The newly-opened $11 billion 'starfish' mega airport in Beijing sprawls over 700,000 square metres, or as large as 98 football fields, and is the world's second-busiest hub after Hartsfield-Jackson Atlanta International Airport in Georgia, US.
"All preparations for the Beijing service have been completed," said Vijay Shrestha, vice-president of administration of Himalaya Airlines. "We will operate daily flights on the Beijing route shortly," he said. "We have targeted to bring around 40,000 tourists from China annually, and it may contribute to the Visit Nepal 2020 campaign."
Initially, the carrier had planned to operate Airbus A319 aircraft on the Kathmandu-Beijing route, but due to a new rule in the Foreign Investment and Transfer of Technology Act, the plan to lease the plane has been postponed.
"The act stipulates that even for leasing planes, the foreign direct investment proposal needs to be approved," said Shrestha. "This is not practical as it takes a lot of time to get approval."
Himalaya Airlines recently announced that it had ended its five-year-long partnership with Tibet Airlines and had signed a new partnership agreement with Tibet Civil Aviation Development and Investment, a fully Chinese government-owned undertaking.
As per its rebranding strategy, the Nepal-China joint venture carrier unveiled a new livery showing a soaring eagle over the Himalayan peaks.
Currently, five Chinese carriers—Air China, China Southern, China Eastern, Sichuan Airlines and Tibet Airlines—operate flights to Nepal. However, no Nepali carrier currently flies to China.
The national flag carrier Nepal Airlines Corporation used to operate services to the Japanese city of Osaka via Shanghai until 2008 under fifth freedom rights.
In July, Nepal and China signed a revised bilateral air services agreement, which allows 98 weekly flights between the two countries on a reciprocal basis, an increase from the existing 70 flights per week.
Arrivals from China saw the strongest growth of 46.8 percent to 153,602 individuals in 2018, largely due to increased flight frequencies between the two countries.
Vistara, SpiceJet and Jazeera to operate services to Kathmandu
The Tourism Ministry has granted operating authorisation to three international airlines including two from India to operate services to Kathmandu.
According to an official of the Civil Aviation Authority of Nepal, India's full-service airline Vistara and budget carrier SpiceJet have applied for slots at Tribhuvan International Airport after receiving the operating authorisation.
Similarly, Kuwaiti carrier Jazeera Airways has also applied for an airport slot. All three airlines will begin service from the third week of November, the official said.
Vistara has applied to operate daily flights on the Delhi-Kathmandu sector while SpiceJet has applied for daily flights on the Delhi-Kathmandu and Mumbai-Kathmandu sectors.
From November, the Kathmandu-Delhi sector will see at least 10 flights per day. The additional flights may ignite fierce competition and benefit consumers, according to travel trade entrepreneurs.
New Delhi is the major gateway for flights to Nepal, accounting for nearly 25 percent of 4.34 million annual air passenger movements to and from Nepal.
The route is considered a lucrative sector as flight occupancy reaches more than 95 percent during the peak season, according to Shyam Raj Thapaliya, managing director of Osho World Travel Nepal.
After India's Jet Airways suspended its Nepal flights in April, many carriers have been showing interest in the route.
The suspension of services by Jet Airways resulted in a 40 percent reduction in weekly flight capacity. Jet Airways used to fly thrice daily on the Delhi-Kathmandu sector, and twice daily on the Mumbai-Kathmandu sector.
---
---