Nepal Airlines sees strong October, November demand for Japan flights
Nepalis rushing home for the holidays are filling the flights out of Osaka.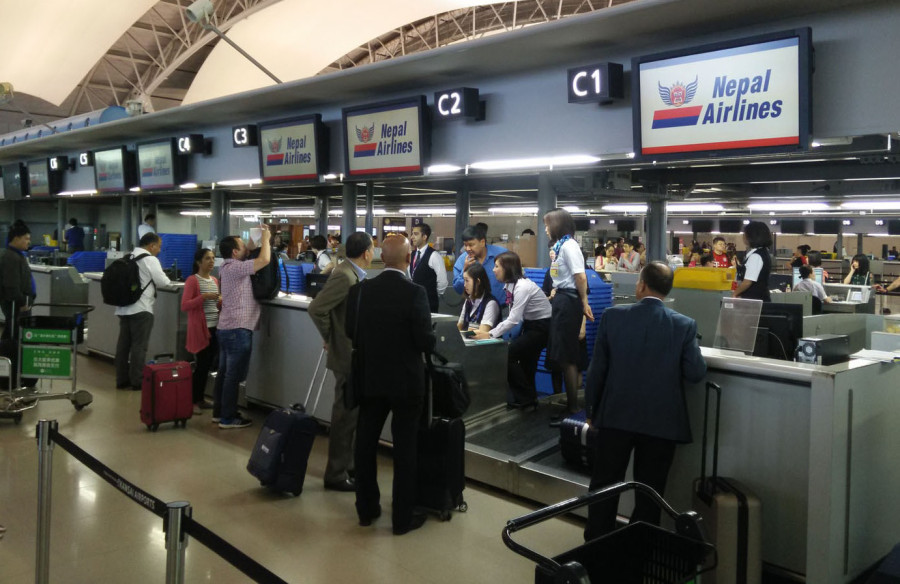 bookmark
Published at : October 2, 2019
Updated at : October 3, 2019 08:09
Kathmandu
Nepal Airlines is seeing strong passenger demand for its Japan flights with the festival and tourist seasons underway.

The national flag carrier had begun its Kathmandu-Osaka service in August with an upbeat outlook, but disappointment set in with passenger occupancy remaining below 30 percent on all its flights in September. The start of the festive season has brought cheer to the airline with Nepalis rushing home for the holidays.

"The inbound flights are almost full. But there is only one-way traffic as outbound is still below forecasts for the month of October," said Ganesh Bahadur Chand, spokesperson for the airline. He added that at least five flights in October were sold out.

The traditional Dashain travel rush is considered to be the largest annual migration in Nepal.

According to Chand, 270 inbound passengers have booked tickets on the 274-seat Airbus A330 for Thursday's flight, but only 90 have booked seats on the outbound flight. Likewise, 263 inbound passengers have booked seats on Saturday's flight, but only 90 outbound passengers have booked seats on the flight.

Nepal Airlines operates non-stop flights thrice a week—on Tuesdays, Thursdays and Saturdays—using an Airbus A330. It was forced to reduce one flight in September due to low traffic movement.

Shyam Raj Thapaliya, managing director of Osho World Travel Nepal, said that the carrier's Japan service had gained momentum largely due to the festival and tourist seasons in Nepal, but its real picture would be visible after the end of the holidays. "It will depend on the corporation's marketing skill whether it will survive on the Kathmandu-Osaka route or not."

A roundtrip ticket on the seven-hour Osaka flight starts at Rs73,000 and has reached up to Rs175,000, according to travel agents.

Nepal Airlines has planned to operate flights to Narita International Airport in Tokyo from January 1 following criticism that the corporation failed to cash in on demand for the Tokyo sector. It is currently conducting charter flights to Narita International Airport. According to a Nepal Airlines official, one charter flight is leaving for Tokyo on Wednesday night.

When Nepal Airlines resumed flights to Osaka after more than a decade, it had offered one-way tickets at a throwaway price of Rs36,000, which is 25-30 percent cheaper than

the going rate. But even that failed to attract passengers. Officials admitted that Nepal Airlines' reputation for inefficiency, a decades-long hallmark of the flag carrier, was behind the lackluster sales.

In the first week of June, Nepal Airlines postponed the planned re-launch of its Osaka service till the end of August due to 'very poor' bookings during the low season. Flights to Osaka's Kansai International Airport were slated to begin on July 4.

At that time, the carrier had said that moving back the launch date to September was a risk mitigating approach, as it could incur heavy losses.

The June-August or monsoon period is the off season for travelling in Nepal. Nepal Airlines used to temporarily suspend its Osaka flights during this time of the year when its Japan service was operating regularly more than a decade ago.

The carrier had planned to resume flights to Japan in September last year, but preparations were incomplete, leading to a delay in approval from the Japan Civil Aviation Bureau to use Kansai International Airport. The Japan Civil Aviation Bureau only granted flight authorisation to Nepal Airlines in mid-April.

Nepal Airlines started its Japan service in 1994, flying to Osaka via Shanghai, China. In 2007, it was forced to suspend the route as it did not have enough planes.

The carrier expects the resumption of its Japan service to help improve its financial health. Nepal Airlines has found itself in the midst of a financial crunch as it has not been able to fly its newly acquired Airbus A330 jets on profitable long routes like Japan and Europe.
---
---