Nepal Airlines' Chinese planes are flying less and racking up more in operation costs
Starting next year, Nepal Airlines will have to pay more than Rs250 million every year in loan repayments for the six Chinese aircraft acquired in 2014.

As part of the 2012 agreements, China provided one MA60 and one Y12e as gifts in 2014. Post File Photo
bookmark
Published at : November 8, 2019
Updated at : November 8, 2019 21:54
Kathmandu
Come 2020, the cash-strapped Nepal Airlines Corporation will have to fork out more than Rs250 million a year to repay the interest for the Chinese planes that it bought in 2014, as the seven-year grace period will end next year. The planes already incur an annual loss of Rs600 million in insurance and operating costs.

The corporation is already paying Rs3 billion annually in interest to its lenders for the purchase of four Airbus planes—two A320s and two A330s.
As the deadline for loan repayment nears, Nepal Airlines said on Wednesday that the Chinese planes have become a "burden" and that it is expecting assistance from the government to get rid of them.
"We have been holding talks with the government to get rid of the Chinese planes," Madan Kharel, executive chairman of Nepal Airlines, told a press meet on Wednesday. "Since two out of the six Chinese planes came as gifts from China, we cannot directly sell them. We have asked the government to find a permanent solution."
Kharel said the carrier also wants to revamp its domestic operations completely.
"But that's not possible by flying the Chinese planes," said Kharel. "We are optimistic about the government helping us find a solution."
In November 2012, Nepal Airlines had signed a commercial agreement with the Aviation Industry Corporation of China, a Chinese government undertaking, to procure six aircraft—two 56-seater MA60s and four 17-seater Y12es.
As part of the deal, China provided one MA60 and one Y12e, worth a total of Rs2.94 billion, as gifts in 2014. The other aircraft were bought for Rs3.72 billion—a soft loan provided by China's EXIM Bank.
The manufacturer completed assembling the 17-seater Y12e for Nepal in early 2015, once the first two were delivered in 2014. But they had been sitting in the factory hangar as Nepal Airlines had refused to take delivery of the planes due to their poor performance in Nepali skies and a lack of pilots trained specifically for the Chinese planes. Two Y12e planes were finally delivered in February last year.
The Nepal government has to pay an annual interest rate of 1.5 percent and a service charge and management expenses amounting to 0.4 percent of the overall loan amount taken by the Ministry of Finance as per the deal. The ministry, in turn, would charge Nepal Airlines an annual interest rate of 8 percent on the disbursed loan amount.
As per the November 2012 agreement, China had given a seven-year grace period under which Nepal Airlines would not have to repay the loan interest and instalment. The payback period of the loan is 20 years.
Nepal Airlines officials admit that the Chinese planes have multiple problems.
"We don't get spare parts in time, nor are the spare parts available in other countries or with vendors," said Kharel. "A shortage of pilots to fly these planes is another big issue."
According to an official at the Civil Aviation Ministry who agreed to speak on condition of anonymity, Nepal Airlines was asked to present a report on Chinese planes—including why it cannot operate the planes and how the problems can be sorted out—during a Nepal Airlines Corporation board meeting five months ago. The board includes the joint secretaries from the Civil Aviation Ministry and the Finance Ministry.
"The report has yet to be tabled at the board," said the official.
Given the high cost of the Chinese planes, Nepal Airlines has only two options—either sell them or bring them into operation.
Kharel said that the airlines would prefer to sell the Chinese planes. "But if that does not work, we will have to fly them," he said.
Out of the four Y12e, only one is currently in operation as Nepal Airlines has just two trained captains capable of flying the Chinese planes.
"We plan to bring another one into operation by mid-December and the third one by January next year," he said. The fourth plane is expected to come into operation by March.
"We have two captains to fly the Y12e and one instructor pilot," said Kharel. "Two more captains will be trained soon."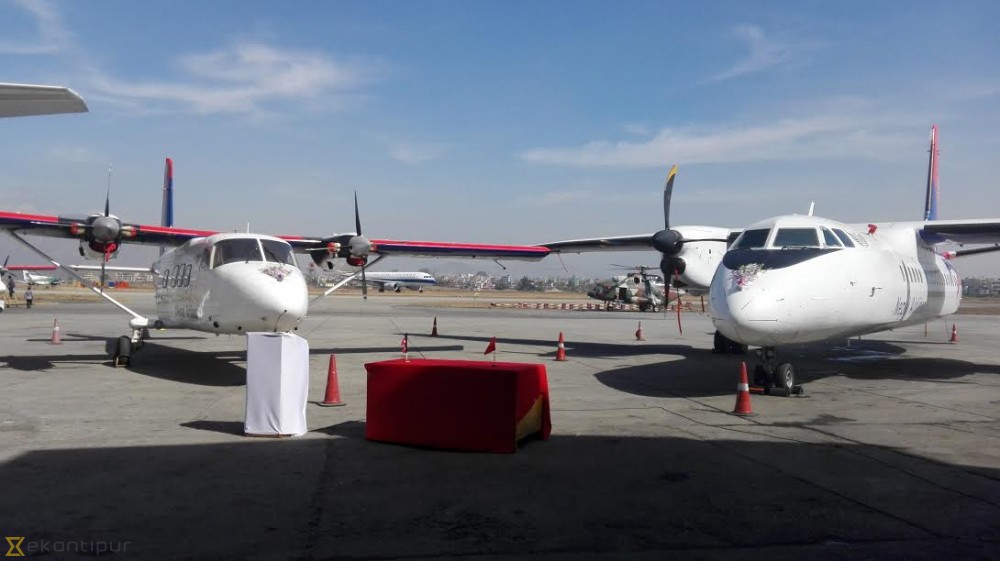 Nepal Airlines officials say the Chinese planes have multiple problems. Post File Photo
The corporation has one MA60 still grounded and plans to bring it into operation by mid-December.
Kharel said that they have adopted a new strategy to retain pilots to fly the Chinese planes.
"Young pilots want career growth. If they are hired to fly the Chinese planes, they will do it but only for a certain period. After flying 1,500 hours, they dream of flying bigger planes and we cannot stop them," he said. "This is the key reason for the shortage of experienced pilots to fly the Chinese planes."
According to Kharel, the airlines will now hire older pilots, who are above 60 years. "They don't have many expectations and can fly the planes until they retire," said Kharel.
The management has thus decided to hire captains Phizonath Nepali and KB Limbu, both of whom are above 62 years old. Nepali has been upgraded to instructor pilot.
However, one aviation expert who wished to remain anonymous questioned the motive of Nepal Airlines to hire old pilots for short takeoff and landing operations or to fly planes to remote mountainous areas.
"They may have vast experience of flying but at critical times, their judgement may fail," he said. "Besides, they have to retire after 65."
Sanjiv Gautam, former director-general of the Civil Aviation Authority of Nepal, said that the Y12e version was certified by the US Federal Aviation Administration in 2006.
"It's not a problem with the plane but the management, as it didn't have a proper plan to produce sufficient numbers of pilots," Gautam said. "The management should be clear about hiring. It should have set a mandatory provision that pilots should fly the Y12e for at least five or ten years in order to be promoted to fly the Airbuses."
According to Gautam, the Y12e performance is not up to par when it comes to flying to airports in high-altitude regions such as Manang and Dolpa, but it can fly reasonably well to airports in the hilly region.
The 56th annual audit report of the Office of the Auditor General, released in April this year, shows that the Chinese-made planes have been incurring heavy losses for the national flag carrier every year since they were purchased.
The audit report said that the Chinese-made MA60 aircraft made an income of Rs206 million last fiscal year, which ended in mid-July. However, its operating costs and other indirect expenses were Rs313 million and Rs212 million respectively, incurring total annual losses of Rs316.4 million.
Similarly, for the Y12e, the corporation earned Rs25 million in income. However, its operating costs and indirect expenditure were Rs188.5 million and Rs96.3 million, respectively. Losses for Y12e stood at Rs289.7 million last fiscal year.
---
---