After Xi Jinping's visit, Nepal is expecting a surge in Chinese tourists
The country needs to upgrade infrastructure and focus more on quality tourism rather than just numbers, travel and tourism operators say.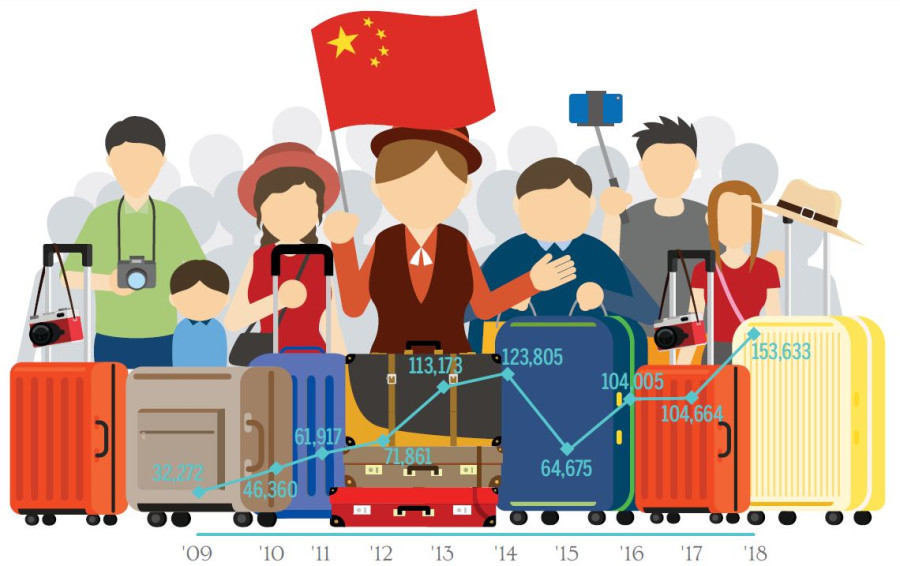 Post Illustration: Bhim Lal Prajapati
bookmark
Published at : October 20, 2019
Updated at : October 20, 2019 07:45
Kathmandu
The two-day state visit of Chinese President Xi Jinping to Kathmandu last week has raised hopes in the local tourism industry of a windfall in Chinese tourist arrivals to Nepal in the days ahead.

There are several instances that President Xi, one of the world's most powerful men, creates an impact on tourism within China and beyond, wherever he visits.
Xi became the first Chinese president to visit Nepal since 1996 and he himself said he will encourage Chinese tourists to visit Nepal. "Nepal is the first South Asian country to be designated an approved destination for Chinese tourists," Xi wrote in an article published in Nepali papers.
"It's really a big statement from the Chinese president to support Visit Nepal 2020 campaign," said Deepak Raj Joshi, chief executive officer at the Nepal Tourism Board.
The Chinese president's visit has sparked a surge in Chinese tourists in several countries such as Australia, New Zealand and Italy, he said.
"This is for short term. In the long term, the Chinese tourist numbers are expected to rise after the extension of the Qinghai-Tibet railway to Nepal," said Joshi.
The joint statement issued by Nepal and China on October 13 said that the Chinese side would support Nepal's Visit 2020 campaign and welcomed the Nepali side to participate in the travel marts being held in China. This was also in line with what Xi said in his article. "China supports Nepal in hosting 'Visit Nepal Year 2020', and will encourage more Chinese tourists to visit Nepal," he wrote.
Nepal aims to attract 2 million foreign tourists next year, including 350,000 Chinese visitors.
"But this will only happen after the connectivity—land and air—is boosted," said Joshi. "With the Xi effect, we can expect 500,000 [Chinese tourists] next year."
The Tourism Ministry on Thursday decided to form a committee that would prepare a strategy to boost Chinese visits to Nepal. "This includes focus on aggressive marketing and promotional activities in major Chinese cities and enhancing flight connectivity there," Joshi said.
Chinese visitors were by far the fastest growing tourist segment in Nepal, but the earthquake of 2015 abruptly stalled the growth momentum.
Arrivals plunged following the 2015 killer earthquake and India's border blockade, dampening the enthusiasm of tourism entrepreneurs who had gotten their hopes up because of the fast-growing market.
The earthquake and blockade coming one after the other led to arrivals from China dropping to a four-year low of 64,675 individuals in 2015, down 47.76 percent from 2014. The surface road in Tatopani border point where Nepal used to receive a large number of Chinese tourists was also blocked.
On December 25, 2015, Nepal announced 'free visa' for Chinese tourists, giving them the same treatment accorded to South Asian visitors, in a bid to revive flagging arrivals. The free visa fee scheme was implemented in January 2016.
Chinese arrivals to Nepal crossed the 100,000 mark for the first time in 2013, largely due to improved air connectivity between the two countries. Around 93 percent of the Chinese tourists were first time visitors to Nepal, according to the Tourism Ministry's statistics.
In 2014, Nepal received 123,805 Chinese visitors. Thereon, tourist arrivals started to pick up and China saw the strongest growth of 46.8 percent to 153,633 individuals in 2018.
So far this year, foreign tourist arrivals in Nepal have crossed the coveted one-million mark for the first time with 1.17 million tourists streaming into the country.
"There has been a solid recovery in the Chinese tourist numbers. But still the numbers from the northern neighbour are nominal," said Kishore Raj Pandey, chairman of Saathi Nepal Travel and Tours.
Pandey was the first person to bring Chinese tourists to Nepal in 2001. According to him, two groups, each comprising 16 people from Shenzhen, a major city in the Chinese province of Guangdong, were officially the tourists from China to Nepal.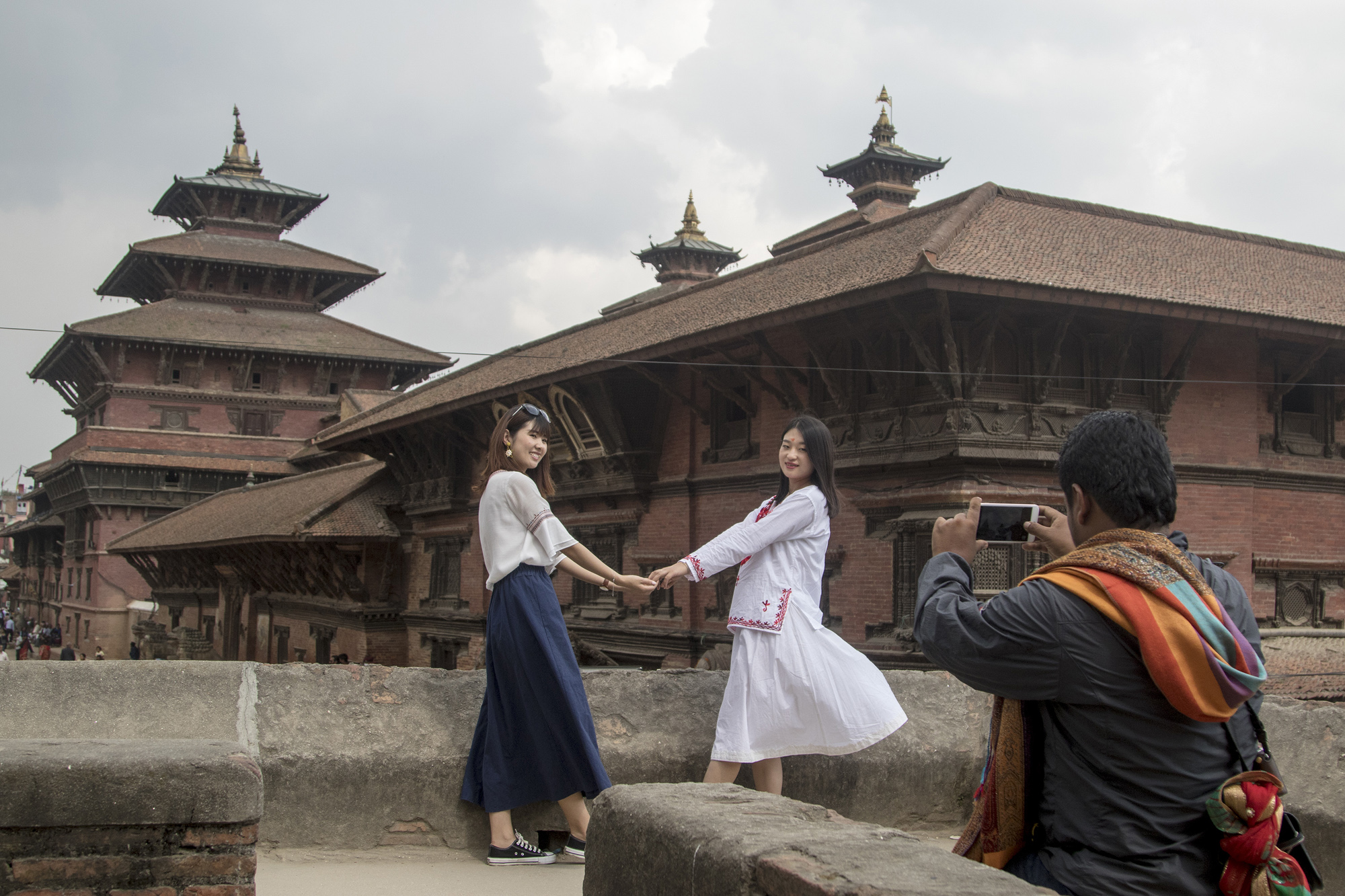 Chinese tourists pose for photos at Patan Durbar Square in Lalitpur. Keshav Thapa/TKP
Since China opened up to the world in 1978, its citizens have been travelling beyond its borders in ever greater numbers. The China Outbound Tourism Research Institute estimates that Chinese residents made a total of 163 million trips abroad in 2018.
In 2013, the number of outbound Chinese travelers hit the top spot globally for the first time, and has stayed there ever since.
The research institute has placed Nepal in the third spot among the top 10 destinations seeing the fastest growth in arrivals from mainland China in the third quarter of 2018.
Pandey said millions of Chinese have started to see the world and the next generation is already exploring locations off the beaten track.
"Obviously, Nepal is still a less-travelled region for the Chinese. And, we have a huge potential to boost visitors from the northern neighbour," Pandey said.
Traditionally, the Chinese were known as avid shoppers and casino gamblers. "But the new generation is different," said Pandey. "They like adventure."
The United Nations World Tourism Organisation reported that China was the world's largest outbound tourism market in terms of spending in 2018. Tourism spending rose 8 percent year-on-year to $277 billion.
According to Forbes, Nepal has the potential to flourish as a successful destination for a number of Chinese outbound market segments, ranging from gamblers visiting the newly developed casinos to the more experienced second wave Chinese travelers searching for new adventure.
The Chinese movie Up in the Wind, shot in Pokhara, has been a hit among youth since it was released in 2013, driving the popularity of the lake city among young Chinese who want to enjoy the scenery and adventure that the city offers just like the characters did in that movie.
Topping even the effect for Chiangmai in Thailand after the movie Lost in Thailand was released in 2012, Pokhara saw more Chinese visitors than Kathmandu and some Chinese tourist guidebooks include Pokhara now as one of the "top 10 places in the world to see before you die".
According to China Daily, the Chinese outbound tourism is no longer a privilege enjoyed only by people on business trips or on political visits. "Now, it is a commonplace activity for most Chinese, as a result of the nation's economic growth, the relaxation of visa policies and people's growing desire to travel."
Binayak Shah, vice president of the Hotel Association of Nepal, said it was indeed a strong message from the Chinese president that could lead to a surge of Chinese tourists in Nepal. "But we should know how to materialise it."
According to Shah, Chinese tourists had saved the grace of Nepal Tourism Year campaign in 2011 when arrivals from the European markets had slowed due to a recession.
Chinese tourists took a great leap forward to reach 61,917 in 2011, although Nepal had targeted to bring in 100,000 Chinese. "The Chinese growth boosted the market confidence. As a result, construction of luxury hotels started and international hotel chains also started returning to Nepal," Shah said.
"But the European recession was also an eye opener for Nepal because we should not be dependent on a single market. We should equally focus on the Indian and other markets."
Despite Nepal's tourism industry showing promising signs to grow fast, travel trade entrepreneurs said that Nepal's shoddy road infrastructure and pollution in key cities have become big worries. "Look at the road at Nagarkot where tourists prefer to go. It's been five years and the road is still in a pathetic condition since its widening started," said Pandey.
"Why can't the government keep the Kathmandu valley as clean and beautiful as it was during Chinese President Xi Jinping's state visit," questioned Pandey.
That apart, there are also concerns among the people in the travel and tourism sector about the concerned agencies' failure to make concrete efforts to brand Nepal as a tourist destination.
In just two months, Visit Nepal 2020 will be inaugurated, but preparation-wise, the government and concerned authorities have done almost nothing, according to multiple travel and tourism experts the Post spoke with. Then there are also concerns over government officials' excessive focus on the numbers.
Many say a surge in numbers does not make sense unless Nepal can encourage them to stay for a longer period and make them spend.
Going by the history of Chinese tourism in Nepal, it's not very long. Nepal was given the Approved Destination Status (ADS) by the northern neighbour in 2002 and in June of the same year, Chinese citizens began visiting Nepal officially for the first time as tourists. Nepal was the 18th nation to receive the status and first in South Asia.
The two countries signed an initial memorandum of understanding on an implementation plan for outbound travel by Chinese people to Nepal in April 16, 2001, laying the groundwork for the ADS. Nepal first participated in the China International Travel Fair in 2000 to promote its tourism sector. Before 2000, Chinese were allowed to travel to Nepal only on official visits.
Subsequently, the central banks of the two countries signed an agreement on bilateral cooperation that allowed the Chinese currency to be converted in Nepal in a bid to boost bilateral trade, tourism and economic cooperation.
Between the founding of the People's Republic of China in 1949 and 1982, few residents of China traveled to foreign destinations other than government officials, students, and a few businessmen.
In 1983 China allowed citizens from Guangdong Province to travel to the British colony of Hong Kong on organised tours to visit family.
Beginning in 1995, the Chinese National Tourism Administration formalised China's ADS policy.
But immediately after Nepal received the ADS, arrivals from China fell due to a violent conflict that intensified over the 2002-2004 period, reaching Nepal's main cities and tourist destinations. Nepal, eventually, started witnessing a constant growth in Chinese arrivals after June 2009.
The rapid growth in Chinese arrivals was illustrated by the revised air services agreement between Nepal and China. The ASA in 2014 permitted Chinese carriers to operate 56 flights weekly. Further, under a revised pact, an additional seven flights per week were allowed to be added annually to the 70 flights per week by 2016. Before that, Chinese airlines were allowed to operate only 14 flights a week.
In view of Nepal Tourism Year 2011, the Tourism Ministry allowed international airlines, including Chinese carriers to operate additional flights under temporary operating permits in 2011.
In July this year, Nepal and China signed a revised bilateral air services agreement, which allows 98 weekly flights between the two countries, an increase from 70 flights per week.
China had requested Nepal to revise the air service pact to allow more flights from the country due to an increase in demand. Currently, five Chinese carriers—Air China, China Southern, China Eastern, Sichuan Airlines and Tibet Airlines—operate flights to Nepal.
There are about 60 flights a week between the two countries. But no Nepali carriers currently fly to China, hence Chinese tourists have not been of much help for domestic carriers. The national flag carrier used to operate a service to the Japanese city of Osaka, via Shanghai, until 2008. In 2015, Nepal Airlines applied for landing permission at Guangzhou Baiyun International Airport, but its application is still pending.
But private carrier Himalaya Airlines is scheduled to begin the first direct service between Kathmandu and Beijing on October 27. "Our objective is to boost Chinese tourists for the upcoming Visit Nepal 2020 campaign," says Himalaya Airlines' vice-president of administration, Vijay Shrestha.
---
---