No time to lose
The government must immediately involve the private sector.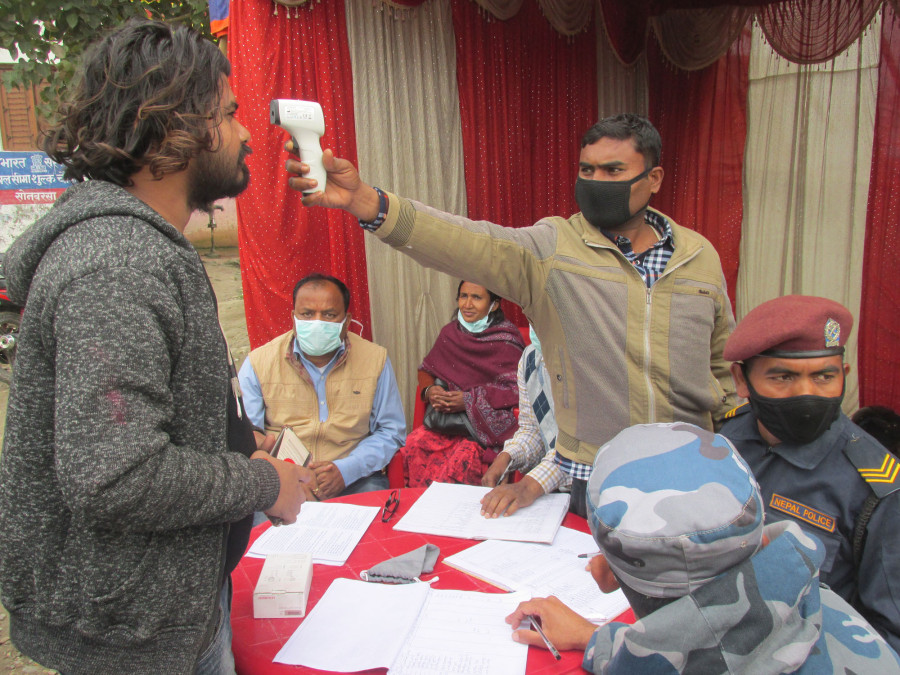 Joint help desks have been set up across the border. Om Prakash Thakur/TKP
bookmark
Published at : March 24, 2020
Updated at : March 24, 2020 08:56
Dr Tedros Adhanom Ghebreyesus, director-general of the World Health Organisation, said, 'You cannot fight a fire blindfolded. And we cannot stop this pandemic if we don't know who is infected.' This seems to be 100 percent true in Nepal's case. While Covid-19 has spread across 192 countries and territories, in Nepal, which borders China and India, the government has been maintaining that there has only been one case so far. The first coronavirus case was seen in Nepal in January. And on March 23rd, after two months, we now have a second case.
On Sunday, when three Nepalis who work for Huawei Technologies Nepal visited the Sukraraj Tropical and Infectious Disease Hospital in Teku to get themselves tested for Covid-19, the doctors there took their temperatures and then sent them home, saying they did not require tests. Taking the temperature is one of the ways of detecting the disease. But the authorities cannot get ahead of themselves and declare there are no cases of the coronavirus when testing has not been done in the first place.
Many people with mild or no symptoms remain undiagnosed, but could infect others.
In simple words, laboratory tests must be done to identify the virus, which clearly, the Nepal government has not been doing like it should have been doing. Perhaps the government is scared that if they truly begin testing people with symptoms and anyone who has come in contact with them, healthcare institutions will run out of capacity to conduct tests, once community transmission begins. And again, maybe the tests are not being conducted in as many people because the authorities do not have adequate testing kits. These are difficult times, and the last thing the government should be doing is jeopardising the lives of the citizens to mask its own incompetencies.
The National Public Health Laboratory, which operates under the Department of Health Services, has been providing numbers every day showing how many tests have been conducted. By Saturday, it had conducted 572 tests, of which only the one original case in January had tested positive. But as per Rajesh Kumar Gupta, spokesperson for the National Public Health Laboratory, the 572 tests do not suggest that 572 separate individuals were tested. Nasal and throat swabs from the 175 Nepalis evacuated from Hubei Province, the place of the Covid-19 outbreak, were tested twice—first when they arrived and again before they were released from quarantine. Also, tests were conducted twice on 20-odd crew members of the Nepal Airlines plane who were involved in the evacuation of Nepali students.
The government's hesitation in adopting mass testing for the coronavirus has been self-defeating, to say the least. Granted, the government alone might not be able to handle it. But there is no dearth of private laboratories in the country. The government must immediately involve the private sector substantially to deal with the spread of the infectious virus. This is the biggest emergency in our living memory, and the government cannot be complacent any more. Testing, self-isolating and then stopping the chain of transmission. These are the three basic steps to be followed. The government must spring to action by taking the private sector in tandem if it is serious about saving the lives of the citizens.
***
What do you think?
Dear reader, we'd like to hear from you. We regularly publish letters to the editor on contemporary issues or direct responses to something the Post has recently published. Please send your letters to tkpoped@kmg.com.np with "Letter to the Editor" in the subject line. Please include your name, location, and a contact address so one of our editors can reach out to you.
Frequently asked questions about the coronavirus outbreak
UPDATED as of June 2, 2020
What is Covid-19?
Covid-19, short for coronavirus disease, is an illness caused by the coronavirus SARS-CoV-2, short for severe acute respiratory syndrome coronavirus 2. Common symptoms of the disease include fever, dry cough, fatigue, shortness of breath and breathing difficulties. In severe cases, the infection can cause pneumonia, severe acute respiratory syndrome, kidney failure and even death.
How contagious is Covid-19?
Covid-19 can spread easily from person to person, especially in enclosed spaces. The virus can travel through the air in respiratory droplets produced when a sick person breathes, talks, coughs or sneezes. As the virus can also survive on plastic and steel surfaces for up to 72 hours and on cardboard for up to 24 hours, any contact with such surfaces can also spread the virus. Symptoms take between two to 14 days to appear, during which time the carrier is believed to be contagious.
Where did the virus come from?
The virus was first identified in Wuhan, China in late December. The coronavirus is a large family of viruses that is responsible for everything from the common cold to Middle East Respiratory Syndrome (MERS) and Severe Acute Respiratory Syndrome (SARS). After an initial outbreak in Wuhan that spread across Hubei province, eventually infecting over 80,000 and killing more than 3,000, new infection rates in mainland China have dropped. However, the disease has since spread across the world at an alarming rate.
What is the current status of Covid-19?
The World Health Organisation has called the ongoing outbreak a "pandemic" and urged countries across the world to take precautionary measures. Covid-19 had spread to 213 countries and infected more than 6,321,836 people with 375,657 deaths. In South Asia, India has reported the highest number of infections at 198,140 with 5,608 deaths. While Pakistan has reported 72,460 confirmed cases with 1,543 deaths. Nepal has so far reported 2,099 cases with eight deaths.
How dangerous is the disease?
The mortality rate for Covid-19 is estimated to be 3.6 percent, but new studies have put the rate slightly higher at 5.7 percent. Although Covid-19 is not too dangerous to young healthy people, older individuals and those with immune-compromised systems are at greater risk of death. People with chronic medical conditions like heart disease, diabetes and lung disease, or those who've recently undergone serious medical procedures, are also at risk.
How do I keep myself safe?
The WHO advises that the most important thing you can do is wash your hands frequently with soap and water for at least 20 seconds or use hand sanitizers with at least 60 percent alcohol content. Avoid touching your eyes, nose and mouth with unclean hands. Clean and disinfect frequently used surfaces like your computers and phones. Avoid large crowds of people. Seek medical attention if symptoms persist for longer than a few days.
Is it time to panic?
No. The government has imposed a lockdown to limit the spread of the virus. There is no need to begin stockpiling food, cooking gas or hand sanitizers. However, it is always prudent to take sensible precautions like the ones identified above.
---