'Some failures are necessary to learn and grow in life'
After launching Nepal's first animated movie, The Legend of Shankhadhar, in 2016, Sanyukta Shrestha, a UK-based game developer, is now working to showcase the story of 'Majipa Lakhey'.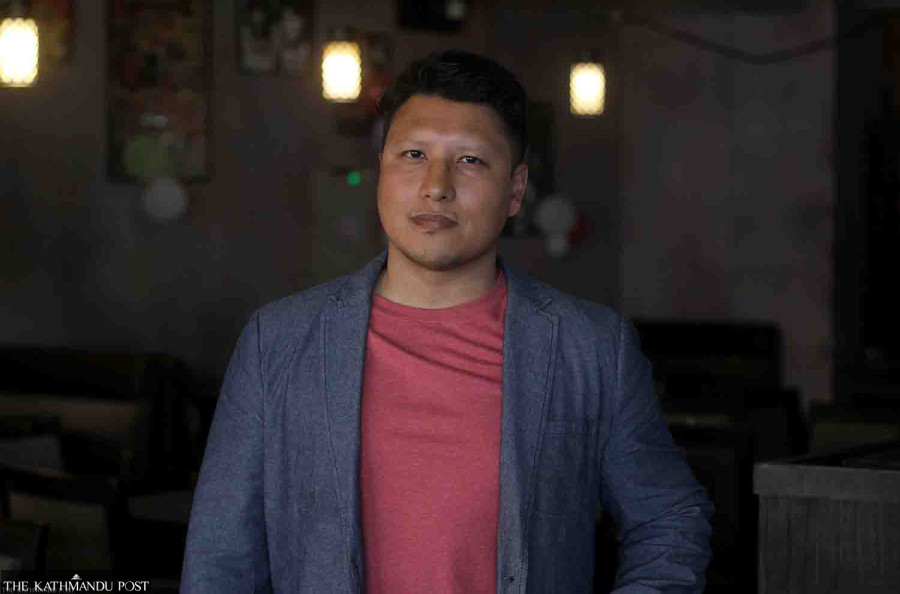 Beeju Maharjan/TKP
bookmark
Published at : April 19, 2022
Updated at : April 19, 2022 08:04
Kathmandu
When something that you have put a lot of work into doesn't work out, disappointment and frustration are bound to seep in. Sanyukta Shrestha—a UK-based game developer, animator and programmer—knows this feeling all too well.
But defeat, he says, is also what let him grow.
Shrestha was one of Nepal's first graduates of computer engineering. And back in the early 2000s, he was working on an animated television series for Kantipur Television. But after working on the series for eight months, the project was dropped.
Disheartened by the development, Shrestha left everything in Nepal and moved to the UK to pursue his postgraduate studies in Master of Science in Multimedia.
"It was my failure that took me to places I never thought of. It is what led me to the UK to make games and gave me the learnings and strength I needed to work on my dream of making our own local animated movies," says Shrestha, who now operates a UK-based company Yantrakala, which makes animated features and multimedia applications based on Nepali history, art, and culture.
It was finally in 2016 that Shrestha was able to make his dream of creating local animated movies come true. His movie 'The Legend of Shankhadhar', a story of Shankhadhar Sakhwa—the man behind the Nepal Sambat Calendar—is Nepal's very first feature-length animated movie.
Shrestha is now working on his company's second feature-length animation movie, 'Majipa Lakhey', which is based on cultural icon Satya Mohan Joshi's drama of the same name.
The Post's Srizu Bajracharya sat down with Shrestha, who recently showcased stills from the movie at the Classic Gallery, and talked about his journey to make animated movies inspired by Nepali culture, the challenges he faces in his pursuit, and Nepal's animation software education scene.
Were you always interested in making animated movies? How did that journey start?
My brother Niyukta and I grew up reading comics and watching animated cartoons. We both had this dream of creating worlds that represented the architecture, characters, and culture that surrounded us. We noticed that the animated cartoons and comics we were consuming didn't tell stories from our communities. This was in 1994, and people were starting to get intrigued with computer technology and the things the technology allowed people to do. So when the time came to pick our majors, we opted to study computer engineering. And that decision paved the way for me to self-learn animation.
It mustn't have been easy imagining a career in a field at a time when people had little idea about it. Tell us about your early days on this journey.
When we were starting out, we were actually spirited and hopeful of all the things we could do. After working on some small projects and gaining some experience in making animation advertisements for the limited Nepali channels available at the time, our confidence in our abilities grew. Although the animation market was small and people didn't understand what animation was, we thought it was a time for new inceptions.
But one major failure that tumbled me down to see the ground reality of the animation scene in Nepal was when I was doing a project for Kantipur Television. In 2003, when Kantipur Television had started, I used to work on many of its visual animations. One time, we were working to create an animated television series. The company I was working for had an understanding that Kantipur TV would broadcast the programme. It was a big project and the first of its kind in Nepal. The script for the series was being drafted by Nayan Raj Pandey (a Nepali writer and screenwriter), and Prabhat Rimal (a radio host) was doing the voice-over for one of the main characters of the project.
We persevered for eight-long months and gave our days and nights to create visuals for the series. We were unpaid, but that didn't bother us at all. But after working so hard for eight months, the project was dropped, and we were told that the market at the time was not ready for it. Our work never came to fruition. We couldn't even release our first episode, and that broke me from within.
I was so frustrated to see that there was no scope for animators in this country. That's when I abruptly decided to pursue my postgraduate study in the UK.
Looking back, I now know that the project didn't happen because I didn't have the right learning. After coming to the UK and working among dedicated teams possessing a wide range of expertise, I saw how we were not ready for that project. The journey to becoming a professional in this field made me realise that some failures are necessary to learn and grow in life.
What was it like to showcase the country's first animated feature film to the Nepali public? How did that project come about?
When I came to the UK, I started volunteering for Pasa Puchah Guthi, a community of Newa people living in the UK. It was a home away from home, and there, our longing for home coaxed us more deeply to understand our identity and traditions. And frequently, through the organisation, we would find ways to re-create celebrations we had in our homes.
In 2016, while making plans for the annual Newa New Year, we decided to work on a feature-length animation movie about Shankhadhar Sakhwa, the legendary figure we still don't know much about. Usually, Newa New Year celebrations are only filled with rallies, but we wanted to work on the awareness part of why we celebrate the New Year and who Sakhwa is. We didn't want to preach; we just wanted to do something. We also thought it would be informative even for children growing up in a separated environment from their communities. This was a project about bringing in art, technology, and activism in one project.
Overall the project was a fulfilling endeavour for all of us, me, Niyukta, my family, and members of Pasa Puchah Guthi. The movie was not a commercial success, and it was never meant to be that, but many people appreciated our work. We did some screenings here in Kathmandu and London, which recovered our costs.
And now, you are working on another animation movie project about Majipa Lakhey. Can we talk about how this initiative started?
In 2010, when Satya Mohan Joshi came to stay with us at our house in the UK for three weeks, he would tell us tales and the history of Nepal's culture in the most animated ways. One time as he told us the story of the Majipa Lakhey, he promised that he would write a book about the deity after returning to Nepal. He also told me that if he did end up finishing the book, I should make an animated version of his story. In 2014, he finished the book and gave me a signed copy of it and told me to work on a movie of the book. When I was handed that copy, I felt like I had to be responsible for the belief he showed in me. This has been a really important project as it is also a way to keep pushing ourselves forward in this field. The project is also on a bigger scale than our first movie, as we are targeting a run-time of 90 minutes.
In a country where people are used to watching big-budget Hollywood franchise animated movies, what are the challenges local animated films face in meeting audience expectations? And what are the advantages animated movie makers like you have over big Hollywood projects?
People will compare our work with Hollywood movies and that is inevitable. They are likely to compare our presentation, level of animation, detail, and sound with what they know to be the best. But I think the only way we can help people not compare our gaps is by giving them what they have not seen so far. When we made 'The Legend of Shankhadhar Sakhwa', it was content they had not seen before, and that was something that glued people to their seats. I think originality and novelty are the biggest assets of any movie. And I think that is an advantage we have with our movie 'Majipa Lakhey'.
We decided to get involved in the projects because we love our culture. There is no over the top objective of why we are making these movies, and so there is no particular advantage, at least for us. We just want to do something for our culture with our expertise, and that is all. If you ask why I am doing this, I have no concrete reason. All I can say is that I simply love what I do.
---
---