Nepal wants people to use more electricity to prevent wastage
To 'increase' power consumption, Electricity Regulatory Commission has slashed charges, but does it make sense?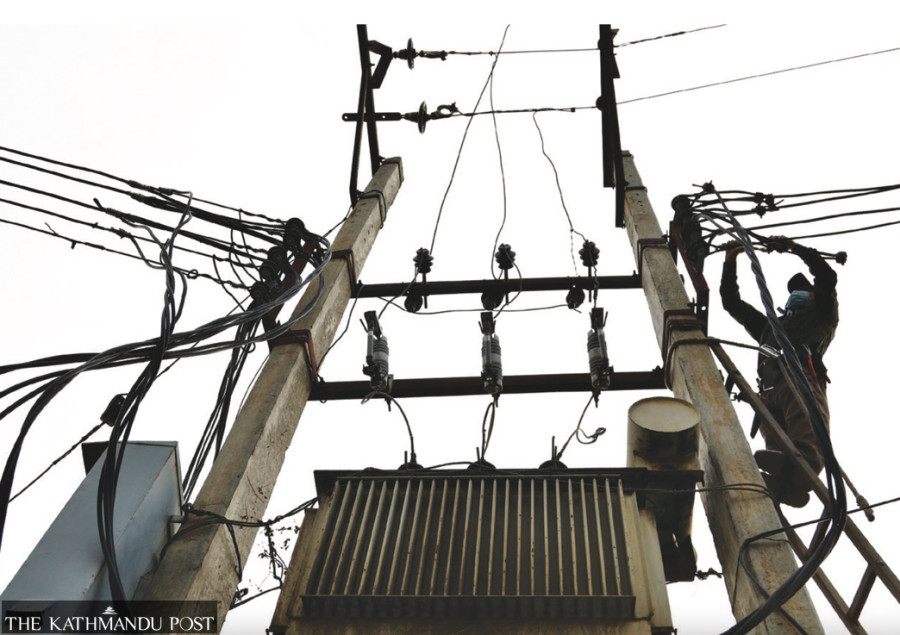 Observers say making electricity cheaper alone is not enough to significantly increase power consumption as the power grid is unreliable and unannounced power cuts are still common. Post File Photo
bookmark
Published at : October 29, 2021
Updated at : October 29, 2021 00:04
Kathmandu
There was a time when Nepal wanted its people to consume less electricity and asked them not to use electrical appliances at certain hours. Energy was rationed. The country was power-starved.

In 2013, the World Economic Forum ranked the quality of Nepal's electricity supply 143rd out of 144 countries. A study titled "Comparison of Electricity Supply and Tariff Rates in South Asian Countries" conducted by The Energy Forum of Sri Lanka identified Nepal as "having the most depressed power capacity and load-shedding problem in the region."
Now, Nepal wants its people to use more electricity and switch to electrical appliances to the extent possible. The country has surplus energy, and authorities are worried about wastage.
As a measure to "increase" power consumption, the Electricity Regulatory Commission has decided to slash electricity tariff for both households and factories effective from November 17. According to the commission, new tariff rates will be in effect for one year.
"Essentially, the tariff is being reduced to encourage people to use more electricity as we have surplus energy now," Dilli Bahadur Singh, chairperson of the commission, said at a press conference on Wednesday.
The commission announced that the electricity tariff for household consumers has been reduced by 2.84 percent on average. The energy fee has been fully waived for households consuming up to 20 units with five-ampere meters.
They, however, have to pay a minimum service charge of Rs30. There are around 2.1 million households or around 42 percent of total customers of the Nepal Electricity Authority who consume electricity up to 20 units, according to the authority.
In order to encourage the use of electric ovens and other electrical goods in the kitchen, the commission has reduced the electricity tariff for households who use 150 units to 250 units per month by 50 paisa per unit to Rs9.50.
"The tariff is being reduced considering that households which use electric ovens regularly consume over 150 units of electricity," said Singh.
The country imported liquefied petroleum gas (cooking gas) worth Rs36.15 billion in the fiscal year 2020-21 and its import, in terms of value, is expected to grow this year due to increasing prices of petroleum products globally.
It may be wrong to outright dismiss the commission's tariff reduction measure, but many say it is yet another example of Nepali authorities' myopic vision. That the country would start having surplus energy was known long ago. But no concrete measures were taken to utilise—or even export—power, leading to wastage of electricity.
Nepal is enjoying surplus energy for the last two months, but the electricity is neither being fully consumed domestically nor being exported to India, the most prospective buyer.
Experts say if Nepalis are not consuming more energy, then it is not because of the tariff. Erratic and irregular supply and outages for hours without prior information force people to not entirely switch to electrical appliances.
Infrastructure is key, said Ram Prasad Dhital, spokesperson for the commission.
"The main challenge to promoting electric ovens is if the Nepal Electricity Authority can ensure uninterrupted supply of electricity," said Dhital at Wednesday's press conference. "It is necessary to develop sound infrastructure to ensure trouble-free supply of electricity so that people can feel comfortable switching to electrical appliances."
Though Nepal has made strides in improving transmission lines and other infrastructure, much is left to be desired.
There is also a need to ensure that every household in the country has power connections before the Nepal Electricity Authority starts exporting electricity.
According to the Economic Survey 2020-21, access to electricity of the population has reached 93.0 percent with the increase in power output. In mid-July 2020, 90.0 percent of the population had access to electricity.
The Nepal Electricity Authority's effort to sell surplus energy to the southern neighbour is in limbo as India's Power Ministry has not responded to a request made two months ago.
According to the Nepal Electricity Authority, the country's installed capacity of hydropower projects and other energy sources that supply electricity to the authority currently stands at around 2,000MW. But peak hour power consumption in the country stands at just around 1,500MW.
To prevent the electricity from being wasted because of a lack of consumption, some of the turbines of some hydropower projects have been shut, which experts say is a shame for a country that was facing up to 18 hours of power outages until a few years ago.
Residential load-shedding ended from early 2017, and there have been no power cuts to industries since early 2018.
Suresh Bahadur Bhattarai, spokesperson for the authority, admitted that much needs to be done when it comes to infrastructure and transmission lines.
"It's an encouraging sign that we have surplus energy," Bhattarai told the Post. "But we also have to take into consideration the fact that existing production won't be sufficient if we have to deliver power to all the places. We need to improve our infrastructure and transmission lines at the earliest."
According to officials at the Electricity Regulatory Commission, major consumers of power will benefit as tariffs have been reduced for those who use more electricity. Households consuming over 400 units per month have to pay Rs11 per unit, a drop by one rupee per unit.
The commission has also significantly reduced the tariff for electricity to be used by shallow tube wells to irrigate farmlands.
According to the commission, the tariff has been reduced by 40.69 percent. Energy fee for electricity used for irrigation from 11pm to 5am has been reduced by Rs1.15 to Rs2 per unit while it has been reduced by Rs1.70 to Rs3 per unit from 5am to 5pm in the case of availability of electricity through 33kV power lines.
The nighttime (11pm-5am) tariff has been reduced by Rs1.5 to Rs2 per unit in the case electricity is available for irrigation through the 11kV lines. During the daytime (5am to 5pm), the electricity charge will be Rs3.10 per unit, a drop of Rs1.65 per unit, according to the commission. This tariff will be applicable if the consumers have used "digital meters". The tariff will be a little higher if the consumers are using traditional meters.
"The move is expected to help boost domestic production and help in import substitution," said Singh.
The country is increasingly relying on imported agricultural goods in recent years.
In the last fiscal year 2020-21 that ended mid-July, Nepal added a 30 percent year-on-year jump to its agricultural goods import bill, taking it to a staggering Rs325 billion, according to the Department of Customs.
The private sector has welcomed the move of reducing electricity tariffs.
"The decision to rebate electricity tariff and the government's pledges not to increase the 'demand charges' for the industrial sector will help business activities to thrive to some extent," the Federation of Nepalese Chambers of Commerce and Industry, the apex private sector body, said in a statement on Thursday.
"The government should gradually reduce power tariff and cut other taxes imposed in the industrial and manufacturing sectors in order to make Nepali products competitive. This will also help employment generation."
'Demand charges' are fees applied to the electricity bills of commercial and industrial customers based on the highest amount of power drawn.
Nepal's industrial and manufacturing sectors suffered huge losses and failed to grow, reducing their competitiveness in the global market due to long hours of power outages for a decade.
In May 2018, Nepal ended power rationing in the industrial sector, one year after the country ensured 24-hour power supply to households. Nepal witnessed load-shedding up to 18 hours a day, cutting back the industrial sector growth, which heavily depended on expensive diesel plants to run factories.
The World Bank had estimated that Nepal lost a total of $11 billion value of gross domestic product in nine years during the 2008-2016 period due to electricity shortages. This amount is almost equal to Nepal's GDP in 2008.
Power outages led to a reduction of 6.4 percent in the annual GDP, on average, during the 2008-2016 period, implying that if there was no load-shedding, the annual GDP would have been almost 7 percent higher, on average, during that period.
According to the World Bank report, the worst impact was observed on the investment side. Load-shedding caused almost 33 percent loss of investment demand. In other words, if there was no load-shedding, the average annual investment would have been more than 48 percent higher compared to the 2008-2015 level.
Due to the lower investment and production loss caused by load-shedding, total industrial outputs decreased by almost 7 percent. As production activities decreased, there was a slump in international trade. Annual exports and imports were estimated to have decreased by, on average, 2.8 percent and 5.4 percent, respectively, during the 2008-2016 period.
Now the commission has lowered the tariff for consumers using up to 400 units per month in the wet season by Re1 to Rs10.50 per unit. But the tariff remains unchanged for the people consuming over 400 units per month. The tariff, however, is down by Rs1.50 per unit, as earlier it was more.
For the dry season, the tariff has been maintained at Rs11.50 per unit, a drop of 50 paisa.
Earlier in July, Energy Minister Pampha Bhusal had made public her plan on increasing domestic consumption of electricity through such measures.
Ram Bahadur Shrestha, former president of the Federation of Electrical Entrepreneurs of Nepal, a grouping of manufactures and traders of electrical goods, welcomed the government's move.
Shrestha, however, said that the government now needs to increase electrification across the country.
"It should also provide subsidies to the businesses such as electric oven and electric vehicle assembly plants to promote the use of electronic goods in the country," Shrestha told the Post. "But the tariff reduction is not enough to increase consumption significantly."
---
---