Nepal's agricultural goods imports soar to Rs325 billion despite Covid disruption
While overall imports grew by 28.66 percent to Rs1.53 trillion, agricultural goods imports increased by more than 30 percent.

Imports soared mainly due to increased purchases of edible oil, particularly soybean oil, cereals and sugar. POST FILE PHOTO
bookmark
Published at : July 28, 2021
Updated at : July 29, 2021 08:24
Kathmandu
Unfazed by the Covid-19 pandemic and resultant restrictions on movement which strangled foreign trade across the world, Nepal continued to splurge its ever-increasing remittance inflow on imports, and even achieved new highs in spending, especially on farm products.

In the last fiscal year 2020-21 ended July 15, the Himalayan republic added a 30 percent year-on-year jump to its agricultural goods import bill, taking it to a staggering Rs325 billion.
Previously, Nepal's imports of agricultural goods in fiscal 2019-20 were valued at a little over Rs250 billion.
According to the statistics released by the Department of Customs, while the country's overall imports grew by 28.66 percent to Rs1.53 trillion in the last fiscal year, agricultural goods imports increased by more than 30 percent, taking the share of agro products in the total import bill to 21 percent.
Imports soared mainly due to increased purchases of edible oil, particularly soybean oil, cereals and sugar. In just one year, imports of edible oil swelled by Rs32.66 billion to Rs82.90 billion, thanks to crude soybean oil whose imports have crossed Rs53 billion annually and which has become Nepal's top export commodity within a year.
Nepal imported crude soybean oil worth Rs40 billion from Argentina alone. Total imports of crude soybean amounted to 452,626 tonnes. Nepal produces very little soybean of its own, in fact, just 31,567 tonnes annually, which is not enough to meet the requirement of even a fraction of its own population.
As the South Asian Free Trade Area (SAFTA) agreement provisions zero tariffs on goods exported from underdeveloped countries like Nepal, Nepali traders have been importing crude soybean oil from other countries paying minimum tariffs and then re-exporting the finished product to India with zero tariffs.
Trade experts said that importing crude oil with zero tariff privilege and re-exporting it to India with zero traffic privilege enables Nepali traders to enjoy a net profit of 45 percent, excluding other profits.
After edible oil, import of cereals increased by Rs22.71 billion within a year, crossing Rs79 billion in the last fiscal year. Nepal started importing cereals 10 years ago, according to government statistics.
Out of the total cereal imports, imports of rice and paddy amounted to Rs27.62 billion and Rs20.54 billion respectively.
Imports of maize and wheat came to Rs16 billion and Rs12 billion respectively.
"That's not a good sign for an agricultural country like Nepal," said Purushottam Ojha, former commerce secretary. "That's a lot of imports."
He said that the import of agricultural products had increased for consumption and had been largely supporting a bloated trade deficit. The persistence of a swollen trade deficit over time can pose a risk to the country's economy. While imports shot up to Rs1.53 trillion, exports remained at a mere Rs141 billion. The trade deficit rose by 27.26 percent over a year.
"This shows that the country's agriculture plan and policies are not working well," said Ojha.
The agricultural goods import bill in 2009-10 amounted to Rs44.43 billion. It has grown by nearly eight times in 10 years.
"We have a huge amount of remittance flowing in to finance consumption, so we import," said economist Bishwambher Pyakuryal. "The government's import-driven policy should shift its focus towards a production-driven policy if we want to prevent a future economic risk."
Migrant workers sent home Rs870.94 billion in remittance in the first 11 months of the current fiscal year, up 12.6 percent as compared to the same period in the last fiscal year.
Pyakuryal said that the ballooning imports was a good sign as it visibly indicates a rise in income of Nepalis and Nepal's economy. "But we have to substitute imports with our own production for a sustainable future."
Imports of fine rice and maize have been growing at an alarming rate, and it's due to demand. Nepal is importing fine varieties of rice mainly due to the expanding number of middle-income Nepalis who prefer to eat basmati rice, and Nepal doesn't grow such fine rice in sufficient quantities.
The country spends Rs22.03 billion on the import of animal fodder alone. Vegetable imports have jumped to Rs38.50 billion.
Until the previous fiscal year, Nepal imported sugar and sugar confectionery worth Rs4.27 billion, which increased to a whopping Rs12.26 billion in the last fiscal year.
Kumar Rajbhandari, deputy general manager of Salt Trading Corporation, said that domestic sugarcane production had been declining as farmers were switching to other crops which has resulted in a production deficit.
Disgruntled sugarcane growers have been moving to other crops due to low floor prices and delayed payment by sugar mills. Farmers say that it has become a tradition for them to deliver their harvests to the mills and get paid after many years.
Rajbhandari said that domestic sugar demand stood at 250,000 tonnes in the last fiscal year, but local production reached only 105,000 tonnes. "Due to the gap in output, which is growing each passing year, Nepal's import of sugar has also been growing."
The import figures have been ringing an alarm for quite a long time.
"The government is fully aware of these import statistics. Hence, the government introduced the Prime Minister Agriculture Modernisation Project to make the country self-sufficient in some of the key agricultural products within seven years since its implementation in 2016. But what's the outcome?" said Ojha.
"The problem is that the genuine farmers failed to benefit from such lofty programmes and policies," he said. "Has the government succeeded in supplying chemical fertiliser to the farmers on time. Why are young people going abroad if we can produce agro goods worth billions in the country and export them? All these questions need a healthy debate."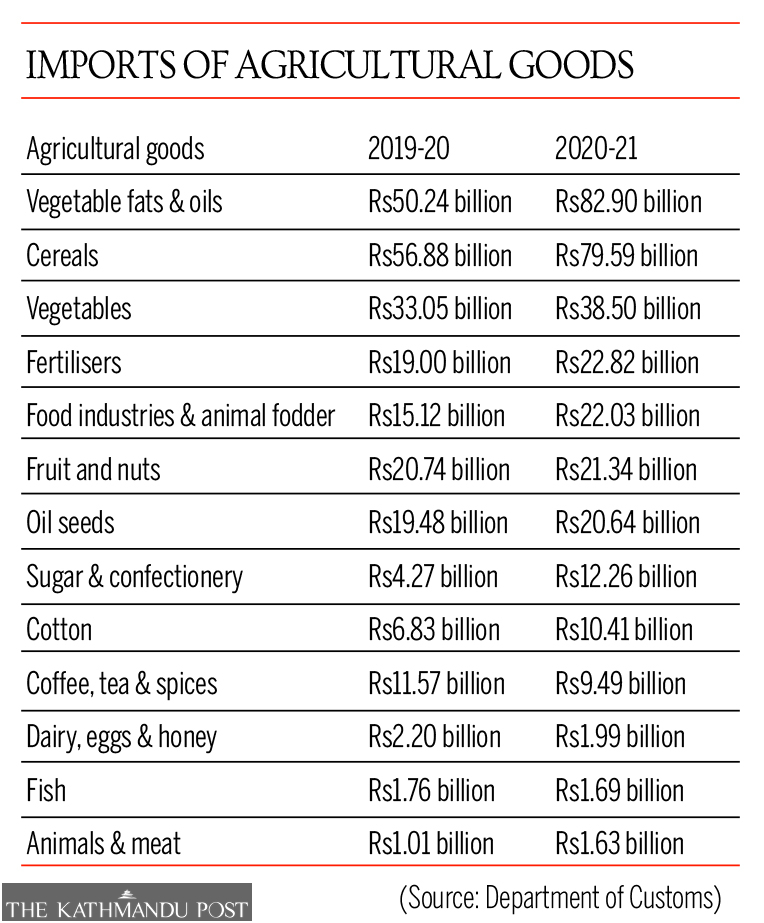 ---
---