When television shows and movies got queer representation right
On the occasion of Pride Month, the Post lists out a few series and movies that have portrayed queer characters in author-backed roles not defined only by their queer identity.

Screenshots via YouTube
bookmark
Published at : June 22, 2020
Updated at : June 22, 2020 10:20
Kathmandu
A comic sidekick who only talks about fashion, wears flashy, bright-coloured clothes, and whose identity and sexual orientation is treated as something that can be made fun of. Or a character whose libido is so uncontrollable that they have no ambition in life except to explicitly prey on cisgender, heterosexual people. These are some stereotypical characterisations that have often been employed for queer characters in pop culture movies and television.
Much of such films have the same cookie-cutter archetype of queer characters: people who are just defined by their queer identities or are suffering because of it. But there are some filmmakers and writers who have pushed the envelope and have written and depicted queer characters in a sensitive manner, treating them respectfully as individuals who have complex, multi-faceted personalities that go beyond their identities and orientation.
As June is Pride Month the world over, to observe it, the Post lists some television shows and movies that have done justice to queer representation. These are some stories that deserve appreciation as well as more audience to understand the importance of sensitive queer representation.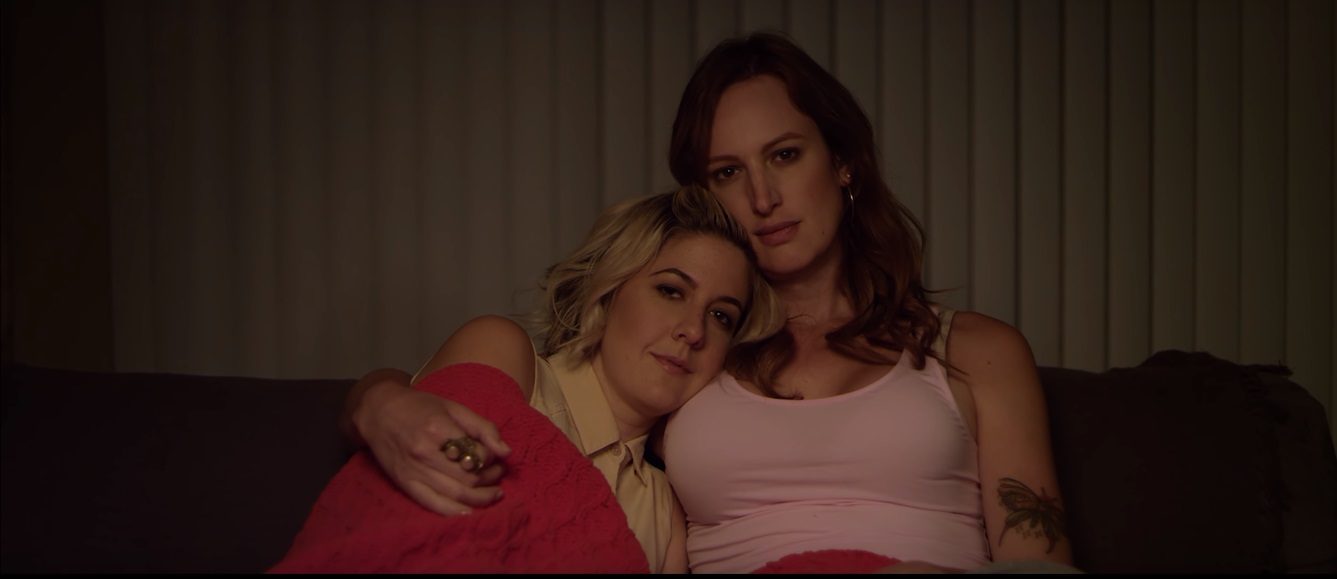 Screenshot via YouTube
How many television shows or movies have cast trans actors to play the role of transgender characters onscreen? Very few. However, the Emmy-nominated web series 'Her Story' (2016) is one show that has transgender people both on and off camera.
A six-episode long YouTube series, the premise of 'Her Story' is about two trans women, Violet and Paige, whose various life experiences, masterfully depicted, provide viewers a first-hand insight on the lives of trans people. Violet (played by Jen Richards, who's also the creator of the show) is a bartender. During the course of giving an interview to a queer reporter, Alle, who's writing an article on trans people, the two form a special connection and fall for each other.
The makers should be applauded for bringing forth a rarely depicted love story—of a trans woman falling for another woman—sensitively. Gender identity and sexual orientation are two separate things and not all trans women are only attracted to men. The series has beautifully explored this issue with the blossoming of love between Violet and Alle, which plays out naturally.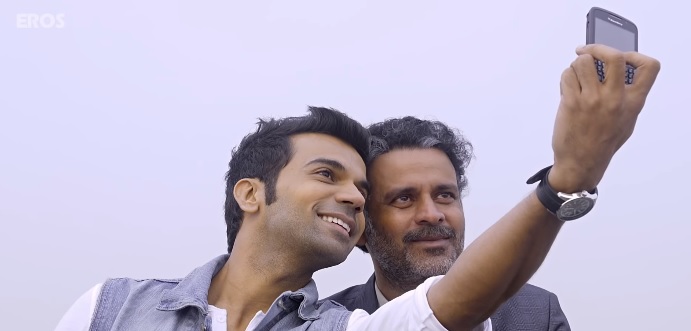 Screenshot via YouTube
Hansal Mehta's 'Aligarh (2015)' is poignant, powerful, and probably the best Hindi queer movie of recent times. Starring Manoj Bajpayee, the story is about a professor whose intimate moments with his partner are leaked by a bunch of local television reporters. The film is based on the life of Ramchandra Siras, a professor who was suspended by the authorities of Aligarh University when they found out that he was homosexual.
The beauty of the movie is the way it maturely treats the subject matter. Apurva Asrani, a celebrated queer filmmaker of Bollywood, who's the writer of the movie, weaves the story of injustice, stigma, and the struggles of the queer people in such a manner that the audience is fully invested in the story, evoking empathy for the queer. The movie is also backed by the powerful performance of its actors: Bajpayee and Rajkumar Rao (who plays an empathetic journalist).
There's a dialogue in the movie, where Bajpayee and Rao's character is having a conversation about whether the video was leaked purposely by someone. "Is it because you are gay?" questions Rao's character to Bajpayee's, asking him if he thinks he is getting framed because of his orientation. "How can someone understand my feelings in just three words? What I feel is like poetry. Emotional and something that is deep within," says Bajapayee's character. This particular dialogue perfectly encapsulates the essence of the whole movie, representing the struggles of queer people, whose love is seen 'different' by society.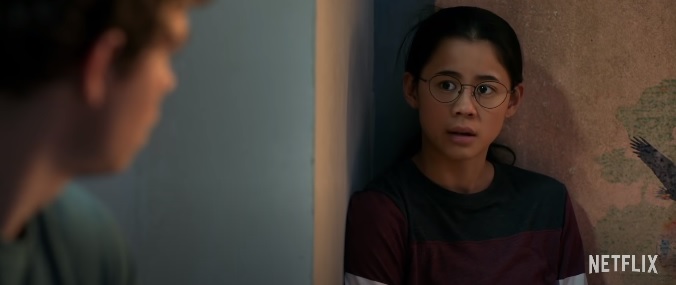 Screenshot via YouTube
A shy but hardworking student, Ellie Chu is smitten by the most popular student of her school, Aster. However, things take a strange turn when her goofy neighbour, also a classmate, Paul seeks her help to write love letters to Aster.
While the plot convolutes somewhere near the end, with Paul developing feelings for Ellie and the audience not getting the ending they were hoping for, that is seeing Aster together with Elliee, what the Netflix film gets right is the treatment of the subject. Alice Wu the director, who herself is queer, doesn't make Ellie or Aster's sexuality a big deal—a rarity in films, as whenever queer characters are portrayed in films they are always shown struggling with their sexual identities.
The film isn't about a girl going 'Oh no, I am a girl, why am I falling for another girl?'—which is what many movies around this topic come to be about. Rather, the film is about its characters, who are embracing their sexuality with ease and aren't defined by it.
Also seeing a mainstream American movie centered around Asian-Americans is a feat in itself. If you want to watch a feel-good coming of age drama, then The Half of it should be in your watch list.
Margarita with Straw (2014)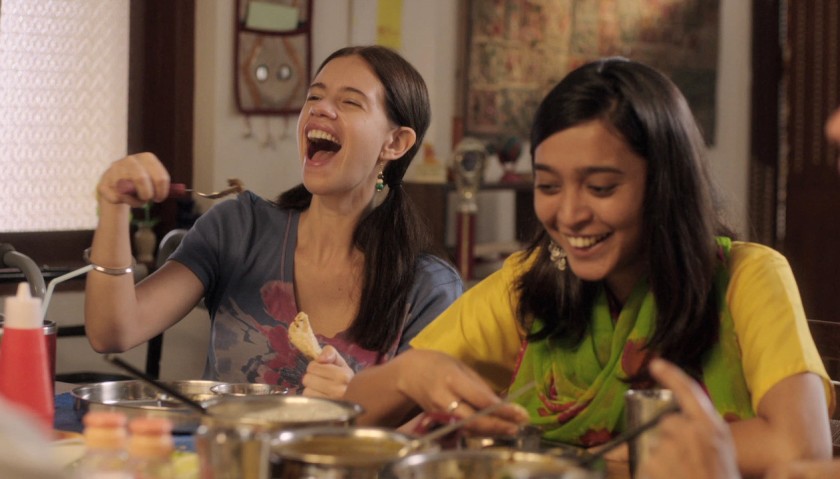 Screenshot via YouTube
Shonali Bose's 'Margarita with Straw' (2014) is not just a queer-centric Hindi movie. It's a revolution. By bringing forth the story of a bisexual character who suffers from cerebral palsy, Bose through her movie highlights the necessity of including people with disabilities in the queer discourse.
Laila (played by the supremely underrated Kalki Koechlin) is a creative genius. She is ambitious and talented and doesn't let her cerebral palsy define her. While she is attracted to men, when she meets Khanum, a Pakistani origin blind girl, she realises she is attracted to women too, as she starts developing feelings for her.
Laila as a character is never shown as someone who people should feel sorry for. Rather she is funny, talented, and most importantly someone capable of having sexual feelings. Her journey in loving herself and the quest for independence is so inspiring and engaging that the movie never feels preachy in its tone. It rather strikes a chord with the audience, making them question about the rigid and stereotypical thoughts they have when it comes to the people with disabilities.
Its honest and sensitive representation of the many issues queer people feel and go through makes this movie refreshing—like having a chilled margarita (without a plastic straw) on a hot, summer day.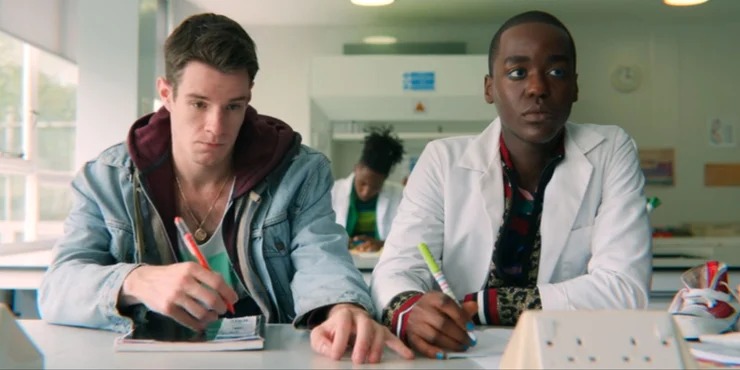 Screenshot via YouTube
Did you have a teacher who was too shy to even utter the word 'sex' during sex education class? The answer might be yes for many of us, however, if you want to relearn about sex, gender, and sexuality, then you should watch Netflix's Sex Education. In its two seasons, Sex Education has probably dealt with more queer issues and has had more queer characters as protagonists than any other teen television show.
Eric Effiong, a black queer character, plays one of the protagonists of the series. While in the first season he gracefully embraces his queerness, the second season gives him the opportunity to deep dive into understanding what love and spirituality mean for him. There's also a pansexual lead character, Ola, who later discovers her emotional and sexual attraction for people regardless of their sex and gender identity at the end of Season 2. Likewise, there are plenty of diverse queer identities like bisexuality and asexuality, depicted on the series, by characters who have a full-fledge arch and also play an important role in driving the story forward in the series.
The beautiful merging of representation and the great script makes the series interesting and informative. It's also humorous.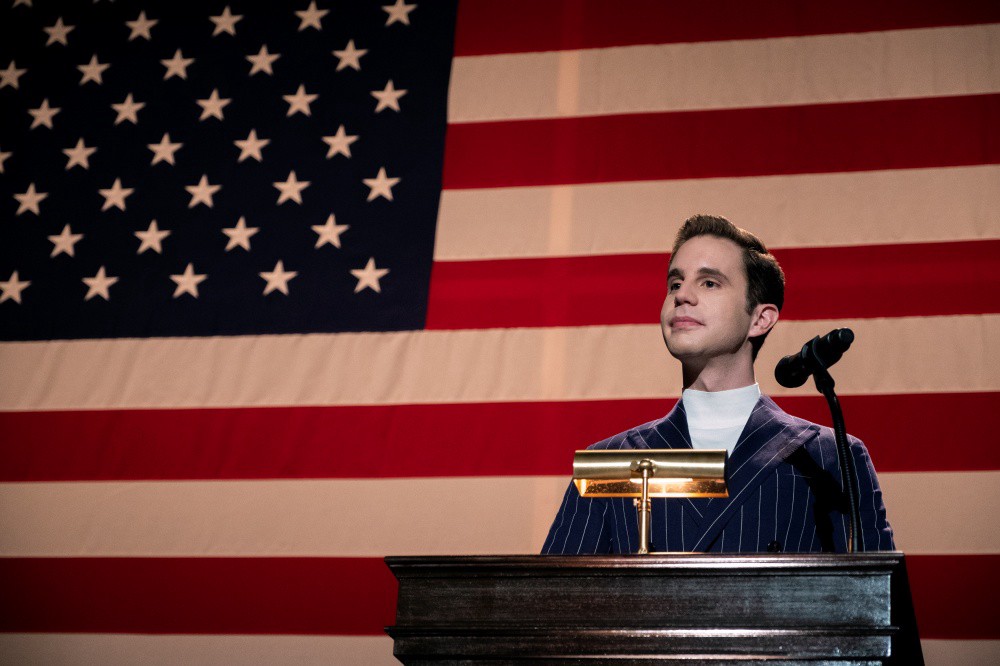 Screenshot via YouTube
Netflix's The Politician (2019) might be a flawed series, with a confused plot, but what it gets right in terms of writing is the representation of queer characters. Here the queer characters, who drive the narrative forward, are not just charming, vibrant, and happy-go-lucky people, but ambitious, flawed, complex, and selfish. And the portrayal of such diverse emotions is the beauty of the series.
Ryan Murphy, the creator of the series, a queer creative writer/director, creates a story of an overly ambitious and privileged high school student, Payton (played by another creative genius, Ben Platt, who's also queer) who aspires to be the president of United States of America. And this is what makes the representation refreshing. How many shows are there that have queer characters, who are so ambitious, goal-oriented, at the centre of the story? By making Payton the anti-hero, Murphy succeeds in bringing the story of queer characters who are equally ambitious and have complex emotions just like their straight peers.
Likewise, Gwyneth Paltrow, who plays Payton's mother, is also shown embracing her bisexuality. There is also a gender non-conforming black queer character running for the election as well as another queer woman, who is smart and manipulative, showing audiences a range of diverse characters that have been missing in films and shows all this while.
---
---