Closing time: House of Music shuts after 10 years
The live music venue was a platform and launching pad for Nepali original musicians, and its founders are content with what it achieved.

The House of Music was one of the first few places to make a concerted effort to only host bands playing original music and to pay Nepali musicians more for their time, irrespective of their genre—blues, reggae, jazz, hip-hop, rock or punk. Photo courtesy: Sanjay Shrestha
bookmark
Published at : February 14, 2020
Updated at : February 15, 2020 08:01
Kathmandu
House of Music has called final doors for the last time, following over a decade of promoting original Nepali music. For founder and director Sanjay Shrestha, it's a bitter-sweet end to an era in Kathmandu's music scene and a chapter of his life. Shrestha announced the closure of the restaurant last week, and the space will be taken over by Tito's Pub.

"We've done what we wanted to do, and it's reached its end," Shrestha says. There are several reasons the venue has closed, one of which being sustainability as a business, according to Shrestha. Now that there are so many restaurants, bars and venues around, musicians are demanding more, and House of Music has struggled to make ends meet. But its closure spells the end of an era, musicians say.
"House of Music was never opened with a goal of making money," Shrestha says. "When we started out, we didn't even intend to start it the way we did."
House of Music opened in August 2009, founded by a group of like-minded music lovers and aficionados wanting to see Nepali music celebrated and cultivated. The original idea Shrestha had was a musical community hub, where musicians could come together, trade instruments and buy musical paraphernalia. "That was the idea. We started talking, and I was always into promoting artists and musicians," he says. But the Thamel property became available and they made their decision to take it within 10 minutes.
House of Music arrived at a time when the brunt of live music was played by cover bands in the background, where commercially-driven venues had very specific demands over what musicians would play. Nepali musicians' creativity was stifled, and many decided against pursuing it as a career option, Shrestha claims.
During such times, House of Music made a concerted effort to only host bands playing original music and to pay Nepali musicians more for their time, irrespective of their genre—blues, reggae, jazz, hip-hop, rock or punk. The result was a place where people were able to express their creative freedom and experiment.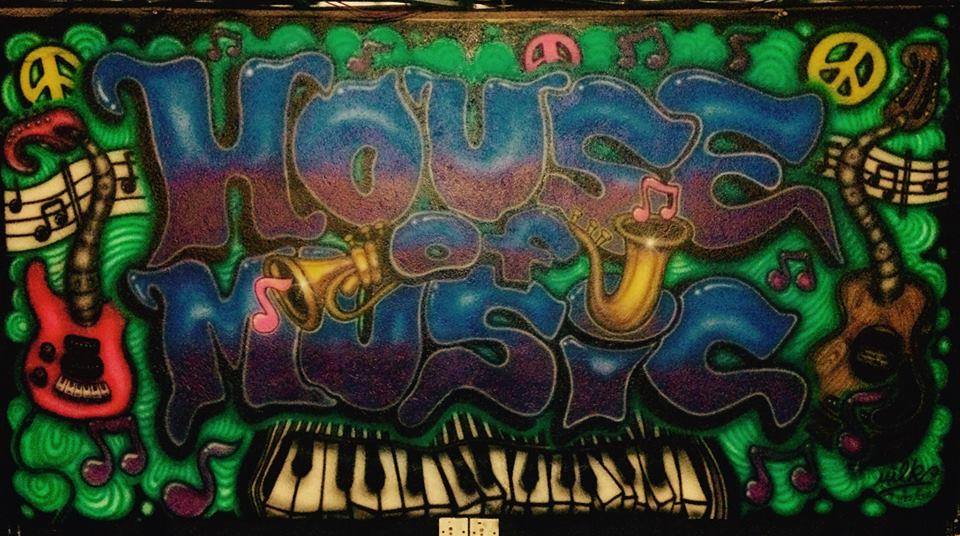 Photo courtesy: Sanjay Shrestha
Late rapper Yama Buddha hosted Kathmandu's first Raw Barz event on the venue's roof, international artists graced the stage, and various Jazzmandu artists played over the years—Shrestha played with his band 1974AD too. The result is a decade of rich memories, he says. "The opening night, on the 10th of August, my band played. It was full, and everybody that came seemed to have a great time. That gave us a good boost," says Shrestha. "It was an instant hit." Another memory he relished was when Jindabad played at House of Music in their early stages.
"On the second or third time we had Jindabad play, we had to close the doors at 9pm," he says, because the number of people wanting to listen to them live was more than the capacity of the place.
Jindabad keyboard player Abhishek Bhadra says House of Music's stage was where some of Nepal's most popular bands' music really developed—some of those songs later became EPs. "I think we played some of our most memorable shows at House of Music, not just for the band, but also for me, with my solo projects," he says. But it was not just a place for memorable shows, Bhadra says, it became a place where people could network and build their musical communities.
"Especially during the early days, there really weren't many music venues. It's still a small scene, but there are more options for musicians now," Bhadra says. "Back then, especially when it opened, there were only really one of two other venues dedicated to music—Moksh and Jazz Upstairs."
The music scene has changed since Jindabad's formation, and House of Music has contributed much to that change, Bhadra says. "House of Music was one of the important spaces where the current contemporary scene was cultivated," Bhadra says. "I think if it wasn't for venues like House of Music, the very toxic thing of cover bands would still be around. It still is, in a way, but back then it was all cover bands."
Robin Tamang, front man of Robin and the New Revolution, says it's sad to see the venue close its doors, because it's a place where originality reigned supreme. "It's a loss for the scene. It's one less place where musicians can show their originality—it's very rare to find a place to be able to do that," Tamang says. "But it wasn't just about music. It was about the atmosphere."
---
---