District girls paint, write and scrawl for equal rights
From crayons to coloured-water balloons, these young Nepali girls are being encouraged to express themselves.

The 'Art is Power' exhibition at Siddhartha art Gallery collates art created by 235 girls from five districts. Keshav Thapa/TKP
bookmark
Published at : September 25, 2019
Kathmandu
The pieces on display at Siddhartha Art Gallery are far different from the professional artworks one would expect at the 32-year-old gallery, they are youthful and fun while also carrying a serious message. With colourful pieces done in pencil and crayon, these amateur works are a collation of the works of 235 young girls from Nepal's districts.
This 'Art is Power' exhibition, inaugurated at the gallery on Sunday, is the work of girls between the ages of 11 and 17, and comes in several different forms. The exhibit displays the 'artistic outcomes' of these young girls, who were encouraged to express their desire for equal representation in society.
The exhibition is the result of the Girls Get Equal Campaign, led by Plan International Nepal. The campaign started in the first week of August across five districts over Nepal—Jumla, Banke, Makwanpur, Sindhuli and Sunsari. Siddhartha Arts Foundation, Srijanalaya, Word Warriors, and Kathmandu University School of Arts are among the other collaborating organisations.
The works on display showcase the raw emotion and youthful naivety through simplistic means. For instance, some of the works on display are simply five colours aligned next to each other, which resonate with child-like emotion—green for joy, orange for love, grey for anger, black for fright, and yellow for sadness. This is just one piece of art that came as a result of an exercise in which girls were asked to associate colours with different emotions they go through—Love, support, unity, freedom and voice were assigned colours of their own, according to the girl's desires.
That exercise was one of many given during the month-long workshop held in the five districts. Sixteen facilitators came from different interdisciplinary backgrounds—among them were Word Warrior poet Nasala Chitrakar, writer Nirajan Tripathi, and visual artists Sunita Maharjan and Kailash Shrestha.
Participant Alisha Darlan from Sindhuli recited a poem she wrote at the opening ceremony, written about her on menstruation. The 16-year-old, who aspires to become a nurse, said she jumped at the opportunity to express her creativity and gain confidence.
"The four-day long workshop turned out to be a lifelong experience for me," said Darlan. "It taught us of the potential women have, and how we can express ourselves. After attending the workshop, the way I perceive life is different from before. I can voice my opinion without fear."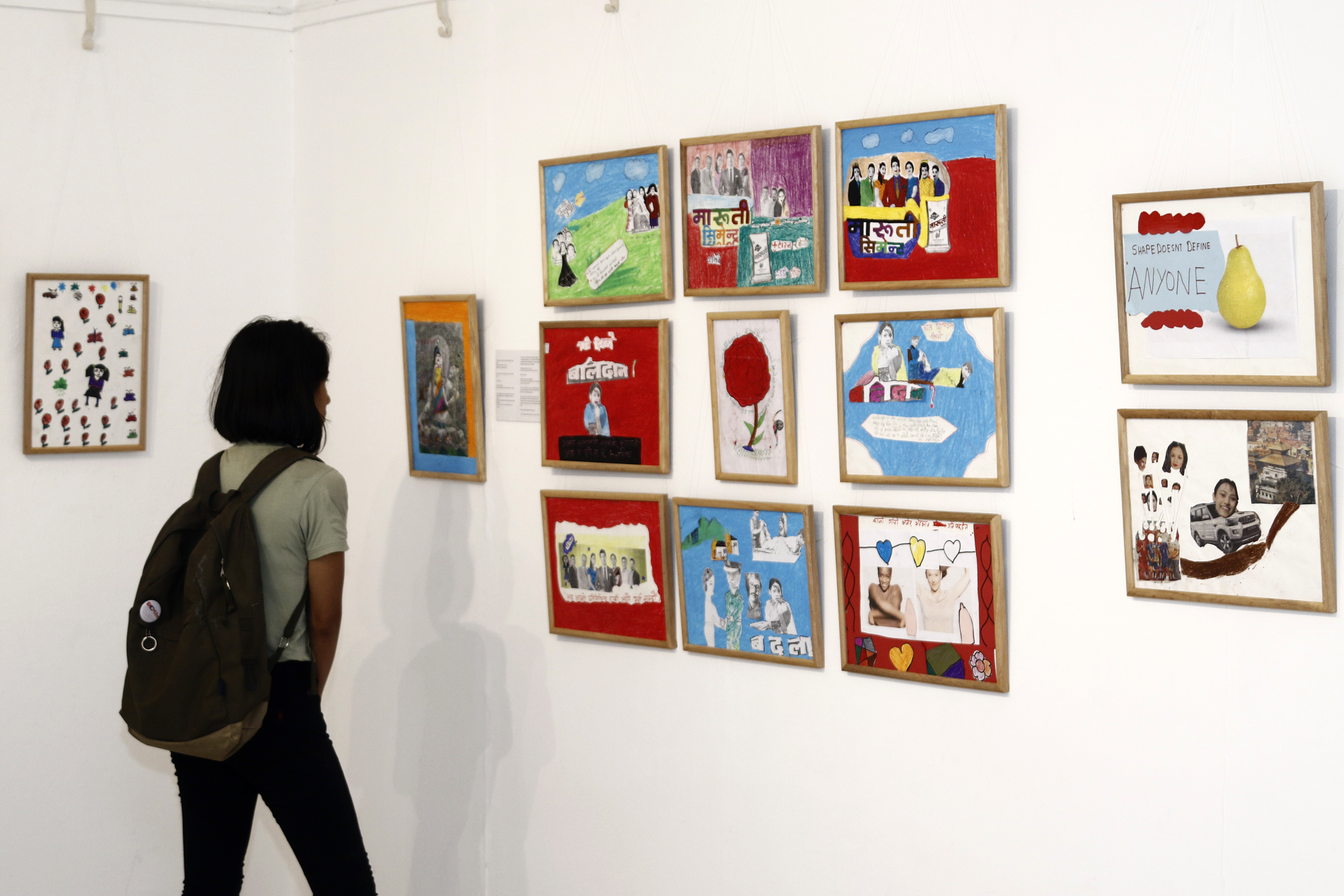 Keshav Thapa/TKP
Siddhartha Art Gallery director and curator Sangeeta Thapa said the exercises and workshops were designed in a way to help the girls find a voice, and feel open talking about their vulnerability—whether that's in school, at home or anywhere else—to overcome it. Thapa said the gallery's foundation was excited to work on such an "impactful initiative".
According to Thapa, while planning for the workshop, organisers realised the paintings and drawings would be "stiff". "We wanted these girls to loosen up and added other creative entities such as dance and music," she said.
The gallery reflects the confidence the girls gained, with varieties of mediums at play—collages, pencil drawings and crayon works, as well as striking colours on black backgrounds, all with a message of equality and empowerment. One piece is simply a cut-out of a pear, with the message "shape does not define anyone", another of a woman with "sacrifice" written in Nepali above her head.
While the artworks are pleasing in their childlike execution, they are impactful, uplifting and pointed in their message—one of the budding artists describes her feelings through the flow of a river in bright orange on a dark green background.
"Also adding literary skills did wonders," said Thapa. "In fact, some of the questions and answers from the students were profound, for instance, 'what they expect out of teachers'."
Many have poems scribed on the work. Unfortunately, there are no names affixed to pieces. For example, one of the anonymous poems read:
"Let both the children (girls and boys) play
Sacrificed your happiness
Freedom is such a thing that
We haven't ever experienced openly.
We just found out that freedom is also
applicable when doing household chores."
When reading the poem in Nepali, the true meaning gets lost in translation. The poet talks about realising freedom and gaining independence, not just out of home but inside too.
Another piece is a collage of newspaper clippings, specifically Maruti Cement advertisements, with male models replaced with drawings of women. The young artist describes her work in a heart-wrenching poem:
"We need to eliminate violence against women that exists in our society
We need to eliminate the difference in work division
Women should move forward.
Strong like Maruti Cement,
Try to break us apart, break your bones.
Maruti Cement
How much will you sacrifice?
Your freedom, your happiness, your emotions.
Aren't you done for now?"
Similarly, the first floor of the gallery has a section of paintings representing society's most vulnerable women. One depicts a woman crying over a nondescript painting of a goddess. Unfortunately, again, this painting too had no name on it.
Although a giant print on the ground floor of the gallery had mentioned names of the 235 girls, it would have been nice to credit the children with their singular works to give them a real sense of ownership. Facilitator Nasala Chitrakar says "We concluded our workshop a week ago and we couldn't get name tags, however, we are already working on that—this is our shortcoming."
As well as the work displayed, there are several screens playing short clips of the workshops. In one clip, girls are seen devising lyrics and singing and creating collages. Chitrakar, who worked with children in Makwanpur, said the workshop was one of the best experiences of her life. "I am not an artist per se, but with facilitators coming from many other backgrounds. The planning process engaged me thoroughly," she said.
Chitrakar points out the biggest work on a display, an engaging abstract piece that encapsulates the entire workshopping campaign—expression, agency, confidence, happiness and equality.
"The girls threw coloured-water balloons on the canvas. That is a form of expression in itself," she says.
The exhibition will run until September 28 at Siddhartha Art Gallery.
---
---