Leftists in Congress-led coalition discuss socialist centre idea
Dahal, Bhattarai and Unified Socialist leaders explore possibility of a left front as observers wonder if the bid is aimed at creating a sub-alliance minus UML for the upcoming polls.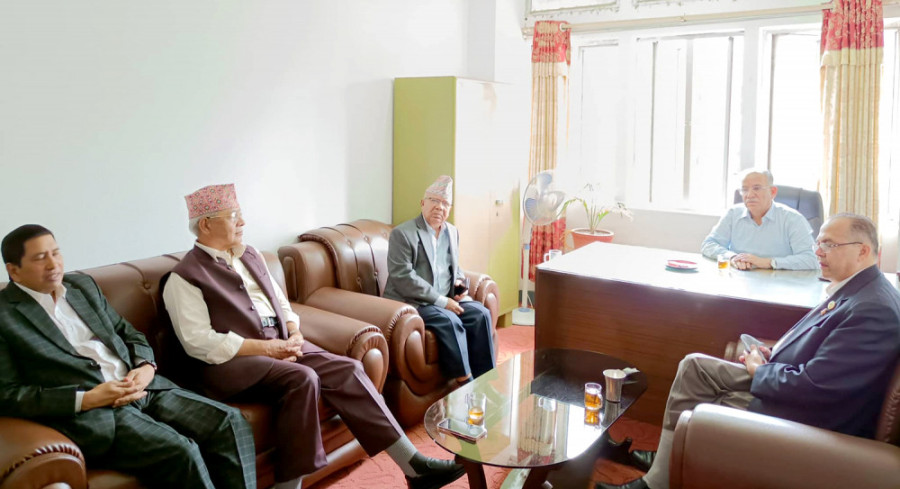 bookmark
Published at : July 20, 2022
Updated at : July 20, 2022 07:32
Kathmandu
Three days after returning from his India visit, CPN (Maoist Centre) chair Pushpa Kamal Dahal is in talks with his former colleague and deputy Baburam Bhattarai as well as those communist leaders who split from the CPN-UML in what seems to be a bid to give shape to the proposed "socialist centre".

Dahal on Tuesday held talks with Baburam Bhattarai, his comrade-in-arms from the "people's war" days. The duo fell out with each other after the constitution was promulgated in 2015.
Bhattarai was recently expelled as a central executive committee member of the Janata Samajbadi Party.
Later on Tuesday, Dahal held talks with CPN (Unified Socialist) chair Madhav Kumar Nepal, its senior leader Jhala Nath Khanal and another senior communist leader Bamdev Gautam, who has recently launched a campaign to unite the leftist forces. Senior Maoist leader Narayan Kaji Shrestha was also present at the meeting.
Dahal, Nepal, Khanal, Gautam and Shrestha were members of the nine-strong secretariat of the Nepal Communist Party, formed in May 2018 after the merger between the Maoist Centre and the UML. The party was invalidated in March last year.
Tuesday's meeting, however, did not take any concrete decision on forming the socialist centre or any other alliance that will be socialist in nature but agreed to 'go together,' said leaders.
"We agreed that the present alliance with the Nepali Congress should continue," Dahal said after the meeting. "We are also discussing how to strengthen the present coalition as well as party unification between Maoist Centre, Unified Socialist and Gautam-led NCP Unity National Campaign. But the current talks are not against the present alliance."
Talks were also held to bring Bhattarai into the new left alliance, Dahal added.
Party leaders said they expect further talks would give direction to the concept of forming a socialist centre.
After severing ties with the Maoist Centre, Bhattarai had formed Naya Shakti, or a 'new force', in 2016 saying that the country needed a new political front different from traditional communist forces and the Congress to bring about socio-political transformation in the country in the changed context. In 2019, he joined hands with Upendra Yadav with an aim to create an alternative force. But now he has parted ways with Yadav.
Bhattarai has been pitching the idea of socialist centre for quite a while and has held a series of meetings with Dahal in recent months, in the presence of Vice President Nanda Bahadur Pun, a former Maoist commander.
Bhattarai told the Post that he has already proposed forming a socialist centre as an alternative to the Nepali Congress and the CPN-UML—a "third pole," in his words, whose core political and ideological vision would be to transform the country by creating the national capital on the back of socialism.
"The fundamental idea of communist ideology did not work and will not work here. It only promoted centrality in politics and could not bring about social and economic transformation," he said. "We are facing new challenges by the day. For socioeconomic changes amid geopolitical challenges, we need a strong alternative force to guide the country. This is something I have been saying for the last nine years."
The bid to create a new political front like the socialist centre comes a day after the Congress, the leader of the current coalition, decided to fight the upcoming provincial and federal elections under an alliance with existing partners—Maoist Centre, Unified Socialist, Janata Samajbadi and Rastriya Janamorcha.
Dahal has hailed the Congress decision.
"The Nepali Congress has taken the right decision and this is good. We will go together, this alliance will not change," said Dahal, adding that there are also efforts going on to bring more parties under the alliance.
But some find it strange that Dahal, while promising to stick together with the Congress-led alliance, is also gathering communist leaders to explore the idea of a left alliance or socialist centre.
An office bearer of Nepali Congress said that the bid to bring together communist forces seems to be aimed at piling pressure on the Congress on seat-sharing arrangement.
"If we look at the recent developments and statements of Dahal and Nepal, they are not against the Nepali Congress and the ruling alliance. But reading between the lines, if they come together as a sub-alliance it will put pressure on our party," said the office bearer. "Chances of a larger unity among communists including the UML are slim as of now. What's going on is just a typical communist tactic."
During the recently concluded Central Committee of the party, Dahal had stressed the need to form an alliance of leftist and like-minded forces minus the Congress and the UML. At the Central Committee meeting of his party, Unifier Socialist chair Nepal also made a pitch for an alliance of leftist forces.
There, however, is a lack of clarity on how these leftist leaders can come together to form a socialist centre. Some wonder if they are in a bid to create a sub-alliance while remaining in the current coalition led by the Congress for the upcoming polls.
"Still they are not convinced to abandon the communist tag," said Bhattarai. "If the formation of socialist centre is not possible immediately, my proposal is to form some kind of socialist alliance at least for now."
Some political analysts and observers said that there is a need to revisit the leftist political ideology in Nepal in terms of principle, programmes and ideas but it looks like no one actually knows how to do it and who will take the lead.
"The concept of forming socialist centre is not bad, but if we impose the same old idea, that won't bring any change," said Narayan Dhakal, a leftist political analyst, "We expected a miracle when the NCP was formed but nothing happened. So I am not that hopeful of constituting a new left political force until and unless it gives some new ideas, programmes and principles."
A Maoist leader said that since the government is preparing to announce the date for the federal and provincial elections, there is an urgency to reach a conclusion about a new political front.
"Those communist parties and leaders who want to shed the communist tag can make a new front but a blueprint is yet to be discussed," the leader told the Post requesting to remain anonymous.
According to a Unified Socialist leader, if it is not possible to unite different political forces, discussions are being held to form a front of leftist parties.
"If that is also not possible, there's also a proposal to form a unification coordination committee of like-minded communist forces," the leader said.
Bhattarai, also a former prime minister, currently is in a situation where he faces a political crisis. Despite his quitting the Janata Samajbadi, he has decided to remain in the current coalition.
There's a significant chunk of leaders who are close to him that want him to join the Maoist party while others have opposed the idea saying they should not return to become the same old communists again.
Dhakal, the leftist analyst, says people are tired of listening to politicians' same old rhetoric.
"First of all, the leaders should be able to convince the public how they can ensure that there would be dividends of democracy and how the hard-earned political achievements can truly benefit the members of the public," Dhakal told the Post. "We need an alternative political force that keeps people, not leaders, at the centre. If we really have a credible left, it will put pressure on the Congress to mend its ways. The socialist centre idea sounds fanciful, but if you ask me, I am not hopeful the idea will materialise anytime soon."
---
---