Socialist centre in Nepal: A realistic vision or an ambitious idea?
Some politicians, including Baburam Bhattarai, a former Maoist leader, have been making a pitch for bringing like-minded forces to build a new model of socialism.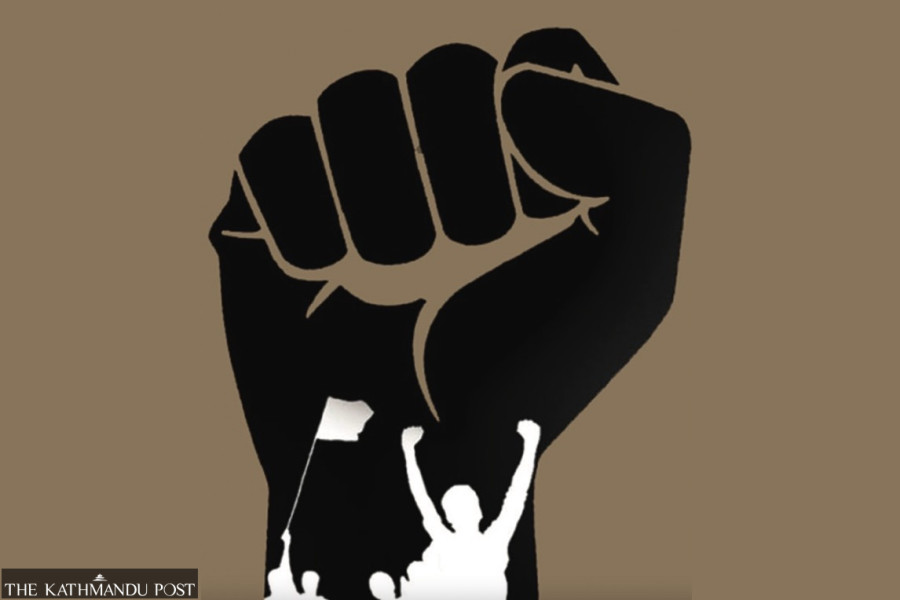 Post Illustration
bookmark
Published at : August 23, 2021
Updated at : August 23, 2021 00:40
Kathmandu
Baburam Bhattarai, a former prime minister, former Maoist leader and currently a senior leader of the Janata Samajbadi Party, recently called for bringing "like-minded" forces under one umbrella, which he termed a socialist centre.

"My request to comrades of various communist parties in Nepal: why has the objective of ending all kinds of repression and discrimination against people by people taken a regressive path?" Bhattarai wrote on Twitter, who has 1.3 million followers on the social media platform. "How will we reach a new destination by pursuing the same old path? Shall we march towards a new direction with new ideas."
Only time can tell whether Bhattarai's idea will get traction at a time when communist forces, or leftist politicians for that matter, have been scattered.
Bhattarai himself has drifted afar after severing his ties with the Communist Party of Nepal (Maoist Centre). After forming Naya Shakti, or new force, in June, 2016, he decided to join hands with Upendra Yadav's Sanghiya Samajbadi Party (or Federal Socialist Party) in 2019. The Sanghiya Samajbadi then in April last year merged with the Rastriya Janata Party to form the Janata Samjabadi Party, which now has split again. The former chair of the party, Mahantha Thakur, has applied for a new party—Loktanatrik Samajbadi Party Nepal (Democratic Socialist Party Nepal).
The CPN-UML, the largest party too, has split, with Madhav Nepal applying for a new party proposing the name as CPN (Unified Socialist).
There already are three parties now, led by prominent politicians, that have "socialist" in their names. There are at least seven other parties registered with the Election Commission, which have the "socialist" tag.
Bhattarai's call for a socialist centre appears to be an attempt to bring the scattered communists under one roof.
"Our country has been ruled by traditional forces like the Congress and communist parties but they have failed to bring about any substantial changes," said Bhattarai in an interview with the Post.
"So I have been proposing a new kind of socialist force in the country that can really transform the nation in the changed context."
Not many may counter Bhattarai's idea. That the Congress and comunist forces—the UML and the Maoist Centre—have ruled the country for decades ever since democracy was restored in 1990 is a fact. It would be wrong to say the country has not seen any changes over the decades, but status quoism does continue. Even after the promulgation of the constitution, transforming the country into a federal secular republic, threats to the achievements persist. The issues of the marginalised have yet to be resolved.
According to some leaders from the left block, some initial talks did take place between Maoist Centre chair Pushpa Kamal Dahal and Bhattarai on the socialist centre idea and both had then discussed the issue within their respective parties.
Dahal too has lately been in talks with Madhav Nepal to explore the possibility of a new "left alliance", as the Maoist tag appears to have become a burden for him.
A Standing Committee meeting of the Maoist Centre on Sunday decided to initiate talks with like-minded leftist and communist forces, including with Nepal, for a larger left unity.
"We have decided to start talks with all like-minded leftist parties including Bhattarai, Nepal, Mohan Baidya, Netra Bikram Chand and Gopal Kirati among others whose ultimate goal is to establish socialism," said Devendra Poudel, a Standing Committee member.
In the past, Baidya, Bhattarai, Chand and Kirati were senior leaders of the Maoist party. But after differences, they gradually deserted the Dahal-led party.
"The objective is to bring the like-minded forces under one roof," said Poudel.
But whether Dahal and Nepal will share the same platform with Bhattarai is doubtful, as the latter has been making a pitch for something that would mean drifting away from communism, on which both Dahal and Nepal have done their politics all their lives.
Bhattarai, on his part, had detached himself from communism soon after the promulgation of the constitution in September 2015.
A senior politician from the Maoist Centre said the socialist centre had been in discussion for some months but no talks have been held of late on the issue.
"An electoral alliance among the like-minded forces is possible," said Narayan Kaji Shrestha, spokesperson for the Maoist Centre. "But I don't see any chance of forming a socialist centre or socialist alliance."
Whether Nepal's communist parties indeed follow communism has been debated for quite a long time, but the leftist politicians harbour a penchant for having "communist" in their party names.
The Maoist Centre itself neither believes or follows Maoism. Bhattarai's partner in the Samajbadi Party Nepal, Upendra Yadav also comes from communist school.
Beduram Bhusal, a Standing Committee member of the UML who is currently with the Nepal faction, said a socialist alliance or a socialist centre is not an issue at present.
"We had heard that the idea was initially forwarded by Dahal," Bhusal told the Post. "But the issue is not being discussed in our faction at present."
Bhusal, however, does not rule out the possibility of a socialist centre.
"Politics is a game of possibilities," said Bhusal. "What I am saying is this is not our priority at the moment."
Last week Bhattarai again reiterated the need for a new model of socialism.
Speaking at a function in Kathmandu, Bhattarai urged Dahal and Nepal to stop focusing on immediate election dividends.
"If all of us work hard, we can find a new refined thought," said Bhattarai. "In the past, some of us became Maoists, others became the UML. Now we must make efforts to depart from those. We must devote ourselves to building a new model of socialism."
But many within the Maoist Centre do not agree.
A Maoist leader said Bhattarai is trying to recoup his political career, and his statements are aimed at maintaining his relevance. After quitting the Maoist party, Bhattarai had formed the Naya Shakti with a slogan that the country needed a new party that was different from traditional Congress and communist forces.
However, after failing to sustain his party, Bhattarai was left with no option than to merge with any other existing party. So his Naya Shakti was merged with Upendra Yadav's Sanghiya Samajbadi Forum Nepal. With his declaration that communism is not the ideology a new party should follow any longer, his return to the Maoist Centre was not possible.
For Dahal also, things were looking bleak after the Maoist Centre was revived by the Supreme Court on March 7 when it invalidated the Nepal Communist Party (NCP).
Insiders in the Maoist Centre admit that Dahal too was facing an existential crisis.
"Now that the UML has split, the Maoist Centre sees some electoral chance," a Maoist leader who wished to remain anonymous told the Post. "Both Dahal and Bhattarai may seek some working alliance targeting elections, but both coming under a socialist centre per se looks unlikely anytime soon."
Bhattarai, however, refuted charges that his pitch for a socialist centre was aimed at salvaging his political career.
"This is the necessity in our country now as we have learned from our past," Bhattarai told the Post. "My proposal is to have a socialist system with democratic and inclusive characters… with a participatory approach. It has become apparent now that old, traditional and monolithic political parties have failed to meet people's aspirations."
Ram Karki, a Maoist leader who is considered a well-versed politician on Marxism, said talks were held among some communist forces to form a new alliance, but even if it materialises, it is not going to become "a new force" as claimed by some.
"If an organisation or an alliance or a front is going to be set up and leaders like Dahal, Bhattarai, Yadav, Mohan Baidya and Netra Bikram Chand are included, how can it become a new force," Karki told the Post. "Since some leaders in our party want to shed the Moaist tag, they are participating in such talks and putting the idea on the table as a sociliast centre."
According to Karki, a new force cannot be built unless politicians can think of new ideas and connect the masses with that idea.
As per textbook definition, there are some fundamental differences between communism and socialism.
Communism aims to set up a system where there is no such thing as private property. Property is communally owned and each individual receives a portion based on their needs. This set-up envisions a strong central government (the state) that controls all aspects of economic production, and provides citizens with their basic necessities, including food, housing, medical care and education.
Socialism calls for a system where industrial production, or the chief means of generating wealth, is communally owned and managed by a democratically elected government. Individuals can still own property. Socialism is considered a less rigid ideology. Its proponents insist on reforms and changes through democratic processes within the existing social and political structure, not overthrowing that structure, something communism attempts to do.
Karki says a front or an alliance does not become socialist just because it calls itself so.
"We can give a [false] impression of creating a socialist force by bringing together old communist faces under one umbrella but unless there are new ideas, the changes we are seeking are impossible to achieve," said Karki.
"In the absence of pro-poor policies and programmes to uplift the marginalised and oppressed and working class people, any new alliance cannot claim to be a new or sociliast force."
According to Karki, the scattered communist parties in Nepal have their own electoral challenges.
"Whatever alliance under whichever name some leaders are discussing lacks ideas," said Karki. "Everyone has been tried and tested. Those talking about any kind of alliance under the socialist banner are desperate to win elections. A new force starts from an idea."
---
---