New tourism minister faces a slew of challenges, especially on policy
Yogesh Bhattarai will need to retool civil aviation while also ensuring that Visit Nepal 2020 takes off without a hitch.

A major challenge for Bhattarai will be strengthening the institutional capacity of two vital government bodies. Elite Joshi/TKP
bookmark
Published at : August 2, 2019
Updated at : August 2, 2019 10:11
Kathmandu
Nepal's tourism industry is at a crossroads. Tourist arrivals hit a record 1.17 million in 2018, with nearly 300,000 going trekking. Five new five-star hotels have been built in the last two years alone, and two international airports will be coming into operation in the next two years. Still, as Yogesh Bhattarai takes office as the newly appointed tourism minister, there are a series of challenges that await him.
With Nepal poised to enter Visit Nepal 2020, a national campaign that has sought to bring two million tourists, scandals plague the tourism sector. From the $209.6-million Airbus purchase scandal and fake rescue operations to a spate of crashes and poor safety records on Everest, there are problems galore—both on the ground and in the air.
First, Bhattarai will need to address the critical policy gap left behind by the late Rabindra Adhikari during his year-long tenure as tourism minister. As the majority of Adhikari's works were focused on infrastructure development, a number of issues, primarily relating to aviation, remain unaddressed.
A major challenge for Bhattarai will be strengthening the institutional capacity of two vital government bodies—the Civil Aviation Authority of Nepal and Nepal Airlines Corporation, according to Sanjiv Gautam, former director general of the Civil Aviation Authority of Nepal.
A year after making the largest jet purchase in the history of Nepali aviation, Nepal Airlines Corporation, which was on a mission to reclaim its lost glory, is now teetering on the edge of bankruptcy. Nepal Airlines had procured two wide-body jets, but failed to operate them optimally due to its poor institutional capacity, where the organisation and its employees lack skills, knowledge, equipment and other resources.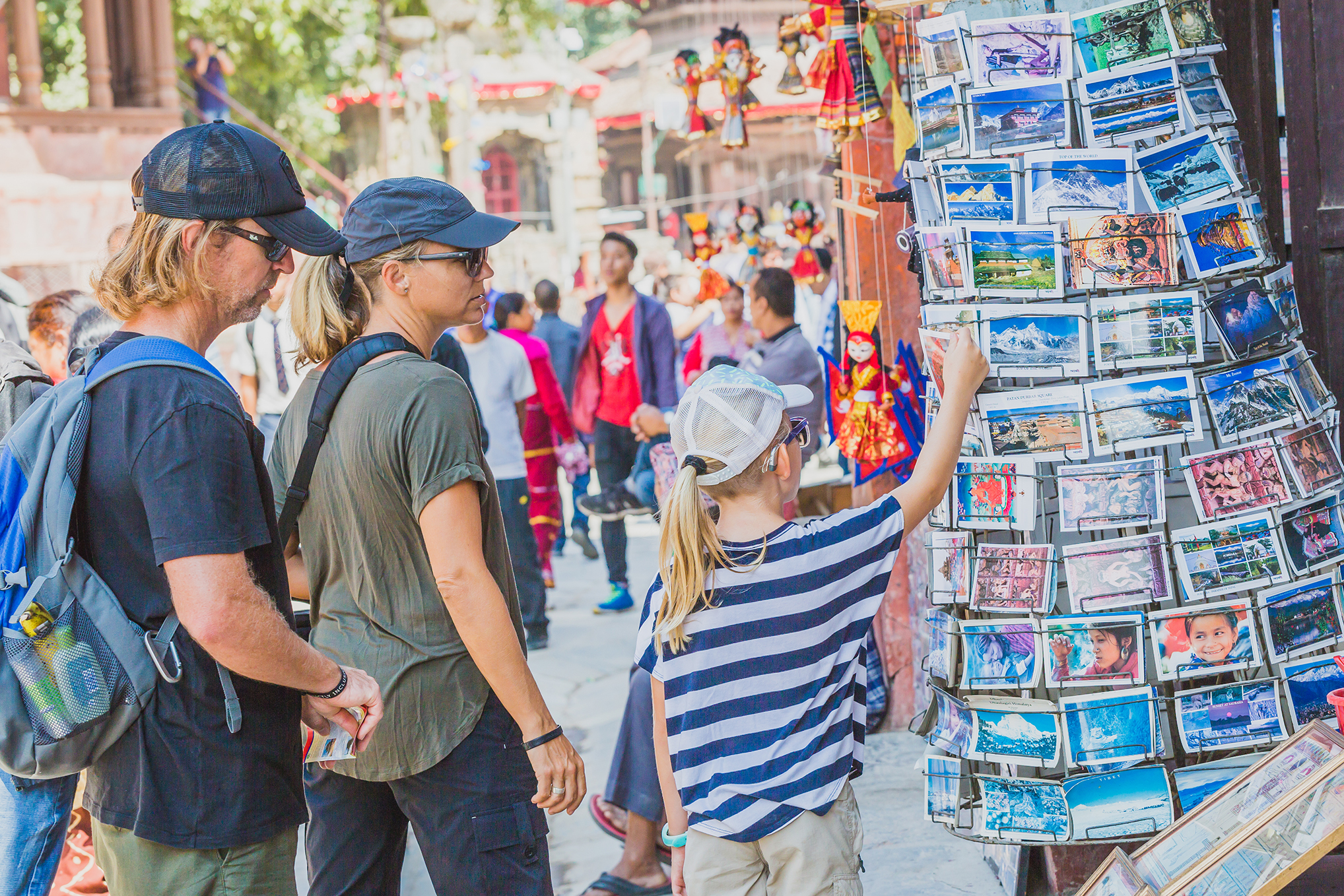 This photo shows tourists looking at postcards. Nabaraj Regmi/Shutterstock.com
"This shows that even if a country has all its infrastructure, it cannot function properly if its institutional capacity is weak," said Gautam.
The minister's first priority should be to split the Civil Aviation Authority of Nepal into two entities—service provider and regulator—if he wishes to see results on safety and service. This split has been nine years in the works, and there's still no clarity when it will happen, said Gautam.
Splitting up the civil aviation authority would ensure a more effective safety regime. "The European Commission putting Nepal on its list of airlines banned from the European Union, along with poor airport infrastructure and air crashes, will improve if this is done," said Gautam.
In 2013, the European Commission had banned all of Nepal's airlines, including Nepal Airlines, from the European Union as the civil aviation authority lacked the ability to oversee aviation safety issues, according to the commission. It had asked that the Civil Aviation Authority of Nepal be split with a clear demarcation between its functions as a regulator and as a carrier, as its dual functions gave rise to a conflict of interest.
Bhattarai will also have to establish an independent aircraft accident investigation body, which has been pending since 2009, as part of international obligations to improve aviation safety and prevent future accidents. Due to the lack of an all-powerful independent investigation body, most air crash reports are often criticised as superficial and misleading.
The issue of safety is also linked to a massive fake rescue scandal that rocked the country's tourism industry last year. Numerous helicopter companies and hospitals were discovered to have grossly inflated bills and carried out unnecessary rescues. Key authorities assigned to investigate the multi-million dollar scam had told the Post in February that they are close to releasing details, but Adhikari's untimely death placed the investigation on the backburner. The onus now is on the new minister to make the report public while holding perpetrators to account.
With new airports in Bhairahawa, Pokhara and Nijgadh coming online, Bhattarai will also have to lobby for new air routes with India to facilitate the movement of international flights.
Nepal has been pushing to expand cross-border air routes for the last nine years, as Simara is the single entry point for most airlines flying into the country. In contrast, there are seven exit points—Bhairahawa and Mahendranagar in the west, and Simara, Biratnagar, Tumlingtar, Kakkarbhitta and Janakpur in the east—for aircraft flying out of Nepal.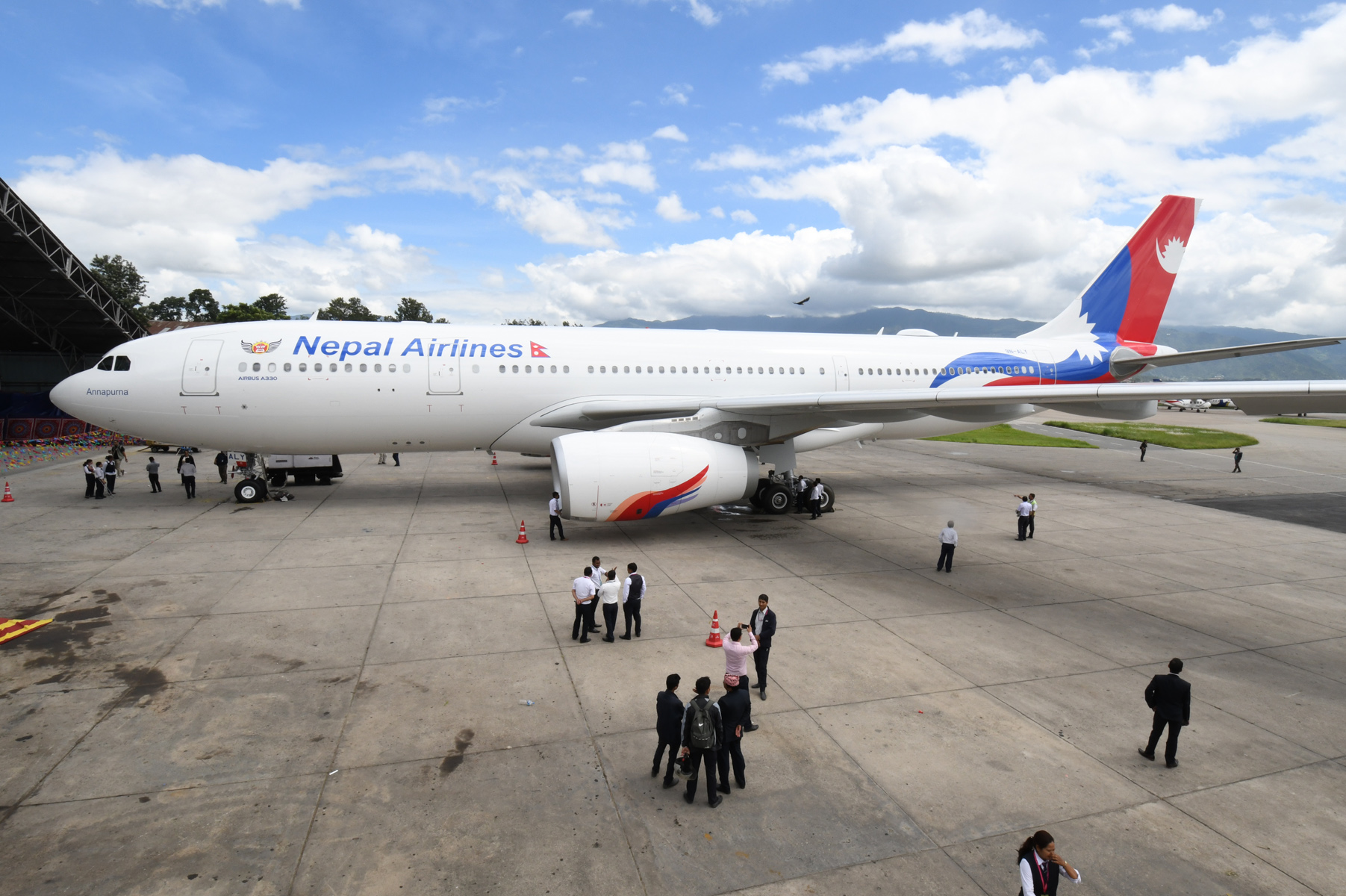 A Nepal Airlines Airbus A330 jet is seen at Kathmandu airport. Post File
As Nepal's second international airport in Bhairahawa is expected to come into operation next year, the tourism ministry will need to move quickly to bring the airport into commercial operation.
"The airport should attract airlines. For this, the government should introduce incentive packages and conduct effective marketing early so that the airport does not become a football ground after it is constructed," said Yogendra Sakya, a prominent tourism entrepreneur.
The government has claimed that the new airport will begin operations by early 2020, but with five months left for the year to end, no one knows how many airlines will be operating out of Bhairahawa, said Sakya.
Controversy has also plagued the Nijgadh International Airport, a massive infrastructure that Nepal hopes will become a transit hub for South Asia. The airport, 175 km from Kathmandu in the district of Bara, will sprawl over 8,045.79 hectares once it is completed, becoming the largest airport in South Asia. But the project has drawn criticism from environmentalists as more than 2.4 million trees will be felled in the process. The government has not elaborated on how the project will balance out environmental concerns with progress on the airport.
And with the year coming to an end, Visit Nepal 2020 looms, and very little has been done on the promotional front, except for two very visible fiascos. In recent months, travel trade entrepreneurs have expressed worries that neither the government, the Nepal Tourism Board nor the Visit Nepal 2020 Secretariat has done enough to promote Nepal abroad to attract tourists.
"It will be challenging for the new minister to make Visit Nepal 2020 a success," Sakya said.
***
What do you think?
Dear reader, we'd like to hear from you. We regularly publish letters to the editor on contemporary issues or direct responses to something the Post has recently published. Please send your letters to tkpoped@kmg.com.np with "Letter to the Editor" in the subject line. Please include your name, location, and a contact address so one of our editors can reach out to you.
---
---