#MeToo gathers force but calls for sustained movement
Social media posts by a girl detailing sexual violence necessitate immediate action to reform laws to ensure justice as society is invariably failing women and girls.

Protesters hold placards to call for fast-tracking and amending the legal process to deliver justice to the victims of rape and sexual abuse, during a demonstration at Baluwatar in Kathmandu on Friday. Elite Joshi/TKP
bookmark
Published at : May 21, 2022
Updated at : May 21, 2022 07:31
Kathmandu
Schoolchildren, university students, singers, actors and journalists.
Women of all ages, professions and backgrounds have shared their horrific experiences of rape, molestation, sexual harassment and assault.
Ever since the #MeToo movement tried to take off in Nepal in fall 2019, just like in the West, women have continued to take to social media or reach out to newsrooms, time and again, to share their stories of sexual violence.
Some women, including minors, have reported years of violation and multiple cases of sexual harassment. Some have even named their perpetrators, while some have chosen not to.
The alleged perpetrators: school teachers, university professors, established actors and directors, movie stars and ministers. All men.
While these accounts of abuses have interrupted the regular conversations surrounding violence against women, as is evident from the headlines and activism on the streets and social media, there has been little breakthrough apart from a burst of collective rage and trade of barbs.
"This entire thing is always extremely triggering to me. My perpetrators are out in the open and I cannot take any actions against them. I was a minor back then and I was not aware of my rights," said Bibhu Luitel, 25, a survivor of sexual abuse.
"Every time these cases that come up cannot be taken up legally because of the statute of limitations. In addition, everyone asks—why did you not speak earlier? Why did you go to that room? These questions further silence the victim. This is state-sponsored misogyny," said Luitel.
Women have come forth to share their stories in what has become a loop governed by silent intervals, only to find unwanted threats and a sudden gush of vitriol directed towards them. Men, the alleged perpetrators, meanwhile face no repercussions. Save for a few cases where they've faced suspensions or social boycotts; not a single perpetrator has been brought to justice. Most of them have resumed their normal lives. No one has been held accountable.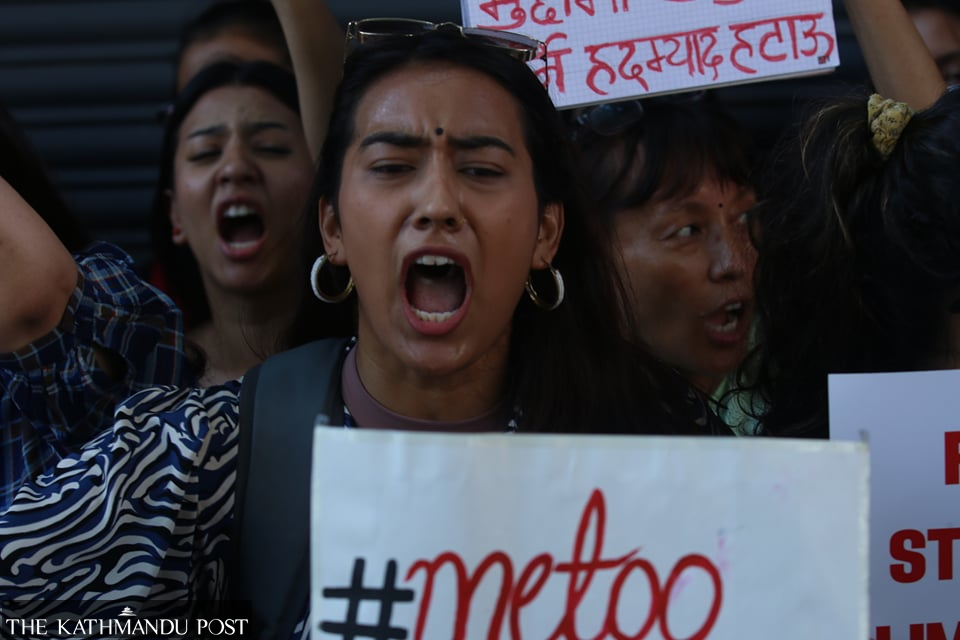 Elite Joshi/TKP
"Impunity is rampant in Nepal. And this is not just one incident, but a systemic issue," says Bivishika Bhandari, 31, a network member of Vagina Monologues, a global activist movement to end violence against women and girls.
On Wednesday, a former child actor and model posted a bombshell 20-series video on TikTok in which she shared explicit details of her horrific experiences. She tells it all—explaining her account of multiple rapes and sexual violence at the hands of multiple people and as early as 2014, when she was just 16 and just starting her modelling career.
In her video, the young girl, a former beauty pageant winner, also shares how her harrowing experiences weren't limited to the entertainment industry and continued at a tech company she later joined.
The series of videos which was taken down later that day soon reappeared across social media platforms, drawing public anger and demands for justice and reforms in the laws governing violence against women.
The statute of limitations requires a plaintiff to file a complaint within a year of the rape incident. An official complaint is also a prerequisite for Nepal Police to start an investigation into sexual violence.
"I am scared. I don't know what to do now and how to proceed further. The incident happened a long time ago. I had evidence in the past but since it was triggering me, I deleted it," the young girl told the Post later that night. "If the police could retrieve data from my mobile, then there are other [pieces of] evidence as well."
The young girl's videos have drawn an array of reactions, with people showing an immense outpouring of support and a sizeable outrage by taking to the streets.
On Friday, people from different walks of life organised a protest near the prime minister's residence at Baluwatar demanding the removal of the statute of limitations for rape and sexual violence and called for action against the guilty.
"We are here to show solidarity with all the survivors of sexual violence and demand justice, particularly for the victim here," says Madhurima Bhadra, 46, one of the protesters. "We are here to pressure the government to remove the statute of limitations for rape and sexual violence."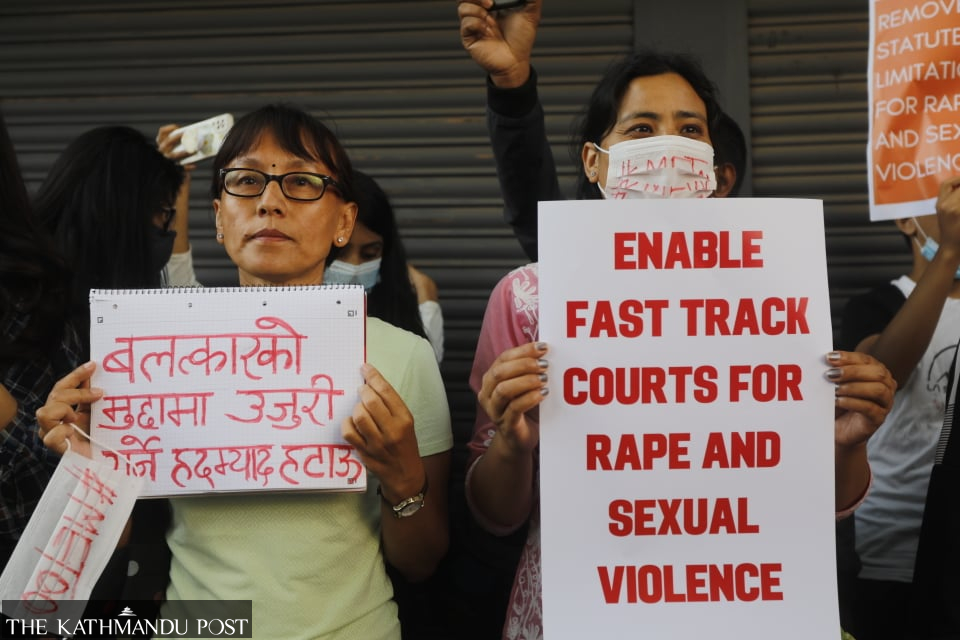 Elite Joshi/TKP
The outrage, both online and on the streets, has also drawn the attention of Nepal Police which for the first time has shown willingness to investigate a case where a woman has come forth to share her account of abuse.
But there's a caveat.
Nepal Police has said they will take the young girl's case forward should there be an official complaint.
"Our officials are in touch with the victim and an investigation has begun," said Senior Superintendent Bishnu Kumar KC, also the spokesperson for Nepal Police. "However, since we are yet to take a statement from the victim, we cannot further disclose the investigation."
However, Senior Superintendent Sudeep Giri, chief of the Metropolitan Police Range, said that the case is yet to be established, so they cannot immediately tell what case would be filed.
"Only after analysing the details and collecting evidence can we move further," said Giri. "A team has already been formed and we are waiting for the victim to cooperate with us so we can move forward with our investigation."
How the young girl's case will move forward will be clearer in a few days after police "start their investigation" but like in the past, in the lack of an effective legal environment and a support system for women who share their accounts of abuse, supporters and activists fear that justice might be denied while the perpetrators are not held to account.
"I shared my story to let people know the kind of man he is. But despite sharing my story of abuse, despite Keshav Sthapit proving his behaviour on public platforms, the fact that he still has more than 15,000 votes clearly shows that no one cares," said Rashmila Prajapati, 49, a programme producer at Radio Kantipur.
"The public has so easily normalised all these actions. It shows how people are insensitive toward these issues. And the way women support such morally corrupt people is what hurts the most," bemoaned Prajapati, who also attended Friday's protest.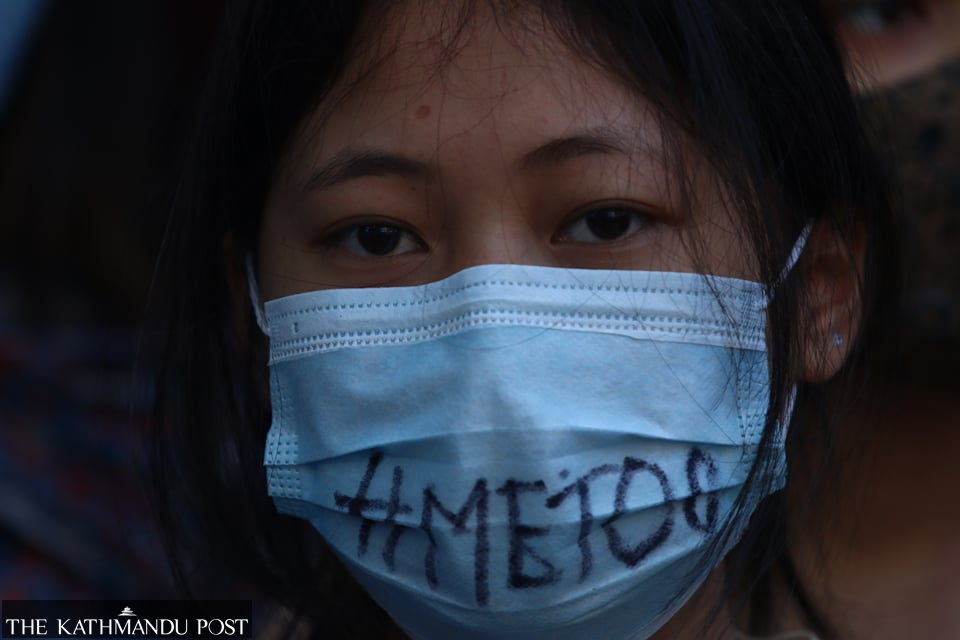 The statute of limitations and prerequisite of an official complaint to start investigation are major technical hurdles for women's access to justice. Elite Joshi/TKP
But justice has been delayed and denied even in cases where women have registered official complaints.
Out of the 6,259 rape and attempted rape cases registered in courts in the last fiscal year, the accused were convicted only in 1,260 cases. In comparison, there are 3,679 cases in the backlog awaiting final verdicts.
"I have followed Paul Shah's case. The victim did not get justice despite filing the complaint," the young girl who shared her story on Wednesday told the Post. "What will happen with me now?"
The statute of limitations and the prerequisite of an official complaint to start a formal investigation and the slow-paced judicial process have long been major technical hurdles for women's access to justice.
"Especially for a society like ours, we know the stigma of rape. In these situations, it might not be possible for the victims/survivors to file a complaint within a year," said Mamta Siwakoti, an advocate. "If the law clearly says rape is a heinous offence, and if a victim doesn't get justice purely based on technicality and procedure, then that is a huge mockery of the justice system."
Such time constraints, according to lawyers, is a technical and procedural difficulty, which may come as a mockery of the entire Nepali justice system.
Meanwhile, the government has already drafted a new ordinance to amend some laws regarding violence against women, which according to CPN-UML lawmaker Niru Devi Pal will bring more stringent laws against rape.
However, the ordinance does not address the statute of limitations for rape cases.
Pal, who is also the chair of the Women and Social Committee of the House of Representatives, believes that there should be no limitations.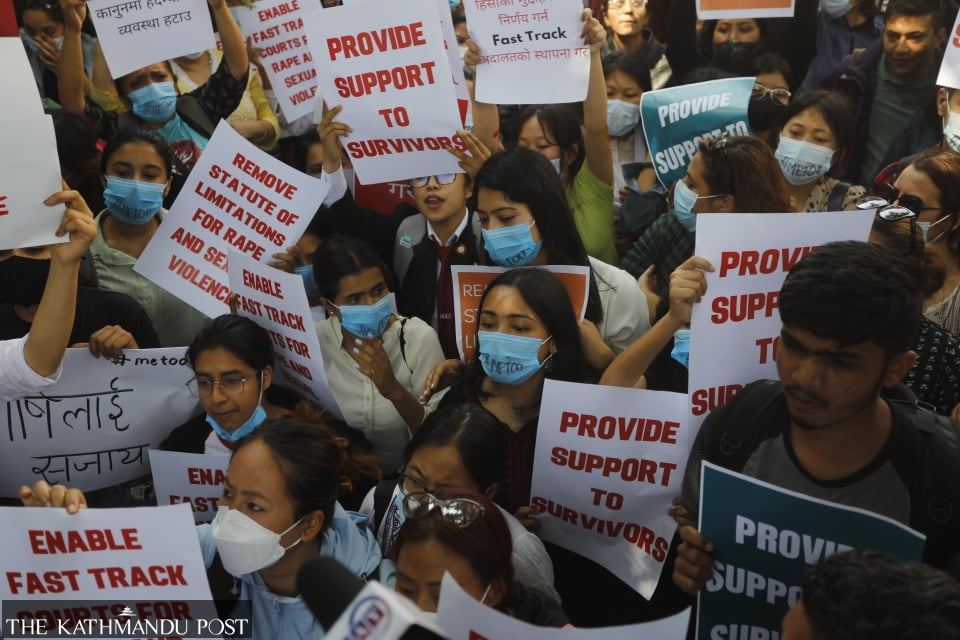 Elite Joshi/TKP
"If you kill someone, you still catch the perpetrator after 10-12 years. But for something as heinous as rape, why is there a time limit?" Pal told the Post. "I strongly believe that there should not be this statute of limitations on crimes like rape. One should be able to go and file a case and appeal for justice whenever they want."
In what is hailed as the watershed moment for the #MeToo movement globally, in February 2020, Hollywood mogul Harvey Weinstein was convicted of felony sex crime and rape, for crimes committed within the past 30 years.
Closer to home, in India, following the sexual conduct allegation made by Priya Ramani, a journalist, against the then Minister of State for External Affairs and renowned journalist MJ Akbar, the Delhi high court ruled that a woman has the right to put her grievances even after decades.
The court ruled that "women cannot be punished for raising their voice against the sexual abuse in the pretext of complaint of defamation".
But in Nepal, where rape laws are one of the weakest in the world, the statute of limitations poses the main hurdle in improving women's access to justice, which, according to legal experts, needs reforms for which the country already has a stepping stone.
While a plaintiff can file a complaint only within a year of being raped as per the statute of limitations under Section 292(2) of the National Penal Code, there is no such limitation on cases of incestual rape, as per Section 292(1).
"This shows that not having a statute of limitations is not a foreign concept for our courts, which clearly means that it can be extended to rape," said Siwakoti, who also handles the Instagram page, The Digital Lawyer.
Earlier in April 2016, a joint bench of justices Devendra Gopal Shrestha and Cholendra Shumsher Rana had set a precedent in their final verdict in a rape case.
"Even if a victim is unable to file an official complaint for various reasons – such as social shame and stigma, the possibility of being blamed, threats from the accused, due to awareness levels, or financial, social, familial conditions – police are responsible for investigating the case without an official complaint if they come to know of the incident through any means whatsoever," the Supreme Court ruling reads. "In such cases of rape, it is unjust to follow the traditional essence of the statute of limitations strictly."
---
---