Tribhuvan University lecturer sexually harassed female students for years
An investigation by The Kathmandu Post found previously undisclosed allegations against the 65-year-old Tribhuvan University lecturer stretching over last several years, based on interviews with three former students and their friends who had been directly advised by him.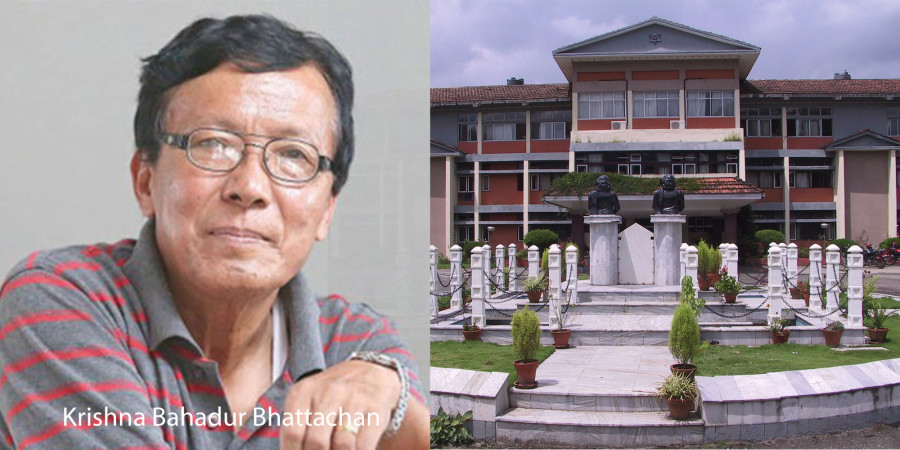 bookmark
Published at : January 24, 2019
Updated at : May 28, 2019 15:38
Kathmandu
Nearly three years ago, when Pooja was desperately trying to finish her thesis for her Master's degree before the deadline, Krishna Bahadur Bhattachan, a lecturer at Tribhuvan University offered to advise her on Saturdays—the only day she could get off her full-time work at an NGO—at his home in Dhobighat.
Pooja was elated at first, but that's when Bhattachan started touching her, grazing his fingers along her back and pressing against her thighs while seated on the sofa in his living room, she recalled in an interview.
"I looked up to him like my guardian, so I initially ignored it when he sat too close to me or hugged me," the 27-year-old student from Kirtipur said. After the first few weeks of Bhattachan's unwanted sexual advances, she confronted him directly. "You are making me uncomfortable, can we concentrate on my thesis?" she recalled telling Bhattachan.
Read: Why #MeToo never really took off in Nepal
In 2015, Kripa was just as delighted when Bhattachan agreed to supervise her thesis. Like most students, she also went to his home to discuss her work, and it was during these meetings that Bhattachan started touching her. She recalls feeling so helpless that she started taking her boyfriend along after a few weeks.
Three years after graduating, Smriti, a 28-year-old student from Mahalaxmi, discovered that Bhattachan, on the pretext of giving reading materials about Nepali women to one of his students, had slipped in electronic copies of the books "The Best Oral Sex Ever—Her Guide to Going Down" and "She Comes First: The Thinking Man's Guide to Pleasuring a Woman" inside a folder named "Special Reference" in a thumb drive.
"We were all worried about getting done with our university work and could not afford to jeopardise our relationship with such a powerful man," Pooja said in an interview.
An investigation by The Kathmandu Post found previously undisclosed allegations against the 65-year-old Tribhuvan University lecturer stretching over last several years, based on interviews with three former students and their friends who had been directly advised by him. The Post can also confirm that Bhattachan is the person who had been previously accused of sexual harassment by two women, Manisha Lamsal and Nisha Shah, in a piece published in the Record last month, detailing how he continued to touch them inappropriately, hug them, and made uncomfortable sexual remarks. The names of the three women and their friends who spoke to the Post have been changed to grant anonymity on their request because they feared attacks and vilification in society. All students, including the three women, said they were worried that Bhattachan's reputation and powerful connections would damage their careers if their names were revealed in the story.
"I fear people will take his support because he is so renowned and we will instead be questioned for talking about these incidents after so many years," said Kripa. "I am not ready to deal with that sort of consequences."
Bhattachan retired from the university in August 2015, but continued to work with some of his students whom he had been advising on their theses before retirement.
In an interview with the Post, Bhattachan strongly denied the allegations, calling them baseless and false. He also said he was not aware of any articles by his former students accusing him of sexual harassment.
"I am so surprised," he said in a phone interview. "I have never heard of anything like this."
A few weeks after describing their ordeal in the Record, Lamsal and Shah co-authored a piece in Nepali for Kantipur daily. Both the Record and Kantipur daily pieces were widely shared on social media.
"I have so much on my plate that it is not possible to follow everything people publish," Bhattachan told the Post. "Sometimes you know the person, but can't remember the face or their name. I have advised thousands of students."
But the Master's theses completed by Lamsal and Shah, copies of which were obtained by the Post, showed that Bhattachan was among the three university officials who signed on the document in which he was listed as "Thesis Supervisor".
Read: Fed up by harassment, Nepali women are going online to share their #MeToo stories
The three women, who spoke to the Post, said they broke their silence a few weeks after unwanted advances from Bhattachan at his home and told him they were uncomfortable with his behavior.
But instead of apologising, Smriti said, he would defend his actions.
"So what? I am doing it out of love," she said he told her, and get back to working on the thesis as if nothing had happened. The following Saturday, he would start touching her again.
Kripa said she was just as appalled when Bhattachan behaved like nothing was going on even when they called him out every now and then. "Sir, I am feeling very odd," she said she told him one day when he was trying to press on her thighs. When she stood up from the sofa and confronted him, she said Bhattachan told her: "This is how I am."
On several occasions, Bhattachan made it unbearable by forcibly hugging them, Kripa said, and tried to get away by saying: "I am giving you my blessings."
Lamsal, who recounted her experience in the Record, describes a similar instance when the lecturer stuck his tongue inside her right ear, and then said, "I am simply giving you my best wishes."
Bhattachan categorically denied making any of his female students uncomfortable. "I deny all these allegations," he told the Post. "And if they did feel that way then, they should have told me."
***
Most students in the classroom who were unaware of Bhattachan's behavior were in awe of him. The sociology lecturer, who has spent 34 years at the university and a founding faculty member of the sociology department, maintained a reputation among students for his stance on justice, rights and empowerment for women and the marginalised communities.
Even before his retirement, Bhattachan, who holds a doctorate from University of California-Berkeley, was seen as a prominent expert on indigenous rights, and frequently presented papers at national and international seminars. He also regularly featured as a guest on leading television talk shows.
But for others, like 28-year-old Bina, it was clear that Bhattachan was the unnamed lecturer in the Record story as soon as she began reading it.
While Bhattachan never harassed her, Bina, who took his classes from 2014 to 2016, said her female classmates would often brush off the lecturer's "provocative but inappropriate and borderline vulgar remarks" by saying that's just who he is.
"You just have to be around him to know that," she said.
A few years after graduating, Smriti, her colleague and another graduate of the university's sociology programme—who is among the three new women accusing Bhattachan of harassing them—told Bina how Bhattachan asked Smriti if she was a lesbian.
"Making unwarranted comment about people's sexuality is among the many inappropriate things he has normalised because he says them quite often inside and outside the classroom," she said.
Anil, a 30-year-old student from Parbat, told the Post he found out about Bhattachan's behavior through his interactions with female students. "Bhattachan would mention things that were very sexual in nature out of nowhere, especially things that would have double meanings," he said, recalling his time in Bhattachan's classes. Anil completed his degree in 2015.
During his time at the university, Anil was among a dozen or so students who, along with Smriti, hung out with Bhattachan after their classes were over. If it wasn't the tea shops near the university in Kirtipur, they would play futsal in the town, go for hikes, or grab a bite at Lahana, a popular eatery nearby.
During one of these get-togethers on a rainy August afternoon in 2016, Anil said he could see Bhattachan putting his hands on one of his female friends' thigh repeatedly. They had all gathered to celebrate Bhattachan's birthday.
"It made me uncomfortable and I could see my friend was too," he said. "I was shocked but unable to do anything except move to another side of the table."
The Post could not verify the identity of the woman, but pictures from that afternoon obtained by the Post and testimonies from three other students who were at the restaurant confirmed that Bhattachan was, in fact, seated next to a female student surrounded by his family and students.
Several students the Post spoked to since the two pieces were published in the Record and Kantipur Daily said they have been waiting to see what the sociology department and the university authorities will do next. But officials at Tribhuvan University told the Post they couldn't do anything unless the women file complaints first.
"We will listen to these complaints if they reach out to us," said Tirth Raj Khaniya, the university's vice-chancellor. "They should talk to us before going to the media."
In an interview with the Post last month, university officials said they were unaware of the events described by the female students in the sociology department.
According to Khaniya, the university doesn't have an independent mechanism to handle complaints of sexual harassment but the Student Welfare and Sports Directorate looks into these matters and other general complaints.
The university's sociology department hasn't issued any statement, but the head of the department, Dr Tulsi Ram Pandey, said he had discussed with his fellow faculty members and students about the accusations.
"If the students reach out to us then it won't be an issue for us to identify who the teacher from our department is," said Pandey.
Read: Former Kathmandu mayor decries 'rape of men's rights' after women accuse him of sexual harassment
Some faculty members say the university's informal working style—lack of office spaces and facilities for academics—means often times professors and lecturers carry out their supervision in informal places.
"This makes female students highly vulnerable to abuse," said Neeti Aryal Khanal, who joined the department as a full-time faculty in 2011 and is currently pursuing her doctorate in Australia.
Khanal said it's high time the oldest university of the country took action and formulated mechanism to usher in professionalism and ensured safety of female students and academics, whether or not the department and perpetrator are named in the media.
"I fully support the students who have spoken out," she said, "and I believe them."
Have you experienced sexual harassment at work or have a confidential tip you'd like to share? You can securely get in touch with The Kathmandu Post editors using our encrypted email account: [email protected].
Bhrikuti Rai is a journalist based in Kathmandu and the co-creator of Boju Bajai podcast.
---
---