Is Nepal's #MeToo movement finally taking off?
In Nepal, #MeToo stories have led to more counter-accusations than introspection.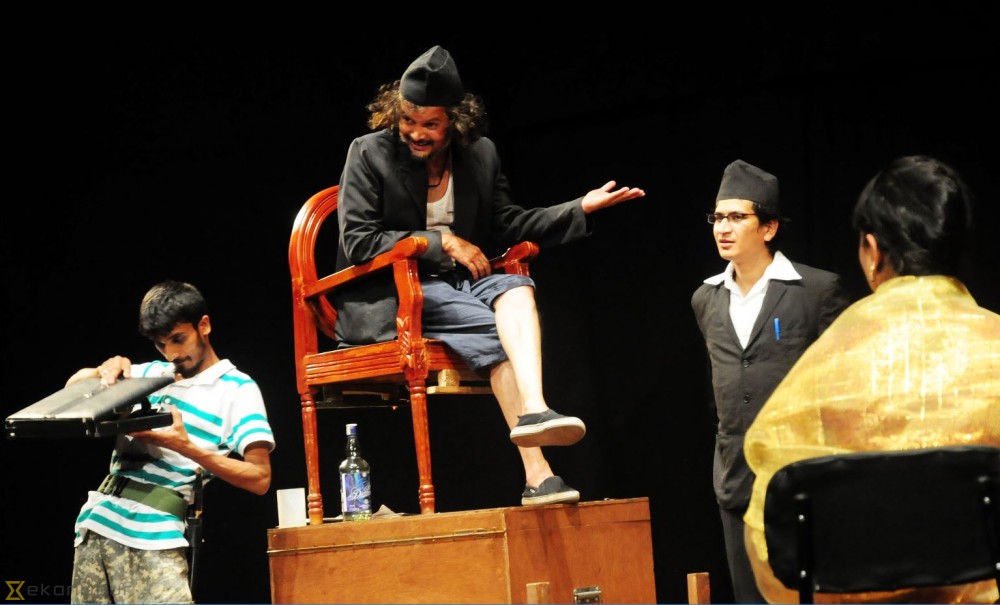 Sunil Pokharel (second from left), was accused of accused of sexual harassment by several female theatre actors. But Pokharel, the founder of the now-defunct Gurukul Theatre, has denied all allegations. Post File Photo
Published at : May 11, 2019
Updated at : October 1, 2019 11:58
When a report about sexual harassment in Nepal's theatre community became public last month, nearly a dozen actors, both men and women, were rehearsing their lines for the play 'Private is Political' on the fourth floor of the Kausi Theatre in Teku. In the play, which is the fourth rendition of The Vagina Monologues in Nepal, the actors reenact incidents of sexual harassment similar to those currently creating ripples across Nepal's theatre scene.
The story, which was published by Shukrabar weekly, carried several female actors' allegations of sexual harassment against Raj Kumar Pudasaini of One World Theatre, Rajan Khatiwada of Mandala and Sunil Pokharel, the venerable founder of the now-defunct Gurukul Theatre. On April 19, One World Theatre Nepal, a non-profit theatre company, went a step ahead and suspended Pudasaini from several of its projects for a year.
The timing of the play and the story was incidental, but for those following sporadic sexual harassment stories reported in the Nepali media, including several in The Kathmandu Post, what followed was a rare instance when men accused were publicly held to account by their own institutions.
Across the world, #MeToo movements have taken shape in unique ways and at varying paces. But there have been similar patterns across the world on how the aftermath plays out. First comes denial; then, after probing and social media shaming, come apology statements, some remorseful, others more defensive or even accusatory, questioning the accusers' intents and motives. Finally, the alleged perpetrators retreat from public life for a while, sometimes for much longer, before staging a comeback.
Nepal's theatre scene saw events unfold in a similar fashion, but it had an additional layer of mediation as soon as the allegations surfaced in the press. Women and men from the theatre fraternity gathered at Kausi, the same stage where hours before actors were reenacting incidents of sexual harassment. There were seven women in the room, who were there to speak specifically about the trauma they'd faced in their lives because of one of the actors named in the media report. Some of the women were part of the Shukrabar story and some weren't, but they were all there because they wanted to relate to the perpetrator how they had felt violated and harassed by his actions.
Akanchha Karki, director of Private is Political and co-founder of Katha Ghera, a theatre production company, was also in that tense room that afternoon. She told the perpetrator how he had felt her up while she was dropping him off on her scooter after play practice a few years ago.
"He felt my entire body—breast, stomach everything—while seated behind me on the scooty," Karki recalled in a phone interview with the Post. "I pushed him but he didn't stop, and I went ahead uncomfortably for the rest of the ride."
That was the last time she ever offered to drop him anywhere. When she looked the perpetrator in the eye and recalled the incident, he didn't deny his actions.
"'I didn't know, I am sorry' was all he said," Karki recalled on the phone, describing the meeting held last month.
Hearing the perpetrator apologise in public felt validating, said Karki, and she had a sudden release of all the suppressed emotions that had built up inside her for all those years.
But being part of a closely-knit theatre community, first as a woman who was harassed by a member of the same fraternity, and second, as one of the few women in positions of power in theatre, brought about a unique set of challenges.
Karki wasn't just a confidant to young women who came to her for advice and solace after the Sukrabar report. One of the accused even reached out to her to get feedback on his apology statement, and she couldn't refuse. When she had to return to directing the play and talk about the very same things, she was overwhelmed.
"It was such a fucked up place to be in," said Karki. "You don't know what to say to whom."

Rajan Khatiwada (left) of Mandala Theatre and Rajkumar Pudasaini (right) of One World Theatre have both resigned from their respective theatre troupes following the allegations of sexual harassment against them. Post Photo: Sanjog Manandhar
Cat is out of the bag. Now what?
The conversations and sharing of stories of abuse and harassment among female members of Nepal's theatre scene had started long before reports began to surface in the media. Four years to be exact. That's when they began practising for the first performance of The Vagina Monologues in Nepal. Behind closed doors at rehearsals, women, both young and old, recalled several heart-wrenching incidents where they were made to feel uncomfortable by leading figures of the theatre fraternity. The women had stopped keeping count of the unwanted touches they had been subjected to. Some had screenshots of sexually indecent proposals, others had accounts of being called in the middle of the night to help veteran actors they looked up to fall asleep or soothe their tired artistic souls.
During those rehearsals, they cried together, tried to lift each other up, and ultimately, channelled that rage and frustration into their performance. But now that some of them have done the same in real life, face-to-face with their perpetrators, women and men from the industry are looking at steps beyond immediate action.
Shreejana Adhikari, who was at the meeting in Kausi as a mediator and not a victim, said that what happened in that room for three hours was the first of many steps required to change the prevailing culture and attitude towards sexual harassment.
"Institutions need to educate their crews and cast about sexual harassment as well as make rules and implement them effectively, to make sure such harassment isn't tolerated," said Adhikari.
Artists like Adhikari and Karki feel that the values embodied by the theatre community--the practice of hearing one out or empathising, such an intrinsic part of their DNA--might have resulted in the mediation session and the men apologising.
"People owning up to their mistakes should be a lesson for those who are still hesitant to talk about sexual harassment, which is rampant in our line of work," said theatre actor and director Pashupati Rai.
After the story was published, One World Theatre released a statement saying it would suspend Rajkumar Pudasaini for a year, barring him from directing plays or overseeing its acting courses.
People from the theatre fraternity, as well as those closely following the recent chain of events, said that this was the kind of precedent institutions should set for accountability in the aftermath of such dark, disturbing revelations.
But Karki said the reaction and attempts at accountability within the theatre community have been different because of the stature of the men accused.
"The perpetrators in the Nepali theatre scene are less powerful when it comes to money and influence, compared to perpetrators from other fields, like Krishna Bahadur Bhattachan in academia," said Karki.
Women who aren't from the theatre fraternity and have spoken about their ordeals in the past echo Karki's sentiments. One such woman is 28-year-old Smriti, who spoke to the Post earlier this year about being harassed by Bhattachan. She has been following the theatre world's unfolding drama, and sees stark similarities between Sunil Pokharel and Krishna Bahadur Bhattachan, both men, who are revered in their line of work. Unlike his peers, Pokharel seemed the most defensive when it came to apologising to his accusers.
"'Nobody can touch me, nothing will faze me' is what I sense these men feel, which is reflected in their response to the allegations," said Smriti.
Since sharing her story five months ago, Smriti has been through a whirlwind of emotions. Fear creeped in first. She was scared about what would happen if she came face-to-face with Bhattachan or people from his inner circle. As time went by, she has learned how to handle such situations, but hasn't been able to shake her disgust and frustration at the lack of action or acknowledgment. She said she was particularly appalled by the "blatant hypocrisy" of rights-based groups' refusal to acknowledge sexual harassment as an issue.
"We've come to accept that things will not change for these powerful men," she said.
Last week, dozens of former students from Lalitpur Madhyamik Vidyalaya felt the same way, for they too had recounted being molested and abused by teachers Bodha Raj 'Basu' Tripathee, Sumanta 'Suman' KC, and Gokul Sharma. After the Post published their accounts, an investigation committee was formed to look into the allegations. Rachana Dahal, 21, was among those who recounted being molested by Tripathee, her fourth grade maths teacher in 2009. But last Monday, the committee cleared all three teachers, saying it couldn't find sufficient evidence against them.
Dahal said the committee's decision didn't surprise her, because she felt its members were more sympathetic to the accused from the very beginning of the investigation.
"They implied accusations of molestation weren't a big deal, saying 'how would a kid know what had happened to her?'" Dahal said, recalling one of her meetings with the committee. "I stopped giving a shit after that."
But what irked her most was the committee's hard stance on evidence and refusal to believe the dozens of disturbing testimonies, which showed a pattern of abuse by the three teachers at the Lalitpur school.
"Evidence is what we remember, how we felt when those men molested us," said Dahal. "What else do they expect us to bring in front of them?"
Despite the committee's decision to give the three men a clean chit, Dahal feels the decision by her, and dozens of other former students, to speak out about what they experienced sparked a conversation about molestation and abuse in schools. But she knows it will take time to see real change.
For Smriti and Dahal, the only sliver of hope has been the slow-changing attitude when it comes to hearing and giving space to #MeToo stories in the media. In the last few weeks, the number of stories on sexual harassment, whether at work or home, have become more visible in Nepali media.
"It seems people are finally willing to hear and read these stories," said Smriti.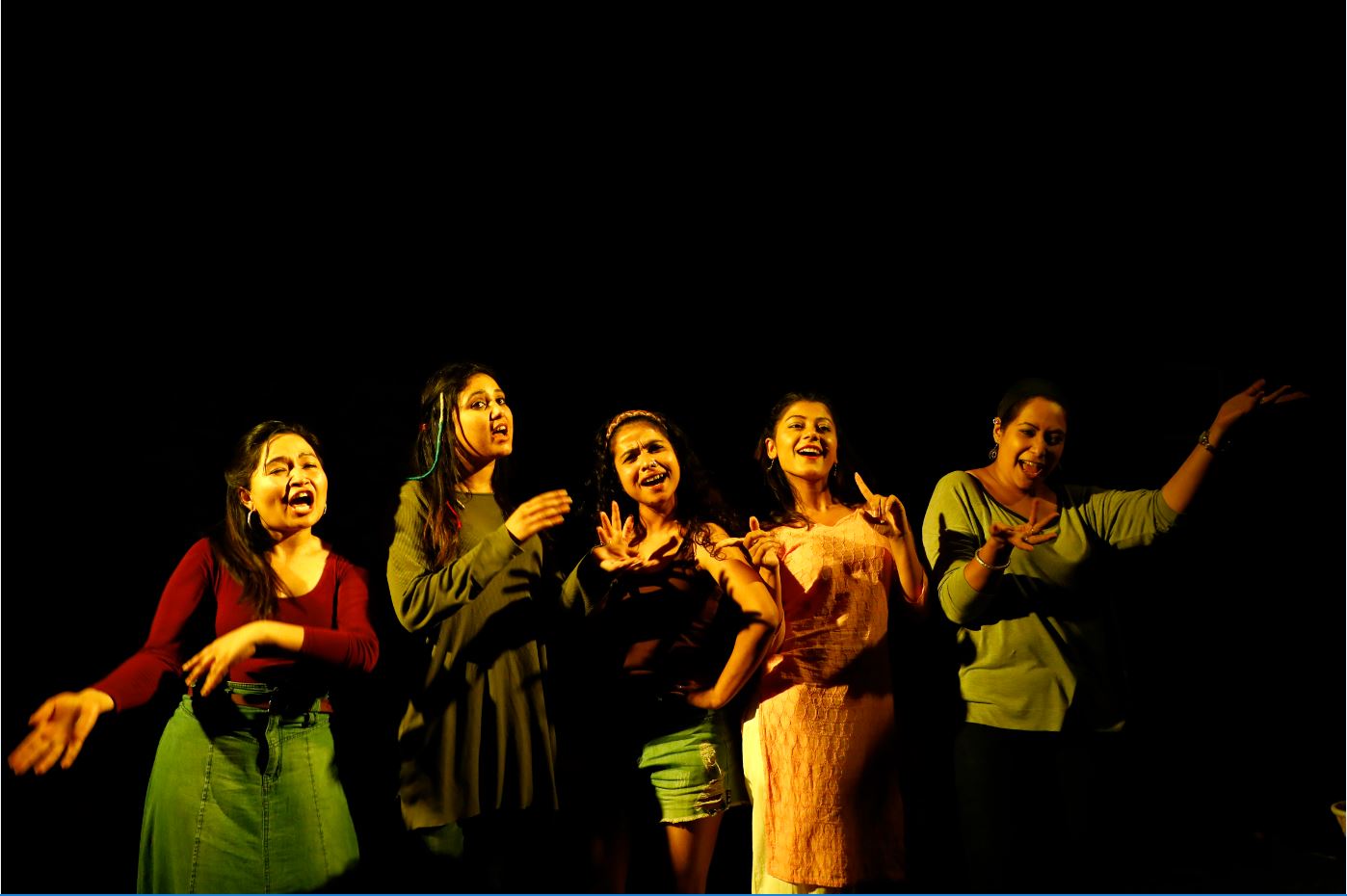 In the fourth instalment of The Vagina Monologues, actors renacted incidents of sexual harassment similar to that of the recent #MeToo movement. Post Photo: Hemanta Shrestha
But some say the media's treatment of stories of sexual harassment needs to change and should be pursued like it would any other general story, seeking accountability and asking tough questions to the institutions where these incidents take place.
"These stories shouldn't be just relegated to 'special issue' and opinion pieces," said former student leader Manushi Yami Bhattarai. "We need more hard-hitting investigative reporting to uncover these incidents."
A section of society is taking pause to introspect, but it is going to take a lot of time until institutions are willing to take the conversation forward, said Bhattarai. And that won't happen until they are overcome with a sense of urgency, which is currently absent.
More than two months after Tribhuvan University held its first discussion on how to deal with sexual harassment, the institution's Gender Studies programme hosted a similar event last week. Yet, a lack of action to further the conversation stumps former students like Bhattarai.
"There is no urgency to make this a priority for those at decision-making levels in institutions like Tribhuvan University," said Bhattarai. "We are pushing them as much as we can, but it is frustrating to see no response."
Bhattarai, who recently watched the Private is Political play, and has been closely following stories of sexual harassment in the media, said the play and the actions undertaken by the Nepali theatre scene have prompted discourse, and suspending one of the perpetrators set a precedent. But the path towards taking action when such cases are reported remains unpaved, and creating workplace committees to handle such complaints is a good place to start, she said.
While older and larger institutions like Tribhuvan University have shown a lax attitude in addressing sexual harassment, the chain of events in Nepal's theatre scene has moved relatively swiftly.
"We aren't rigid like other fields, and are willing to talk and start a dialogue," said Somnath Khanal, an actor with Mandala Theatre, whose colleague Rajan Khatiwada was also accused of sexually harassing female colleagues. After the allegations surfaced, the actor resigned and Mandala issued a statement.
But there are many from the theatre fraternity who feel the time has come to move beyond issuing statements and jumping into damage control mode.
"Introspection around the culture and institutions, which we are a part of, that allow such behaviour to continue, have to start now," said theatre actor Sudham Ck, who is part of Private is Political. "It's time to change and not just talk about change."
Some members of Nepal's tightly knit theatre community have been taking gradual steps in that direction. Since the allegations against Khatiwada surfaced, actors and directors at Mandala have held several meetings to decide on ways to move forward and tackle the sexual harassment issue head on. According to Khanal, Mandala will now bring in experts to educate and talk to aspiring actors in a three-month course about sexual harassment. Mandala is also planning to formulate guidelines to make it clear it will not tolerate harassment.
For Khanal, it seemed like theatre actors had always raised social issues using their platforms. But it was only after the extent of recent revelations that he felt they had failed to prioritise these issues with the urgency they needed.
"We were late to sense the urgency," said Khanal, "but now it's a priority for us."
---