12 Nepalis atop Mt Everest amid virus scare
Kami Rita Sherpa led the group and climbed the mountain for a record 25 times. The ascent in the time of a pandemic is the season's earliest in more than two decades.

Photo courtesy: Seven Summit Treks
bookmark
Published at : May 7, 2021
Updated at : May 8, 2021 08:04
Kathmandu
Twelve sherpas who fixed ropes to the top of Everest on Friday became the first climbers to summit the mountain this year, making it the earliest spring climb in two decades.
With the growing number of coronavirus cases, there is pressure on expeditions to complete climbing as early as possible.
A team led by American mountaineer Peter G Athans had climbed Everest on May 5, 1999.
Kami Rita Sherpa led the group on Friday and became the only person to reach the 8848.86 metre tall Everest for the 25th time, breaking his own record set in 2019.
This is also the first time the mountain has been scaled since Nepal and China jointly announced in December last year the new and common height of Everest, a figure 86 centimetres higher than the earlier established height.
They reached the summit at 6pm, said Mingma Sherpa, managing director of Seven Summit Treks.
"With the record feat, Kami Rita has now set his sights on climbing the world's tallest peak for the 26th time next week," Sherpa told the Post. "He will be leading an Indian team."
Kami Rita, 52, made his first ascent of Everest in 1994 when he was 24 years old.
Other climbers who reached the summit are Tenjing Sherpa, Mingma Tenje Sherpa, Mingma Dorchi Sherpa, Phurtenje Sherpa, Lakpa Nurbu Sherpa, Ngima Tashi Sherpa, Fura Tshering Sherpa, Phurba Chhotar Sherpa, Chheten Dorjee Sherpa, Tenging Gyaljen Sherpa and Furba Kusang Sherpa.
According to Seven Summit Treks, the first climbing weather window is favourable until May 12.
This year, a record 408 climbers, including one from the "other gender" category, have received Everest permits.
The earlier record was set in 2019 when 381 climbers had got permission from the Department of Tourism to climb the mountain.
No permits were issued in 2020 as Nepal was on a four-month lockdown from March to July to check the coronavirus spread.
Friday's climb comes amid coronavirus concerns on Everest as a second wave of infections is raging in Nepal.
On April 15, the Norwegian climber Erlend Ness reportedly complained of cough and fever, also symptoms of Covid-19, at Everest base camp. He was immediately airlifted to a hospital in Kathmandu, where he was diagnosed with Covid-19. Ness quit the expedition because he could not be exposed to high altitudes again.
Another climber, Steve Davis, a member of the Elite Himalayan team, also tested positive for the virus.
There have been unverified reports of more people at the mountain catching the virus.
An official at the Himalayan Rescue Association said at least two dozen climbers had been found suffering from "serious coughing" at the Everest base camp. But they don't know if it is due to "Khumbu cough" or Covid-19, as in both cases the lungs fill with fluid and the sufferers have similar symptoms.
Khumbu cough is a high-altitude cough caused by a combination of high altitude and low relative humidity. It can be severe enough in some instances to result in broken ribs.
The incidents have stoked concerns among the mountaineering community if the coronavirus had made it to the Everest base camp, where around 1,500 people have gathered. These include Nepalis who help the foreign climbers in different capacities as well as officials.
But government officials have dismissed reports of a Covid-19 outbreak on Everest.
It has, however, directed the different expeditions to maintain distance from other expeditions and not to mingle with each other. Boundary ropes have been fixed to separate one tent from another. Signages have been placed in many places reminding people to wear a mask.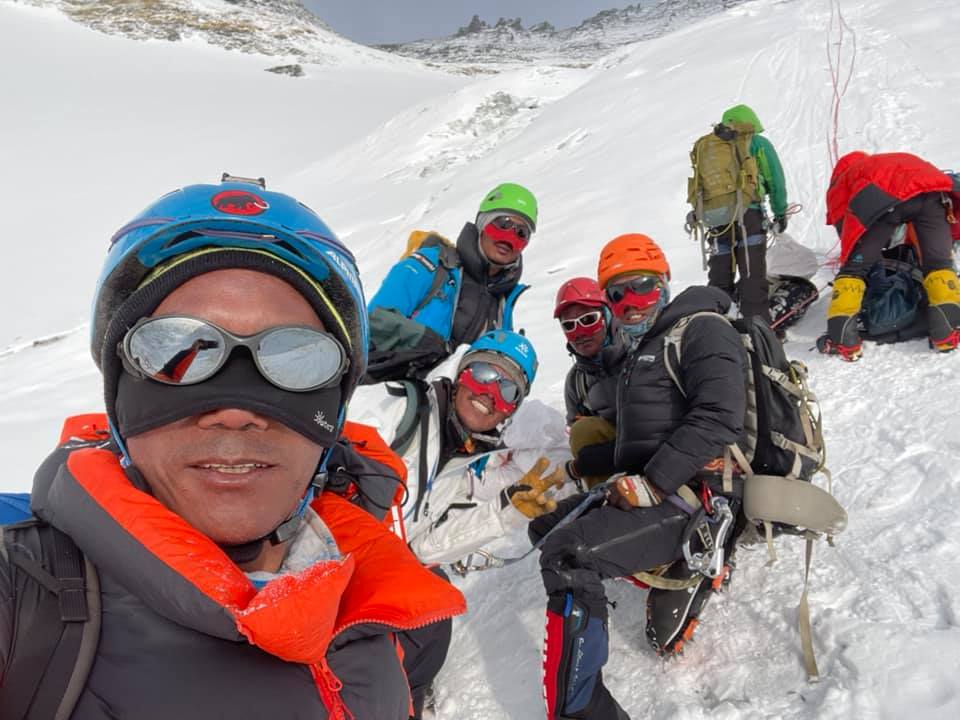 Photo courtesy: Seven Summit Treks
On Friday, the Tourism Ministry issued a statement saying its attention has been drawn to various media reports claiming there is a virus outbreak on Everest. The ministry urged not to publish stories without verification as it could terrorise the mountaineers as well as their family members.
The ministry said it has constituted a Covid-19 crisis facilitation and coordination unit to rescue trekkers and mountaineers and help them.
With climbers paying $11,000 for each permit, the government collects significant royalties from the permits. Besides, thousands of people earn their living from expeditions on Everest from expedition outfitters to porters and climbing guides.
With the large number of climbers and concerns of overcrowding on the mountain in the past, this year Nepal has introduced a quota system setting the maximum number of climbers that will be permitted to make an attempt on Everest on particular days.
The Department of Tourism has said a specified number of mountaineers, selected on the basis of their climbing permit numbers, would be allowed to make attempts at the summit during the different fine weather windows.
If this plan does not work, the expedition outfitters will have to coordinate among themselves and organise the climbing, limiting numbers to a maximum of 170 individuals in one weather window, the Department of Tourism said.
According to Guinness World Records, which lists ultimate record-breaking facts and achievements, the most number of people to reach the peak of Everest on a single day is 354, with 212 climbers from the Nepal side, as recorded on May 23, 2019.
---
---