Everest saw its first Covid-19 case last week and this week all-time high number of permits
394 climbing permits have been issued to Everest aspirants even as Nepal has been reporting a steady rise in the number of new coronavirus infections over the last two weeks.

Photo courtesy: Department of Tourism
bookmark
Published at : April 23, 2021
Updated at : April 24, 2021 13:22
Kathmandu
On April 15, a few days after reaching the Everest base camp, Norwegian climber Erlend Ness suddenly felt sick.
The adventurer from Trondheim had to give up on his dream to reach the highest point on the planet at 5,500 metres, the base camp of the 8,848.86-metre Everest.
He eventually had to be evacuated to Kathmandu and was later diagnosed with Covid-19, becoming the first recorded Covid-19 case at Everest.
Despite the pandemic having come to Everest and Nepal witnessing a second wave of infections, aspiring summiteers have not been deterred.
By Friday, 394 climbing permits had been issued to climb Everest, an all-time high beating the earlier record of 381 permits in the spring of 2019.
On Friday, Nepal recorded 2,449 new cases, a sharp rise from 490 on April 15.
Ness is one of the 394, but he will not be climbing the mountain. He has called off the expedition and is leaving home next week, his campaign outfitter said.
Ness and seven others in his group had flown to Lukla, the gateway to the Everest region, on April 4. They were happy sharing photos and videos of crossing the gushing Dudh Koshi river, encountering yaks and ponies with their bells jangling, as they carried loads up to the mountain and porters lugging expedition equipment.
But at Kala Patthar (5,600 metres), the point that provides the best view of the Everest summit, his problems started.
"I was drained of energy and thought I had drunk too little [fluids]. After three days of climbing the Kala Patthar mountain at 5,600 meters, I only got worse and worse," Ness told Norwegian broadcaster NRK.
His health started to deteriorate further.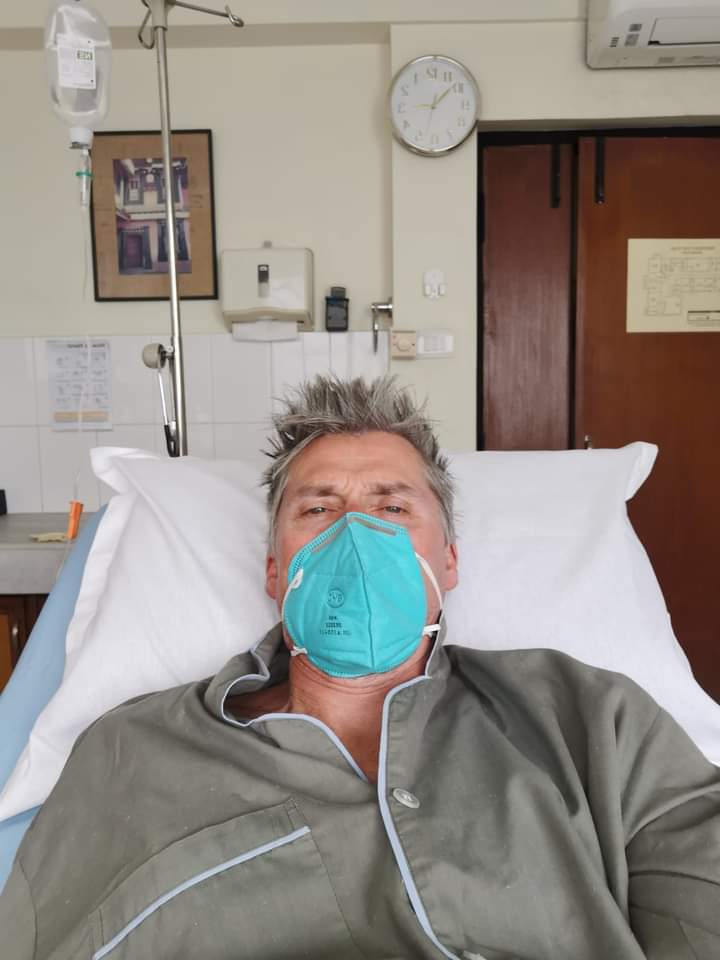 Those who came in close contact with Ness have tested negative. Photo via Erlend Ness' Facebook
"After reaching the base camp, Ness didn't eat for four days. We were worried," his guide Pasang Norbu Sherpa told the Post. "We thought it was altitude sickness. He was kept in his tent at the base camp for three days and given bottled oxygen. But that didn't help."
He was taken to the medical clinic, a seasonal health aid post run in a tent every year at the Everest base camp during the spring climbing season by the Himalayan Rescue Association.
"The doctors informed us that Ness had some fluid in his lungs, making it difficult for him to breathe," said Pasang Norbu, the director of Himalayan Trailblazer Trekking and Expedition, the expedition outfitter that is taking care of eight mountaineers in Ness's group.
The diagnosis meant Ness was suffering from high-altitude pulmonary edema (HAPE), a life-threatening form of non-cardiogenic pulmonary edema [fluid accumulation in the lungs] that occurs at altitudes typically above 2,500 metres.
Ness's guide immediately informed his insurance company. The company dispatched a chopper to airlift him to Kathmandu. He was admitted to CIWEC Clinic Travel Medicine Center, also known as CIWEC Hospital, in Kathmandu which specialises in travel-related illnesses.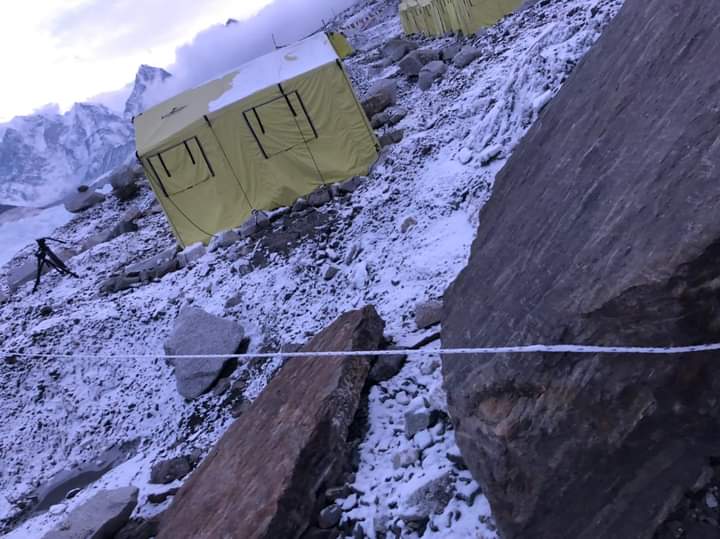 Boundary ropes have been fixed to separate one tent from another. Photo courtesy: Department of Tourism
"The hospital conducted a polymerase chain reaction (PCR) test which initially came out negative on April 15," said Pasang Norbu, who accompanied him to the hospital. "Another PCR test was conducted in the evening the same day. The report came the next morning and it was positive."
Ness was unsure for a while if it was altitude sickness or Covid-19, or both, that he was suffering from.
Ness says that in his eight years of climbing mountains around the world, he never had problems with altitude.
"I don't know if I have HAPE or Covid-19," he told NKN from the hospital.
Ness had another problem—that of finances.
"He immediately called me and said he has no money to pay for his treatment as the hospital charge was outrageous," said Pasang Norbu. "It would cost him $1,500 a day and he would have to stay for a minimum of 10 days."
His insurance covered the rescue but not the hospital stay.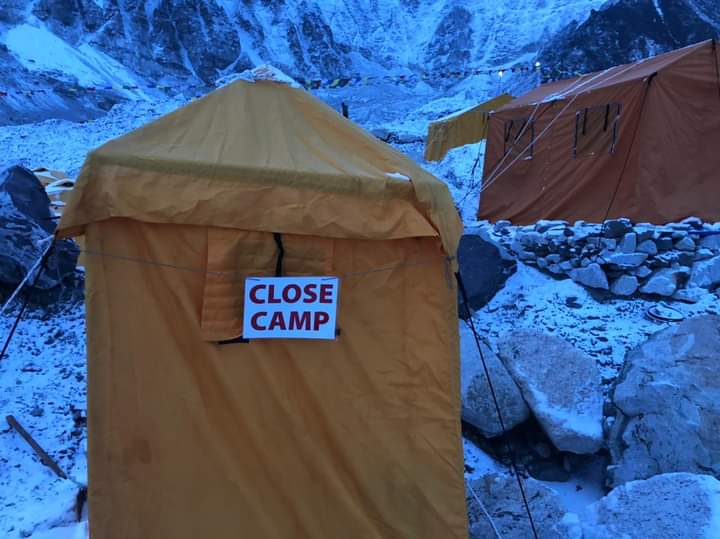 After the first Covid-19 case last week, there has been a restriction on people's movement at the base camp but other than that everything is normal at the base camp. Photo courtesy: Department of Tourism
Pasang Norbu looked for a hospital that would take him and shifted him to Karuna Hospital in Kapan on April 16.
"It cost him Rs25,000 a day," said Pasang Norbu.
Another PCR test was conducted on April 17 and that too returned a positive result.
The final PCR test on April 22 came out negative. Since discharge, he has been staying in home isolation in Kathmandu.
"Ness has dropped his plan to climb Everest as a patient of pneumonia should not be exposed to cold and high altitude," Pasang Norbu said. "He will leave for his country next week."
Those who came in close contact with Ness have tested negative.
"All the members including the chopper pilot, who was in close contact with Ness, his guide, had PCR tests done and all came out negative," said Mira Acharya, director of the Department of Tourism.
Pasang Norbu who spent more than two weeks with Ness said his report was negative.
But government officials were not told that Ness had tested positive despite rules that hospitals must inform the government of positive cases they come across.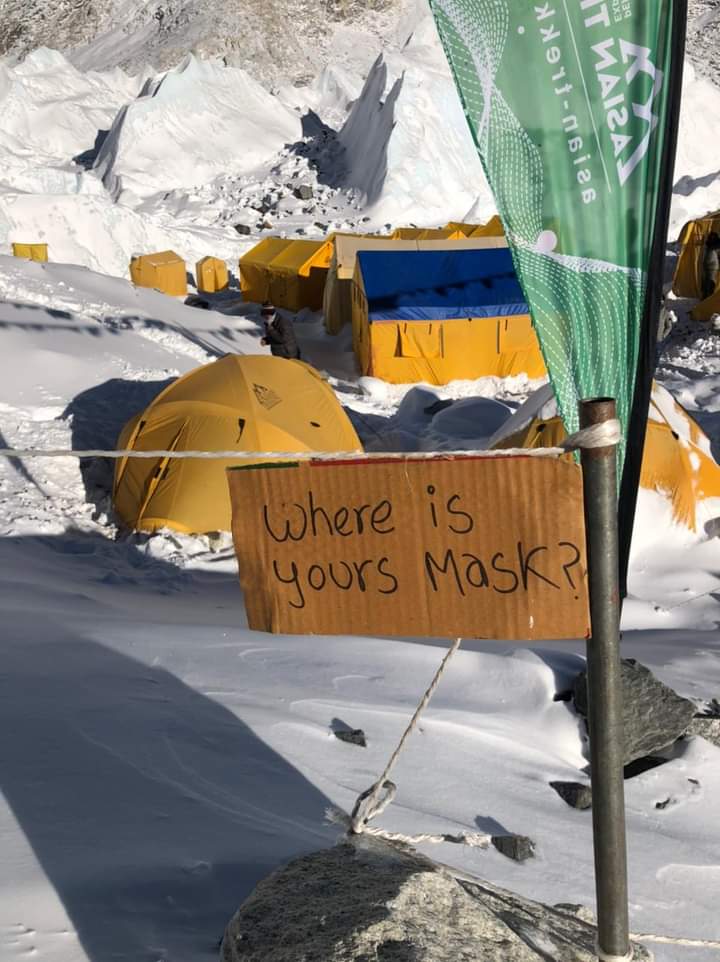 Photo courtesy: Department of Tourism
"Ness was evacuated on April 15 and we were informed that he was suffering from pneumonia. That is all the information we have received," Acharya said. "It was a lax on part of the hospital not to inform us about the Covid-19 case."
But Dr Prativa Pandey, medical director of CIWEC Hospital, where the Norwegian climber was first admitted, told the Post that the hospital had alerted the concerned authorities about the infection on people who are in Nepal to climb Everest.
The Health Ministry, however, said it is also unaware of any foreigners infected with Covid-19.
"We do not have any information regarding infection of foreigners who are in Nepal for mountaineering expeditions," Dr Samir Kumar Adhikari, joint spokesperson for the Health Ministry, told the Post.
"Representatives of other national and international media have been inquiring about the latest situation on the Everest base camp, but we [ministry] don't have any information to comment on."
There are concerns among the mountaineering community at Everest as expressed on social media that the coronavirus has made it to Everest base camp. There are at present around 2,000 people there.
When news of the Covid-19 case on Everest first came out on Wednesday, the Department of Tourism issued a circular to all expedition outfitters, asking groups not to mix with each other.
Boundary ropes have been fixed to separate one tent from another.
With the first case, people started saying on social media platforms that the situation is getting out of control at the base camp. But Acharya was quick to dismiss the claim saying it was just a rumor.
What has been concerning doctors at the base camp is that symptoms of Covid-19 are similar to those of high altitude sickness.
"There have generally been many altitude cases this season, which have symptoms similar to coronavirus infection," Dr Prakash Kharel, stationed at the Everest base camp, told the Post over the phone. "We don't test Covid-19 here and we don't know about coronavirus cases."
He said that climbers should nonetheless take necessary precautions.
"We generally have been suggesting the climbers' guides that if there are symptoms of altitude sickness lasting for five days, climbers should be evacuated," said Kharel.
According to him, after the first Covid-19 case last week, there has been a restriction on people's movement at the base camp but other than that everything is normal.
But one official at the Everest base camp, who spoke to the Post on condition of anonymity, said at least four people who were evacuated last week have been diagnosed with Covid-19, citing reports of different hospitals in Kathmandu.
"That was last week's case. This week, so far, everything is looking good," said the official who did not wish to be named.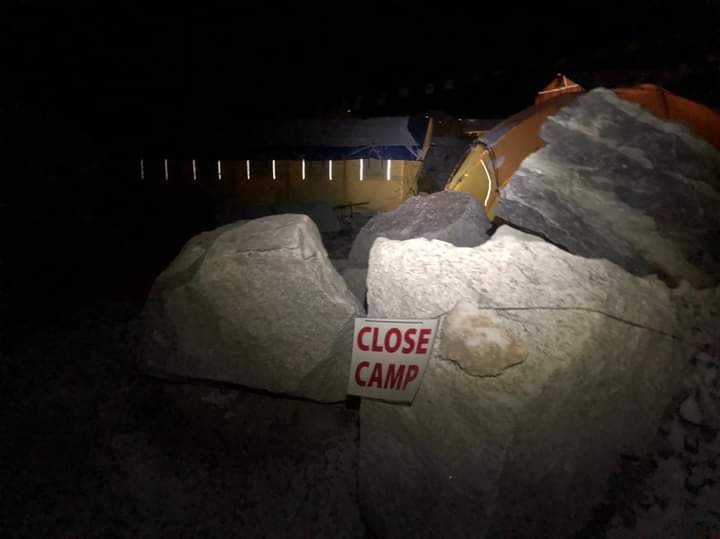 Photo courtesy: Department of Tourism
Meanwhile, given the record number of permits issued so far this season and worries about a traffic jam-like situation near the summit as in 2019, when 381 Everest climbing permits had been issued, Nepal has introduced a quota system for climbers who will be permitted to make a summit attempt on Everest in any given good weather window.
In the 2019 spring season, 10 people died on the Nepal side of the mountain, the highest death toll in four years.
Although the Department of Tourism has not specified the number of climbers that can make a summit push on a particular good weather window that usually lasts a day or two, it has mentioned who can attempt the summit in one window depending on their permit numbers.
If this plan does not work, expedition outfitters will have to coordinate among themselves and organise climbing, limiting numbers to a maximum of 170 individuals in one weather window, according to the department's directive.
There are just a few weather windows to reach the top of the mountain.
According to the Guinness World Records, which lists ultimate record-breaking facts and achievements, the most number of people to reach the peak of Everest on a single day is 354, with 212 climbers from the Nepal side, as recorded on May 23, 2019.
The previous record of 266 people was set on May 19, 2013.
---
---