First coronavirus, and now war is making food more expensive
Poor households that spend a big chunk of their budgets on food and fuel will be forced to cut back on essentials due to higher prices, economists say.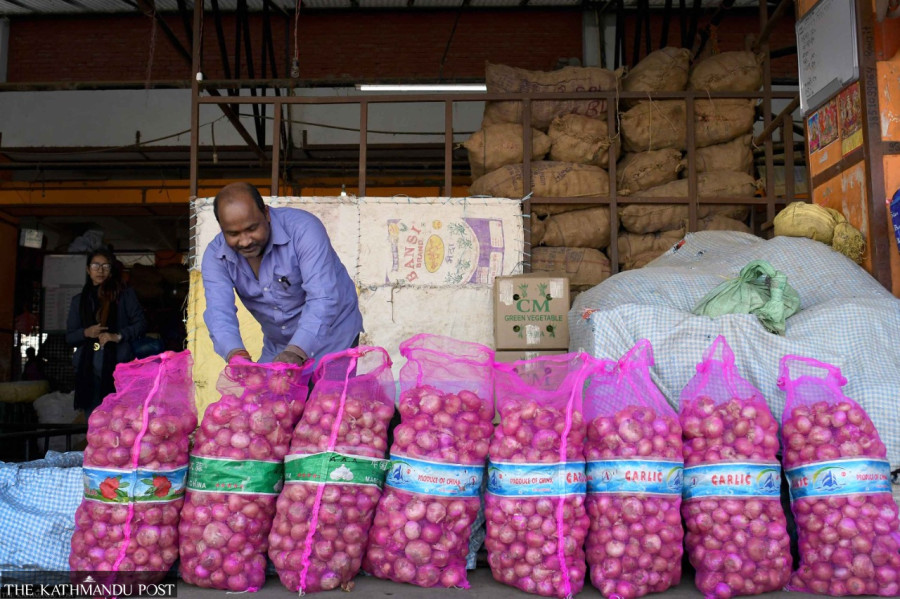 For rich households, high inflation means they have to cut back on vacations or buying cars, which impacts manufacturing and trading. Post File Photo
bookmark
Published at : March 25, 2022
Updated at : March 26, 2022 10:59
Kathmandu
The high prices of groceries makes Bishwa KC gasp every time he goes shopping. The 48-year-old baker watched food costs go through the roof during the Covid-19 pandemic, when lockdowns disrupted supply chains and made everything expensive.

With the coronavirus in retreat, KC thought market prices would stabilise; but the Russia-Ukraine war dealt another blow to his household finances as prices of essentials ranging from edible oil to gasoline have surged.
"Besides buying food, I am having trouble paying my son's college fees," said KC. "Everything is expensive again."
The price of edible oil, rice, vegetable, lentils and legumes has increased sharply. KC has been stretching his income by cutting down on expenses on food and festivals including social ceremonies.
Many Nepalis have become stingy as the Russia-Ukraine war has visibly inflated the price of edible oils, petrol, wheat flour and lentils, among other products.
At the same time, people are bracing for an imminent hike in transportation fares, which is one of the key reasons for the inflation burst in countries like Nepal that are net food and fuel importers.
Economists say it's not a good sign for a consumer-based economy when people start becoming tight-fisted.
In 2019-20, Nepal's economy contracted by 2.1 percent for the first time in four decades, as movement restrictions imposed in response to a rise in Covid-19 infections brought economic activity to a standstill.
The World Bank said in its Global Economic Prospects report published in January that Nepal's economy may grow 3.9 percent this fiscal year ending mid-July 2022. The forecast is unchanged from its June 2021 outlook.
The Russian blitzkrieg in Ukraine starting on February 24 upset economies around the world, including next door neighbour India on whom Nepal depends for almost all supplies.
Surging world prices of crude have prompted Nepal Oil Corporation to jack up retail prices of petrol and diesel to a record Rs155 and Rs138 per litre respectively.
Earlier, on February 10, state-owned Dairy Development Corporation increased the retail price of milk by Rs4.50 to Rs42.50 per 500 millilitres. Private dairies soon followed suit.
The government corporation said that the price of milk was raised in line with the higher cost of petroleum products, inflation and increased administrative expenses.
In July 2021, the Department of Transport Management allowed transport entrepreneurs to jack up bus fares on inter-provincial routes by a sharp 28 percent.
Cargo carriers serving routes in the Tarai and hills were permitted to raise freight charges by 26 and 20 percent respectively. All public transport and cargo fares are regulated in Nepal.
And for the second time in less than a year, the government is planning to hike bus fares on long routes. The price of bus tickets will likely go up by 11 percent, and consumer rights activists have criticised the government for ignoring the welfare of consumers.
Pabitra Bajracharya, past president of the Nepal Retailers Association, says the prices of food products in stock are rising. "Prices may rise again on freshly imported goods. I cannot say outright how much," he said. "But it's an inflation burst."
According to Bajracharya, the price of sunflower oil had dropped from Rs280 per litre a few months ago to Rs245, but it soared again to a record Rs290. The popular cooking oil used to cost Rs160 per litre before the pandemic.
"The price of mustard oil increased from Rs280 to Rs325," said Bajracharya. A litre of mustard oil used to cost Rs185 a few months ago. Rice has become dearer by Rs100 to Rs200 per 20kg sack, depending on variety and brand, he said.
"The price of lentils and legumes has also increased by Rs50 to Rs100 per kg."
Broiler chicken has jumped to a near record of Rs400 per kg, after feed components like corn and soy meal became costlier due to the Russia-Ukraine war.
Chemical fertiliser prices have shot up in the global market after Russia, one of the most important producers, rolled tanks and troops into Ukraine.
According to reports, the price of DAP has increased by 44 percent to $879 per tonne compared to a year ago. Urea saw an 87 percent year-on-year jump to $887 per tonne.
Higher fertiliser prices will increase the cost of production and its impact is already visible in the market with vegetable and legume prices skyrocketing to fresh highs.
The Nepal Electricity Authority said the price of electricity imported from India to cover the output deficit in the dry season reached a record Rs38 per unit, denting the finances of the state-owned power utility.
As fuel prices have gone through the roof due to the Ukraine crisis, electricity produced by oil and coal-fired plants has become more expensive in India.
Nepal Rastra Bank said that consumer price inflation jumped by 5.97 percent year-on-year in the first seven months of the current fiscal year ended mid-February.
Economist Govinda Nepal said that, for an import-dependent country, rising prices is definitely not good news.
"The import bill is ballooning, and so is inflation. These factors will dent Nepal's economic recovery that has been hit hard by the pandemic," he said.
In the first seven months of the current fiscal year, the country's import bill stood at Rs1.14 trillion, up 42.8 percent year-on-year, and the balance of payments remained at a deficit of Rs247.03 billion.
"A rise in the import bill has widened the trade deficit. The balance of payments is also on the negative side. The Nepali rupee is also falling against the US dollar. All these factors will definitely have an impact on the economy," Nepal said.
"With an increase in the cost of production, domestically produced goods will not be able to compete in the international market, thus hurting exports,'' he said.
The disruption in the supply chain which hit consumer prices during the pandemic has been continued by the war between Russia and Ukraine.
"The income of Nepalis working in the informal sector has been reduced due to the pandemic, and they will feel the impact of the higher cost of food," Nepal said. The government did not bring any relief packages for people working in the informal sector. "Daily wage earners are in deeper trouble."
According to Nepal, if people have to spend most of their income to buy food, they will cut back on other expenses like education and health.
Another economist Keshav Acharya said that if the Russia-Ukraine war lasts for more than three months, inflation will reach double digits.
"The rise in the cost of living will adversely affect people below the poverty line, while fixed income earners and people dependent on pensions will see their purchasing power curtailed," he said.
The global supply chain was gradually coming on track with the ease in the Covid-19 pandemic following the low impact Omicron variety, just then the war between Russia and Ukraine emerged as another headache for global trade.
According to Acharya, the cost of shipping a container has tripled to $30,000 from $10,000. "Fuel prices are still volatile," he said.
Poor households spend a big chunk of their budgets on necessities like food and fuel, and they will be forced to cut back on essentials due to higher prices, say economists.
For rich households, high inflation means they have to cut back on vacations or buying cars, which impacts manufacturing and trading, also a key part of the economy. "So, inflation is the worst thing for the economy," said Acharya.
---
---