Sher Bahadur Deuba administration starts off with hike in transport fares
Consumer activists denounce the move as piling burdens on people who are already suffering due to the lockdown.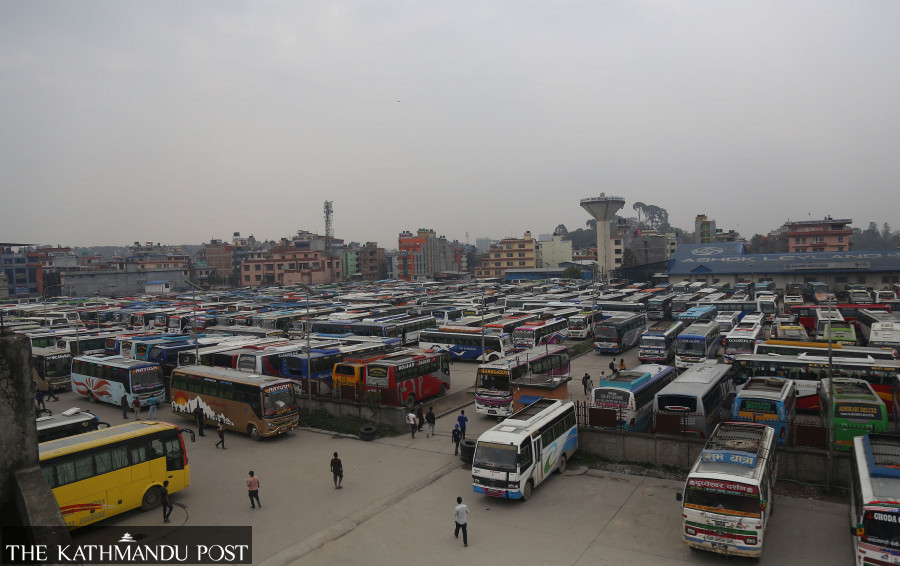 The Department of Transport Management has allowed transport entrepreneurs to jack up bus fares on inter-provincial routes by 28 percent. Post File Photo
bookmark
Published at : July 14, 2021
Updated at : July 14, 2021 23:31
Kathmandu
Nepalis staggering under economic stress even as a harrowing pandemic continues unabated have been hit with a steep rise in transport fares, as if it was an inaugural gift from the new government a day after it took office.

The Department of Transport Management has allowed transport entrepreneurs to jack up bus fares on inter-provincial routes by a sharp 28 percent.
Cargo carriers serving routes in the Tarai and hills have been permitted to hike freight charges by 26 and 20 percent, respectively. All public transport and cargo fares are regulated in Nepal.
Consumer rights activists denounced the move as piling burdens on people who have suffered severe income losses due to the months-long lockdown and travel restrictions.
Shipping costs are a key component of food prices in countries like Nepal.
"This looks like a gift from the new government to consumers," said Jyoti Baniya, chairperson of the Forum for Consumers' Rights, Nepal. "It will significantly impact the public and also put inflationary pressure on the economy during these difficult times," he added. "I have not seen such a massive hike before."
Loknath Bhusal, spokesperson for the Department of Transport Management, told the Post that the decision had been made at the ministerial level on July 11.
"We implemented it on Tuesday. The fare has been increased based on scientific calculations by taking into account inflation and the hike in fuel prices in the last six years," Bhusal said.
Bus fares have been raised only on long distance routes, and urban commuters will not be affected. "The charges have been increased for long distance public transport and cargo carriers," he said.
The decision to hike fares was taken by the outgoing KP Sharma Oli administration following lobbying by transport entrepreneurs, said department officials. The incoming Sher Bahadur Deuba administration inherited the change as a fait accompli, and treated it as the first order of the day.
Bhusal said that the hike in transport fares had been determined based on 35 percent higher fuel costs and 65 percent non-fuel cost factors.
Nepal Oil Corporation has jacked up diesel prices 12 times since January, taking it up from Rs93 to Rs112 per litre in six months.
Following back-to-back decisions by the state-owned oil monopoly to increase gasoline prices, public transport operators have been asking the government to hike transport fares by up to 40 percent.
In June, a government task force recommended increasing public transport fares to reflect higher fuel prices.
The last time transport fares went up was in September 2018 when the government decreed a flat 10 percent hike.
Yadav Lal Shrestha, vice-president, cargo, of the Federation of Nepalese National Transport Entrepreneurs, said freight charges were last revised when a litre of diesel cost Rs70. "Today, it costs Rs112."
"Besides fuel, all other costs—tyres, lubricant, spare parts and workers' salaries—have swelled. It was necessary to hike the cargo rates."
Shrestha said the rise in freight costs would not impact market prices due to the intense competition among cargo trucks.
The charge for carrying goods from Birgunj to Kathmandu is Rs24,000 per trip. "But one can easily find a truck to do it for Rs18,000 per trip due to cut-throat competition," said Shrestha.
According to him, the carriage cost may go up to Rs30,000 per trip on the Kathmandu-Birgunj route following the latest revision; but in actual practice, transporters will be getting less than that. The cost of goods may increase to some extent in the hilly regions however, he said.
Saroj Sitaula, general secretary of the federation, said the new passenger fares were computed on the basis of a technical evaluation done by the government.
According to an agreement between the government and transport entrepreneurs, the fares have to be revised if fuel prices increase by more than Rs5 per litre.
But transport entrepreneurs say the provision is never implemented as the fare structure has become a political commodity.
There are around 200,000 cargo trucks and tippers, excluding petroleum tankers, in the country.
---
---