'Insurance is important when income is low'
Nirmal Kajee Shrestha, vice-president and general manager of MetLife Nepal, on the effect of the pandemic and how the company is dealing with the unfolding crisis.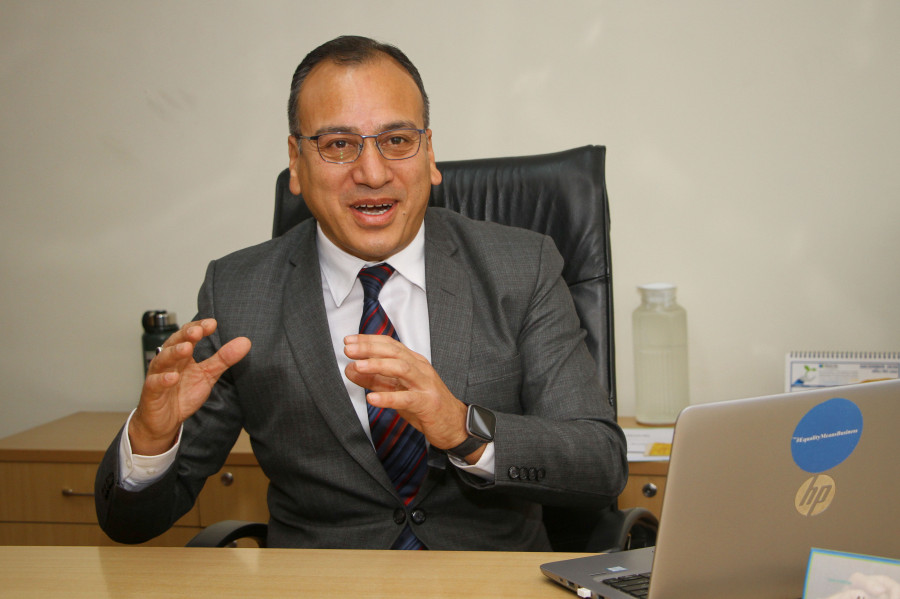 Nirmal Kajee Shrestha, vice-president and general manager of MetLife Nepal. POST PHOTO: BEEJU MAHARJAN
bookmark
Published at : February 20, 2021
Updated at : February 21, 2021 10:00
Kathmandu
Insurance, like all sectors of the economy, has been hit hard by the Covid-19 pandemic. The major impact fell on premiums in certain lines of business and premature death of people. While lack of awareness about insurance has prevented many people from buying coverage, the coronavirus wiped out economic activities causing far-reaching repercussions on the industry. The Post's Krishana Prasain talked to Nirmal Kajee Shrestha, vice-president and general manager of MetLife Nepal, an insurance company headquartered in the United States which opened a branch office in Nepal in 2001, about the effect of the pandemic and how the company is dealing with the unfolding crisis.

How do you assess the insurance market in Nepal, particularly, before and after the 2015 earthquakes?
The awareness level has increased both in the life and non-life insurance sectors, as a result there has been a significant growth in the number of insurance companies in Nepal. The 2015 earthquakes brought a lot of changes in customer behaviour as compared to the calamity that Nepal has been witnessing for several decades. Before the earthquakes, there was a general understanding among people that insurance companies mostly delay the claim or they don't release the claim at all. This perspective has changed. People are now aware of future uncertainties and losses.
A crisis such as Covid-19 has affected all business sectors. So, how is the insurance industry likely to shape up to the unfolding crisis?
The pandemic has challenged the overall economy. It has impacted the insurance sector as well. To deal with the crisis, insurance companies are introducing products that are low in price and provide maximum coverage. Insurance companies provided premium holidays as well, which means consumers were given a certain period when they could take a break from paying the premium due to Covid-19 related difficulties.
Insurance generally means to minimise future uncertainties and losses. Are the majority of Nepalis aware of insurance?
When MetLife Nepal made its foray into Nepal in 2001, it first started to raise awareness on insurance advantages. We, currently, have more than 7,000 representatives who are involved in spreading awareness at the local level. We have more than 26 micro finance partners covering all 77 districts. The number of claims is high, and it is also helping to create awareness. Insurance companies are said to sell their products, but actually, we are here to sell solutions. People have to realise that they have to assure the future by saving a small amount; and for that, insurance is the best way.
Is there scope for introducing new life insurance policies? Can life insurance companies launch products covering pandemics like this?
MetLife is always a customer-centric company. The need of the customer increases with time and with an increase in uncertainties, and we are pioneers in that. We did a study on the new needs of the customer and introduced the LifeCare-Beautiful policy targeting women. It provides coverage against nine listed female-specific dreaded diseases along with life loss such as cancer. We got an international award for introducing this policy. We have a product development team, and they are doing research on what is needed in the Nepal market. We will keep on addressing the needs of the people. It depends how we say pandemics are covered. MetLife Nepal policies certainly cover pandemics, but it is difficult to analyse the risk of a pandemic. To mitigate the risk, appropriate pricing and offering are necessary, which we are doing.
Life insurance in Nepal is yet to catch on although it provides financial security for you and your family. Is this due to low income or are there other factors?
Awareness is the main factor behind it. Insurance is not expensive when you go for savings products. Insurance is important when income is low, and it is a myth that insurance products are expensive in the market. Insurance is understood more as savings and less for protection. If the income level is less, then it is more important to have protection. A large insurance cover can be done at a reasonable price from the protection part as it can be done in Rs500-700. It is called term-life insurance that provides maximum coverage at a reasonable price. Micro insurance is for the same purpose. Insurance can be done for Rs70 that provides coverage of Rs10,000-15,000. For micro finance, in the case of death of an entrepreneur who has taken a loan to run a business and has bought insurance, then the loan is repaid by the company. We have 600,000 customers who are from the low income bracket and live below the poverty line.
Various digital mediums are being used for premium payment. How easy and trustworthy are these services?
MetLife Nepal is the first insurance company that started a digital premium payment service a few years ago. However, we promoted digital payment mostly after the pandemic. The payment can be made through digital wallets or Connect IPS. The digital payment service is reliable, and we always focus on information technology security. We partner with a digital payment medium once the international security system approves it. We are focusing on online payment and offering certain services through our official customer friendly mobile application. There will be a huge revolution in digital payment in the coming five years, and we are focused on expanding our services through the digital medium.
What are the various insurance schemes offered by MetLife Nepal?
The company has introduced different solutions to life's problems like health, education, credit and employees of corporate offices. We have done a lot of seminars which have helped people to think about insurance. Recently, we have started a campaign My Confidence My MetLife which has become effective.
How has Covid-19 impacted MetLife? And what is the future direction for MetLife Nepal after the pandemic?
The pandemic challenged us, tested our patience and also gave us an opportunity to learn. We had our business continuity plan due to which we did not have to stop for a single day to provide our services to customers. We focused on the health safety of the entire team working with us, and managed to do business digitally for a certain time as well. It is digital. And we need to pioneer that. We will be introducing new products and talent development to provide the best services to customers.
---
---