Tanka Bhattarai: Potential employees must demonstrate judgment, initiative, teamwork
The most important part of the hiring process is the interview. The reference is also important to know the attitude of the candidate. Besides talent, an employee's attitude plays an important role in their hiring.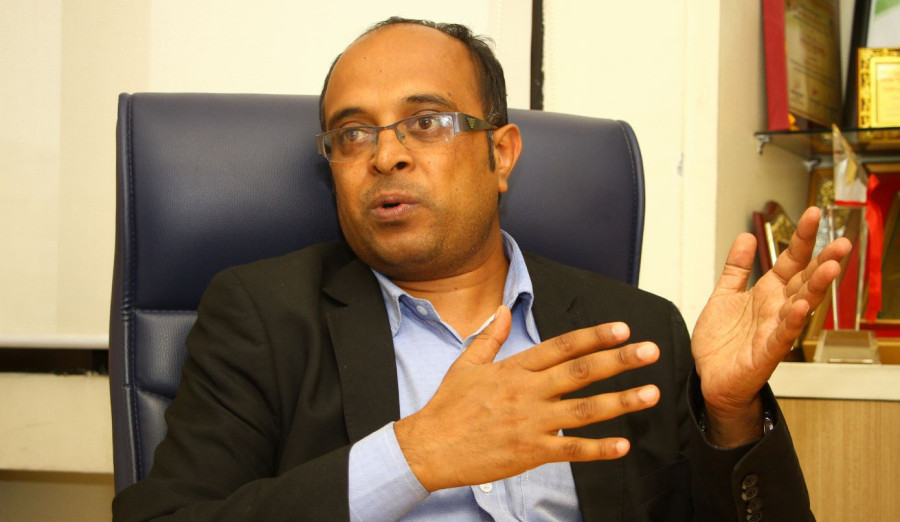 bookmark
Published at : April 22, 2019
Updated at : June 17, 2019 15:10
Kathmandu
For young people looking for a job, the interview can be daunting. Long hours of preparation and nervousness are involved. But interviews need not be so intimidating—in fact, they can be an opportunity for candidates to impress their employers. In this interview with Krishana Prasain, Tanka Prasad Bhattarai, vice-president of the human resource department at the Shanker Group, offers advice on what potential employers are looking for and how candidates could better prepare themselves. Bhattarai brings over two decades of experience in human resource and consulting for multinational companies. Excerpts:
What do you look for in a potential employee?
Potential employees need to be academically sound and specialised in a specific area, with experience, a positive attitude, sound interpersonal and negotiation skills, excellent communication skills, and knowledge about customer service. Additionally, employees also need to play leadership roles with an entrepreneurial mindset, be able to work with autonomy and initiative, while leading and supervising a team. Furthermore, for employees' sustainability in the company, they need to meet goals, and be able to work in a fast-paced setting while being flexible. Similarly, other qualities like taking decisions in an analytical fashion while being responsible and dedicated to their assigned tasks are also what we look for.
What is the most important part of the hiring process—the CV, the recommendations or the interview?
The most important part of the hiring process is the interview. The reference is also important to know the attitude of the candidate. Besides talent, an employee's attitude plays an important role in their hiring.
For many, the interview is a grueling process. What can applicants do to prepare for an interview?
Candidates need to first dress appropriately and be on time for the interview. They need to learn about the company through online platforms—such as the size of the company in terms of annual sales or strength of the employees, its products or services, and any recent news about the company. At the interview, they need to demonstrate judgment, initiative, teamwork and leadership. Stories of achievement in these sectors can help impress the interviewer.
The interview is a big part of the job-search process, and the more the candidate prepares for the interview, they are less likely to be nervous. Another way to get ready for the big day is to anticipate what kind of questions will be asked and work out the responses in advance. Candidates can learn the best ways to tackle tricky questions, how to conduct a proper interview follow-up, how to negotiate your job offer, and much more.
How much does a candidate's social media presence factor into the hiring process?
Websites like LinkedIn are valuable in that they provide professional links with groups of people, locally and globally. I too prioritise social media in hiring. We've hired candidates through social media in the past.
What factors could give applicants an edge over others?
Beside job qualification, experience plays a vital role while hiring people. In terms of 'freshers', we look for qualification and specialisation. It is easy for us to hire those who've specialised in their qualification. As the universities here offer minimum specialisation in management courses, it is high time they introduce specialised course according to the expanding business needs.
Could you tell us about one applicant who impressed you like no one else? What was it about them?
In my professional HR career, I have conducted hundreds of diversified interviews. I feel successful and proud to select suitable candidates. Once, I met a candidate who was not clear about his career. He was just a management graduate. I examined his potential competencies, tested his interest, matched his skills and knowledge as per requirements, and some of his key competencies. I found that he possessed a positive attitude, initiative, and a willingness to deal with people. He was organised, and had negotiation, problem solving, communication and multi-tasking skills. As a human resource practitioner, I encouraged him to start a career in human resource and enrolled him as a trainee under my direct supervision. He learned fast and within a short span of time, he was able to handle the entire human resource sector as my immediate successor. He is now independently leading the same company as head of the human resource department. He is still in regular touch with me as a role model and coach.
For a country that has a young population of more than 60 percent, there is apparently a great human resource scarcity in every sector even as unemployment rate rises. Don't you see this as a contradiction? What has led to this situation?
There is a gap at the policy level. Governmental policy should focus on producing qualified manpower for the development of the country, not human resource for foreign employment. There is a lack of human resource in the labour market as per the demand. We are not able to get candidates who have specialised according to our requirements. Curriculum needs to be developed according to the demands of the industry.
---
---