Nationalists unite: Oli's ramblings could very well have come from Trump's mouth
Self-aggrandisation and cracking down on enemies—Trump and Oli share not the best of traits.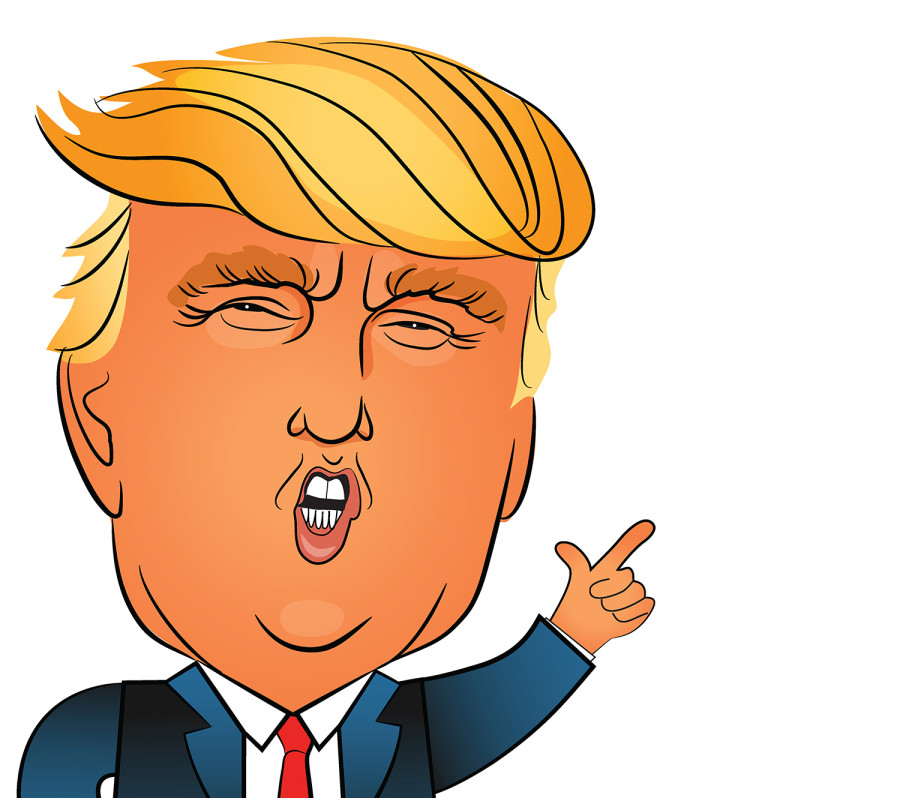 Shutterstock
bookmark
Published at : January 23, 2020
Updated at : January 23, 2020 09:43
Ever since he announced his candidacy for the presidency of the United States, there have been those who have expressed concern about the state of Donald Trump's mind. A common diagnosis made is that the most powerful man on earth suffers from narcissistic personality disorder, explaining his need to be 'grandiose, entitled, desperate for admiration', among other unsavoury traits. A group of psychiatrists even declared that Trump was incapable of empathy and that he distorted reality to suit his state of mind, 'attacking facts and those who convey them (journalists, scientists)'. Of course, not all in the profession agreed and one grandee weighed in with, 'I wrote the criteria that define this disorder, and Mr Trump doesn't meet them. He may be a world-class narcissist, but this doesn't make him mentally ill, because he does not suffer from the distress and impairment required to diagnose mental disorder. Mr Trump causes severe distress rather than experiencing it…', even as he conceded the American president's 'ignorance, incompetence, impulsivity and pursuit of dictatorial powers'.

These and other exchanges have appeared over the years in the New York Times, and given the parallels between Trump and KP Sharma Oli, I have wondered why our own psychiatrists have not attempted a similar diagnosis of our prime minister. Either they lack the skills, which I very much doubt, or they are just being polite. Consider Oli's latest outburst in which he basically said that the press is stacked against him and his government, and that it requires editors with courage to dare provide positive coverage. Although he did not go that far, I think the logical next step would have been to denounce any news he does not like as 'fake news'.
Oli's remarks came hard on the heels of another gratuitous attack on the media. Without any provocation he had vented his ire on Nepali-language journalists for not using the high-order third person honorific of uha to refer to high personages such as himself and the president, and instead resorting to the neutral third-person honorific of uni. Granted that uni is also the middle-order third person honorific in Nepali. But its adoption in its neutral sense was a conscious decision over the decades by editors to avoid having to make a value judgement about which of our many honorifics should they use for people from all stations of life. And, our prime minister apparently has nothing better to do than take it personally.
One of the fundamental duties of the media is to speak truth to power. Which is why relations between governments and the press tend to be always rocky. There have been other prime ministers who have felt equally cornered by media attacks but none have gone to the extent of calling for a more pliant media, especially no one heading a government like this, continually buffeted by scandals. No matter how efficient governments are, they invariably slip up and without the media acting as the people's watchdog we will be where we were before 1990, when journalists were cowed into silence either by choice or coercion.
Birds of a feather
It is not only a thin skin that Trump and Oli share but a need to be appreciated all the time. Hence, Trump is glued to Fox News on TV and its long list of hosts who fawn over him, while Oli apparently seeks succour in social media. In fact, it is said that Oli scours social media for hours every day and the unfettered and outspoken criticism he finds online is probably at the root of his government's attempt to control social media posts.
Both Trump and Oli are also given to colourful speechifying and rambling through stories that in sum make little sense, are out of place, or riddled with ill-founded claims to nationalist glory. Trump's ignorance is legion and known the world over. Oli's is no less though. Take his speech some months ago while inaugurating a new building at the Shahid Gangalal National Heart Centre, when he recounted the 'medical miracles' mentioned in Hindu mythology, and went on to assert that the story of the Pushpak Viman in the Ramayana meant helicopters had already been envisaged by our ancestors. Only he would have understood the significance of such tales at a venue that depends entirely on modern medical knowledge.
At the same event, Oli also talked about something he calls 'genetic memory', a theme he had brought up earlier as well while addressing a meeting at the Nepal Academy of Science and Technology (NAST). Genetic memory is somewhat akin to muscle memory, but one that affects behaviour without being consciously learnt such as in the experiment where scientists trained mice to fear a kind of smell, and subsequent generations also inherited that same fear. But Oli has given 'genetic memory' his own definition to mean knowledge that is transferred from generation to generation as a natural process. I wonder what the NAST scientists made of Oli's exposition.
Implicit also in Oli's harking back to a glorious, ancient—and partly imagined—past is that we have inherited all the wisdom of our foreparents through means of his understanding of 'genetic memory'. And, according to him, that is an asset without parallel since the ancients from this part of the world were at the forefront of all kinds of worldly knowledge possible, a position that can at best be described as Hindu chauvinism. As Nobel laureate Amartya Sen wrote recently to decry what he called the 'isolationist view of the progress of knowledge': 'Nationalist sentiments may make a country claim a secluded flowering of science and mathematics, detached from the rest of the world…but that is not the way science and mathematics…proceed. For example, the view of ancient India as an island, making its discoveries and inventions in splendid isolation—detached from the rest of the world—is pleasing to intellectual nationalists in India, but it is fundamentally mistaken. We learn from each other and our intellectual horizons are expanded by being in touch with what others know.'
In his favour
And, finally, the tug-of-war between Oli and Pushpa Kamal Dahal over who to anoint Speaker of the House of Representatives has ended in favour of the latter. Prachanda must be thanking his good luck that we have a form of Westminster democracy and not what he and his erstwhile party had advocated—a directly elected head of state. Had the Maoists succeeded in getting their preferred form of government, Oli would have given his co-chair short shrift long ago. I get the shivers just thinking about a President Oli under a presidential system.
***
What do you think?
Dear reader, we'd like to hear from you. We regularly publish letters to the editor on contemporary issues or direct responses to something the Post has recently published. Please send your letters to tkpoped@kmg.com.np with "Letter to the Editor" in the subject line. Please include your name, location, and a contact address so one of our editors can reach out to you.
---
---