Catwalk and beyond
Model Sabita Karki shares her journey from a shy teenager to a confident runway icon.

Photo: Courtesy of Bibek Shrestha
bookmark
Published at : November 6, 2023
Updated at : November 6, 2023 12:28
Kathmandu
Sabita Karki stands out in any crowd. At 5 feet 8 inches, she's taller than many Nepalis, especially when she wears heels, which is quite common given her profession as a model. She became a household name after competing in India's Next Top Model (INTM) Season 3. Despite that, she remains down-to-earth and approachable.
For the past decade, Karki has been a part of the modelling industry. Currently, she not only models but also directs her own show, Kramasha. Additionally, she co-manages Model Factory Nepal, a modelling institute, alongside other professionals from the fashion industry, including photographer Sanjog Raj and makeup artist Shraddha Maskey.
Surprisingly, modelling was not something Karki had planned for. While representing her college, DAV College, at an education fair, a person from a nearby stall noticed her height and sharp jawline and suggested she consider modelling. Initially hesitant and reserved, Karki eventually agreed to a photoshoot after months of persuasion over the phone. She was nearly 19 years old at that time. The photographer from her first shoot recommended her for some of her initial assignments, kickstarting her career.
Karki began her modelling career with commercial projects. She remembers shooting an advertisement for Ncell and some jewellery houses when she was just starting out.
As a 'shy and awkward teenager', Karki felt a bit uneasy during her first shoot. "I used to dress conservatively. But for that shoot, I had to wear a dress without tights, which made me feel awkward because I wasn't used to it," she recalls. Despite her discomfort, the supportive crew helped her feel at ease and guided her throughout the process.
Shortly after, she was offered a paid gig for Ncell, this time by the renowned photographer Raj Bhai Suwal. Keen to gain experience, she accepted the opportunity.
Another challenge she faced was her introverted nature. During one of her early runway shows, Karki found it difficult to initiate conversations with fellow models. Instead, she kept to herself in a corner, engrossed with her phone.
When she befriended fellow model Srijana Regmi, her confidence began to grow. "Srijana was very sure of herself. She taught me to open up to others and become more confident myself," she recalls. This newfound confidence was noticeable not just within the fashion industry, but also in Karki's everyday life. Her mother was particularly pleased to see her daughter opening up and gaining confidence through her work. However, Karki sensed that her father was initially uncertain about her choice to pursue a modelling career. While he never openly expressed his concerns, Karki could tell that he preferred a more conventional career path for her.
Things changed after Karki participated in a fashion show for Classic Diamonds, where Bollywood actress Sushmita Sen was the showstopper. Watching the televised broadcast of the event with her parents, Karki saw her father genuinely excited to see her on the runway. "After my sequence, he actually turned to me and said he was proud of my work," she recalls. This moment marked her father's acceptance of her chosen career.
Until her stint on INTM, Karki was determined to balance her studies with her modelling career. She was a Chartered Accountancy (CA) student. However, as she progressed in her modelling career, her interest in studies waned, and she became more focused on modelling, which led her to put her education on hold.
Karki's decision to pursue modelling was not impulsive. Over the years, she tried various jobs, but modelling was the only one she stuck with for an extended period. "As I gain more experience, I've realised that I'm in the right industry. I might not be as active as a model in a few years, but I'll definitely stay in the fashion industry. There are many ways I can contribute," she explains. Currently, she is recognised as one of the most competent runway choreographers in Nepal.
Karki joined INTM when Blink Talent Management Company approached her, believing in her talent and offering assistance with her portfolio. Initially unsure, she agreed after meeting the genuine agency representatives.
She reveals being confident about her selection after her audition, as it seemed the judges liked her. Her audition lasted longer than others because she wasn't fluent in Hindi, and the judges found her attempts to speak the language amusing and charming. Before heading to INTM, Karki mentally prepared herself for difficult tasks, having seen the demanding challenges previous contestants faced.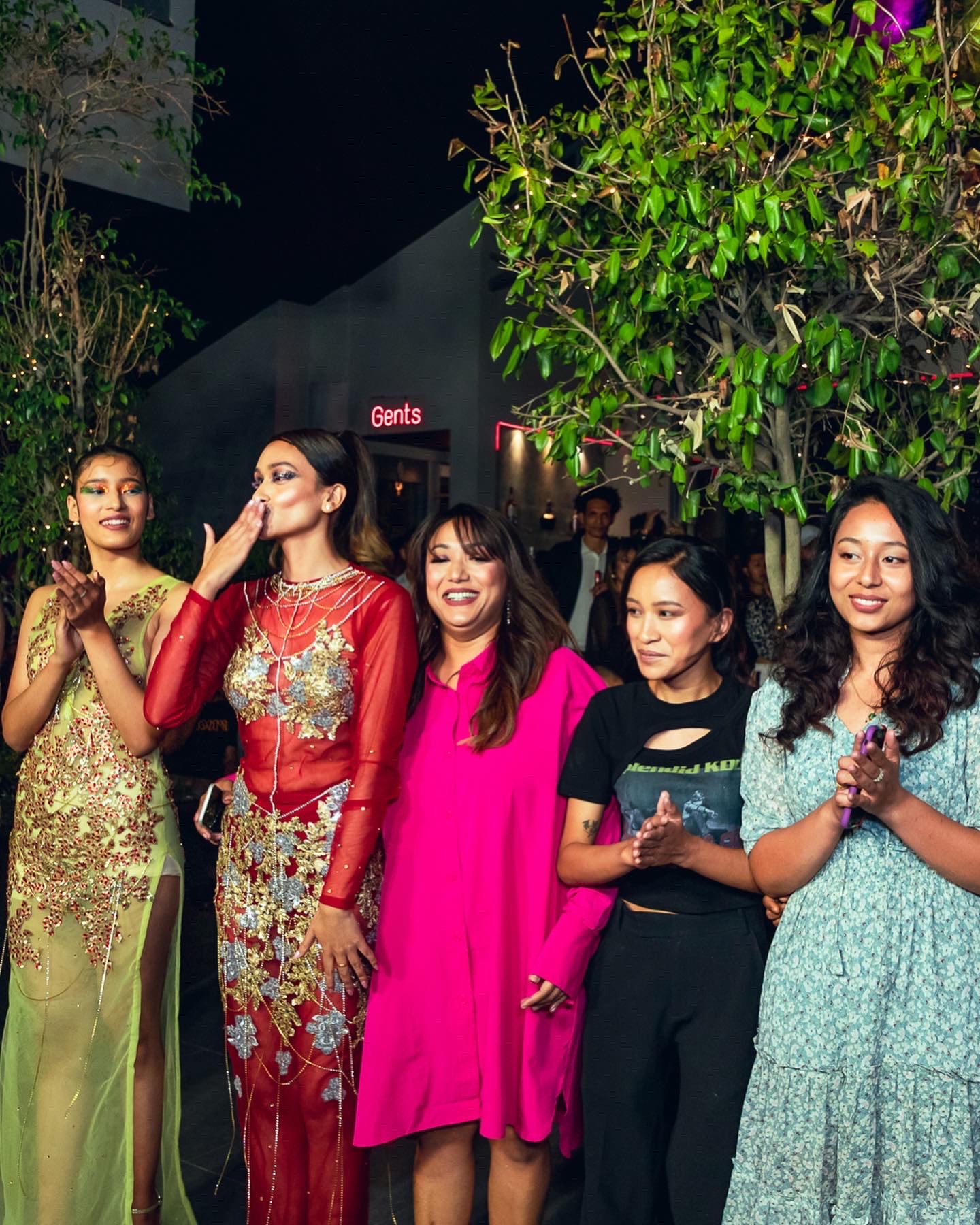 Karki (second from left) at a Kramasha show with models and makeup artists. Photo: Via Sabita Karki
The first few weeks were tough for her. She was in a foreign country, facing the challenge of speaking an unfamiliar language while shooting for a demanding show. Initially, she felt her performance was not up to par, which affected her confidence. However, one day, on her way to the set, she realised how lucky she was to be part of such high-budget shoots. This boosted her determination, and she started putting in even more effort into her tasks. Eventually, she finished as the runner-up of the show.
Upon her return to Kathmandu a month after filming concluded, Sabita Karki gained widespread attention in the Nepali fashion industry. Not only did she receive improved treatment and more job offers as a model, but she was also pleasantly surprised by the mainstream recognition she achieved. She hadn't anticipated that so many Nepali viewers would tune into INTM.
After that, Karki had some outstanding photo shoots. One memorable shoot was for M&S VMAG, where she wore a Manish Rai outfit and was photographed by Sanjog Rai, with makeup by Shraddha Maskey. Despite the freezing mid-winter weather, Karki managed to conceal her discomfort, and when the photos and videos were released, she felt satisfied, believing her efforts had paid off.
Another significant shoot took place in 2019 in Upper Mustang for Himalayan Fashion Adventure, led by photographer Gautam Dhimal. It was part of a big production aimed at promoting tourism in Nepal for the 'Visit Nepal 2020' campaign. A team of 40 individuals travelled to the destination, making stops along the way for photoshoots. Although the photos were delayed due to the pandemic disrupting schedules, she was very pleased with its results, too.
She also fondly recalls walking the runway for a solo Daljit Sudan show at The Soaltee. The collection's dresses were exquisite, and the long, beautifully decorated ramp delighted Karki. "I love it when designers have long ramps—it means I can walk for a longer time, which is always fun," she says. Karki shared the stage with around 40 models, including Nagma Shrestha, Sudipa Pathak, and Aastha Pokharel.
Karki naturally transitioned into runway choreography. Her first show was in 2019, where she trained models for three days and discovered her passion for choreography. Soon after, she was invited to Australia to choreograph 'Glam Nepal International'.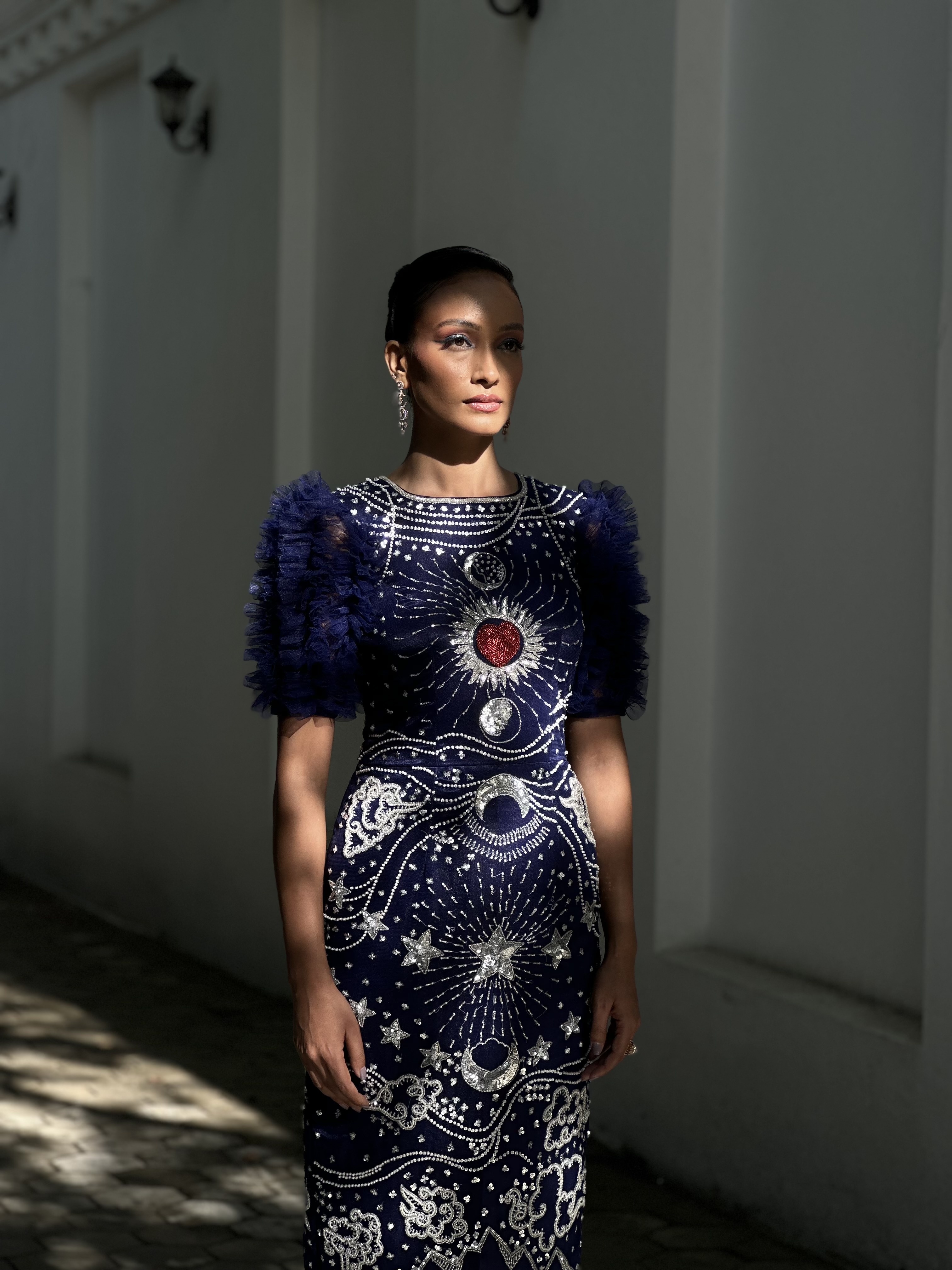 Photo: Courtesy of Milan Lama
During the pandemic years, the fashion scene in Nepal remained stagnant. Karki experienced a period of existential crisis and limited work opportunities during that time.
As things gradually improved, Karki, along with Elvis Ranjit and Karma Gurung, founded Kramasha. Their goal was to provide a platform for individuals in the fashion and art scene, ensuring exposure and regular opportunities for professionals. Given the project-based nature of work in the fashion industry, income stability is a challenge for many.
In her role at Kramasha, Karki not only choreographs but also selects designers, models, sets and music. She reveals that she doesn't necessarily sit down and plan the creative aspects of the show—like the concepts and choreography. Instead, she sees what works with everything and builds on that. The designers and makeup artists also have full creative freedom to create according to their vision, and everything culminates in a grand show, attended by the fashion elite in Nepal. Despite being an 'invitees-only' event, Kramasha generates excitement among fashion enthusiasts—especially on social media—and has successfully organised eight editions to date.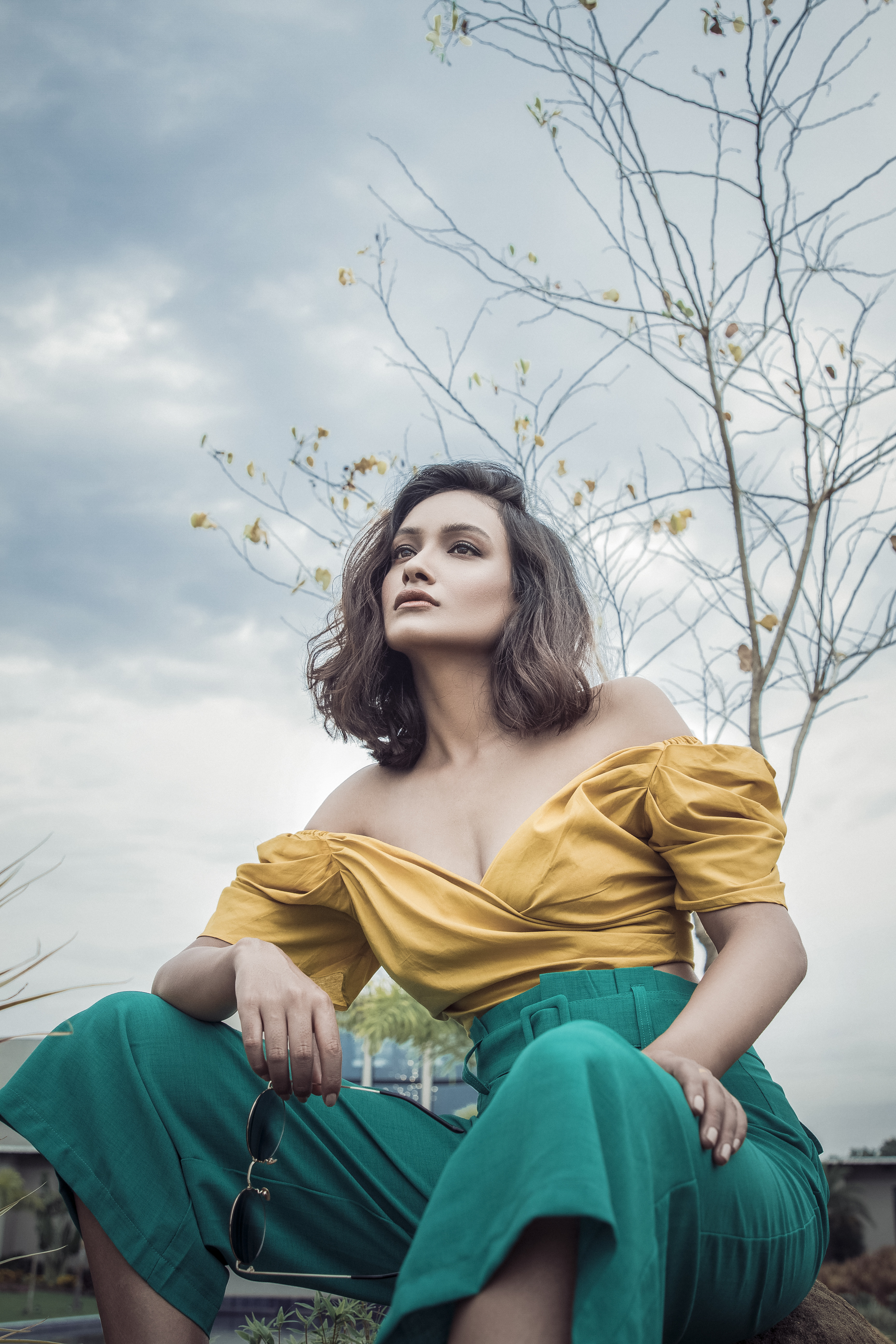 Courtesy of Milan Lama
Karki's professional journey has been relatively smooth. Known for her hard work and dedication, she fully commits to her projects. However, there are aspects of the industry that she finds unsatisfactory. One concern is that many people, including some within the fashion industry, don't take modelling seriously.
"People misunderstand this job as easy and unimportant. I strongly disagree with that," she says. While attitudes towards fashion careers are improving, Karki wishes for greater respect for the industry.
Another issue is the presence of untrustworthy individuals who exploit young models, posing as professionals. Although she hasn't faced explicit misconduct, she had three close encounters in her early days. To handle these situations, she pretended to receive a call and quickly left, calling her family or friends for support.
Karki doubts if these problems can be entirely eradicated. She advises models to research those offering projects, check their previous work, and seek feedback from peers before accepting offers.
---
---