Capturing the old Kathmandu
The Instagram page 'The Last of Kathmandu Valley' documents the old architecture of the valley, hoping to create awareness about the changing cityscape.

Aabhushan Tuladhar and Pranidhi Tuladhar run the Instagram page. Sanjog Manandhar/TKP
bookmark
Published at : June 3, 2023
Updated at : June 5, 2023 15:37
A common scene one will see walking next to cousins Pranidhi Tuladhar and Aabhushan Tuladhar is them stopping in the middle of the road, taking out their phones and capturing photos of random houses around Kathmandu Valley.

They run an Instagram account called The Last Of Kathmandu Valley (@thelastofkathmanduvalley), capturing and sharing beautiful displays of old architecture. Started in mid-2022, the page is a beautiful spread of fine old architecture seen around the capital—mostly the Ason area, as the two curators of the page live in the area.
Aabhushan claims that he has always been interested in architecture. He had been photographing old architectural displays for years now, and his fascination with the subject led him to pursue an undergraduate degree in architecture at Kathmandu University.
Pranidhi had just returned to Nepal after living over three years in Paris. She developed a habit of 'building watching' while on walks around the French capital. This habit of hers continued as she resumed her life in Kathmandu, and this was when she started noticing all the beautiful architectural details hidden in plain sights. So she suggested the idea of an archival Instagram page that would share these precious old designs with her cousin.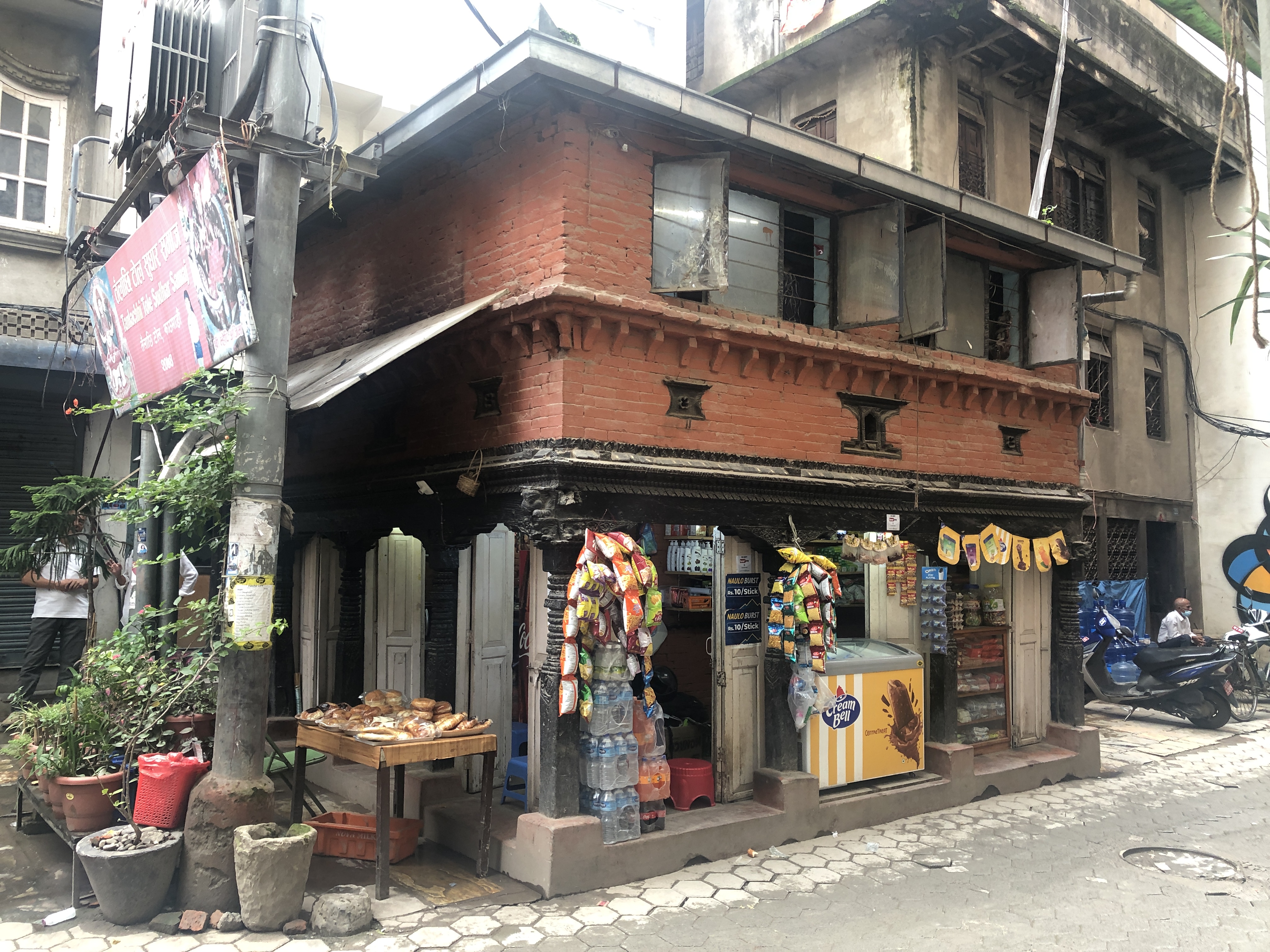 A pati in Tanlacchi (near Jyatha) with intricate details on the pillars, whose ground floor had a convenience store that has been demolished. Courtesy of The Last of Kathmandu Valley
"We are the only ones who are into arts in our family, which is filled with businessfolks. So, we grew up sharing our artistic ideas with each other, so collaborating on this came naturally," says Pranidhi, who reveals she is about a decade older than Aabhushan.
Currently working as a design consultant, Pranidhi has a fashion and graphic design background. She also holds a graduate degree in Fashion Management along with an MBA. She reveals that she has always looked to architecture for design inspiration.
Another catalyst that led to the launch of 'The Last Of Kathmandu Valley' was a picture Pranidhi's friend posted of the cousins' mamaghar. "My friend shared a photo of a random house built in old Newa style—typical of old Newa settlements in the valley—that she found very pretty. The house looked very familiar; I later realised that was because it is our mamaghar," she says, further explaining that a couple days before that, the house in front of their mamaghar was torn down, leaving them to see the building in its full glory for the first time.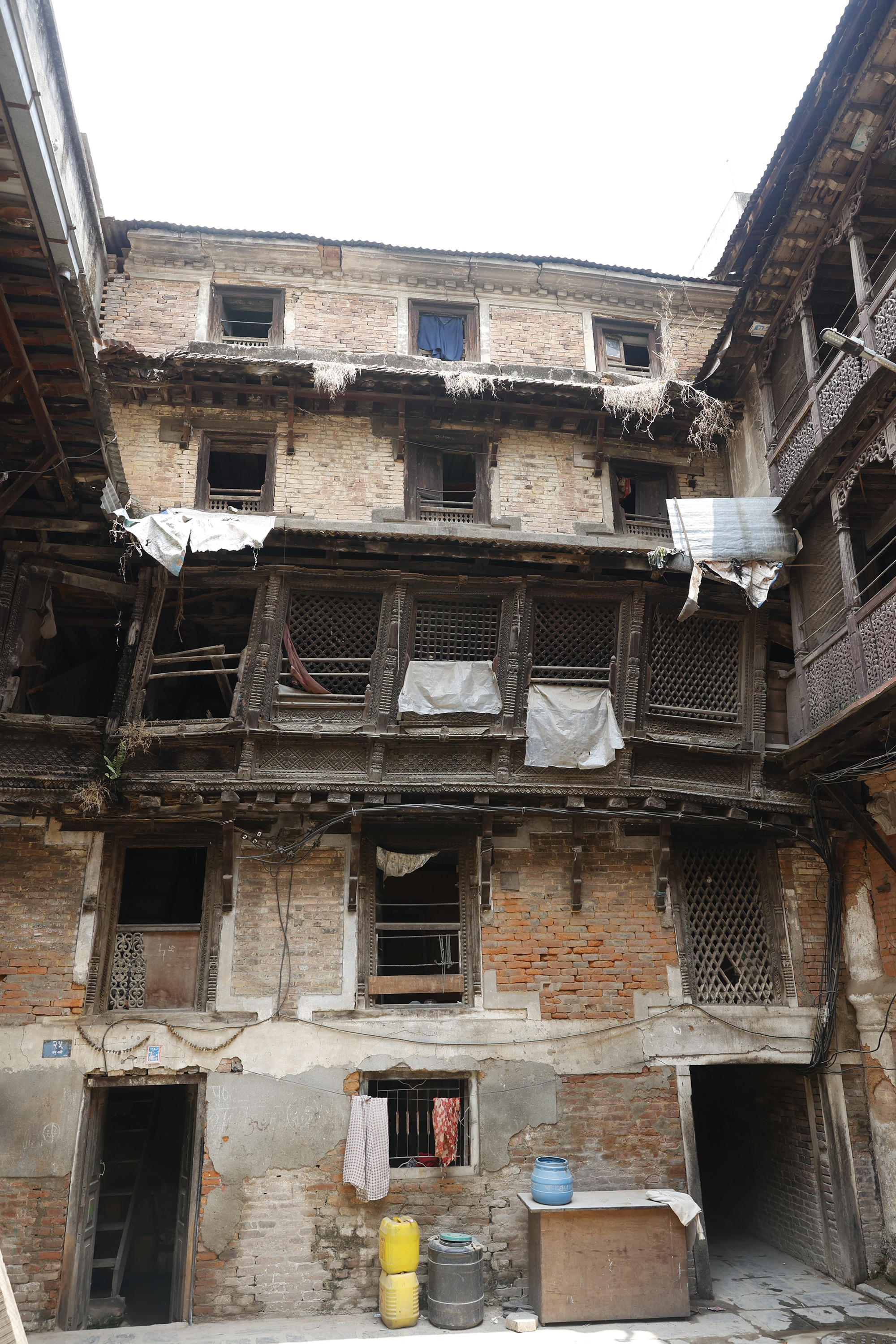 Pranidhi and Aabhushan's mamaghar in Ason. Sanjog Manandhar/TKP
The cousins strive to post at least once every week. Some weeks, because they find multiple interesting houses within a short time span, they share multiple posts. All of the pictures they share are captured spontaneously whenever one of them finds an interesting design that they feel should be seen and appreciated by other architecture enthusiasts.
Aabhushan remembers this one structure in Maha Bauddha that he came across on a weekday. He admired the structure but passed by it as he wanted to capture it in full (view) on the coming Saturday when all shops in the area would be closed. He found it demolished when he came searching for it that weekend.
Incidents like this justify the name of the Tuladhar cousins' page being 'The Last of Kathmandu Valley'. "The landscape (in Kathmandu) is changing rapidly. Earlier on, we took photos just because we found those houses interesting. Now, we are compelled to take photos (of old houses) because we fear they won't remain standing the next time we pass by the street," he explains.
Although the inclusion of the word 'last', in the page's name could seem a little pessimistic, Aabhushan and Pranidhi point out that these structures might as well be the last of their kind seen in the streets of Kathmandu. "As traditional architectural details like these are expensive to make, only the upper echelon can afford to have them constructed in their houses," says Pranidhi, adding that not many builders today can create these details with such refinement because they didn't learn how to make them. And the old houses are in such terrible condition that it seems they will either fall apart (by themselves) or be demolished at any moment to avoid serious safety hazards.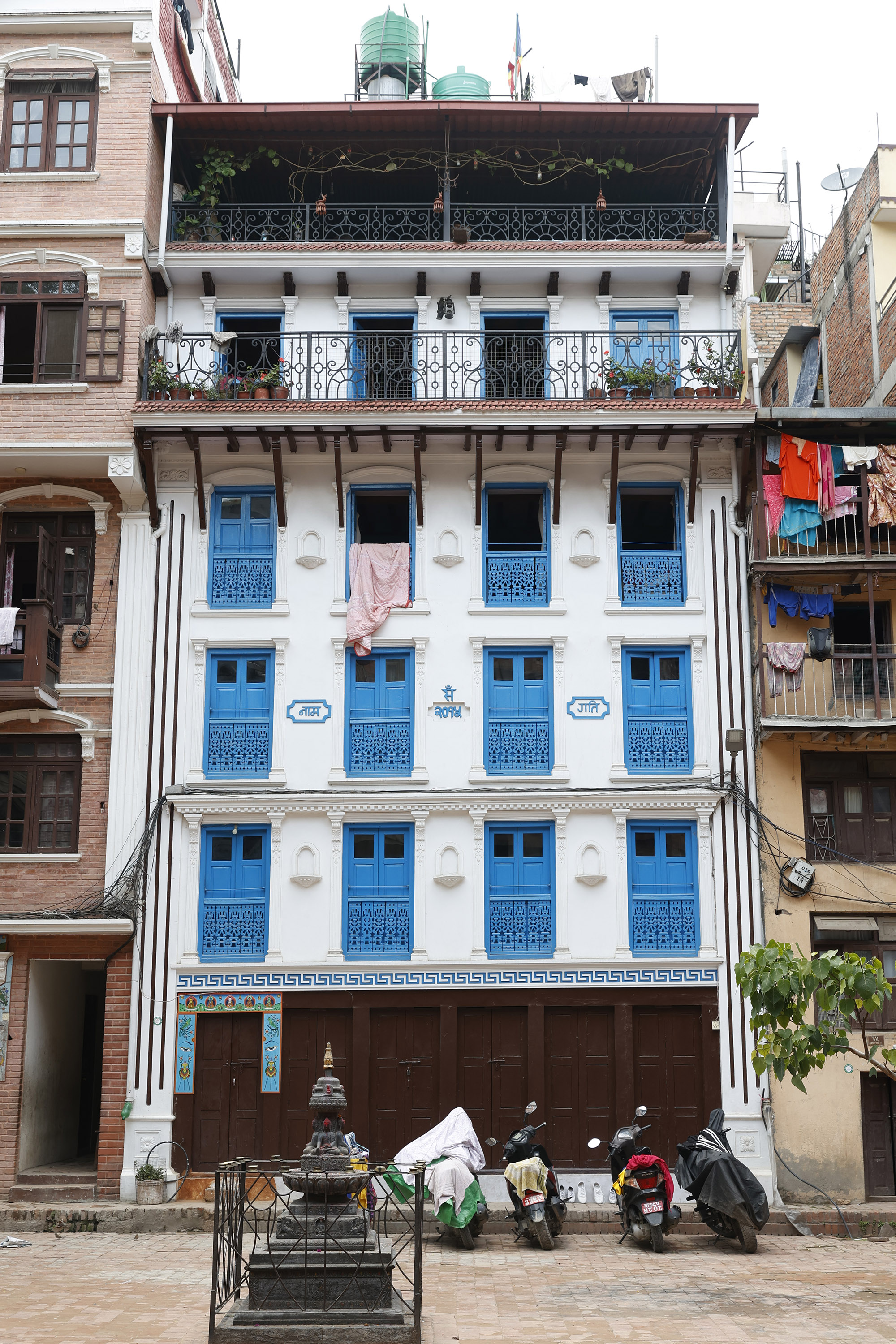 Sanjog Manandhar/TKP
Pranidhi points out that as of now, Nepal Government hasn't implemented any laws regarding house maintenance—specifically in spaces like old town centres. So, many homeowners simply neglect taking good care of their houses. "Many of the homeowners (of buildings and houses in Ason) have rented out their houses, and neither the renters nor the homeowners care much for maintaining them," she shares, adding that this probably wouldn't be the case if the government put forth some incentives that would encourage maintenance.
Aabhushan adds that maintaining old residential buildings isn't given much thought, but he believes preserving such buildings is even more important as they are a part of our living heritage and legacy where cultures were formed and communities were built.
Aabhushan and Pranidhi discuss what to post and how to space out similar content with each other before uploading. Although they exclusively captured Newa architecture when they first started, these days, they have varied their content and cover old colonial and neo-classical buildings and funky house designs or colour combinations too.
In a recent post, they introduced a new type of content for their page. A fun reel titled 'POV: Scouting locations for a Wes Anderson film', showcasing a bunch of locations that are perfectly symmetric and feature straight lines. Pranidhi reveals that the duo are planning to change their content a bit as they don't want their audience to feel bored with their content. She lets on that they are working on a mini-series on hand-painted signboards seen around the valley.
---
---