A 'purr-fect' way to spend your time
Newly opened 'The Cat Cafe' in Lalitpur is the first of its kind in Nepal.

Sanjog Manandhar/TKP
bookmark
Published at : April 1, 2023
Updated at : April 1, 2023 07:55
A newly opened cafe in Dhobighat, Lalitpur has something very cute to offer. Cats. It is the first cafe in Nepal where there are actual cats playing around while you eat your food. As I entered the cafe, I was asked to leave my shoes outside and sanitise my hands. I couldn't wait to meet the adorable furballs inside.

The Cat Cafe consists of three rooms and a small hall. A small counter greets you as you enter where you'll have to pay to see these tiny tigers in their habitat. I was welcomed by Akriti Shrestha, founder of The Cat Cafe. As for the cats…well, this was a cat haven. They were kept in a big room surrounded by various toys for cats, cat climbing furniture, and built-in houses for cats called Cat Hotel.
Some of the cats were sleeping in their small baskets and while others were playing with the customers. Shrestha is possibly one of the first people in Nepal to come up with this idea. Cat cafes are not uncommon in the rest of the world. Believed to have originated in Taiwan in 1998, cat cafes have found a bigger home in Japan, which currently has over 150 cat cafes.
Shrestha and her husband Rohan Pandey visited Thailand seven months ago, where they visited a cat cafe. The idea and concept of a cat cafe struck their mind when they interacted with the cats and realised that this could be a good business venture in Nepal. "We are very fond of animals. So, the idea was put to action when we returned to Nepal after the trip," says Shrestha.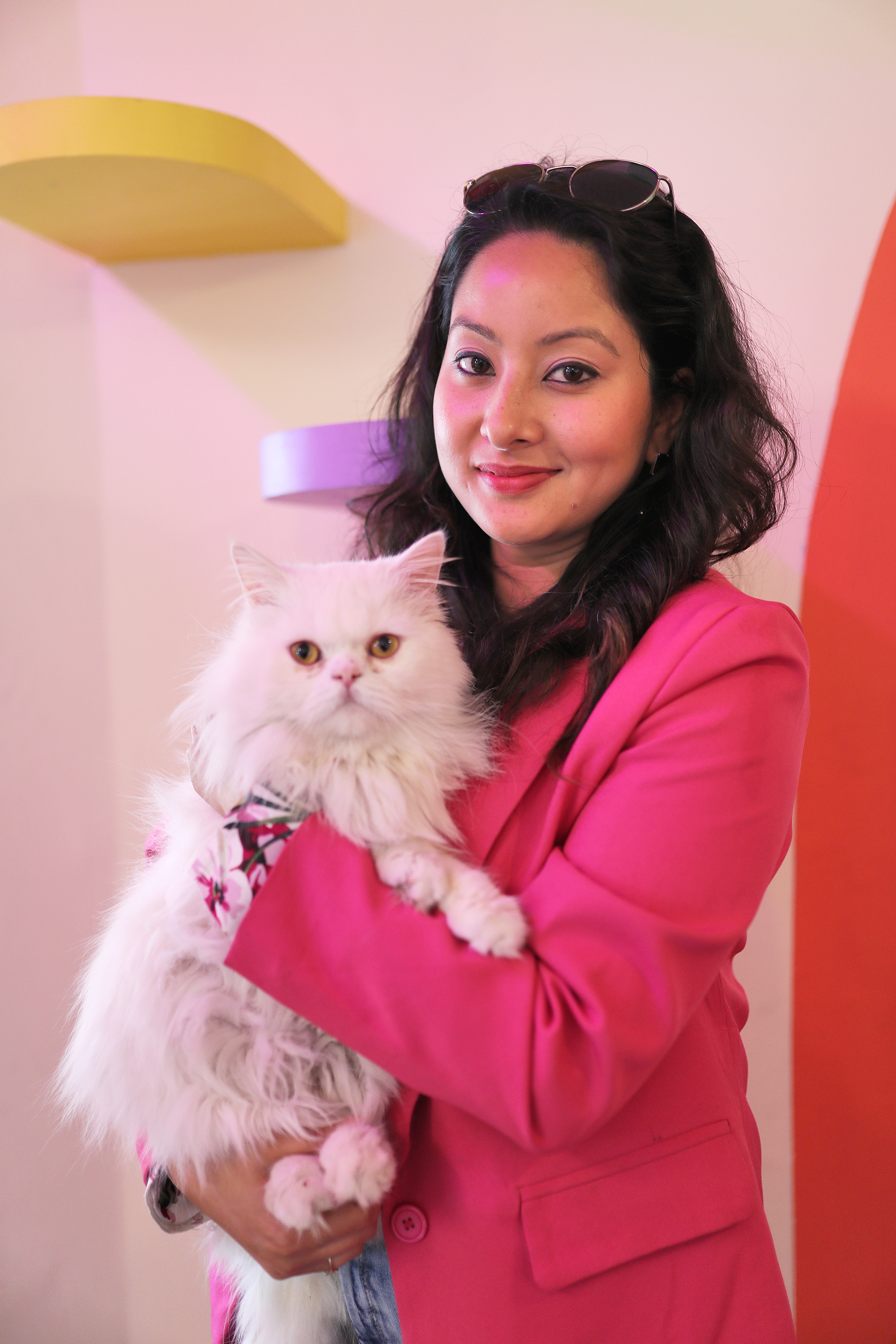 Sanjog Manandhar/TKP
Originally, the plan was to foster cats, for which they visited numerous foster homes. But soon, they realised that they needed a place where both people and cats could enjoy themselves. It is no secret that Nepali society holds a lot of taboo when it comes to cats. The whole 'cats bring bad luck if they cross the road in front of you' narrative has made people weary and unkind to cats in general. Many households instead prefer dogs over cats, and there is only a small minority that keeps cats as pets.
Shrestha and Pandey, who is also an entrepreneur and currently owns a business in Biratnagar, decided to give the idea of a cat cafe a shot. As of now, The Cat Cafe has a total of eight Persian cats: Leo, Simba, Leela, Smoky, Chhoru, Devo, Sid and Basanti. Shrestha stated that the idea of keeping Persian cats came to them because, for starters, they are calm and easy to handle. Should the venture flourish, they plan to bring in six locally bred-cats. "Cats can be very affectionate, but they are picky about who they choose to love," says Shrestha.
According to Shrestha, it is their top priority to make sure that the cats are comfortable. As Persian cats prefer a cosy yet airy environment, the cafe has been designed to have adequate ventilation.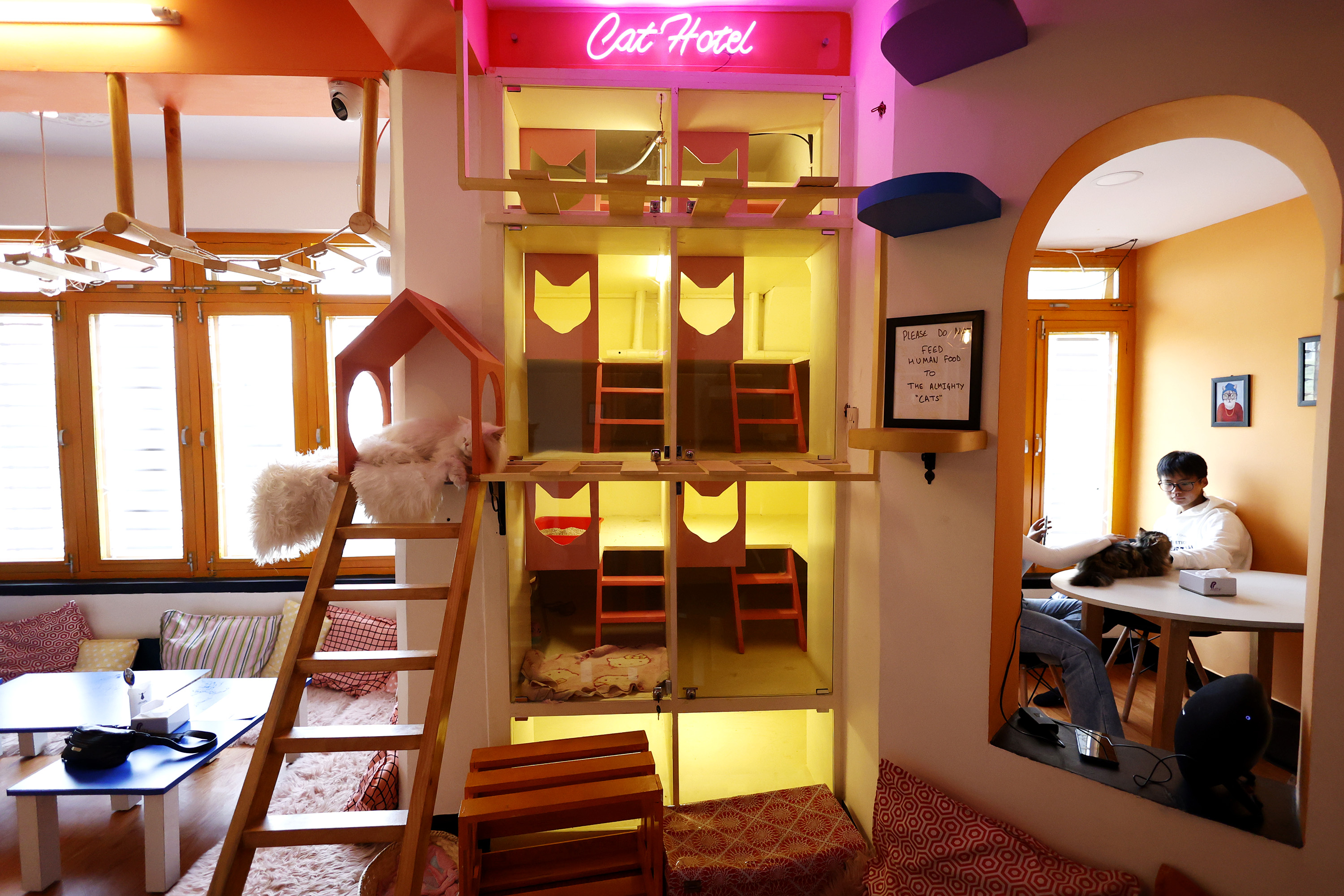 Sanjog Manandhar/TKP
They are also regularly taken to Dr Indra Narayan Ray at Mobile Veterinary Hospital, Jawalakhel. According to Dr Ray, the cats have been assigned a diet full of protein and other important nutrients. "As the place is filled with so many cats, in the case of infection, it's very easy for it to spread," he says, adding that providing different bowls for each of them is necessary. The check-up session for these cats is also held every month.
The cats are provided with a grooming session every morning, and then the cafe opens at noon. The cats are usually fed homemade food, which consists of half-boiled egg, chicken rice and pumpkin chicken and only sometimes, cat food. The food that customers receive from the cafe is not touched by the cats. The food in the cafe was good, but most importantly, the cats didn't touch my food even if they were around. "Food testing was done before the starting of the cafe by keeping all the cats around to check their reaction," says Shrestha, adding that as the smell of the food that we eat is overpowering to cats, they usually avoid coming near it.
Shrestha says there has been a regular flow of customers from the beginning. Parents come with their children to visit the cafe and spend time with the cats. It is mandatory for a customer to wash their hands and open their shoes before entering the space.
"In the past, we lost four of our cats because of infection, so it is important for every visitor to wash their hands before meeting the cats," explains Shrestha. If one of the cats becomes ill, the others are separated to prevent the infection from spreading, which is especially important for Persian cats because they are more sensitive.
Sanjog Manandhar/TKP
As for the feedback, Shrestha reveals that it's going pretty well. There have been some situations where they have had problems with children, but most of the customers that come in really enjoy being around cats.
Because the space is small and crowded with curious customers, the cafe has implemented a reservation system. It is mandatory for people to book or reserve a table in advance. If the entry is not pre-booked, the venue will not allow customers to get in. According to Shrestha, this is done due to safety concerns for the cats. The cafe closes on Thursday, as a day off for the cats and the staff. Shrestha mentions that the cats are always excited, especially on weekends when there usually is a high volume of customers.
Shrestha feared that The Cat Cafe may not be popular due to the taboo surrounding cats, but surprisingly, people have been very receptive to The Cat Cafe. The cafe is also an initiative to show such people how to care for cats as pets. So, if you want a 'paws' from the hectic schedule of your day to day life, The Cat Cafe is a 'purr-fect' place to make friends with these cute furballs of joy.
The Cat Cafe
Location: Dhobighat, Lalitpur
Reservation: Via phone call, 9851343699
Opening hours: 12:00pm to 7:30pm, closed on Thursdays
11:30am to 8:30pm, on Saturdays and public holidays
Parking: Available
---
---