How this duo is boosting the creative sector—one recruitment at a time
Established by Sampada Malla, a film writer, and Subhash Pradhan, a music artist, Srijana Sutra is a creative recruiting agency that has been able to find jobs for more than 100 people even during the pandemic.

Shutterstock
bookmark
Published at : December 9, 2020
Updated at : December 10, 2020 09:08
Kathmandu
When Shristi Khadgi was applying for a job as a newsreader back in June, she was apprehensive. She was not sure about the credibility of the portal through which she had found the job vacancy, she says.
"I had never applied for a job online. I thought it was a hoax since the jobs we find through online aren't always reliable. But I was free at home, not involved in anything, and so I applied," says Khadgi, 24, who had found the job through Facebook. She landed the job and has been working as a newsreader at Dharma Television since.
"It was a completely new experience for me. Even if in the beginning I was doubtful, now I feel the experience was worth it, as I was able to get a job that I was interested in," says Khadgi, who had experience working as an emcee at events.
Khadgi is among the many people seeking to work in the creative sector, recruited through Srijana Sutra, a Kathmandu-based job recruitment platform that solely focuses on helping people like her who are interested to work in the creative field.
Established in February this year, by Sampada Malla, a film writer, and Subhash Pradhan, a music artist, Srijana Sutra has a simple plan: to create a space where creative enthusiasts can turn their passion into a job.
"Our country lacks corporatisation of the creative industry due which it isn't systematic. That's why we were very clear that we would focus only on finding creative jobs, as we saw a lack of such platforms in Nepal," says Malla.
Both Malla and Pradhan have devoted many years to their respective creative fields. While movies and a television career in Mumbai kept Malla occupied, Pradhan was engaged in the music scene, where he worked as a singer, composer, music video director and also a celebrity manager.
But both of them shared a common vision—to build a platform where emerging creative talents could find jobs that could help them showcase their talent as well as earn money and strengthen the creative industry.
"While we knew each other for years, it was during one workshop where we got to know that we shared a common vision," says Pradhan. "And that's when we decided to join hands together and start a platform that could support the creative enthusiasts and the emerging talents," he says.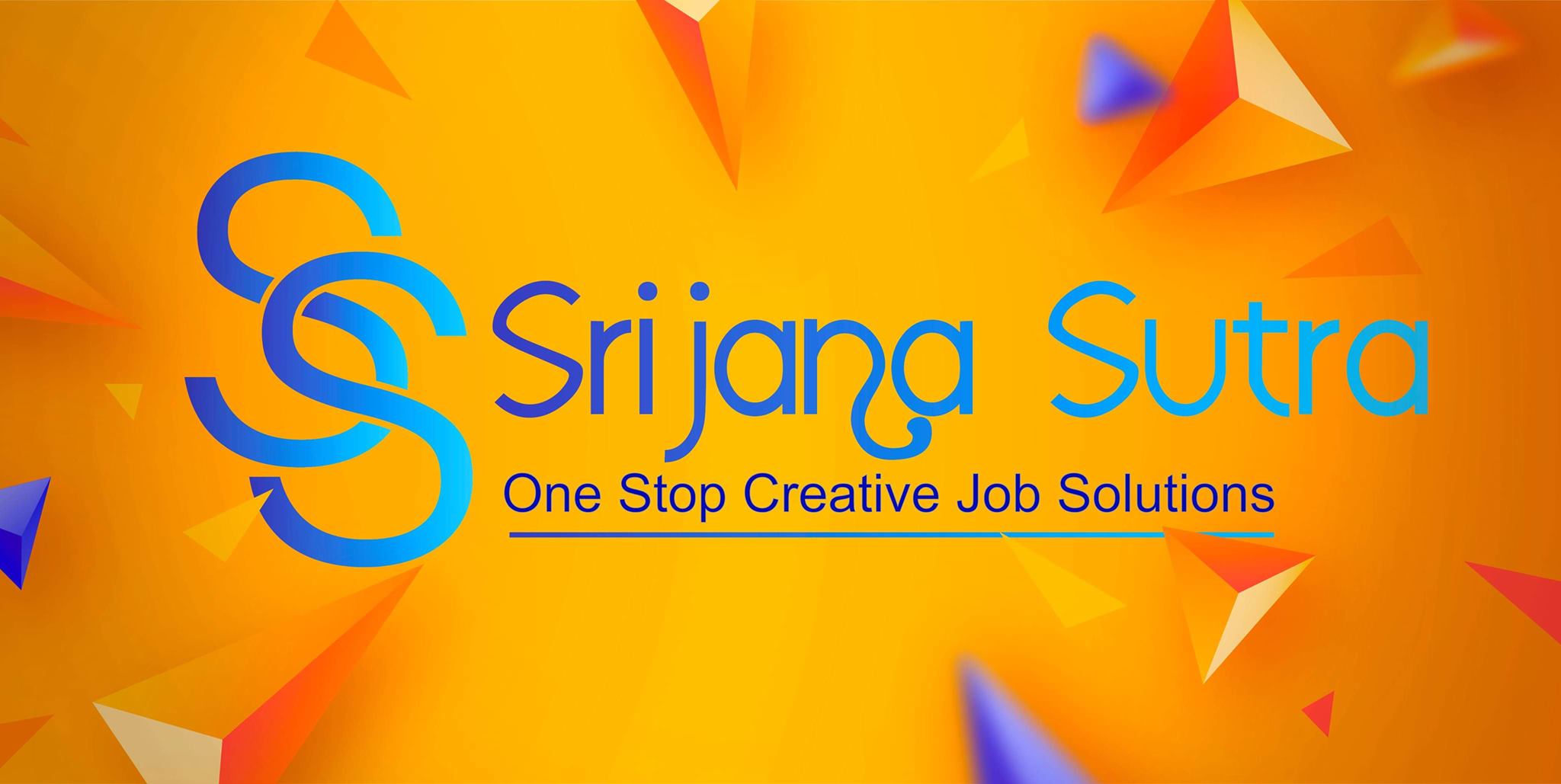 Photo Courtesy: Srijana Sutra
For six months, taking time out from their busy schedules, the two of them started working on creating the platform, setting its goal and expanding its networking. "We wanted to give our platform a name that could carry the essence of our goals and values," says Malla. "That's why we decided to go for Srijana Sutra, which was suggested by my father, Ashesh Malla, a Nepali playwright, as it embodied what we wanted to with our platform—to create a space, where creativity finds its connection."
But establishing a company of this nature came with challenges, and one of the biggest challenges was to convince people that the creative industry was as lucrative as other fields like engineering, banking, and medicine.
"People are so unaware of the scope that creative jobs could offer that many parents kill the passion of their children even before they try to make a career in the creative field," says Malla. "We wanted to dismantle such misconception."
But for Malla and Pradhan, starting Srijana Sutra wasn't just to fill the gap in the market and create a niche platform that could help them earn money. They were rather driven with the motive of helping people like them, who are interested in joining the creative field, but lack guidance about the prospects, they say.
"In our country, we don't have people guiding artists about their careers, due to which many people, even before starting their careers, leave because they get pressured from their family members, who think there's no money in this field," says Pradhan. "This was one of the main reasons why we thought there was a dire need to start this platform, so people could get jobs, which would eventually help the creative industry to grow."
With just an investment of Rs 25,000, they started the company, operating through their website and social media accounts. However, even when they were clear about their vision and were experienced, they had their fair share of struggles.
"Registering the company was a chaotic experience, as it was difficult for us to explain about our company since this was the first-ever recruitment agency that only catered the service of helping creative people to find jobs," says Malla.
Likewise, just a month later, the lockdown was announced, which severely affected the creative industry, as the gathering of masses were strictly prohibited due to which creative works had to take a backseat for a while since it needs collaboration of many people.
Yet, the two from Srijana Sutra persevered and in the nine months of its establishment, even during a pandemic, it has been able to find jobs for more than 100 people, with them getting salaries ranging from Rs 20,000 to Rs 100,000, say the founders.
"Because of the pandemic, we expected there would be no job opportunities. However, we were surprised to find that the demand for jobs in the creative field was still the same, helping us to understand its significance even in the current scenario," says Malla.
At present, Srijana Sutra is associated with many renowned production houses, advertising agencies, and corporate houses. From graphic designers to content writers, actors, photographers, illustrators, screenplay writers, copywriters, models, the platform helps people from all creative fields to find jobs. Currently, they have been receiving 1,000 applicants on average every month.
But their role isn't limited to working as a mediator between employees and employers only. When their associate partners approach them, they not only post job openings but also conduct interviews for them, shortlisting the best applicants.
"We conduct several interviews with the applicants, trying to understand them as well as building their morale by motivating them. For us, every applicant is important and we try our best to find jobs even if they have been rejected in a few places," says Pradhan.
For their service, Srijana Sutra charges 10 percent of the first-month salary of the applicants.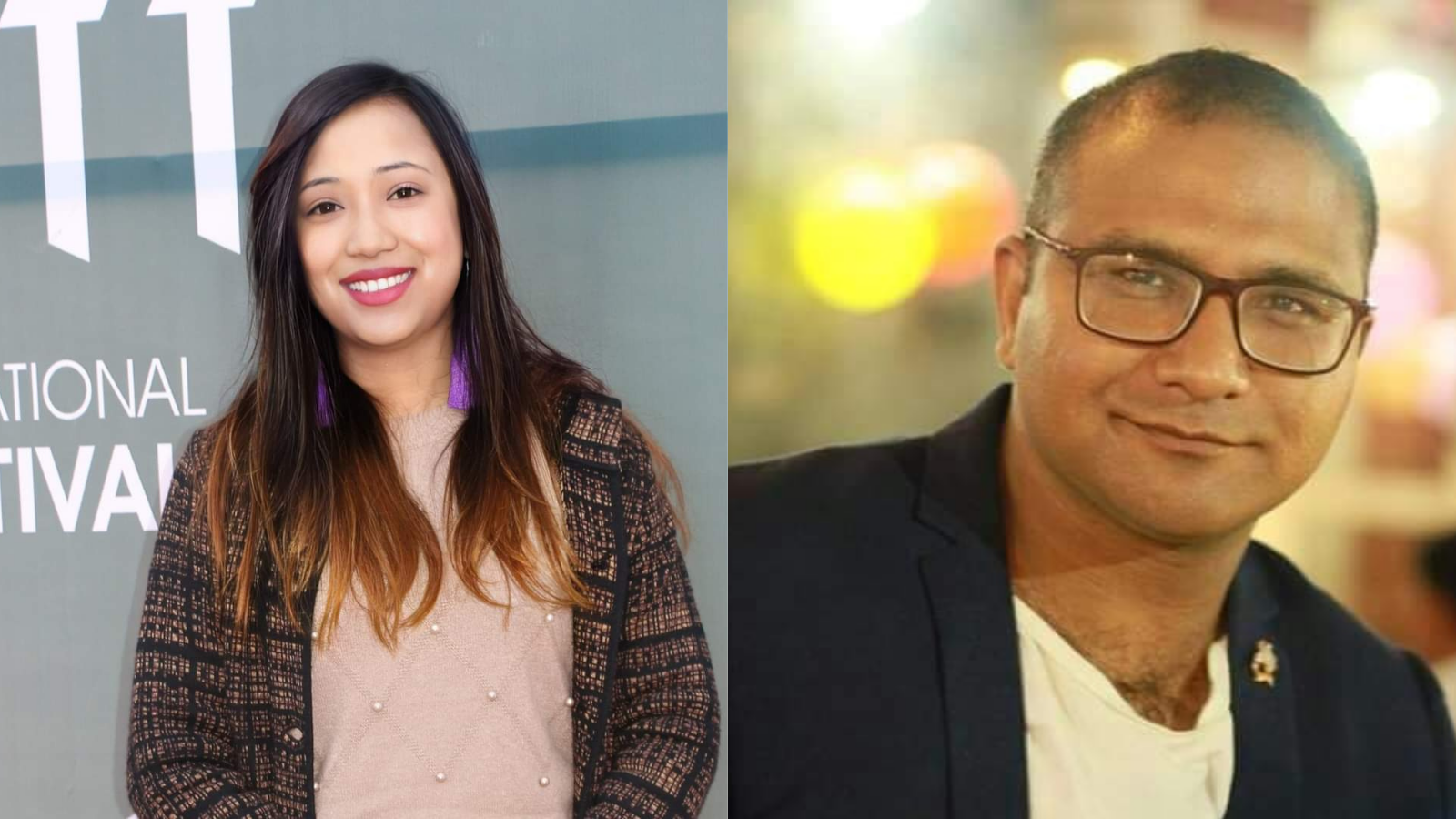 Sampada Malla (left) and Subhas Pradhan (right) Photo Courtesy: Sampada Malla/ Subhas Pradhan
But to make it big in the creative industry in Nepal is not possible with only talent. Connections and good networking are equally important to survive in the creative field. And that's an area Srijana Sutra aims to work in, bridging the gap between the employers and those people who are interested to work in the creative field but have no formal connections.
"Our creative industry still is connection driven due to which newcomers and emerging talent don't get a platform easily. That's why our main focus and vision is giving a common platform, where anyone would have equal access and get work based on their skills, even if they don't know anyone beforehand or have connections which eventually will uplift the whole creative industry," says Pradhan.
And things have started to change, as more and more skilled based manpower are getting employed, receiving attractive paychecks, making the founders believe that the future of their venture is promising.
"Right now the biggest challenge we as a company are facing is that we haven't been able to fulfil the high demand, since many people are now interested to employ creative people. That's why I believe it's a golden age and the best time to be in the creative sector in Nepal as people are investing more money than before, understanding its capabilities and paying the creative people the price, they deserved, " says Malla.
---
---