The little worlds that are part of a larger whole
Microcosm brings together interpretations of 40 artists, but not everyone will resonate with the printworks on display.

The exhibition curated by Lina Vincent brings together printmaking works of artists from 14 different countries as part of the ongoing sixth International Art Exchange Program 2018. Beeju Maharjan/TKP
bookmark
Published at : July 21, 2019
Updated at : July 21, 2019 13:24
Lalitpur
We all live in different worlds but everything is interconnected. What happens in one world affects the other. This is the underlying theme of the 'Microcosm' exhibition that is currently being displayed at the newly opened Tara Art Gallery, Patan Dhoka.
The exhibition curated by Lina Vincent brings together printmaking works of 40 artists from 14 different countries as part of the continuing sixth International Art Exchange Program 2018. It is themed under 'microcosm and macrocosm', an interpretation of little worlds that are interlinked to a vast universe. The show traces different understandings of various artists, mainly in abstracts. The various artworks use different printmaking techniques such as etching, mezzotint, serigraph, photopolymer etching and relief, photo intaglio, woodcut, drypoint, platography, aquatint, linocut and laser-cut acrylic.
At the Tara Art Gallery, the square artworks are framed individually with a blue-grey paper and are neatly arranged symmetrically on the walls. But onlookers will have to take time to understand the meanings behind these prints. They will have to spend time analysing the prints carefully, and for some, this could be time-consuming and even incomprehensible.
Although programmes like International Art Exchange Program are strengthening the global networks of artists by exchanging their works and has amassed the attention of a larger audience, it doesn't seem to have been able to communicate ideas properly to audiences, especially in Nepal where people admire the beauty of artworks but take less from the experience itself.
The 40 selected artists of the International Art Exchange Program are all provided with the 40 selected works each, including their own, that they are required to exhibit in their respective countries. In Nepal, the exhibition has been put together jointly by Sushma Shakya, Saurganga Darshandhari and Sunita Maharjan, Nepali participants of the exchange programme.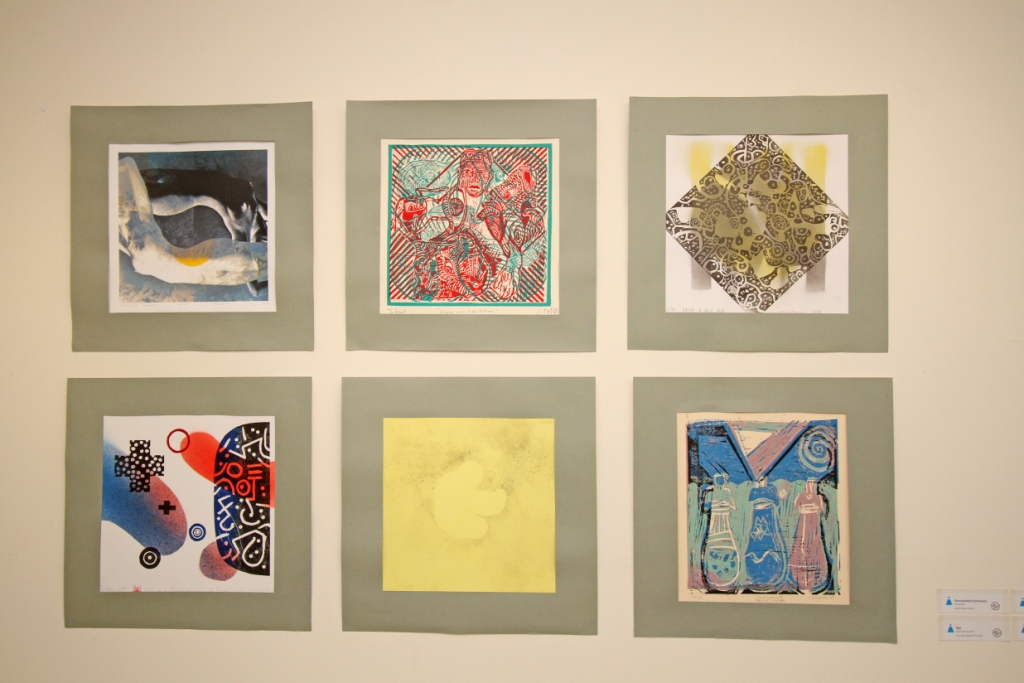 "This programme is interesting because each artist will have the works of all the other artists with them, and it's special because you can share your work with people who value and understand your work. Although we haven't met these artists in person, we are now connected through a social media group," says Sunita Maharjan.
'Microcosm' is unusual and therefore appealing. Sushma Shakya's 'element of creation' uses etching technique and delves into the five elements of creation using a womb as a symbol. The womb has a baby developing inside it in a layered circumvent. The different layers if pondered upon deeply looks like water, fire and air.
Another artist, Saurganga Darshandhari, has his artwork exploring kinship or social engagement as one of the forms of microcosm as one would interpret from the work that uses etching and aquatint technique. The dominant blue colour seems to represent water, and the birds and the sky represent freedom. The artist, in the exhibition's brochure explains that the different elements in his print have various representations, for instance a dog symbolises loyalty and the lotus excitement.
Sunita Maharjan's Terrace series, which uses woodcut, perhaps, stands out because they represent an outline of Kathmandu's terraces. Upon studying it carefully one will notice water tanks, wires, drums, and the compactness of these terraces, which in many parts of Kathmandu are built so close together that they look conjoined.
Of the many international artists' printworks, people will also be drawn towards Seema Kohli's 'the golden womb' in which a woman is encircled with layers of leaves' vines. The artwork's colour resembles that of soil although it's actually gold and it seems to represent feminism. Most printworks that are part of the exhibition, which work on similar concepts, seem to represent a boy in the womb, but Kohli's print is distinct because it shows a full grown woman inside the womb.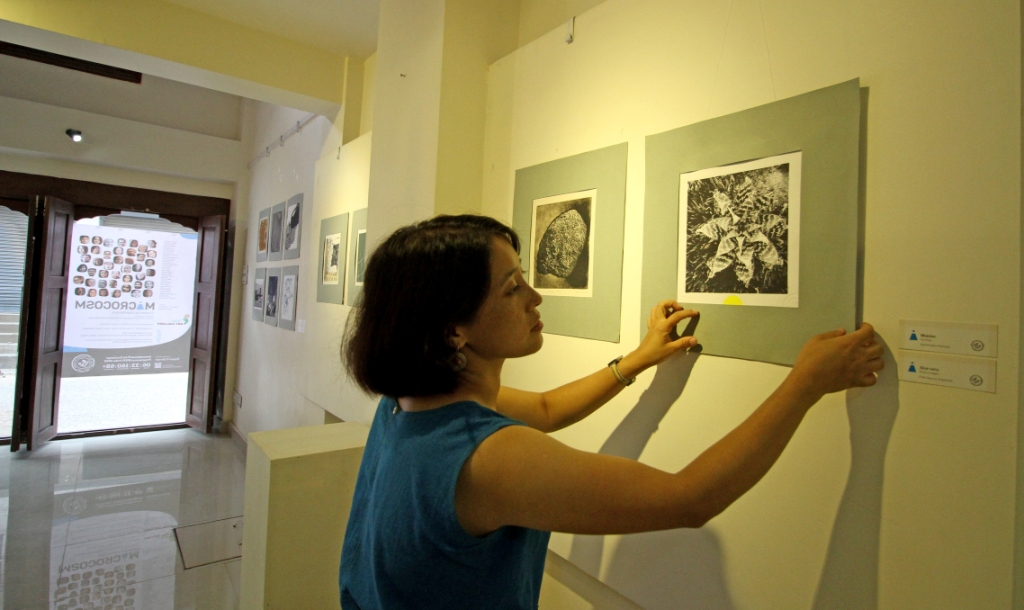 The exhibition is admirable. One can notice the details that the artists have put in their printworks and can imagine how tiring the process might have been. However, there are some mind-boggling pieces as well, where onlookers are left numb. Like, Maria Joana Santos' 'fresh', which uses etching. There's almost nothing in the printwork except a sprinkled lemon colour silhouette which seems to be wilting.
"I was surprised when I saw the artwork,but later, when I understood the depth of the concept, I felt inspired. The artist tries to express how there is affinity even with things that are not identified," says Sushma Shakya who admires the artwork.
But how many will understand this concept is a question that needs to be pecked upon, both by artists and curators.
"Artists usually explain their work of art, but sometimes it is left open-ended to the audiences because we all perceive art in different ways and sometimes the purpose of the art itself is to explore different ideas," says Sunita Maharjan.
"The art scene in Nepal today has gained momentum and printmaking has become a contemporary art style that many are exploring," she says.
There is no doubt that 'Microcosm' has helped artists do just that. And for those who love art and like speculating the depth of the philosophies embedded in them, this is an exhibition worth your time. But the ones who are still new to art, and are still trying to figure out 'what art is', may leave the exhibition more confused.
Microcosm will be on display until July 22 at Tara Art Gallery, Patan Dhoka, Madansmarak Road.
What do you think?
Dear reader, we'd like to hear from you. We regularly publish letters to the editor on contemporary issues or direct responses to something the Post has recently published. Please send your letters to tkpoped@kmg.com.np with "Letter to the Editor" in the subject line. Please include your name, location, and a contact address so one of our editors can reach out to you.
---
---