'The Framed Life, Land & Space' exhibition is captivating but doesn't say anything more
Gallery of Creatives's limited edition photo exhibit showcases Nepal's varied landscape and cultures through the lens of five travel photographers.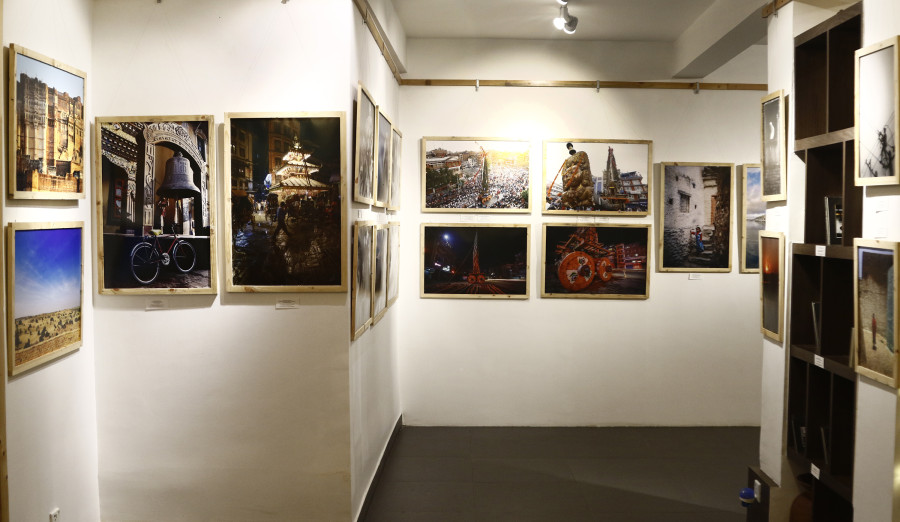 The new gallery in Thamel, gallery of Creatives, opened to the public from June 6, displayes 56 photographs of five photographers. Post Photo: Keshav Thapa
bookmark
Published at : July 8, 2019
Updated at : July 8, 2019 20:44
Kathmandu
A photo series of the stunning, alluring landscapes of Nepal's high Himalayas and its enigmatic cultures, titled 'The Framed Life, Land & Space', will make your heart swoon just enough to make you start planning for your next vacation.

The limited edition photo exhibition at Gallery of Creatives includes work of five associated photographers, Sameer Tuladhar, Andrew Golda, Arvin Sharma, Jacob Kasell and Pratik Sharma. The gallery is a newly opened space inside Milareapa Hotel in Thamel.
Of the 56 photographs put on display, Arvin Sharma's collection of 'Late Night Tales'—that includes the Milky Way's galactic stars over mount Nilgiri and billions of stars towards Cassiopeia constellation with Andromeda galaxy in Kagbeni—will touch you with nature's surreal enchantment.
"Photographers who love capturing the Milky Way call themselves Milky Way hunters. I travelled alone during the night to get these shots, although it was scary," says Sharma.
Andrew Golda's stunning photographs of the heavenly snow-capped mountains of Dorje Lakpa, Langtang Himal and Machhapuchhare feel humongous and therefore monumental; it answers the question why travellers come to Nepal.
While Jacob Kasell seems to delve into allegories; his picture of 'Thimi Boy' peeking out of a window, placed above another picture of the 'NYC Subway', contrasts two worlds: of a simple Newar town and of the dull wait at the NYC Subway. They capture two different tones of travel narratives.
Sameer Tuladhar, another exhibited travel photographer, brings various Nepali cultures to the front, but of many images from his collection, 'Allusions' captured nothing but the ordinary. Through two images, simply displaying a child walking down stairs, and an elderly woman climbing up, Tuladhar expertly displays life's climb and descent, which grabs audiences' interest more by exploring the human journey through abstract means.
The gallery, which was previously a cafe, is small but spacious enough for exhibitions. Its white walls are a canvas for the vibrant photographs. The photos on display are framed with raw, untreated wood—similar to those used for making cargo boxes—while glass has been intentionally avoided to stop reflection from the hall's lighting. The pictures are tightly placed—but not so much that it bothers onlookers.
They are sterling and professional and, in print, they feel indelible. However, even as they looked beautiful, something still felt out of place—possibly because the exhibition, although captivating, doesn't bring forward any storytelling. The photographs on display are a mix of beautiful landscapes, cultural records, poetic abstracts, dreamlike nostalgia and some of the most delightful yet straightforward human emotions.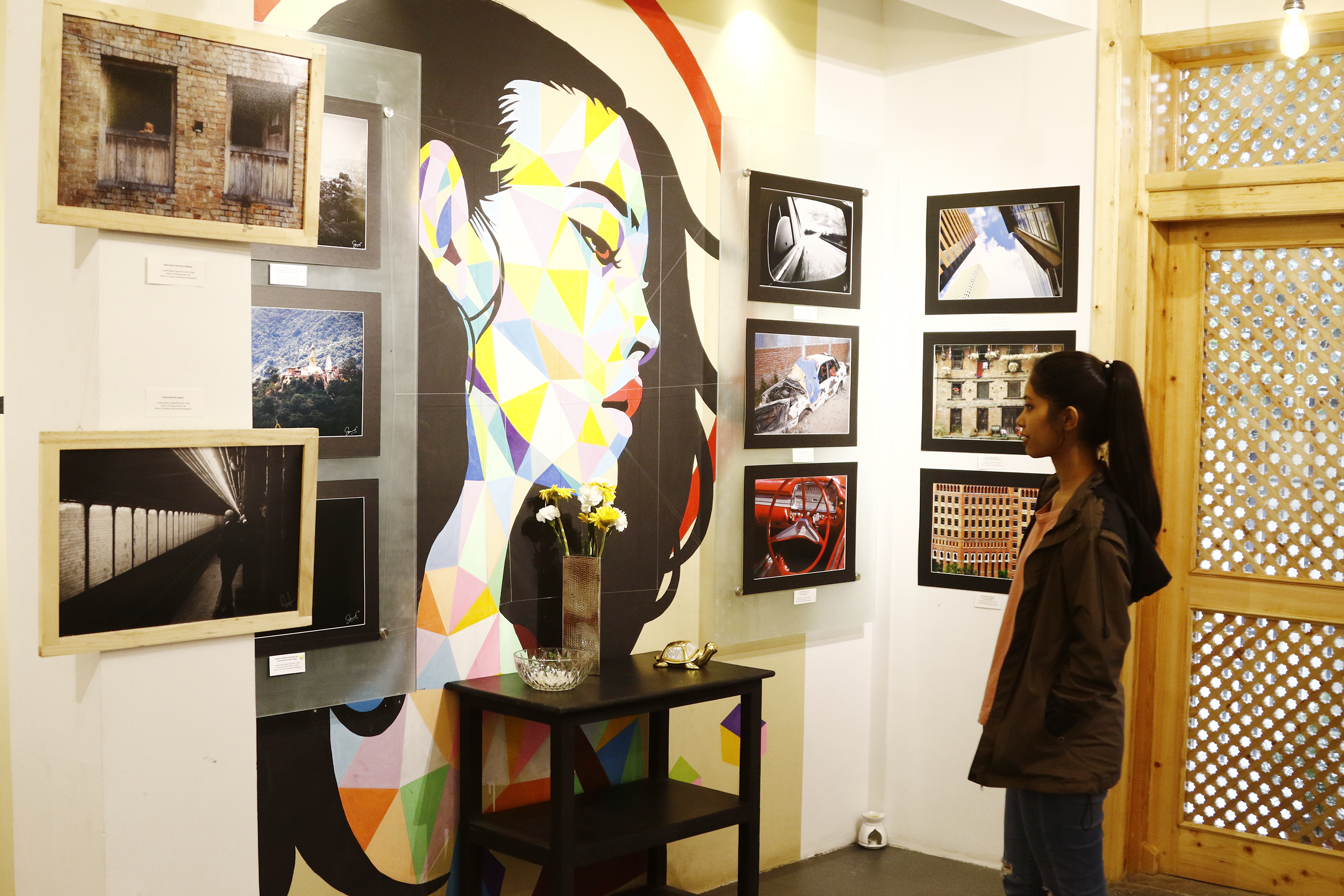 For these galleries, the ultimate challenge remains in engaging audiences and continuing to do so, by bringing in from diverse photographic work, from a wide range of photographers. Post Photo: Keshav Thapa
"This gallery is a new venture for us and with it, even this exhibition is our first. One of the reasons why we wanted to start this gallery was because there aren't enough spaces for photographers to showcase their work; a lot of the stories that we capture stay with us and they never get an audience—when they do get exhibited its only for a short time," says Arvin Sharma, a photographer and the gallery's curator and co-creative.
Sharma teamed up with Karma Y Gurung, owner of Milareapa Hotel, just three months ago, following a casual heart to heart about how travel photographers don't have enough outlets to display their works. Upon deciding to follow their whim, they approached four other travel photographers, whose works Sharma had always cherished.
The Gallery of Creatives' July exhibition 'The Framed Life, Land & Space' serves its genesis befittingly, as space for photographers to exhibit their work for longer periods of time.
"But, we still have to see how much it will be viable business-wise, we have priced the photographs according to the Nepali market," says Gurung, who is also one of the co-creatives of the gallery. "Although photography and art are seen abundantly in Kathmandu, I still think they are undervalued—not many understand why photographic works are expensive," Gurung adds.
But, the idea behind Gallery of Creatives isn't something completely new.
Most of us have been to such galleries giving space to creative artists and photographers, and we have left these spaces feeling inspired, sometimes excited to pick our own cameras again to start photography. However, for these galleries, the ultimate challenge remains in engaging audiences and continuing to do so, by bringing in from diverse photographic work, from a wide range of photographers. The other aim is to encourage more photographers to share their works with the world.
'The Framed Life, Land & Space' boasts a good collection of breath-taking photography, so is laudable and deserves a good audience. But for the gallery to cultivate a culture of musing at such works, it needs to add detail and narratives alongside its pictures. While a photograph speaks a thousand words, it's always fascinating to see through the photographer's lens.
The Framed Life, Land & Space will be on display until July 31 at The Gallery of Creatives, Milareapa, Keshar Mahal Marg.
---
---