As Nepal's dengue fatalities hit 45, risk grows of Zika, chikungunya outbreaks
Health ministry has started Zika and chikungunya testing on samples of patients infected with the dengue virus.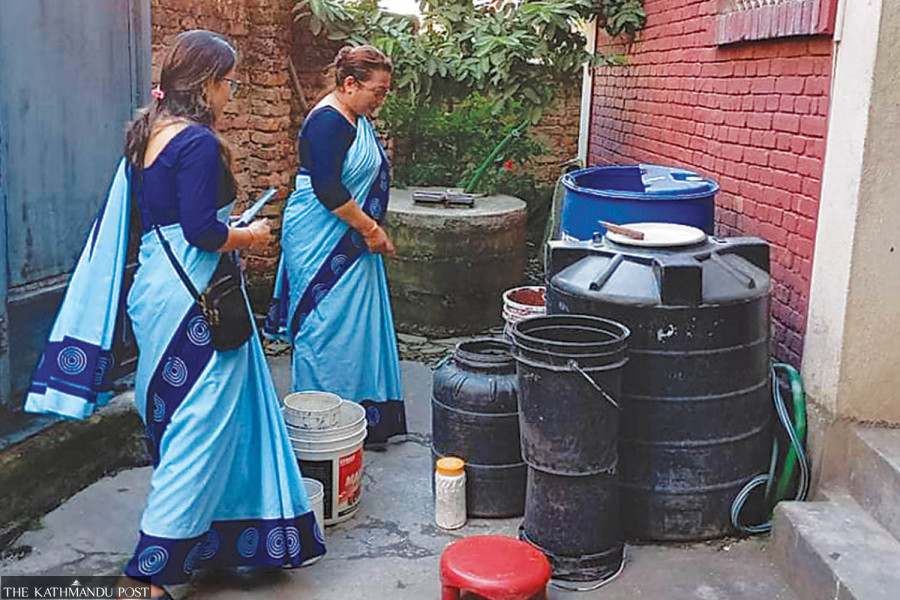 Health workers inspect households for possible sites of mosquito breeding in Lalitpur. Post File Photo
bookmark
Published at : October 13, 2022
Updated at : October 14, 2022 12:14
Kathmandu
Amid a massive spread of the dengue virus across the country, public health experts have warned of the risk of an outbreak of Zika and chikungunya viruses as well.

At least 45 people died and over 37,000 people tested positive for the dengue virus in Nepal this year alone, according to the Ministry of Health and Population.
The mosquitoes that transmit the dengue virus are present in all 77 districts and can transmit the other two diseases as well.
"A lot of people with dengue-like symptoms are testing negative for dengue, but we are not carrying out further tests to identify the cause of the ailments," said Dr Sher Bahadur Pun, chief of the Clinical Research Unit at Sukraraj Tropical and Infectious Disease Hospital. "Those people might have been infected with chikungunya and the risk of Zika outbreak is also high."
Nepal has recorded cases of chikungunya in the past.
A risk assessment survey carried out with technical and financial support from the World Health Organisation in 2018 showed that Nepal was a high-risk country for dengue and Zika outbreaks.
Two experts deployed from the UN health agency then in Nepal had inspected various localities in the Kathmandu Valley and warned of the risk of the outbreaks.
Researchers warn a new outbreak of the Zika virus is quite possible, with a single mutation potentially enough to trigger an explosive spread. The disease caused a global medical emergency in 2016, with thousands of babies born brain-damaged after their mothers became infected while pregnant.
Female Aedes aegypti and Aedes albopictus mosquitoes that transmit the dengue virus also transmit chikungunya, yellow fever, and Zika viruses, according to the World Health Organisation.
"Since the vectors have already spread across the country, the only thing now missing is an infected person with the Zika virus and we are in a state of very high risk due to global mobility," said Pun. "The neighbouring India, which shares a long open and porous border with Nepal, recorded cases of Zika infection in the past."
In 2021, health authorities in Kerala state of India declared a state of alert in all districts following the detection of 14 cases of Zika infections.
In Rajasthan of India, 94 people including 24 pregnant women were infected with the deadly virus in 2018. Bangladesh recorded Zika infection cases in 2016.
Zika causes microcephaly, a condition in which babies are born with underdeveloped heads and brain damage. Zika is also linked to Guillain-Barre syndrome, a condition in which the immune system attacks the nerves causing muscle weakness and sometimes paralysis.
People infected with the Zika virus show mild symptoms like fever, rashes, and red eyes. Studies show that pregnant women and their foetuses are at high risk.
Zika virus was first identified in Uganda in 1947 in monkeys, according to the UN health agency. It was later detected in humans. Brazil saw the worst outbreak of the virus in 2015 and it has then spread to 24 other countries. The WHO declared Zika outbreak an international health emergency in 2016.
Chikungunya also shares some clinical signs similar to dengue and Zika. Common signs and symptoms include muscle pain, joint swelling, headache, nausea, fatigue and rashes, according to a World Health Organisation factsheet.
Doctors blame the ongoing dengue spread to the apathy of the authorities.
They say that for controlling dengue, Zika, and chikungunya viruses, vectors spreading such viruses must be controlled, but the authorities have taken no serious initiatives to this effect.
Meanwhile, the Ministry of Health and Population said that it has started Zika and chikungunya testing on samples of patients infected with the dengue virus. For that, the WHO has provided 3,500 testing kits.
"Sukraraj Hospital and Patan Hospital have been chosen as testing sites," said Dr Gokarna Dahal, the chief of the Vector Control Section at the Epidemiology and Disease Control Division.
The division said that the spread of dengue infection has been on a declining trend for the last couple of days.
---
---