Dengue spreads to 59 districts including Jumla and Kalikot
Of over 600 cases reported so far this year, more than 100 are from Kathmandu Valley. Officials say they are also investigating some deaths for possible dengue connection.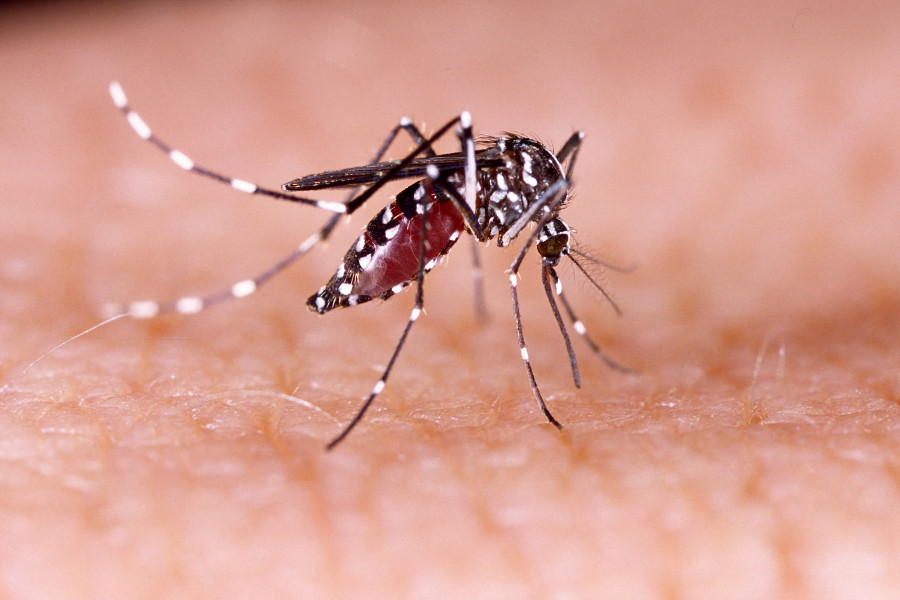 Shutterstock
bookmark
Published at : August 5, 2022
Updated at : August 5, 2022 07:40
Amid a spike in new cases of Covid-19, dengue cases have been reported in many districts throughout the country.
According to the Epidemiology and Disease Control Division, 59 districts including all three of Kathmandu Valley—Kathmandu, Lalitpur and Bhaktapur—as well as some mountain districts like Jumla and Kalikot have reported dengue cases.
The Health Office in Kathmandu has reported 64 cases and Lalitpur 57 cases, said Dr Gokarna Dahal, chief of the Vector Control Section at the division, adding that as many as 396 dengue cases were reported from across the country in July alone.
Officials at the division said they have also been reported of some deaths from dengue but they have yet to verify.
Dengue is a mosquito-borne disease transmitted by female Aedes aegypti and Aedes albopictus mosquitoes. The same vector also transmits chikungunya, yellow fever and Zika viruses, according to the World Health Organisation.
Although the post-monsoon period is considered a high transmission season for the dengue virus, Nepal has witnessed outbreaks of the deadly disease in the pre-monsoon, monsoon and post-monsoon seasons.
Satis Bista, chief of the Health Office, Lalitpur, said a lot more people [than what is being reported] could have been infected with the dengue virus as up to 80 percent of dengue cases are asymptomatic. "The problem is that asymptomatic patients can easily spread the deadly disease," he said.
According to the Health Office, Lalitpur, the infection has spread mainly in the Lalitpur Metropolitan City. The metropolis has already launched search and destroy drives in the disease-hit areas.
"We had also reached some schools during the search-and-destroy drive," said Bista. "We found dengue-spreading mosquitoes even in some renowned schools."
Upon discovering dengue-causing mosquitoes' larvae in the discarded tyres in the corners of a school compound, the health workers showed it to school staff and had asked them to cover the tyres with plastic, according to Bista.
In Kathmandu, however, despite detection of dozens of cases, authorities have not yet launched search-and-destroy drives in disease-hit areas, according to officials at the Epidemiology and Disease Control Division.
The Ministry of Health and Population said that it has allocated Rs500,000 to each district of the Valley to launch awareness and search-and-destroy drives.
In 2019, at least six people had died and over 16,000 were hospitalised with dengue fever. The outbreak, which had started in the pre-monsoon period from Dharan, spread to 68 districts.
"Even if the fatality rate from infection of the dengue virus is not as high as that of the coronavirus, the massive spread of infection increases burden on hospitals," said Dahal of the division. "Sometimes the virus can cause hemorrhagic fever, which could be deadly."
Mosquitoes that cause dengue breed in clean water and infect people in daylight. Due to an acute drinking water crisis, people in the Valley store water in jars and pots, which could provide ideal breeding grounds for these mosquitoes. Uncovered water tanks, and discarded plastic cups and bottles could also shelter dengue-carrying mosquitoes.
Most of the dengue cases reported in Lalitpur, Kathmandu and Bhaktapur are indigenous—meaning, the infected people contracted the virus locally, officials said.
Experts warn that the timing of the dengue outbreak is serious, as the country has already been dealing with a rapid surge in Covid cases. They say that the rise in dengue cases in the midst of the monsoon could be a variable impact of climate change, which the country is still not prepared to cope with.
"We do not have proper strategies to cope with emerging problems like the dengue infection," said Dr Biraj Karmacharya, an epidemiologist, who is also the head of the Department of Community Medicine at the Dhulikhel Hospital. "By launching awareness drives, search-and-destroy campaigns, and preparing health facilities to deal with emerging problems through adaptation strategies, we can lessen the disease burden."
According to doctors, mild to high fever, severe muscle pain, rashes, severe headache, and pain in eyes are some of the symptoms of dengue.
The UN health agency says that there is no specific treatment for severe dengue, but early detection and access to proper medical care can lower the fatality rate.
"Issues of dengue infection and its spread are no less serious as considered," Karmacharya said. "Authorities concerned should be prepared to deal with its growing burden and introduce programmes to address it."
---
---