Dengue outbreak exposes the country's fragile health care system
Nepal is disastrously ill-prepared to deal with any kind of health emergency, experts say.

People flock to the tropical disease hospital at Teku on Tuesday seeking treatment for dengue. Elite Joshi/TKP
bookmark
Published at : September 11, 2019
Updated at : September 11, 2019 08:30
Kathmandu
A dengue outbreak which has reached epidemic levels, claiming six lives and leaving more than 8,000 people hospitalised, has exposed how fragile Nepal's healthcare system is and how ill-equipped the country is when it comes to dealing with any kind of health emergency.

The Sukraraj Tropical and Infectious Disease Hospital in Teku on Tuesday was chock-o-block with people jostling to see doctors for dengue infection.
[Read: As dengue spreads, officials scramble to contain the disease]
As doctors scrambled to attend to an unprecedented number of patients, many were forced to wait—on the hospital premises, corridors and outside. Two to three patients were forced to adjust in one bed. A full out-patient department meant doctors had to provide care from the garage. Lab technicians walked out from their cabins to distribute reports to avoid overcrowding. Ticket counters and the pharmacy saw serpentine queues.
"All beds are occupied and we are not in a position to admit additional patients," said Dr Anup Bastola, a chief consultant on tropical medicine at the hospital.
[Read: Dengue spread continues as reported cases top 800 in a week]
Doctors at other hospitals were forced to return most of the patients by simply prescribing them medicines.
"This dengue epidemic has exposed our preparedness level," Sarad Raj Onta, assistant dean at the Institute of Medicine told the Post. "This shows the government is not prepared to handle any health emergency."
Since the first case was reported in May this year, dengue has now spread to 56 districts. Even though dengue, a viral disease transmitted by the bites of Aedes aegypti and Aedes albopictus mosquitoes, is not deadly when detected earlier and treated on time, people have died and many more are getting infected.
Experts say the only way to protect people from dengue is preparedness. Searching and destroying dengue-carrying mosquitoes and not letting them breed on waters can easily prevent dengue cases.
Onta said the government was neither prepared in the past nor it is at the moment.
"Authorities never learnt a lesson from the past," said Onta. "This is not the first time our poor preparedness has been exposed. The state of our healthcare system was exposed after Jajarkot's cholera outbreak in 2009 and after the earthquakes in 2015."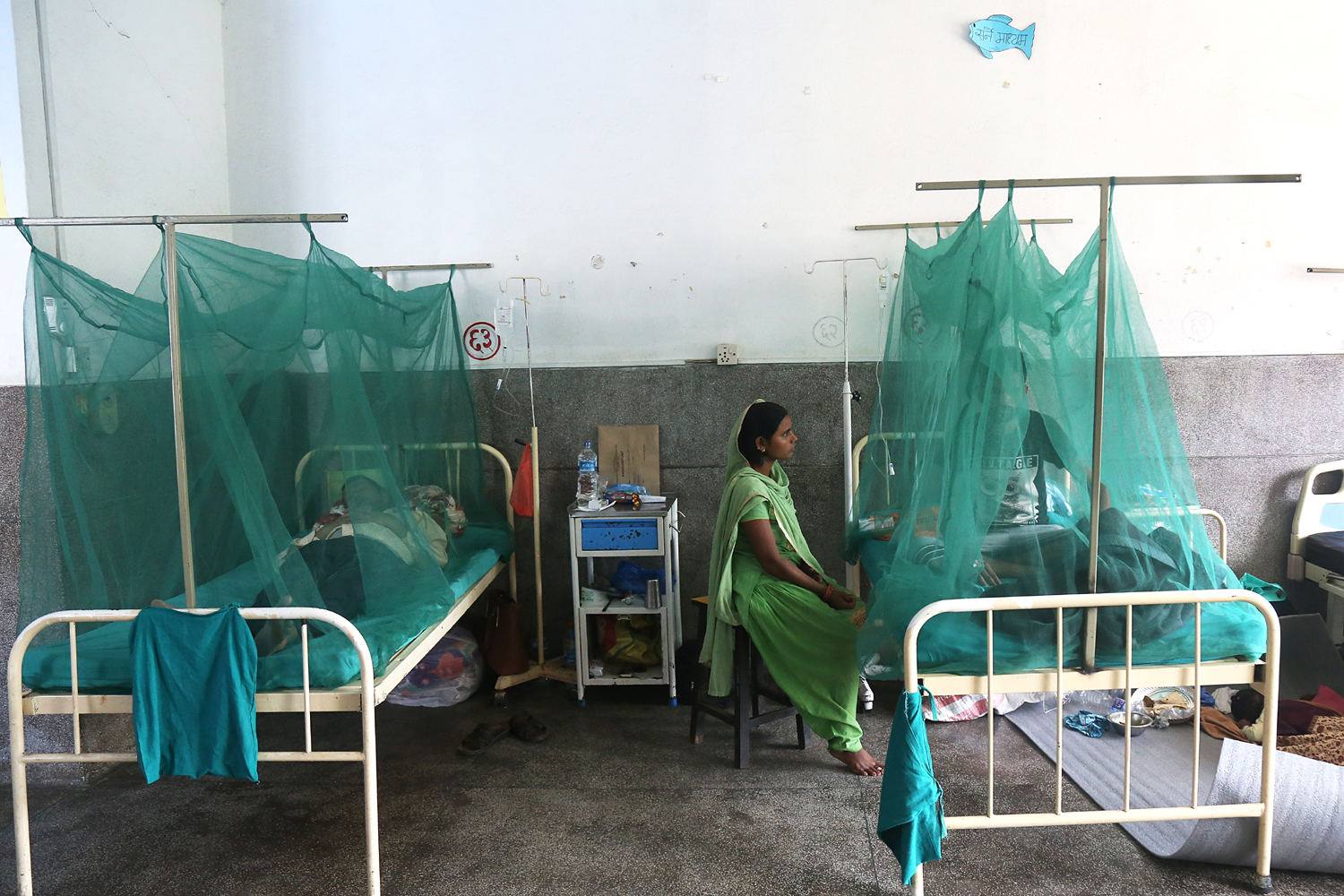 People infected with dengue at the Sukraraj Hospital, in Teku. The Health Ministry, which has so far held meetings to discuss dengue, has not taken any steps to contain the disease. Kabin Adhikari/TKP
On Tuesday, Jayalal Sah Kanu, who was referred to Sukraraj Hospital from Birgunj, was waiting for his turn in front of the emergency ward. The 68-year-old man was brought to the hospital in an ambulance.
"Doctors at Birgunj's hospital asked me to bring my father here after his platelets count declined," Upendra Prasad Sah, the son, told the Post. "But doctors are telling me to take him somewhere else. Where shall I go now?"
[Read: UN health agency warns of possible dengue outbreak in Kathmandu Valley]
Low platelet count is one of the major causes of internal bleeding in the patients infected with dengue virus.
Dr Bibek Kumar Lal, director at the Epidemiology and Disease Control Division, said it has been very difficult for his office to gather information on dengue cases from across the country.
"Since we adopted the federal system, our information channel has broken down," said Lal. "Local and provincial governments do not report to us. We do not know what activities they are carrying out to protect people from dengue infection and contain the disease."
According to Lal, the Division, which earlier used to coordinate with other sub-ordinate agencies, does not have the authority to instruct other agencies on measures to be taken in emergency situations.
Officials said the three tiers of government—local, provincial and federal—are ill-prepared and lack coordination.
The Health Ministry, which has so far held meetings to discuss dengue, has not taken any steps to contain the disease. Ministry Spokesperson Mahendra Prasad Shrestha told the Post on Monday that there was no plan to declare a health emergency as the mortality rate was not high as compared to morbidity. Officials at the Ministry of Health are unaware of numbers of deaths, infections and the districts from where the cases are being reported.
"It is already too late to respond to the epidemic," said Dr Sudha Sharma, a former health secretary.
According to Sharma, it is the Health Ministry that should take the lead and reorganise all agencies so concerted efforts can be made to fight the disease.
"If the Health Ministry is failing, the Office of the Prime Minister and Council of Minister should take charge," she said. "The government must take the ongoing epidemic as a national public health emergency and deal accordingly."
Of the 446 patients tested on Monday, 311 were tested positive for dengue virus at Sukraraj Hospital. On Sunday, 194 tested positive. Going by the pattern of the last week, the number of people tested positive for dengue has been rising.
Bastola, of Sukraraj Hospital, said the country, in addition to a strong health care system, needs political will to fight such epidemics.
"Continuous drives and sincere efforts from everyone—government agencies, the private sector and the public—are crucial in dealing with such situations," said Bastola. "Health emergencies can strike anytime, so preparedness is key."
---
---