Dengue spread continues as reported cases top 800 in a week
More than 2,500 new cases have been detected in the last 47 days, with Province 3 recording the highest number of cases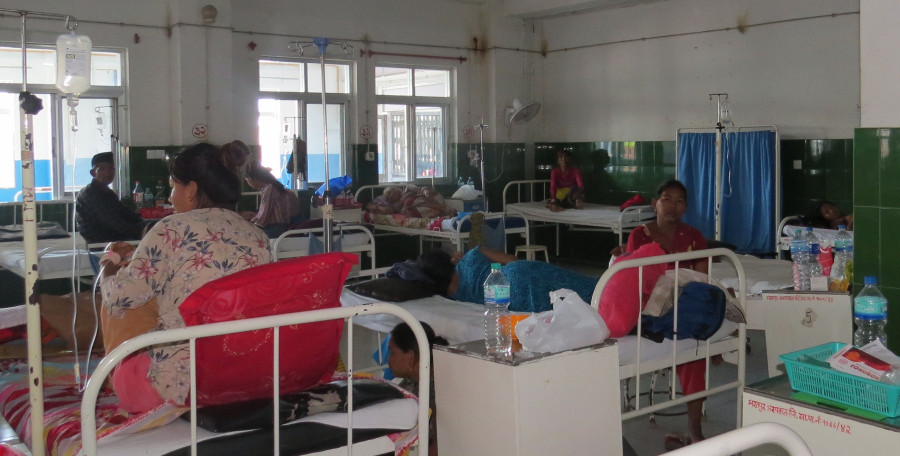 Dengue patients undergo treatment at Bharatpur Hospital. Ramesh Kumar Paduel /TKP
bookmark
Published at : September 5, 2019
Kathmandu
Despite the government's promise to mobilise security personnel to contain dengue, the disease is still spreading to more districts with over 800 cases reported within a week.
According to the Epidemiology and Disease Control Division, the deadly disease has spread to 48 districts across the country, including those in Karnali Province, which had remained untouched by the virus until a few days ago.
At least three people have died and over 6,000 people hospitalised since the first case was reported in May this year.
According to the division's data, 2,559 cases have been reported in the last 47 days. Among them, over 800 people have been infected within a week
The data shows that the number of dengue cases have raised significantly in the last few days in Province 3. A total of 1,093 dengue fever cases have been reported in the last 47 days in Province 3, followed by 753 cases in Province 1. Similarly, there were 572 reported cases in Gandaki Province; 104 cases in Province 5; 23 in Province 2; 12 in Sudurpaschim Province; and two in Karnali Province.
In Kathmandu Valley, 89 people have been infected since July 17. Among them, 76 cases were reported from Kathmandu district, seven from Lalitpur and six from Bhaktapur.
"The number of cases could go up, as post-monsoon season is yet to start," Dr Prakash Kumar Shah, senior public health administrator at the division, told the Post. "There are more challenges ahead, as we expect more dengue cases in the coming days."
All local level governments of 48 districts, where dengue cases have been reported, are running mosquito search and destroy drive, the division said.
Meanwhile, the Ministry of Home Affairs has issued a circular to chief district officers of all 77 districts to coordinate and cooperate with local levels in launching 'dengue search and destroy' drive in their respective districts.
"The constitution has given the responsibility of coordination and cooperation with local level governments to chief district officers," Uma Kanta Adhikari, information officer at the Home Ministry, told the Post. "We have issued the circular accordingly, asking them to fulfil their constitutional duty."
Dengue is a mosquito-borne viral disease, which is transmitted by the female Aedes aegypti and Aedes albopictus mosquitoes. The vectors breed in clean water and are active during the day. The same mosquitoes also transmit chikungunya, yellow fever and Zika virus, according to the World Health Organization.
According to doctors, mild to high fever, severe muscle pain, rashes, severe headache, and pain in eyes are some of the symptoms of dengue.
The UN health agency says there is no specific treatment for severe dengue, but early detection and access to proper medical care can lower the fatality rate.
---
---