What is dengue and why is the outbreak so severe this year?
Cases of dengue fever have been reported from at least 56 districts across the country and experts warn it is likely to continue spreading until the end of the post-monsoon period.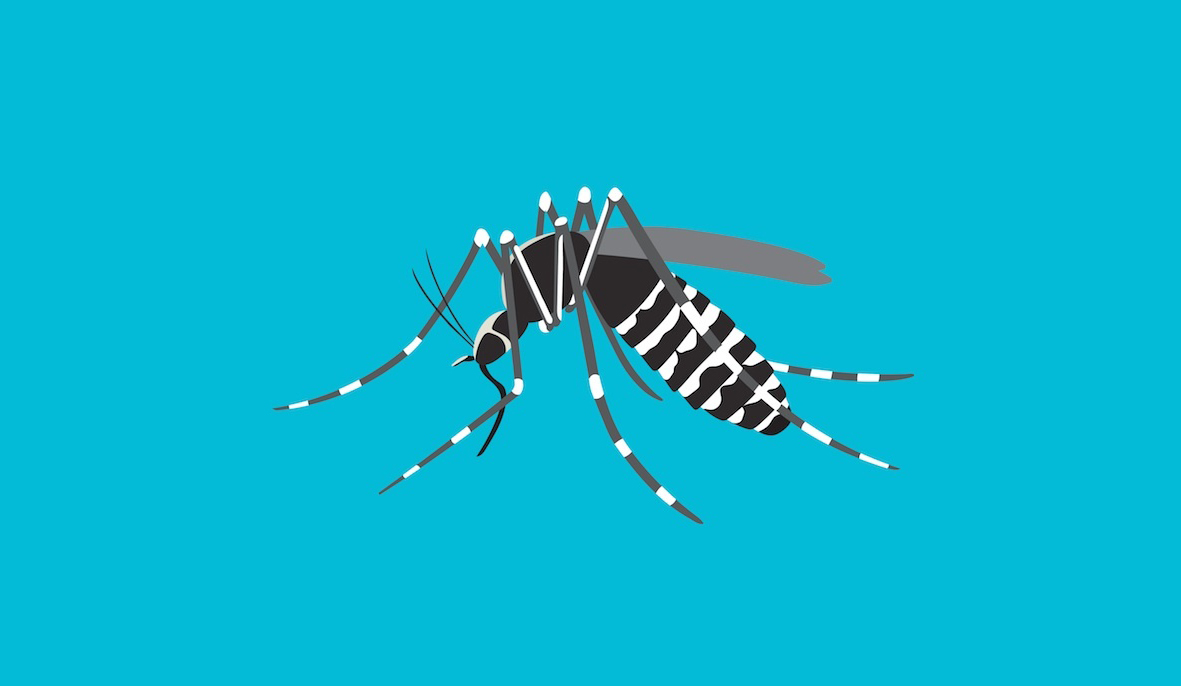 Shutterstock
Published at : September 11, 2019
Updated at : September 11, 2019 20:54
At least six people have died of dengue, more than 8,000 have been hospitalised and thousands of others have been infected with the dengue virus across the country so far this summer. The viral outbreak in the Dharan Sub-metropolitan City of Sunsari has now spread to 56 districts. Health professionals, doctors and a minister have been infected with the virus. The unprecedented spread of the dengue virus has unleashed panic among the public, as hundreds of people are rushing to hospitals. All efforts of the Ministry of Health and Population to contain the spread of the deadly virus have been ineffective, as the number of people infected with the virus continues to rise by the day.
Here's what you need to know about the disease.
Dengue is a mosquito-borne disease, which is transmitted by female Aedes aegypti and Aedes albopictus mosquitoes. The same vector also transmits chikungunya, yellow fever, and Zika virus. The global incidence of dengue has grown dramatically in recent decades. According to the World Health Organization, about half of the world's population is now at risk.
Dengue was first reported in Nepal in 2004. Since then, dengue outbreaks have occurred almost every year. But this year, an unprecedented number of cases have been reported, with dengue spreading to 56 districts, including some hill districts where the disease was never detected before. Around 7,000 people have been hospitalised, and six dengue deaths have been confirmed so far, making it the first outbreak of this scale in the country. Doctors say a lot more people might have been infected with the virus, as people with mild symptoms do not visit the hospital, and 70 to 90 percent of dengue cases are asymptomatic.
According to the WHO, there is no specific treatment for severe dengue, but early detection and access to proper medical care can lower the fatality rate. There is no specific drug available for treating dengue. Early supportive care with fluid replacement therapy, bed rest and symptomatic treatment are the ways a dengue patient can be cared for. In most cases, dengue fever, however, gradually subsides.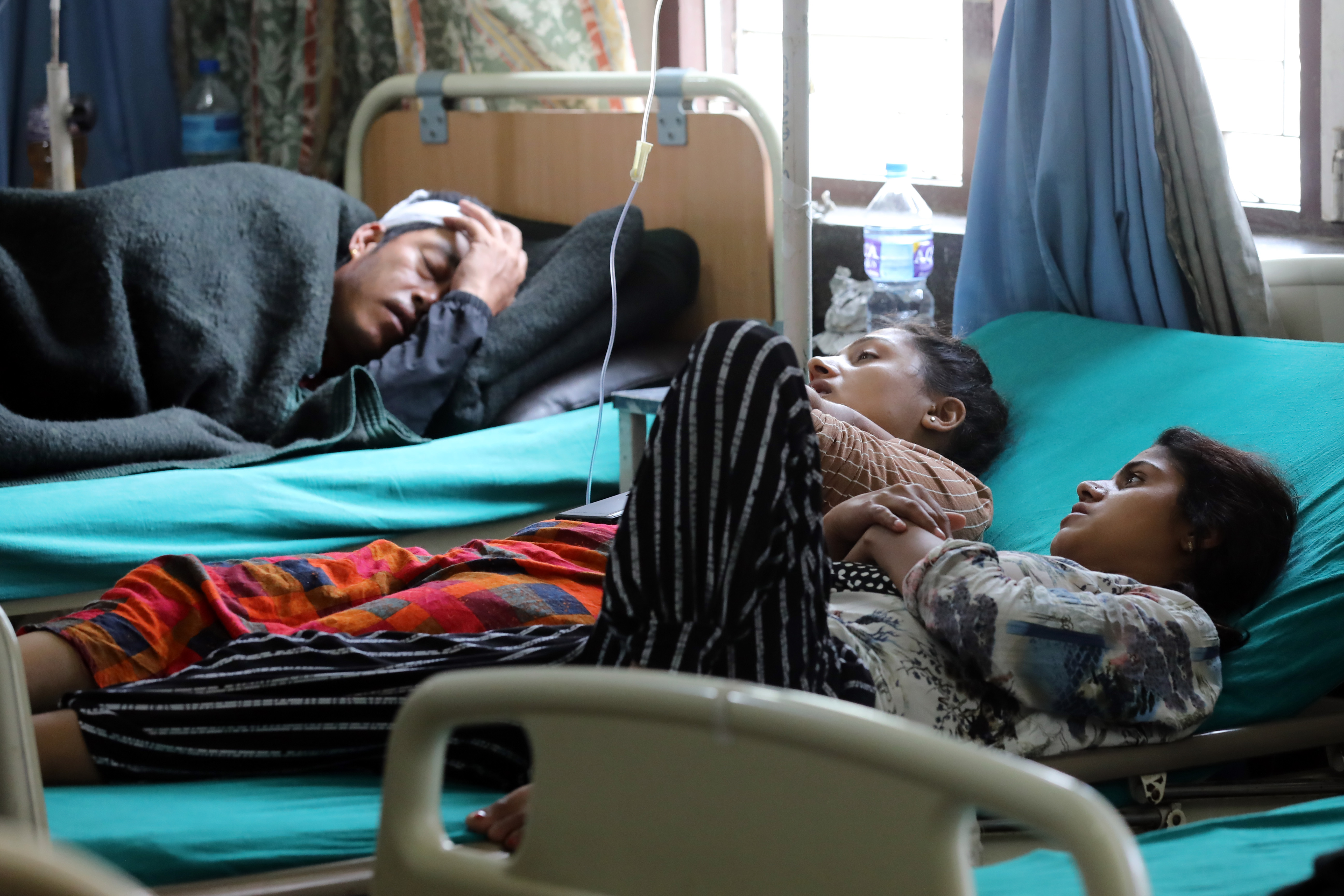 Patients admitted at the Teku Hospital in Kathmandu. Elite Joshi/TKP
Why have the authorities failed to contain the disease?

Lackadaisical approach. Though dengue cases have been reported every year since the first reported case in 2004, authorities have largely failed to come up with plans and strategies. This year, the first case was reported much before the monsoon season, but government mechanisms were too slow to recognise the gravity of the situation. Responsibilities to contain the spread of the deadly virus were divided among the agencies of the three tiers of government--federal, provincial and local. However, those agencies failed to coordinate and cooperate with each other.
How has the government's response been?
The government does not seem serious about containing the disease. During a recent press meet organised at the Health Ministry to give the media latest updates, Minister for Health and Population Upendra Yadav casually said that the government cannot place mosquito nets over flower pots, fields and jungles. The ministry even underestimated the speed at which the disease could rapidly spread. Outbreaks can occur anytime and anywhere where dengue-carrying mosquitoes are abundant, but the government has failed to alert people who are living in densely populated areas such as Kathmandu Valley, Pokhara and other cities, where mosquitoes are widespread. Even after receiving a warning from experts with the WHO, that the Valley could see an outbreak, concerned government agencies failed to launch search-and-destroy drives and public awareness campaigns.
Are our local health facilities equipped to handle patients' flow and provide care?
Since there is no specific cure for dengue, and the current treatment is supportive/ symptomatic, any hospital can handle dengue patients. However, healthcare providers need to be updated, understand the symptoms and treat cases on time. Moreover, most patients do not require hospitalisation but need close supervision of a doctor, regular laboratory testing (for example, complete blood examination that includes platelet count, hematocrit, and liver function tests), plenty of fluids and complete rest. But a lot of health professionals, including doctors, are not aware of the treatment protocols and are found to be recommending antibiotics and painkillers, like Brufen and Flexon, which could lead to chances of internal bleeding. Health experts say such medicines can be counterproductive for the health of patients.
How has a changing climate contributed to the proliferation of the disease?
In Nepal, the average annual mean temperature may see a rise by 0.92-1.07 degrees Celsius in the medium-term period (2016-2045) and 1.30-1.82 degrees Celsius in the long-term period (2036-2065), according to a study carried out in coordination with the International Centre for Integrated Mountain Development (ICIMOD). The latest study by the Department of Hydrology and Meteorology shows that the average annual maximum temperature of the country has risen by 0.056 degrees Celsius between 1971 and 2014. Cases of dengue fever, as well as other tropical diseases--like malaria and kala-azar--have been reported from Nuwakot, Sindhuli, Panchthar, Myagdi, Parbat, Gorkha, Lamjung, Gulmi, Darchula, Baitadi, Achham, Pyuthan and Mugu districts, which were considered non-endemic in the past. Experts blame the rise in temperatures for the rapid surge in diseases in the hilly and mountainous districts. Since mosquitoes are the primary source of dengue virus, there is the risk of a dengue outbreak wherever it reaches.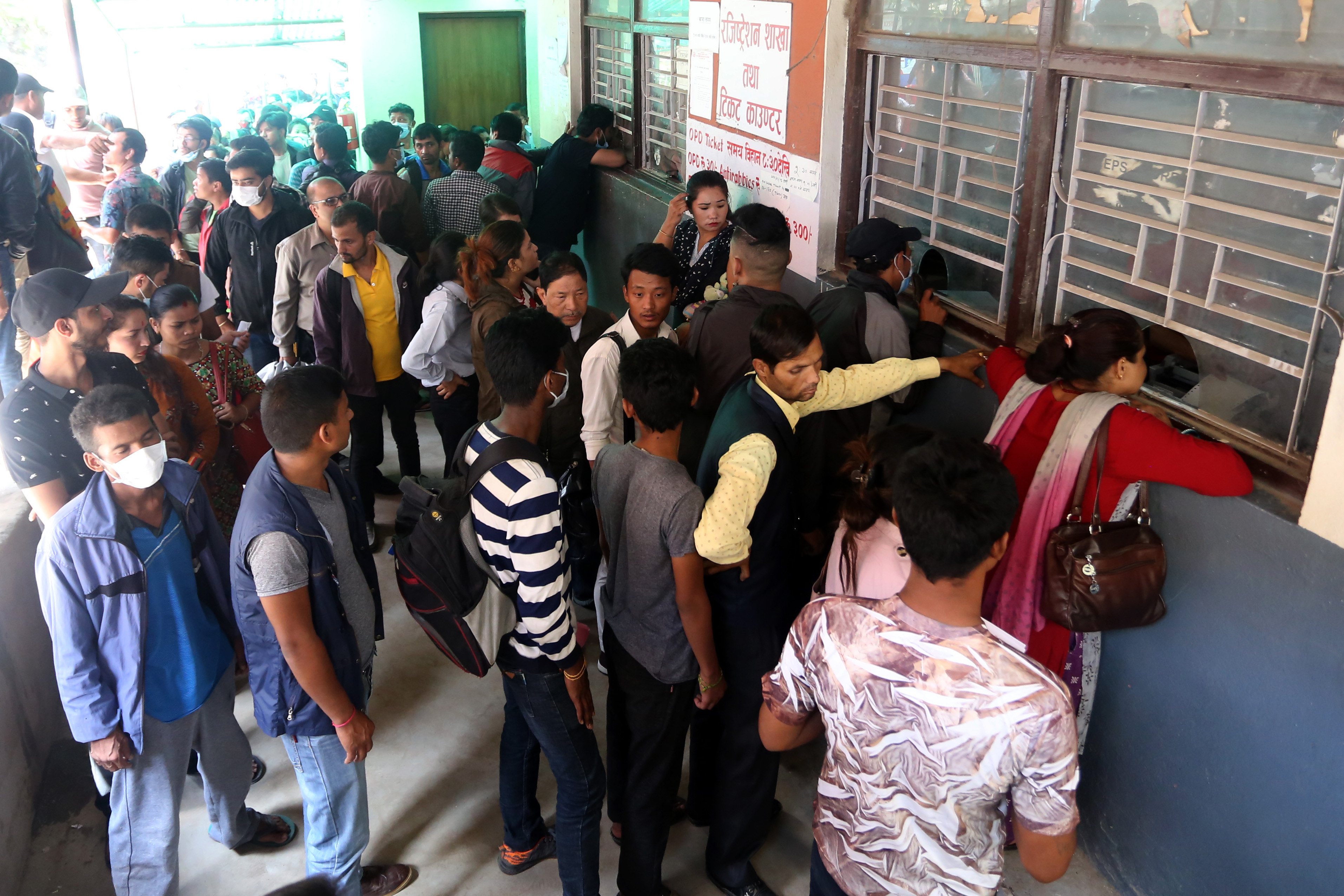 People stand in a queue to get registration tickets for check-up at Teku Hospital in Kathmandu. Elite Joshi/TKP
What risk does an overpopulated city like Kathmandu face?

People residing in big cities like Kathmandu, Pokhara, Chitwan and Hetauda are highly vulnerable to a deadly disease like dengue, as they are densely populated. They have multiple other issues too. Most of the people in overpopulated areas like Kathmandu still lack proper knowledge about the dengue virus, which can create panic among the people, as it is happening now. Hundreds of people are thronging facilities like the Sukraraj Tropical and Infectious Disease Hospital in Teku for treatment. The hospital is the only tropical and infectious disease centre in the Valley, and it cannot take all the responsibility for dengue cases during an outbreak. This will lead to poor quality healthcare.
Dengue-causing mosquitoes breed in clean water and bite people in daylight. Due to an acute drinking water crisis, people in the Valley store water in jars and pots, which could be ideal breeding grounds for these insects. Uncovered water tanks and discarded plastic cups and bottles could also harbour dengue-carrying mosquitoes.
It is also difficult to run a mosquito search-and-destroy drive in Kathmandu due to overcrowding. Most of the people go to offices and may not be present at home when health workers or volunteers arrive to check mosquito breeding places. As a result, mosquitoes may never be eliminated completely and the risk of dengue outbreak remains high.
Are people's behaviours to blame?
Some behaviours of the people can be blamed for the spread of the deadly disease. Storing water for weeks without covering, digging around the house and not filling the holes, and discarded tires, plastics, bottles and other waste items create a breeding ground for dengue spreading mosquitoes.
Moreover, almost all the houses in cities have flower pots. With water in them, dengue transmitting mosquitoes can proliferate. Wearing full-sleeved clothes and cleaning the house and nearby areas regularly help mitigate the risk, but people are not adhering to this strictly. Health authorities are also responsible for the rapid spread of the virus. Awareness drives could be instrumental in preventing further spread of the disease, but the ongoing awareness drive seems ineffective. Instead of acting in a coordinated way, officials at different government agencies are blaming each other for the rapid spread of the virus.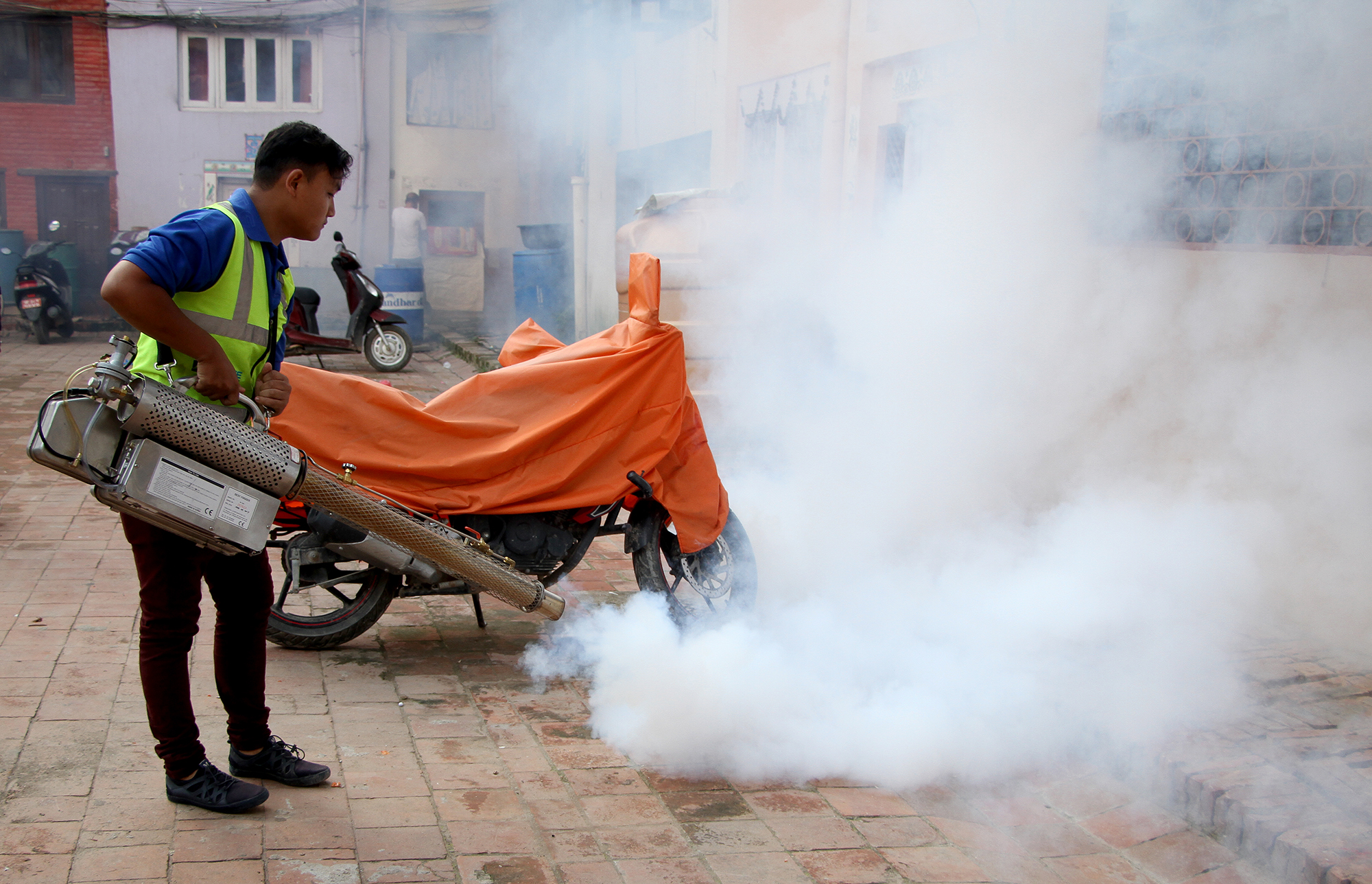 A city employee uses a fogger to control mosquitos in Kathmandu. Biju Maharjan/TKP
How can local governments help with sanitation?
The responsibility of launching dengue search-and-destroy drives comes under the jurisdiction of local governments. But even after months of the outbreak of the deadly virus, local administrations have only been holding meetings to discuss ways to launch a search and destroy drive. Local-level governments can mobilise officials, civil society members, members of local clubs, health workers, female community health workers, and students as well as teachers in the search-and-destroy drive. They can also mitigate the risk by supplying sufficient amounts of water so that people stop storing water at home. The mosquito breeding ground is minimised if water is not hoarded for days. Local governments should fill potholes, clear waterlogged roads and spray insecticides to prevent the virus from spreading further.
What sort of capacity development is necessary to fight the problem?
First, authorities need to perform a basic surveillance of the dengue-carrying mosquito because wherever it reaches, there is always the risk of an outbreak. For that, entomologists are required. But most of the districts where the virus has been reported lack vector control inspectors. Some inspectors who were trained in view of an outbreak have either been transferred to the local level or are yet to be deployed.
The Health Ministry is even unaware of the presence of vectors in the hilly and mountainous districts, as no study has been carried out about it. Health workers must also be trained and updated regularly.
Dear reader, we'd like to hear from you. We regularly publish letters to the editor on contemporary issues or direct responses to something the Post has recently published. Please send your letters to [email protected] with "Letter to the Editor" in the subject line. Please include your name, location, and a contact address so one of our editors can reach out to you
---