Kathmandu Rayzrs finish on top in league rounds
Bal Gopal Maharjan-led side edge Chitwan FC 2-0 to finish the league stage three points clear on top of the standings.

A scene from the Nepal Super League football match between Kathmandu Rayzrs (red) and FC Chitwan at the Dasharath Stadium on Sunday. Hemanta Shrestha/TKP
bookmark
Published at : May 9, 2021
Updated at : May 10, 2021 09:36
Kathmandu
Kathmandu Rayzrs edged FC Chitwan 2-1 in the last league match to finish the group rounds as table toppers in the Nepal Super League football tournament at the Dasharath Stadium in Tripureshwor on Sunday.
The result did not have much significance for either team as former national coach Bal Gopal Maharjan-led Kathmandu were already assured of a playoff place and top two finishes irrespective of the outcome of the last group match. Coach Meghraj KC-led Chitwan were the first team to crash out from playoff contention and their bottom place finish was also confirmed before the kick-off.
However, it was a prestige game as the win secured Kathmandu first place finish in the league rounds with 13 points in the first ever franchise football league of the country. They replaced Dhangadhi FC, the only side that defeated Kathmandu, from the summit winning four, losing one and drawing one match each. Chitwan became the only team to bow out winless with two points, losing four and playing draw in two matches.
All three goals came in the first half as Cameroonian winger Messouke E Oloumou gave an early lead to Kathmandu taking his scoring tally to the highest five goals. Sanjok Rai doubled the advantage for Kathmandu before Rajiv Lopchan cut the deficit for Chitwan.
Referee judgment again drew controversy as Chitwan assistant coach Sailesh Karmacharya questioned their integrity.
"The referee did not give good [fair] decisions but I am not saying that they are not good," said Karmacharya . "Not only me, others have also made such remarks. Their level must be checked. They go blind despite seeing many things. I may be punished for raising my voice today but everything will come out in due course. There are a lot of hidden things," said Karmacharya.
Kathmandu and Dhangadhi will vie in the first playoff match on Tuesday with the winners among them securing a place for the final. The losing team will play in the second qualifier on Thursday, where they will play the winners among Lalitpur City FC and Butwal Lumbini FC.
Kathmandu coach Maharjan said he was happy to get into the playoff as table toppers. "We have our first match against Dhangadhi and we were defeated by them in the league stage. But we will try to come up with a good performance in the playoff. We tested some new players today due to the injury of some regular starters and we were successful in the experiment," said Maharjan.
Oloumou, who had scored a hat-trick against Biratnagar City FC, put Kathmandu ahead in the 17th minute with his solo display as he rounded up two Chitwan defenders and beat goalie Roman Rasaili in a one-versus-one situation to open the scoring. Midfielder Rai doubled the advantage in the 37th minute with a well placed shot from the area after he capitalised on a defensive error of Chitwan.
Rajiv Lopchan pulled one back in the 40th minute after he collected the ball parried by Kathmandu's second choice goalie Dinesh Shrestha in his effort to block Sunil Shrestha's strike on goal.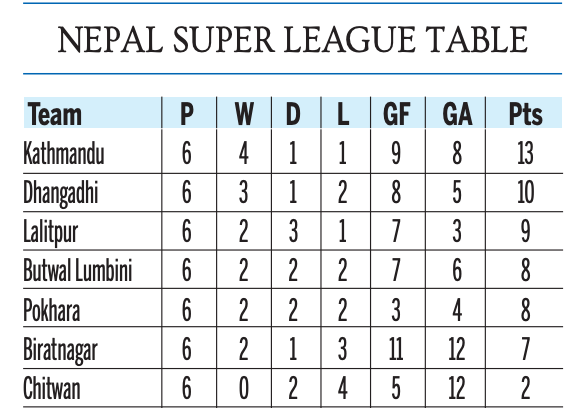 ---