How Sindhupalchok's state-designated destinations are faring ahead of Visit Nepal 2020
The reconstruction and renovation works in the district's destinations are still in the preliminary phase, with 2020 just a month away.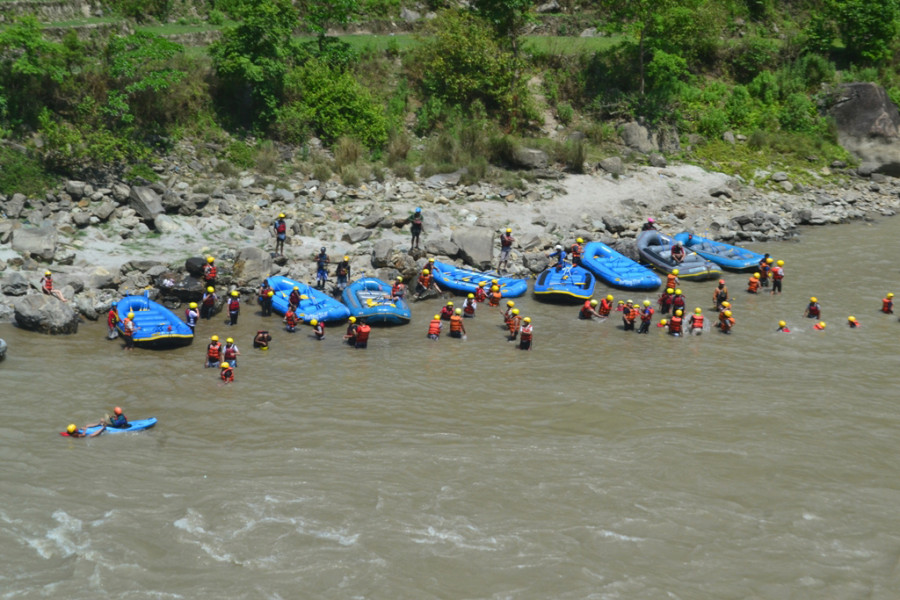 This file photos shows tourists getting ready to go on a rafting adventure in Bhotekoshi River. TKP File
bookmark
Published at : November 30, 2019
Updated at : November 30, 2019 10:02
Sindhupalchok
For the upcoming Visit Nepal 2020, the government last year had designated a hundred tourist destinations, which included three of Sindhupalchok's most popular sites and activities—rafting in Bhotekoshi and Sunkoshi rivers, bungee jumping, and trekking to Panchpokhari.
But here too the government's lacklustre showing continues: the reconstruction and renovation works in the district's destinations are still in the preliminary phase, with 2020 just a month away.
Tatopani is just getting up on its feet after the border with China reopened earlier this year. Long beset by earthquakes, floods, and landslides, the country's major border point with China is today a shadow of its former self. The number of tourists has dipped considerably, say tourism entrepreneurs. There used to be homestays in Dugunagadhi, Tatopani's neighbouring village, that catered to the thousands who flocked there. Today, locals are still reconstructing their quake-ravaged houses.
Rafting services in Bhotekoshi and Sunkoshi rivers suffered a blow after the major flood in 2014, which was further worsened by pollution and illegal sand mining in the riverbanks. Tourism entrepreneurs are left with little hope. "There are many challenges for water tourism," confessed Mahendra Singh Thapa, who runs Sukute Beach Adventure Resort. "The future of tourism in the district is wobbly, given sand mining and pollution." Sindhupalchok is renowned around the world for adventure sports such as rafting, canyoning and bungee jumping.
Construction of large-scale hydropower projects in the rivers is also worrying tourism entrepreneurs. "We don't mean hydropower generation is wrong, but when we concentrate on that, we neglect water tourism," said Ganga Prasad Nepali, chair of Nepal rafting association.
Trekking destinations like Panchpokhari, which used to see thousands of visitors, sees only about 40 tourists daily. The pond and Helambu, the popular religious shrine, are slowly getting back on their feet after the quakes. Even though the local units have allocated budgets to renovate the gumbas and temples in Helambu, they lie in shambles. There are several other destinations such as Tarkeghyang, Chiri gufa, Melamchighyang, among others, that used to be popular among tourists. Today, these villages are struggling to survive.
"The government hasn't taken any concrete step to make tourists return to these destinations," said Nima Gyalzen Sherpa, chair of Helambu Rural Municipality. "Even though the roads are being renovated, much is left to be done. The tourism year 2020 sounds increasingly like a rumour."
---
---