Why sand mining is rampant and what's (not) being done to control it
Although regulations are in place, political connections and influence are allowing haphazard—and illegal—extraction of sand and other riverbed materials across the country.

An illegal stone quarry at Lele in Godawari Municipality of Lalitpur district. Keshav Thapa/TKP
bookmark
Published at : November 28, 2019
Updated at : November 28, 2019 07:35
Kathmandu
Along the Prithvi Highway in Dhading district, it's not uncommon to see dozens of illegal sand mines operating near the Trishuli riverside. Several of such illegal sand mines are in operation in Gajuri, Chalise, Siddhalek, Galchhi, Belkhu, Mastar, Malekhu, Charaudi and Bishaltar, among other highway towns. In Dhading alone, there are more than 34 crusher plants, many of which have not renewed their registration for the last five years.

These sand mine operators, who enjoy the protection of elected representatives and the police, have been conducting their business by extracting construction materials haphazardly. The consequences are visible in the polluted highway areas and the complete nakedness of the once beautiful riverside.
Illegal and excessive excavations from streams and riverbeds have not only raised threats of environmental hazards but also taken the lives of people. On August 10, two men from Gajuri, who worked as laborers extracting sand in Dariyal stream, drowned in a sand pit made by the excavators. According to local residents, every single night, the smugglers use excavators in the streams and rivers to extract sand and other riverbed materials.
Earlier this summer, a 12-year-old boy died after falling into a 30-foot sandpit in the Banke river, and when protests grew, the police opened fire at the villagers. According to the government's standards, a pit dug for excavating sand and pebbles should not be over three feet deep, but the one at the Banke river was over 30 feet deep, local residents say.
However, the rampant—and careless—excavation has hardly alarmed authorities, as sand mining continues unchecked in various parts of the country.
Here's everything you should know about sand mining and what's gone wrong in the quest to extract riverbed materials.
What is sand mining?
Sand mining is the extraction of construction material from open pits, rivers and stream banks. Sand is essential in the building of physical infrastructure and is an important element in the concrete that is used for construction, which is why in recent decades, the demand for sand has shot up due to rapid urban growth.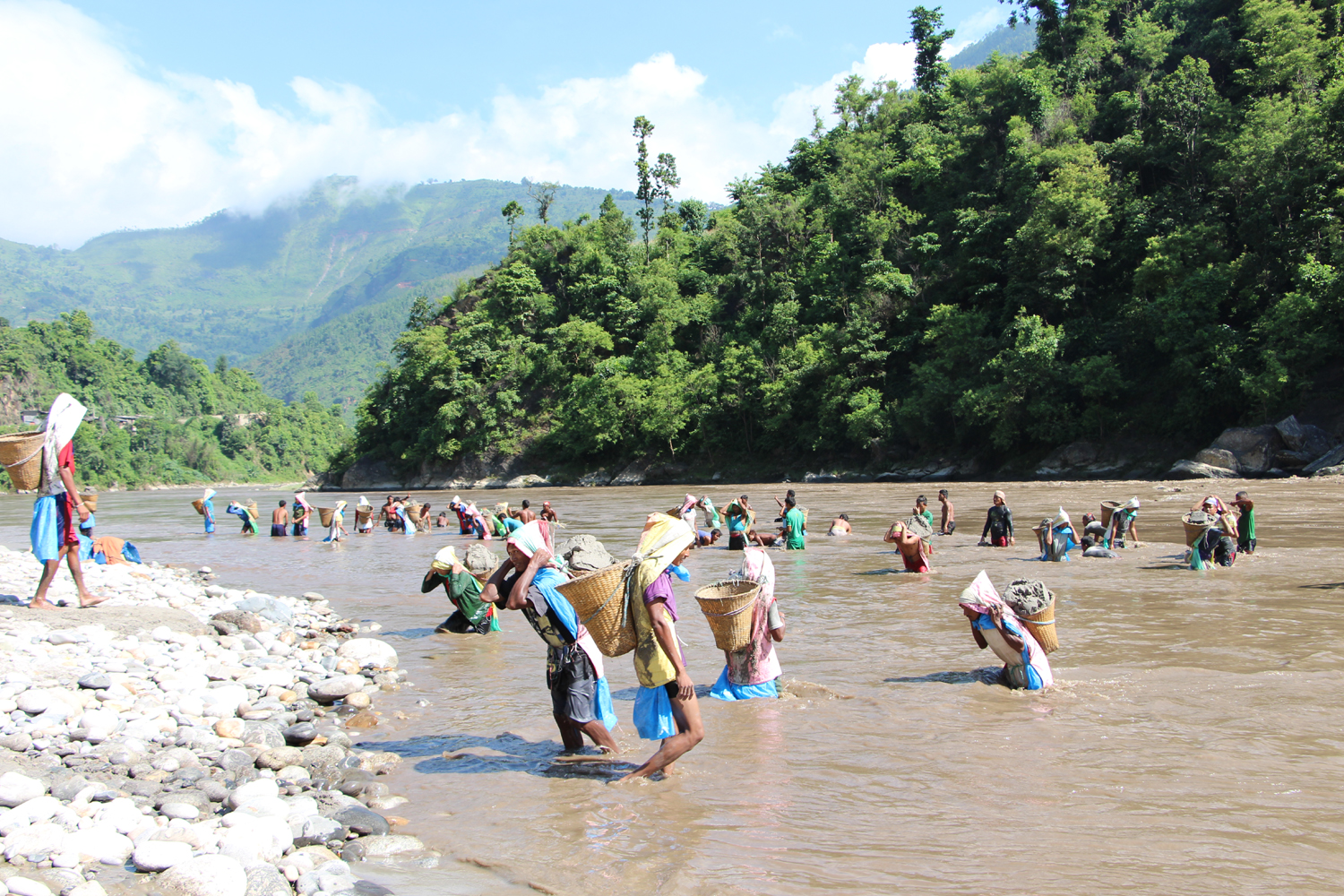 How does sand mining affect the environment?
According to environmentalists, sand is the second most-consumed natural resource after water. Because of excessive excavations at riverbeds, threats of environmental hazards like soil erosion and flooding have increased in recent years.
Prabhu Budhathoki, a former National Planning Commission member and biodiversity expert, refers to the ongoing sand extraction as "plundering". According to him, the Chure and Bhawar areas and some parts of Trishuli and Sunkoshi rivers have been exploited by contractors.
"This has affected the percolation of water in most of the rivers," said Budhathoki, referring to the Bagmati river as an example. "Haphazard extraction of sand causes soil erosion and flooding mostly in the Chure and Tarai areas, affecting aquatic animals."
Haphazard sand mining also destroys the aesthetics of rivers and streams, and makes the ecological system unstable.
Is anyone controlling illegal sand mining?
The Ministry of Federal Affairs and General Administration has formed a monitoring and implementation committee to monitor illegal mining. The committee has the authority to take action against illegal crusher plant operators and also direct local government chiefs to stop illegal extraction in their areas of jurisdiction. Anyone defying the local authorities' directives can be penalised.
The local units are also responsible for monitoring and regulating sand mines after the country adopted the federal set-up. They have the right to set rules and regulations to operate the mines. But environmentalists who have been campaigning to prevent haphazard excavation say that illegal mining has become more rampant after local-level elections in 2017, as those involved in the business have influenced people's representatives. This is why it is difficult to curb illegal mining, they say.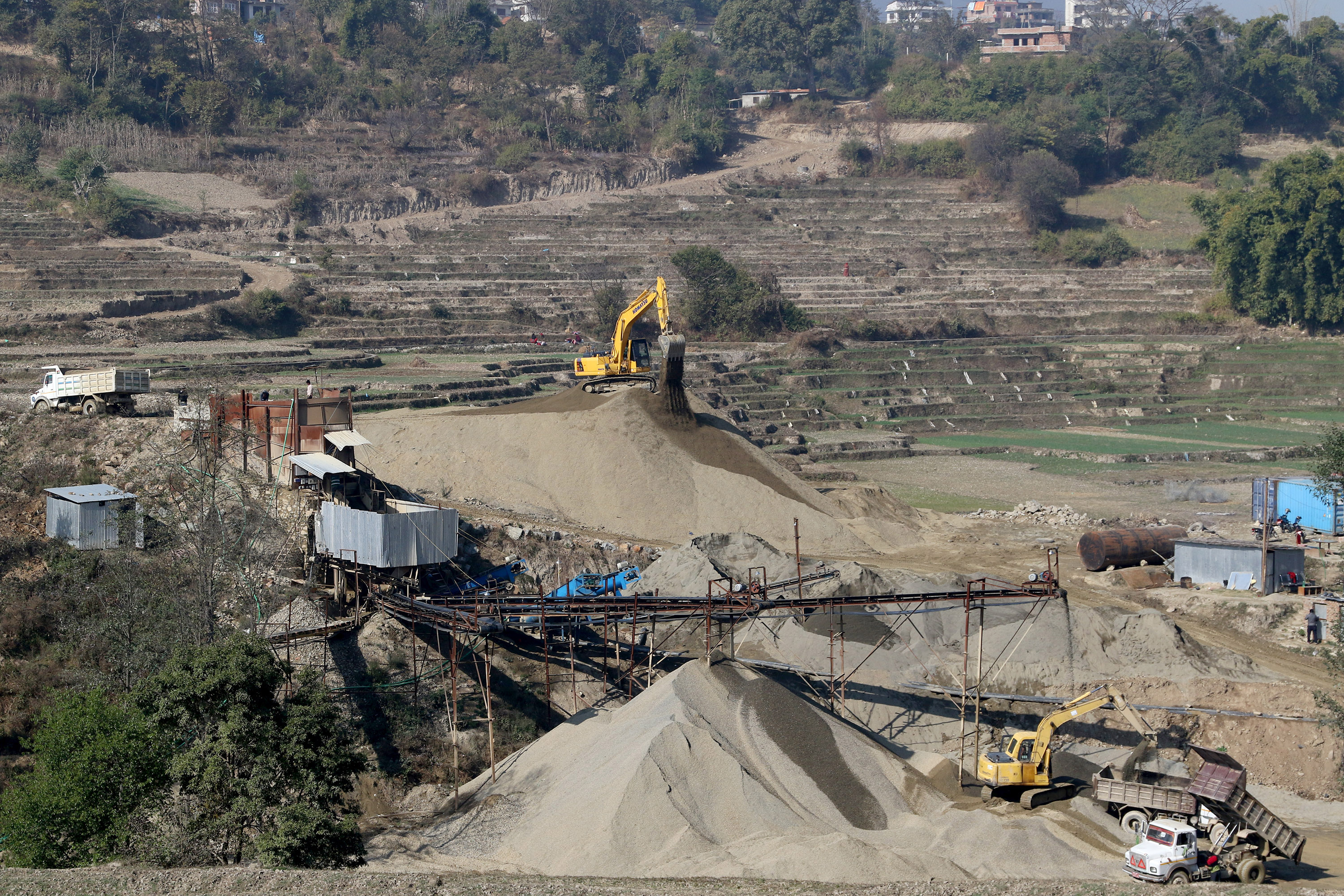 An illegal crusher business at Nakhu River in Lele, Lalitpur. Keshav Thapa/TKP Keshav Thapa/TKP
What is the government doing?
The government is currently preparing to revise the existing standards for the operation of crusher industries and come up with a new directive aimed at regulating the overall sector following reports of excessive mining of materials from riversides. Bishwa Nath Oli, secretary at the Ministry of Forests and Environment, told the Post that the government will soon begin work on new laws to manage extraction of riverside materials. He did not say when.
"The ministries concerned are working for new directives and reviewing the existing standards, which need revision. The standards for crusher industries need to be made more practical," he said. Officials at the ministry said that the existing standards have some limitations that should be addressed through revision. With the introduction of new rules, the government hopes to divert excessive excavation from rivers to quarries.
What do the existing standards say?
In July 2013, the government introduced working standards for crusher plants across the country. The government had also imposed a ban on the export of riverbed materials like sand. According to the standards, the crusher industries should be placed at least 500 metres away from highways and riversides, 100 meters away from high-tension electricity grids and 2km away from schools and colleges, health centres and hospitals, security installations, human settlement, and religious and archaeological sites.
Under the existing standards, excavation of boulders, sand, and aggregates is banned from forests and areas inside protected parks and the Chure region. The working standards also specify the process of excavating resources from riverbeds. But excavation of such resources continues unabated in various districts, in gross violation of the standards.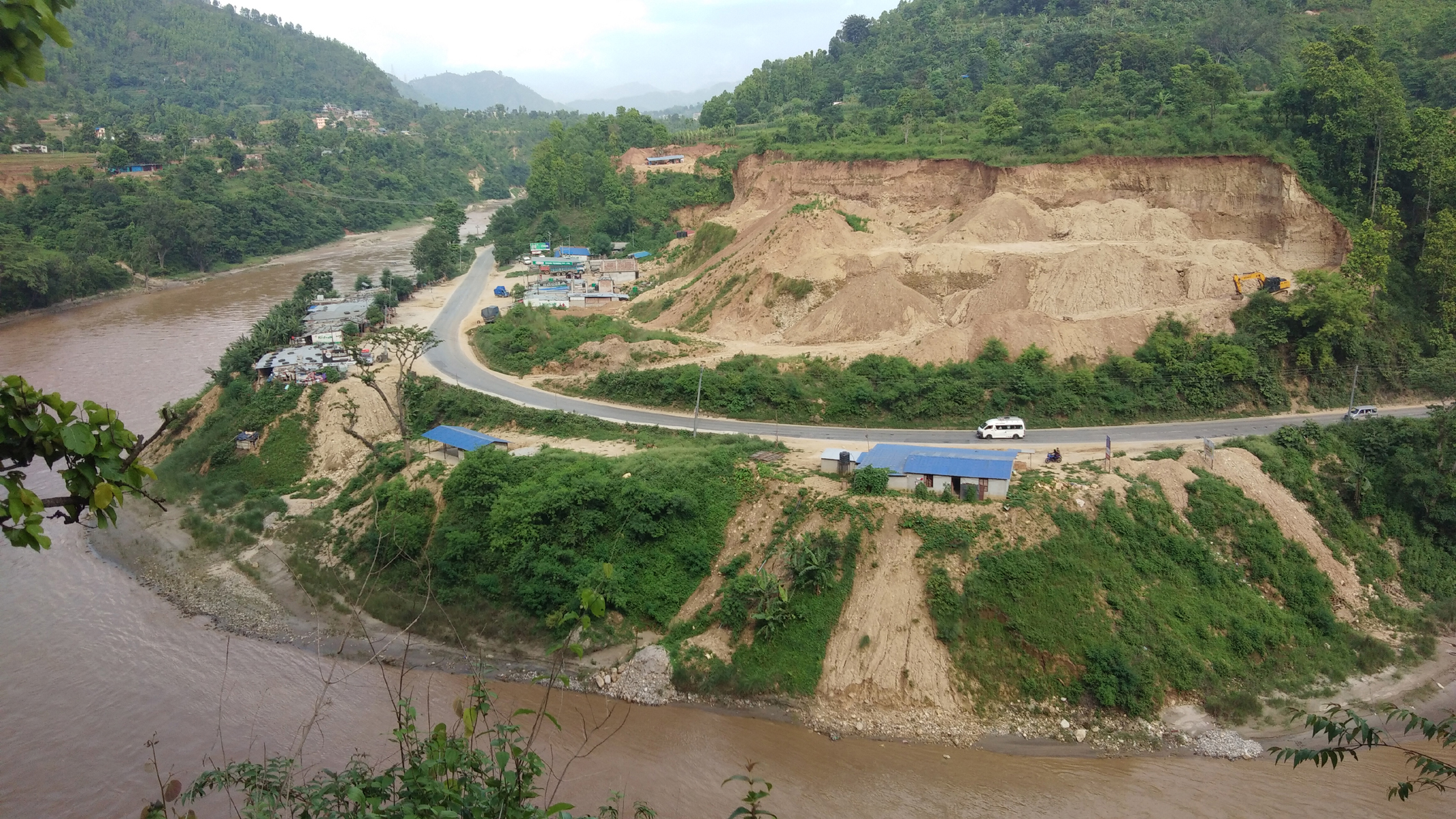 People illegally extract sand from a river along the Prithvi Highway at Gajuri, Dhading. Harihar Singh Rathour/TKP
Why have monitoring agencies remained silent?
While illegal mine operators make millions on a single day, government agencies in charge of inspecting and controlling haphazard extraction have been turning a blind eye. In many places, criminal gangs have entered the trade. Well-connected people, usually backed by political leaders, are also engaged in the illegal business. Some of the officials in the monitoring agencies have also been found supporting illegal excavation.
This is why the government had to lift the ban on extraction, collection, and export of natural resources, bowing to the pressure from crusher industries with political backing over the years. As a result, the working standards for the crusher industries were put on hold before being implemented.
So is there a solution?
As demand for sand continues to grow, experts suggest that sand extraction be developed as a form of a "mining industry". Budhathoki, the biodiversity expert, said authorities need to strike a balance between development needs and environmental protection. "They should also think of future generations and open certain places for excavation and regulate those mines properly by identifying areas through geological survey and research," he said.
Since sand cannot be produced immediately, there should be effective implementation of the existing standards and legal provisions to stop uncontrolled mining of riverbed materials, say experts. "If there is a shortage of sand in the country, we will have to import it from other countries in the future," Budhathoki warns.
At the same time, local governments have to step up and reclaim the areas destroyed by illegal sand mines, and plant trees to control soil erosion, siltation, and other environmental hazards.
---
---