Fed up with injustice and inaction, women march to demand end to impunity
Activists calling for justice and equity decry authorities' failure to address discrimination and violence against women.

Activists stage a rally at Bhadrakali, Kathmandu on Friday, demanding justice for victims of violence against women and end to all forms of discrimination against women. Angad Dhakal/TKP
bookmark
Published at : February 13, 2021
Updated at : February 13, 2021 10:26
Kathmandu
For the past week, Bijaya Khatri has been on the streets of Jajarkot–every day without fail. She is joined by her friends and other campaigners. They want their calls to end violence against women and impunity to be heard.
"We won't stop questioning and demanding justice," said the 22-year-old activist who has been leading protests in her hometown ever since a teenage girl in Baitadi was found dead on February 4. Based on the post-mortem report, police have concluded that the 12th grader had been raped before being strangled.
The Baitadi rape and murder incident comes as a grim reminder of a similar case more than two and a half years ago. Nirmala Pant, 13, was found dead in Kanchanpur on July 27, 2018. Police had concluded that she had been raped and murdered. But the perpetrator(s) of the crime still remains unknown.
The family of the Baitadi teenage girl, who had gone to school never to return, fears that the culprit(s) may go unpunished.
Khatri, a medical student in Bangladesh, was equally active two years ago as well, demanding justice for Nirmala.
"Girls and women must speak up for their safety and their rights," Khatri told the Post over the phone from Jajarkot.
Apart from leading protests, Khatri has been regularly organising programmes in local schools to encourage her friends to speak up.
She was on the streets of Jajarkot on Friday as well, participating in a demonstration demanding justice for the teenage girl from Baitadi and an end to violence against women.
And some 320 kilometres from her district, in the Capital Kathmandu, hundreds of women, civil society members and rights activists held a mass rally, amplifying just what Khatri has been doing in her capacity.
Women led the rally, dubbed "women's march", from Basantapur before it converged at Bhadrakali. Their plan to march up to Singha Durbar was thwarted.
"Justice. Justice. Justice," the participants chanted in the names of all the victims of violence against women.
"From the murder of Nirmala Pant to the similar recent incident in Baitadi, we have not got justice yet. Every day, around six-seven girls and women, some of them elderly, are raped," said Hima Bista, entrepreneur and women's rights activist, while addressing the rally at Bhadrakali. "These are merely numbers that are reported, but nothing has changed. From villages to cities, we all are screaming, but it makes no difference to those in power in Singha Durbar and Baluwatar."
Rising number of cases of violence against women and girls has been a cause for concern in Nepal, with rights activists constantly calling on the government to do something about it.
Nepal Police records show that 2,144 cases of rape and 687 cases of attempted rape were reported in the fiscal year 2019-20 alone, an increase from 1,480 cases of rape and 727 cases of attempted rape in the previous fiscal year.
According to police records, nearly 8,000 cases of rapes and 3,100 attempted rapes were reported in the last five years when about 60,000 cases of domestic violence were registered.
"[But] the people tend to forget everything when they get to power," said Bista, also the executive director of WomenLead, an organisation that provides leadership training to young Nepali women. "This is a larger citizens' movement and this movement says we don't want an authoritarian regime."
Participants at Friday's women's march came down heavily on the government for its failure to nab the culprits in Nirmala's case even after two years.
"The state has failed us. While women and girls are worried about their safety, those in power enjoy multiple layers of security," said Prakriti Bhattarai Basnet, a youth activist. "Those elected to serve the people have failed to protect the citizens… they have made a mockery of democracy."
Rights activists point at multiple reasons for women and girls not getting justice in Nepal. Nepali girls and women who report rape face an insensitive police force that is heavily male and woefully undertrained when it comes to dealing with survivors of sexual violence, according to them. Insensitivity continues in cases where women and girls are murderd after rape. There's an utter lack of sincerity among authorities, including the police department, when it comes to investigating rape cases, say rights defenders and women's rights activists. Nirmala Pant is an example of how the Nepali state has failed girls and women, according to them.
"Violence against women is deep-rooted in our society. Incidents of violence have been going on since long. We have failed to address the underlying issues," Mohna Ansari, a former commissioner at the National Human Rights Commission, told the Post. "Political parties and state apparatus are apathetic when it comes to addressing cases of violence against women."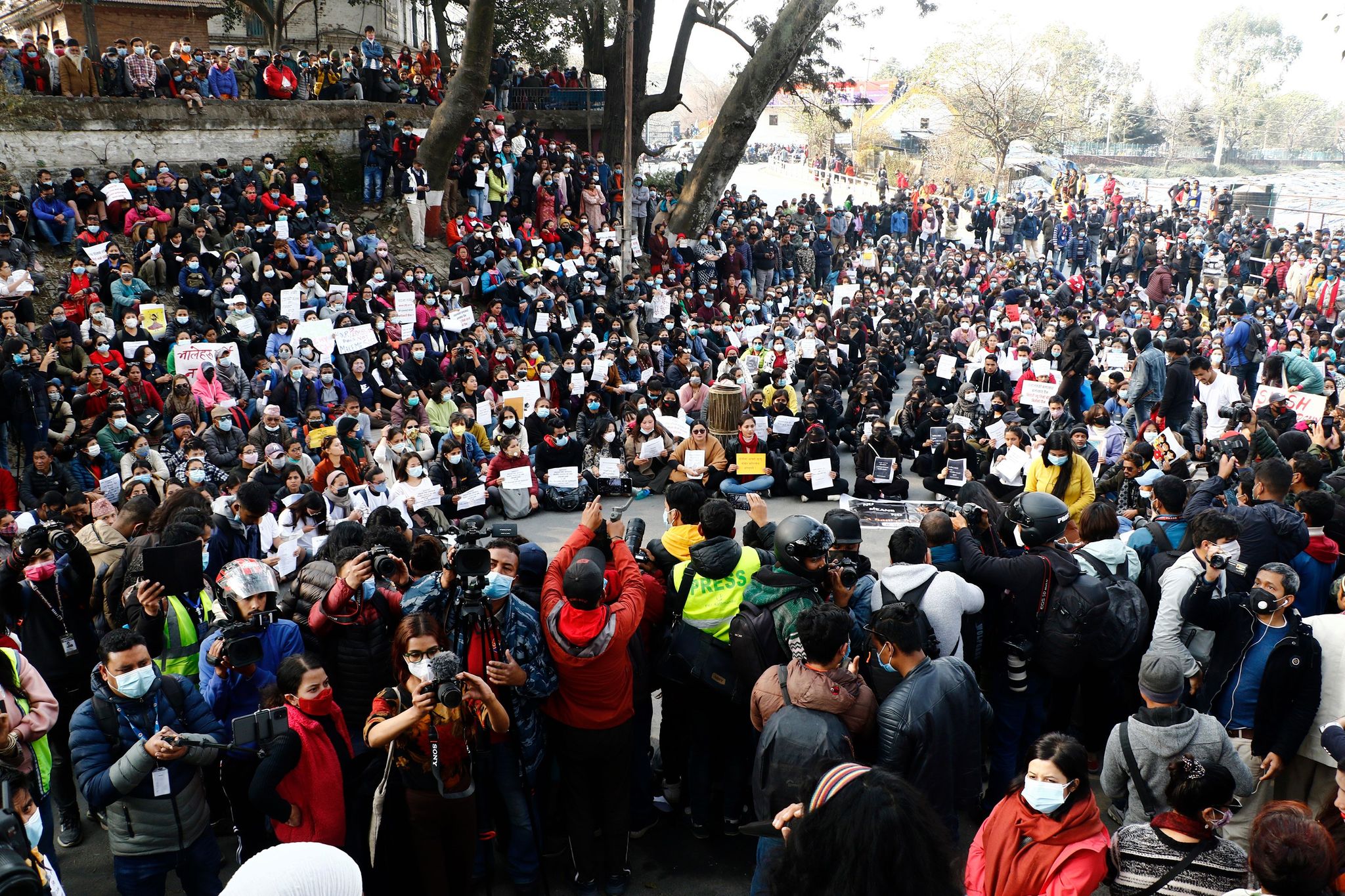 Keshav Thapa/TKP
Friday's women's march in Kathmandu, organised as part of the ongoing Brihat Nagarik Andolan, a campaign for justice, equity and democracy, saw a huge number of participants, including students and artists as well as the campaigners who have been protesting against Prime Minister KP Sharma Oli's House dissolution move.
Protesters also put up a play and recited poems which tried to explain why they have taken to the streets.
Rights activists say authorities in Nepal have historically paid little attention to women issues and people in power, including ministers, oftentimes make condescending and ludicrous remarks on issues of rape and violence against women, reflecting their insensitivity and lack of concern over matters concerning women.
Instead of implementing laws and making the agencies tasked with dealing with cases of violence against women, some ministers in the incumbent Oli government, however, employed distractive approaches and made such decisions and statements that defy logic.
In September 2018, when protests were ongoing to demand justice for Nirmala, the Ministry of Communication and Information Technology, in an unusual move, decided to ban porn sites, in what it said an attempt to combat sexual violence.
As a national outpouring of anger continued demanding justice for Nirmala–the government was on the backfoot for making a spectacular bungling in the investigation–Home Minister Ram Bahadur Thapa blamed capitalism behind the rising incidents of rape in the country.
Ministers continued to make irresponsible statements, at times even describing the protests demanding justice for Nirmala as a conspiracy against the government and the ruling party.
In December 2018, when police were struggling to find a proper lead to solve the Nirmala Pant case, Oli's close confidante Ishwor Pokharel, who was deputy prime minister and defence minister at the time, proclaimed that the culprits had been identified and would be made public soon.
Ansari, the former human rights commissioner, said not much has changed when it comes to issues related to women.
"It is said that even if one human rights violation case goes unaddressed, then it can have huge repercussions in the future," said Ansari. "I must say that the government has failed to control violence against women and also failed to stop killings of younger girls in the country."
Far in Jajarkot, Khatri was planning more demonstrations to demand justice for the Baitadi teenage girl and all others who have fallen victims to sexual and domestic violence.
She regretted that she could not make it to the women's march in Kathmandu, but she said her determination to fight for justice and against discrimination and violence faced by women has not faded.
"We could not go to Kathmandu to participate in the march, but we will continue our march here at our level," said Khatri over the phone. "It's really sad that we have to take to the streets to demand that our fundamental rights be upheld. The Nepali state has started treating us women and girls as second-class citizens. But we will continue to speak up unless justice is delivered."
---
---