A pall of gloom and fear hangs over Baitadi village since teenage girl found dead
Schools remain closed as calls grow louder that culprit(s) should be booked. Police say, based on the post-mortem report, someone killed the 17-year-old after rape.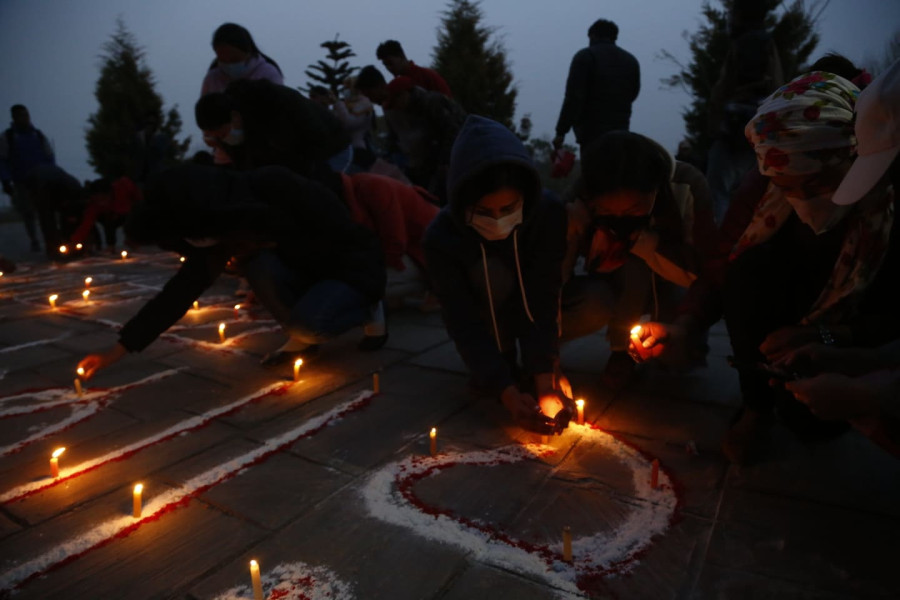 Students observe a candlelight vigil at Kirtipur, Kathmandu in memory of the murdered Baitadi teenager. Prakash Chandra Timilsena/TKP
bookmark
Published at : February 10, 2021
Updated at : February 10, 2021 07:42
Baitadi
Sanatan Dharma Secondary School in ward 3 of Dogadakedar Rural Municipality, Baitadi has been closed since last Thursday after the body of a 17-year-old female student was found in a semi-naked state in a forest.

Such has been the trauma caused by the apparent rape and murder of the 12th grader here that 59 other schools in the rural municipality have been closed too.
"Many students, especially girls, have been reluctant to attend school," said Baldev Nath, headmaster of Sanatan Dharma Secondary School. '"We are planning to open the school from Wednesday, but I don't think we will have all the students back—especially girls—since they are still in a state of shock."
On Thursday, the body of the 17-year-old from Chadepani was found 100 metres away from Khochlek-Chadepani rural road.
Based on the postmortem report submitted on Monday, police have concluded that someone had raped her before strangling her to death.
Police have said the report also showed that the girl sustained wounds on her head, legs, mouth, hands and genitals.
The teenager had left for school at around 10am on Wednesday. She left the school premises at around 2pm, according to her family members.
"We were told she was last seen at Khochlek Bazaar at around 2pm with some of her friends," said Shankar Bhatta, the victim's uncle. "She was apparently heading towards home with one of the local people from the village, those who saw her told me."
But she never reached home.
Her friends remember the victim as someone friendly and approachable.
"Although I was a year senior, she and I were friends. I can't imagine why anyone would do something so terrible to her," said Jyoti Bhatta, 18, who recently completed grade 12 from the same school.
Another friend Rekha Bhatta, 17, said they used to walk together to and from school. But on Wednesday, she said her friend left with some junior students.
"We would usually walk to school together, but that day I wasn't with her," said Rekha. "We used to take the same path to and from school every day, but since her death, I haven't been able to walk down that road."
She has not even been able to step out of the house alone.
"What happened to our friend jolted me to the reality of how unsafe girls are, even in their own villages," said Rekha.
Parents and guardians of young girls of Dogadakedar Rural Municipality are equally terrified for the safety of their daughters.
"I am worried about how to send my daughter to school. But it's not only our daughters I am afraid for. Most women from the villages also enter the forests and work in the fields to earn a livelihood," Ganesh Bhatta, a man from ward 7 of the rural municipality, told the Post.
To make matters worse, nearly a week since the heinous crime, police have yet to make a single arrest.
Bhojraj Joshi, also of Chadepani, says the delay in apprehending the culprit(s) has created more fear among the villagers.
"Those who committed the crime are still out there and who can guarantee they will not strike again," said Joshi. "We never thought that such criminals would one day reach our backyard. There are dangerous people out there and the authorities have not been able to nab even one."
As for the police, they say that investigations into the case are ongoing. Given the national attention the crime has attracted, a deputy inspector general of police is leading the investigation.
Teams from the Provincial Police Office in Dhangadhi, the District Police Office in Baitadi, Area Police Office in Patan and local police post in Khochlek have been deployed for the case. A sniffer dog has also been brought from Dhangadhi for the investigation. A team from the Central Investigation Bureau also has been deployed to Baitadi to assist in the investigation.
"The investigation has opened up many links and there are several people who are under suspicion," said Narayan Prasad Adhikari, a deputy superintendent who is also the district police chief. "We will soon have an answer."
Thursday's incident comes as a grim reminder of yet another similar case in the region–in Kanchanpur. On July 27, 2018, Nirmala Pant, 13, was found dead. Police concluded that someone had raped and killed her but they are yet to identify and arrest the culprit(s).
Family members of the 17-year-old who was found dead on Thursday have been worried that the culprit(s) could go unpunished as in the case of Pant.
There have been efforts in the past to raise awareness against gender as well as sexual violence. But incidents of violence, rape and murder of girls and women are still rife.
"The District Police Office has been organising awareness programmes in the communities to minimise incidents of violence," said Adhikari, although the fact would be of little comfort to the family and friends as well as the villagers.
Students, teachers, civil society leaders and the general public have been staging demonstrations at several places in the district, as well as in Dhangadhi, the provincial headquarters, demanding justice for the teenager and immediate arrest of the culprit(s).
The girl's family has refused to receive her body until the perpetrator(s) are brought to book.
"Police officers tell us the investigation is ongoing. They haven't provided us any other details," said Shankar, the victim's uncle. "We don't know how close they are to finding the culprit[s]."
Nath, the school principal, says the authorities must speed up their investigation, conduct a fair probe and bring the culprit(s) to book.
"Arresting the culprit[s] will bring some sense of relief to the local people," said Nath. "Young girls and women are living in fear because this incident has highlighted how unsafe they are."
Jyoti, a friend of the victim, said that bringing the culprit(s) to book would bring some sense of relief, but such incidents have brought to the fore the fact how our society is becoming corrupt and how women and girls still have to constantly live in fear.
"Once the initial trauma of the crime ebbed away, fear took over," said Jyoti. "I don't know how we will go on with our lives after what happened."
Sooner or later, however, life must return to normal but until the culprit(s) are nabbed, villagers will continue to live in fear of the safety of their daughters.
"We can't even put our children's future on hold by not sending them to school," said Ganesh Bhatta, a villager. "But yes, right now we don't want to let them out of our sight."
---
---