A disappointing mess that overglorifies motherhood
The new Netflix film 'Mimi' chooses the conventional, skewed and judgemental route to depict motherhood, making it nothing other than a forgettable piece of work.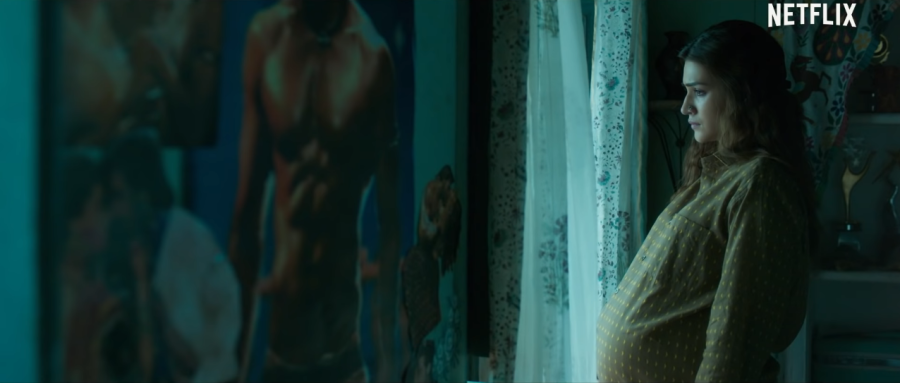 Screengrab via YouTube
bookmark
Published at : July 31, 2021
Updated at : July 31, 2021 08:25
Since the dawn of Hindi cinema, the portrayal of mothers has always been an issue of concern. While a few progressive movies have made a mother character more than a mother by focusing on their individuality, many mainstream movies still limit such characters to stereotypes. They are presented as 'homely', forgiving, sacrificing and selfless people whose lives only revolve around their children.

Many movies continue to portray every woman's dream is to be a mother, and if she doesn't want or have children, they are shown as being incomplete. These patriarchal values guide Hindi cinema so much that even in some of the so-called progressive Hindi films, there is overglorification of motherhood, and women who can 'sacrifice' and choose children over their goals are considered ideal mothers.
The latest Netflix India release, 'Mimi' by Laxman Utekar, predictably follows the same template. Starring Kriti Sanon, Pankaj Tripathi, Supriya Pathak, Manoj Pahwa, and Sai Tahmnar, the film, in its two hours and 12 minutes run time, perpetuates the same old stereotypical values of motherhood.
Mimi (played by Kriti Sanon) is a 25-year-old dancer and performer living in one of the cities in Rajasthan. She dreams of becoming a big Bollywood actor and constantly talks and flirts to the posters of film stars she keeps in her bedroom. But the path to her dreams comes with a cost. Before she leaves for Mumbai, she needs to collect a considerable sum of money for her photoshoot.
During one of her stage shows, an American couple visiting India to find a surrogate mother for them sees her. They are smitten by her energy and charm and believe that she can deliver a 'healthy baby'.
They request the local driver Bhanu (played by Pankaj Tripathi) to ask Mimi if she would be interested in being their surrogate. At first, Mimi declines, but she accepts the offer when she hears the amount she would be getting for surrogacy.
She then starts living with her friend, Sama (played by Sai Tahmnar) and Bhanu, who is hired by the couple to take care of Mimi.
Everything goes according to their plan until it is found that the child in Mimi's womb might be disabled. The American couple gets cold feet and abandons Mimi, telling her through Bhanu to abort the child. Mimi is torn apart. But eventually, she decides to give birth to the baby.
For all those who are thinking about why I am revealing everything, well, besides a few elements, the film's trailer revealed the film's entire plot.
And that's why the film becomes so predictable that you can guess what the next scene would be. Besides holding attention for a few minutes, the film loses its grip due to its predictable storyline, which places no focus on character development and justifying the logic behind the conflicts and resolutions that arise in the film.
But being predictable is not always boring. There have been Bollywood movies with a predictable storyline that have been able to connect with the audience. For instance, 'Badhaai Ho', a film that also dealt with pregnancy, also had a predictable storyline. Although the trailer didn't explicitly reveal the film's whole plot, we knew how it would end as an audience.
Yet, the movie managed to leave a deep impact on viewers.
Not the same can be said for 'Mimi'. Unlike 'Badhaai Ho', which placed equal focus on every character in the film, 'Mimi' only gives the spotlight on its central character. Both highly talented actors Pahwa and Pathak, who play Mimi's parents, are wasted in the film. Their roles are stereotypical, loud, dysfunctional parents, which we have already seen in many recent small-town based Bollywood films.
Sames goes for Tahmnar's character, Shama, who is Mimi's Muslim best friend. She has no other ambitions and exists in the story solely to support Mimi. While the film does depend on Tripathi's character, and his presence adds charm to the film, the super talented actor also has a one-note character in the movie, making his performance an easily forgettable one.
But still, with whatever they are given, most of the actors do their best, and it's because of their performance that keeps us invested, at least for some time in the film.
Given her unimpressive filmography with a list of forgettable films, Sanon does a decent job as a lead character. Acting besides legends and scene-stealers like Pahwa, Pathak and Tripathi isn't an easy job. While she's not as great as them, she still ably shows various emotions, including anger, love, and passion.
In one of the most beautiful scenes in the film, when Mimi sees her child for the first time, her subtle yet poignant acting shows her range as an actor and what she can do. Her accent, however, throughout the movie is inconsistent, which does affect her performance.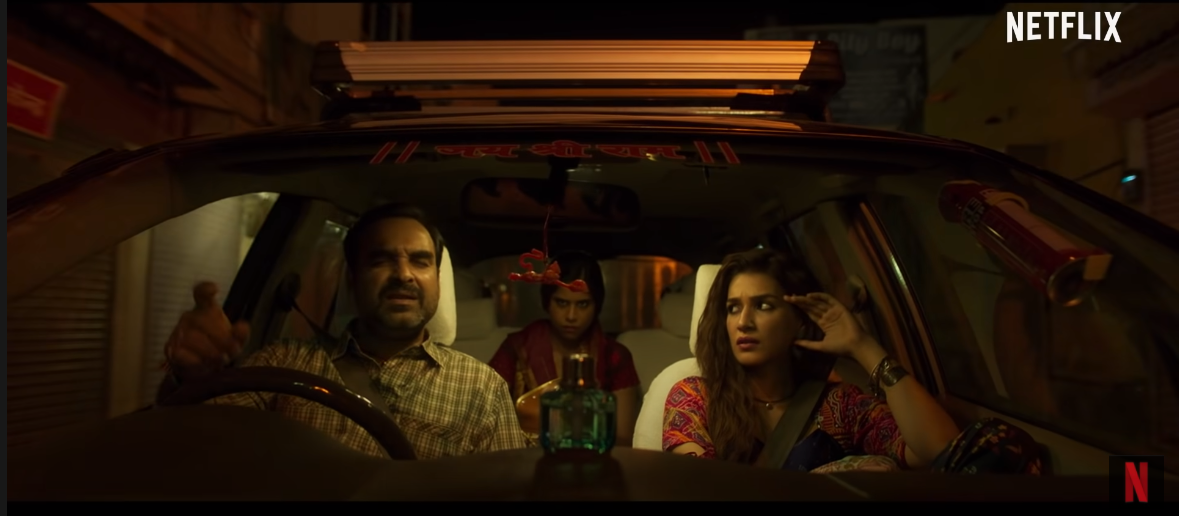 Screengrab via YouTube
Meanwhile, Tripathi's presence also brings relief to otherwise predictable scenes. Whenever he acts, he becomes the character, and with his impeccable acting skills, he brings life to Bhanu.
Not the same can be said to the American couple, and even Mimi's son, Raj, played by a white child actor. Among the couple, the wife can speak and understand Hindi. But every time she speaks, she sounds like one of those caricatures of Hindi-speaking Westerners we have seen in Bollywood. The dialogues of Raj are dubbed so badly that every time he appears on screen, we get irritated with the way he speaks instead of finding him cute.
AR Rahman's background score and music is another underwhelming aspect of the film. Except, 'Chhoti Si Chiraiya', none of the tracks has the Rahman magic. But in a few scenes, he does use background sound to depict the emotions of the character.
For instance, in the scene where Mimi rushes to meet the American couple after they abandon her, the background sound creates a tense atmosphere, elevating the scene's impact.
However, the main problem with the movie is the treatment of the subject issue it raises. A complex topic like surrogacy requires nuanced representation. While many people are divided over the issue, the film, rather than incorporating the theme with sensitivity, uses it as a plot device to move the story forward. The emotions Mimi or any other surrogate mother go through during the nine-month isn't shown. Through montages, everything is rushed to reach a certain conflict to keep the audience invested.
For the world it is based on, it's understandable that the characters might not be 'woke'. For them, using words like 'not-normal' to describe children with disabilities might not be a big thing. Similarly, Islamophobia and casual colourism is something that exists in reality in many Indian households.
But the way the director, who's also one of the film's writers, addresses it is borderline problematic. There's no depth in dealing with such complex issues. The makers either try to use it as a punchline or to manipulate the emotions of people.
However, the most disappointing thing about the film is its take on abortion and the overglorification of motherhood and perpetuating the stereotypical image of a mother, which dilutes the whole movie viewing experience.
In one of the scenes featuring Mimi and her doctor, the former gives a lecture on why abortion is equal to killing, which adheres to the patriarchal values that always try to take power away from the woman of her own body.
Mimi's decision to give birth to the baby, abandoned by people supposed to be his parents, is her personal decision, which should be respected. But her equalling abortion to murder sends a dangerous message. Plus, there is no point in even including this scene as it adds nothing to the film and makes the film appear regressive.
Similarly, the way Mimi kills her dreams and even makes some illogical sacrifices perpetuates the same outdated idealistic views of motherhood that have been suffocating women for years.
Given the subject matter the film explores, it could have opened many doors of conversations around surrogacy and single motherhood. Yet it decides to choose the conventional, skewed and judgemental route, making it nothing but a forgettable piece of work that can be added to the books of outdated modern films on motherhood.
---
---