Advice to travellers to carry cash attracts public criticism
The single ATM at Tribhuvan International Airport does not accept certain cards, and it is a good idea to carry cash, immigration officials said.

Immigration officials warn that travellers may not be able to get entry permit without cash. Post File Photo
bookmark
Published at : April 17, 2022
Updated at : April 18, 2022 07:05
Kathmandu
The Immigration Office has advised travellers to Nepal to carry $200 in cash to pay for their on-arrival visa at the airport in case the ATM there is kaput, attracting public criticism while officials scrambled to sort things out.

The notice said tourists should keep paper money handy "to get rid of e-banking payment hurdles".
Even as social media went into a frenzy lambasting the notice, immigration officials explained that the single ATM at Kathmandu's Tribhuvan International Airport did not accept certain cards, and it was a good idea to carry cash to avoid possible problems.
The Immigration Office said in the statement, "Due to only one ATM machine available in TIA, ever crowded situations and several technical difficulties, the travellers have been facing trouble in making the payment of visa fee through the electronic mode of payment such as Visa Card, Mastercard and others at the time of arrivals."
The statement added, "As a consequence, travellers may have to be stranded in immigration for long periods of time, and in some cases may not even be able to get entry permit because of lack of cash to pay visa fee. Therefore, the Nepal Immigration requests that all the foreign travellers should carry at least US$200 or equivalent convertible accepted currencies in cash for your convenience and to get rid of e-banking paying hurdles."
Social media instantly went abuzz calling it a ridiculous idea.
"What a shameful confession by TIA! Why can't we install 10 ATMs or accept funds from digital platforms? Nepal immigration office needs to hire digitally savvy young staff & retire old bureaucrats. Hope henceforth LokSeva Ayog requires digital literacy tests for all job-seekers," tweeted Kul Chandra Gautam, former assistant secretary-general of the United Nations.
"30 bucks for the visa, 170 more for what?" tweeted Ashok Pokharel.
"Our Tourism Minister is excited to bring Salman Khan but doesn't worry about this. Providing seamless visa processing should be on top priority thing. Also TIA is planning to run Airport for 24 hours & such excuses are not acceptable," San Zin tweeted.
On Sunday, Prem Nath Thakur, general manager of Tribhuvan International Airport, said the notice issued by the Immigration Office was an "utterly ridiculous" idea.
"The world has changed. It's ridiculous to ask passengers to carry paper notes and pay their visa fee," fumed Thakur. "The Immigration Office did not consult with us. It was their unilateral decision. I learned about this statement today."
So what is really the matter?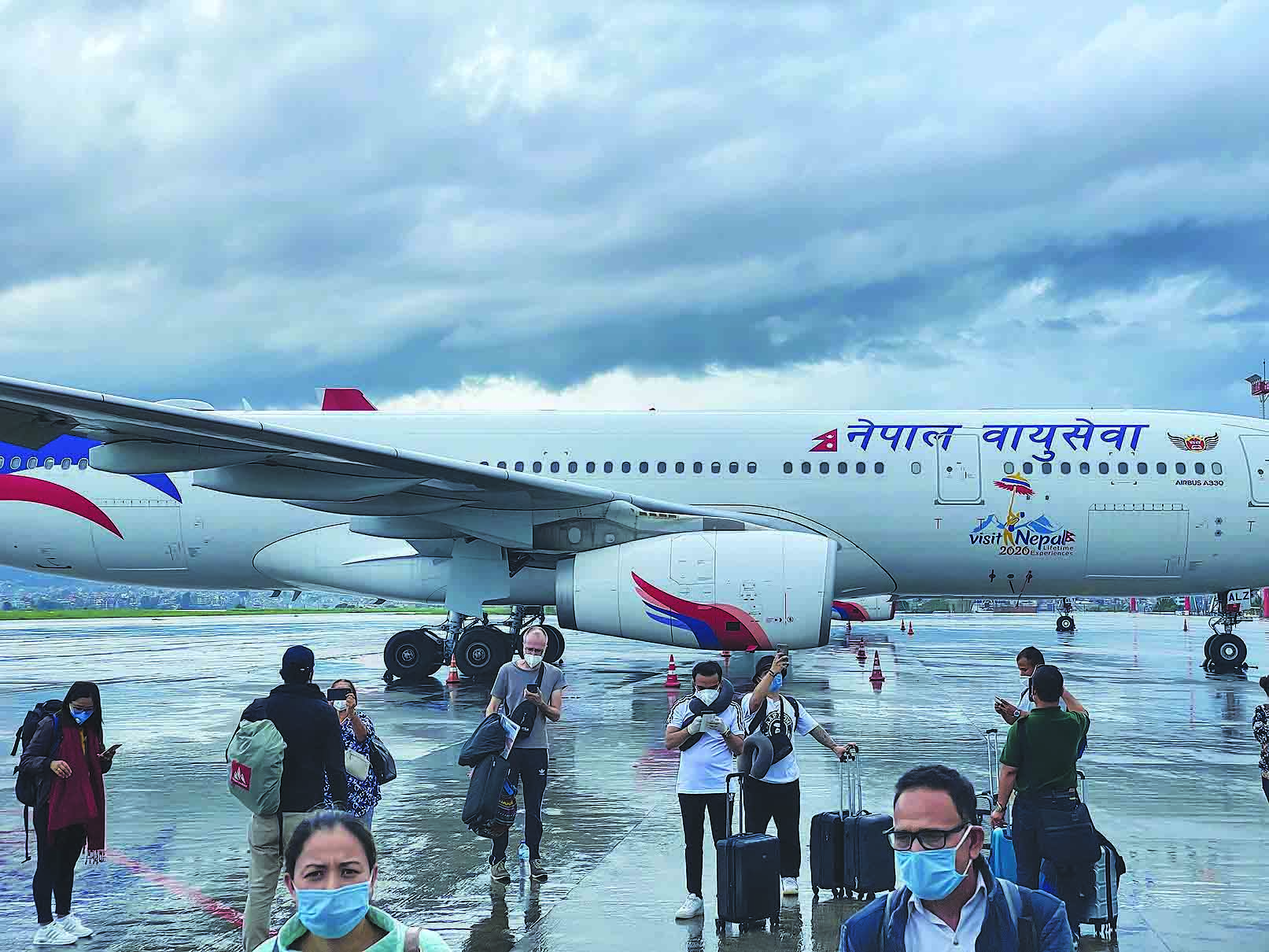 The country received 42,006 foreign tourists in March, the highest monthly arrivals in almost two years. Shutterstock
According to an immigration official, there is a single ATM of Prabhu Bank at the arrival section. This machine does not read Mastercard. "There were complaints from tourists that they had to wait for hours to pay for their on-arrival visa fee at the arrival section," said Pushpa Raj Shahi, chief immigration officer at Tribhuvan International Airport.
"So we issued the statement requesting tourists to carry currency equivalent to $200 to get an on-arrival visa in case there is a problem with the ATM."
Shahi said that the Immigration Office's intention was to help travellers as they may encounter problems while withdrawing money. Server malfunction and bad internet connection have been a regular affair at immigration.
"It's not mandatory to carry currency, but our intention was to avoid long queues at the airport. We don't know why Mastercard facility is not provided at the ATM of Prabhu Bank."
Prabhu Bank admitted that they don't have Mastercard facility at their ATM.
After two years of idleness as the pandemic took its toll, Nepal's sole international airport has recently seen passenger numbers increasing sharply.
The country received 42,006 foreign tourists in March, the highest monthly arrivals in almost two years.
This shows signs of tourism recovery to pre-Covid figures. According to the Immigration Office, they are seeing better-than-expected arrivals in April, which is Nepal's trekking and mountaineering season. On Saturday, 5,465 tourists deplaned at the airport
According to Tribhuvan International Airport statistics, international traveller movements reached 1.44 million last year, down 65.11 percent from the 2019 figure. This translates into a loss of 2.69 million passengers.
Aircraft movements also dropped to a 15-year low of 11,760 takeoffs and landings, representing a steep 63.74 percent fall from the 2019 figure.
The Civil Aviation Authority of Nepal reported that the aviation industry suffered losses amounting to Rs37 billion, from the time the first lockdown was enforced on March 24, 2020 to June 1, 2021.
According to the Nepal Tourism Board, the number of foreign visitors entering the country last year totalled a mere 150,962, a long way from the 1.19 million annual arrivals in pre-Covid 2019.
The 2021 figure released on Sunday represents an 87 percent plunge from 2019 before the pandemic began its rampage.
"Obviously, we lost massive revenue and tourist numbers," said Thakur. "It's time to assist tourists, not create hassles. We are making every effort to attract tourists. We will be keeping the airport open 24/7 soon. But the immigration's act is strange."
According to Thakur, they held an emergency meeting on Sunday with representatives of Nepal Rastra Bank and Rastriya Banijya Bank to set up a digital payment system following the Immigration Office's notice.
"Rastriya Banijya Bank has asked for space to install a few ATMs if required," he said. The bank already has four ATMs at the airport. "We have also told Prabhu Bank to remove their machine if it doesn't accept Mastercard."
Rastriya Banijya Bank has informed airport officials that they have developed a Nepaliport app specially dedicated to immigration purposes, including trekking permits.
"This is a one-stop system, and if implemented, it will resolve many of the issues at the airport, including the payment system," said Thakur.
"We have planned another meeting on Monday, where a slew of measures will be taken to assist tourists and introduce the Nepaliport app."
---
---