65 percent drop in international passenger traffic via Kathmandu
According to Tribhuvan International Airport, 1.44 million international travellers passed through the airport in 2021, which is a loss of 2.69 million passengers compared to 2019.

Aircraft movement also dropped to a 15-year low of 11,760 take-offs and landings, representing a steep 63.74 percent fall from 2019 figures. Post File Photo
bookmark
Published at : January 12, 2022
Updated at : January 12, 2022 00:49
Even as Nepal's domestic airlines were able to draw historic high passenger numbers, international airlines, to and from Kathmandu, carried 65 percent fewer passengers last year than in 2019.
According to the Tribhuvan International Airport statistics, 1.44 million international travellers passed through the Kathmandu airport last year, a 65.11 percent plunge from 2019 figures. This translates into a loss of 2.69 million passengers.
Aircraft movements also dropped to a 15-year low of 11,760 takeoffs and landings, representing a steep 63.74 percent fall from 2019 figures.
This is based on reporting of 28 carriers, including chartered flights, as countries imposed severe travel restrictions last year in an effort to contain the coronavirus pandemic.
A second wave of the Covid-19 pandemic hit Nepal in April 2021. It pushed the country's health care system to the brink of a collapse, leaving it in severe need of medical supplies.
Airlines officials say that domestic carriers braved the Covid-19 as the sector saw a record 3.5 million passengers for the first time in history.
But in the international sector, low tourist arrivals and reduced number of migrant workers departing for labour destinations contribute to low passenger volumes.
"International traffic improved slightly last year as compared to 2020, but it remained well below 2019 levels," said Deo Chandra Lal Karn, spokesperson for the Civil Aviation Authority of Nepal. "Based on the current developments, the outlook for 2022 too does not look good."
Airlines are now facing a new challenge as more countries report cases of the Omicron variant.
"Nepal may soon impose a rule to provide proof of being vaccinated against the coronavirus. That may further impact air travel," said Karna.
Statistics show that international passenger traffic at Kathmandu's Tribhuvan International Airport in 2021 fell to its lowest level since 2006, illustrating Covid-19's devastating impact on air travel.
In 2021, the coronavirus situation went from bad to worse with daily cases reaching a high of 9,317 cases on May 11.
With many businesses affected by Covid-19 for two consecutive years, tens of thousands of employees were either laid off, furloughed or faced pay cuts.
The Civil Aviation Authority of Nepal reported that the aviation industry suffered losses amounting to Rs37 billion, from the time the first lockdown was enforced on March 24, 2020 to June 1, 2021.
Out of total estimated losses, domestic airlines suffered losses amounting to Rs25 billion, followed by the Civil Aviation Authority of Nepal with Rs12 billion. According to the report, Nepal Airlines incurred losses of Rs7 billion while the private international carrier Himalaya Airlines lost Rs3 billion.
The government had restricted domestic flights from May 3 and international flights from May 6 as the second wave of Covid-19 gripped the country. Nepal resumed international commercial flights on June 24 and domestic flights with restrictions from July 1.
A breakdown by airlines shows that the Doha-based Qatar Airways saw the highest passenger carriage in 2021 despite its passenger numbers plunging 34.30 percent compared to pre-Covid levels. The carrier flew 303,556 passengers.
Nepal Airlines slipped to the second spot in terms of passenger carriage following a massive drop in its passenger numbers. The national flag carrier saw its passenger numbers drop 61.27 percent to 284,961 last year compared to 2019 figures.
Nepal's private carrier Himalaya Airlines saw its passenger numbers increase to 255,678, up 44.94 percent last year as compared to 2019.
"As we added an A319 aircraft to our fleet in February 2020, our capacity increased by a third. The increase in passenger numbers was due to the fleet expansion," said Vijay Shrestha, vice president at Himalaya Airlines.
According to Shrestha, it would take some years for traveller numbers to rebound to 2019 levels. "Maybe recovery will go beyond 2024," he said. "Omicron has made everything uncertain."
Dubai-based low-cost carrier FlyDubai saw its passenger carriage drop 45.28 percent, as compared to 2019 data, but it still managed to retain its spot among the top four. The airline flew 150,291 passengers in 2021.
Another low-cost carrier Air Arabia flew 99,795 passengers last year, down 56.40 percent as compared to 2019.
India's flag carrier Air India saw the strongest passenger drop. The airline flew 69,966 passengers in 2021, down 72.56 percent as compared to 2019.
Jazeera Airways, Kuwait's leading low-cost airline, which operated its maiden flight in November 2019, flew 68,692 travellers in 2021.
In 2021, India's low-cost carrier Indigo Air and China's Sichuan Airlines and China Eastern did not operate a single flight in 2021. Similarly, Thai Airways also did not make a single flight to Kathmandu last year.
Four Chinese carriers—China Southern Airlines, Air China, Sichuan Airlines and China Eastern—that operated over 4,000 flights annually to Kathmandu from different Chinese cities operated only 200 flights in 2021. In April, Chinese carriers suspended Nepal flights, which have yet to resume.
In December 2020, Nepal and India entered into an air bubble agreement, a dedicated flight service between the two countries following strict health and safety protocols set by the authorities of the respective countries.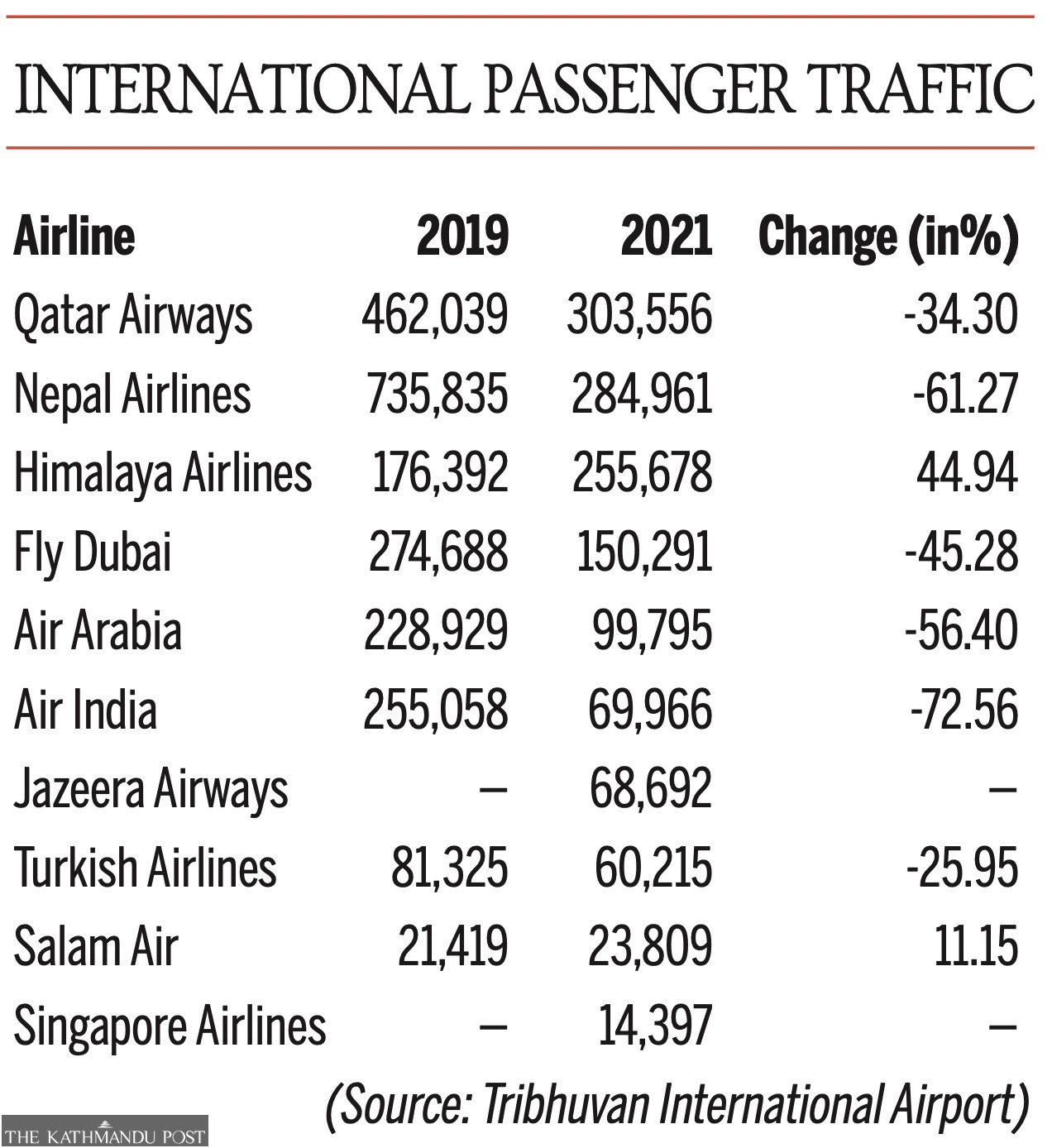 ---
---