Rapid credit expansion is not panacea for higher growth: IMF
Institutional deposit rates, or interest rates on money parked by institutions at banks, have gone through the roof, with the latest auction launched by Nepal Telecom drawing offers for returns of as high as 14 percent per annum.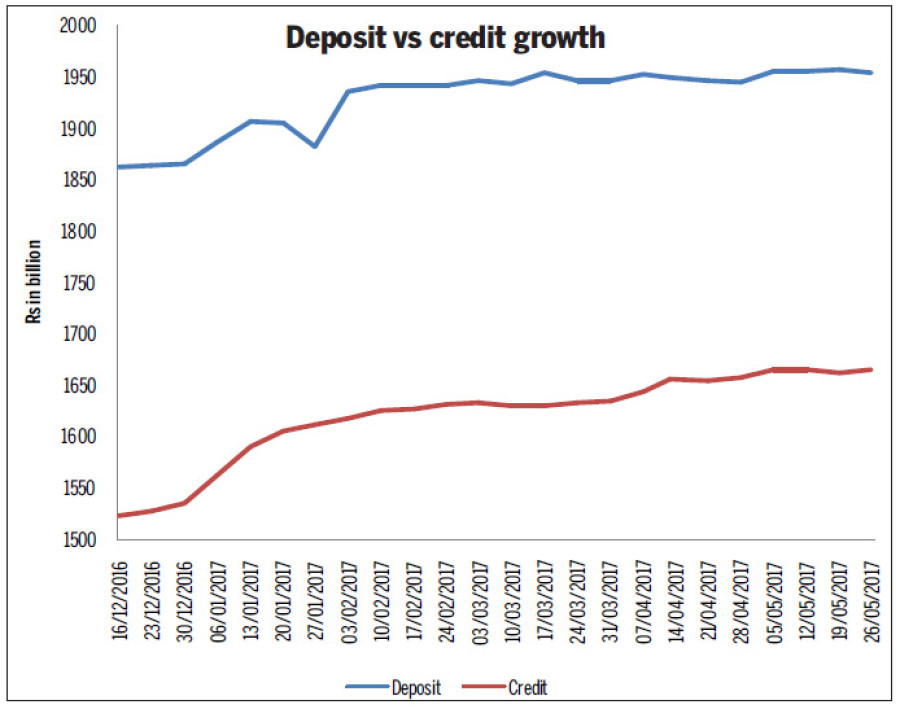 bookmark
Published at : June 4, 2017
Updated at : June 4, 2017 16:08
Kathmandu
Institutional deposit rates, or interest rates on money parked by institutions at banks, have gone through the roof, with the latest auction launched by Nepal Telecom drawing offers for returns of as high as 14 percent per annum.
The telecom giant, last week, sought to park Rs3 billion in one-year fixed deposit account. Around four to five banks responded to the call with one bank offering interest of as high as 14.01 percent, according to reliable sources. The rate is almost 90 percent higher than what was being offered in the end of September, when the race to raise deposit rates began.
Higher deposit rate is good news for a country like Nepal where consumption is pretty high, while savings have hit rock bottom. This will eventually inculcate savings habit even among retail depositors, because of guaranteed higher returns. Banks, these days, are competing intensely to grab cash, because they are facing shortage of money that could be immediately extended as loans-a result of mismatch in deposit collection and credit expansion.
Deposit collection of commercial banks, which hold around 88 percent of the deposits of the banking sector, went up by Rs202 billion since the beginning of this fiscal year in mid-July to Rs1,954 billion as of May 26, shows the latest report of the Nepal Bankers' Association. In the same period, Rs278 billion in fresh credit was extended, raising credit portfolio of 28 commercial banks operating in the country to Rs1,664 billion.
Deposit collection has trailed behind credit disbursement since the beginning of this fiscal year because of deceleration in remittance inflow. All the while, demand for credit has been continuously going up since the almost five-month-long trade blockade imposed by India was lifted in the first week of February 2016.
To cater to the growing credit demand, banks are rampantly raising deposit rates. This, in turn, has pushed up cost of fund of banks, prompting them to charge interest of 13 percent to over 16 percent on credit.
Higher lending rates are expected to dampen the confidence of investors who wish to expand or set up new businesses. But the hike in interest rates, according to Andreas Bauer, senior resident representative of the International Monetary Fund for Nepal, Indian and Bhutan, is justifiable.
"Over the last few months, credit has been growing very fast. This is probably not sustainable," Bauer told the Post during his recent visit to Nepal.
The banking sector-including development banks, finance companies and microfinance institutions-extended Rs1,565.7 billion in credit as of mid-April 2016. That amount surged to Rs1,949.9 billion by mid-April 2017, marking a year-on-year growth of almost 25 percent, shows the latest report of the Nepal Rastra Bank.
"Such high credit growth rates create risks in the financial sector, as default rates can rise because of rapid loan expansion," said Bauer. "So, it will be healthy for the economy if credit growth takes place in a more sustainable manner." Yet many fear lending slowdown may hit the private sector and prevent the country from achieving the economic growth target of 7.2 percent set for the next fiscal year.
"Lately, the private sector has started showing greater interest to build infrastructure projects, like hydroelectric plants. But hydro is a capital-intensive sector. And hike in lending rates coupled with unavailability of loans has put a damper on our investment plans," said Pashupati Murarka, former president of the Federation of Nepalese Chambers of Commerce and Industry, the largest umbrella body of the private sector. "This will ultimately hit job creation and prevent the economy from reaching its potential."
But again Nepal's growth story, except in the 1990s, has never been about higher private investment or better policies. Nepal's economy is expected to expand by 23-year high of 6.9 percent in the current fiscal year largely on the back of low base-as economic growth stood at 0.01 percent in the last fiscal year-and timely monsoon which gave a bumper harvest.
"So to keep growth rates at higher level, Nepal must introduce reforms that can unlock more productive capacity. Also, the government's spending capacity must be improved," Bauer said.
To strengthen the country's productive capacity, the government must ban syndicates so that more competition can take place in the market. Also, bottlenecks created by lack of infrastructure, such as transport and energy networks, should be removed. At the same time, investment must be made to churn out qualified and skilled human resources.
Against this backdrop, rapid credit expansion alone will not support growth,
as most of the loans extended these days are going towards unproductive sector, which is driving up prices of assets, such as real estate and stocks.
"It is, therefore, important to become forward looking and manage domestic demand," said Bauer, adding, "This will also keep inflation under control."
Nepal was largely able to tame inflation this fiscal year, with consumer prices growing at an average of 5 percent-thanks to very good agricultural output because of timely monsoon and base effect, as prices, which had artificially gone up in the last fiscal year because of India-imposed trade embargo, have come down.
"Despite this positive development, inflation differential between Nepal and India appears to be widening," Bauer said. "This has led to real appreciation of Nepali rupee."
The difference between inflation in Nepal and India had widened to 6.4 percent in January 2016 due to supply disruption triggered by blockade. Since then, the inflation wedge has narrowed and came down to 0.8 percent in April. This difference, however, may widen in the coming days once effects of falling food prices, for instance, start to fade.
A wider difference between inflation rate in Nepal and India means consumer
goods and services are expensive here than in India, which erodes the country's competitiveness.
"So, it is important that Nepal's inflation rate converge with that of India because Nepali rupee is pegged to the Indian currency. Convergence is also important to maintain competitiveness," Bauer said. "In this regard, it would be helpful for the central bank to set medium-term inflation target."
Lately, the Nepal Rastra Bank (NRB), the central bank, has started working on determining the optimal inflation rate so as to ensure "economic and price stability".
"This is essential to sustain the peg," said Nara Bahadur Thapa, executive director
of the Research Department at the NRB. "So, the aim of the monetary policy in the coming days will be keep inflation rate closer to that of India."
---
---