Nepal on the brink of another Covid wave as infections rise
Experts say cases could mount markedly in a few days, and urge the authorities to start preparations for handling growing hospitalisations.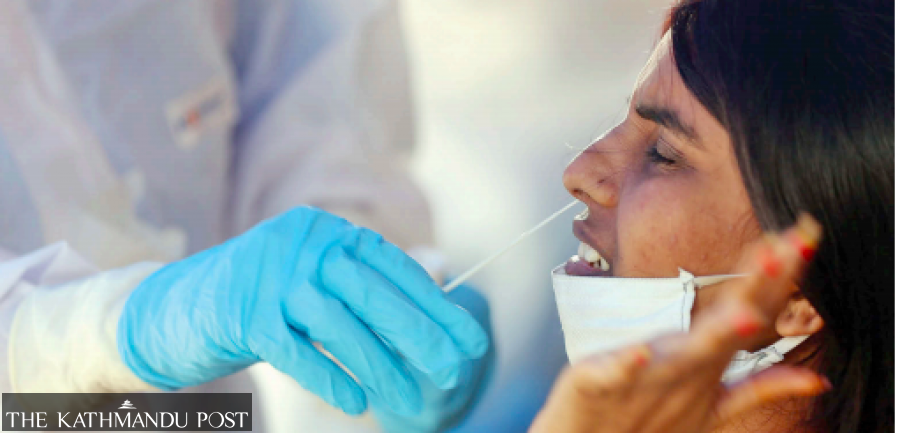 Post File Photo
bookmark
Published at : July 16, 2022
Updated at : July 16, 2022 08:58
Kathmandu
Nepal is most likely on the brink of a new wave of Covid-19.
And public health experts say that exponential growth in infection may start within a few days.
"I think this is another wave and most probably triggered by BA.4 and BA.5 subvariants of Omicron," said Dr Anup Subedee, an infectious disease expert.
On Friday, 229 people tested positive for the coronavirus—161 in 1,644 polymerase chain reaction tests and 68 in 2,074 antigen tests. The daily test positivity rate of polymerase chain reaction tests is around 9.8 percent.
On Thursday, the number of infected people was 260 and the daily test positivity rate of PCR test was around 10.6 percent. The number of positive cases was 206 on Wednesday. New cases are doubling every three to four days.
Active cases stand at 1,284 throughout the country.
With the rise in infection rate, the number of people getting serious and needing hospitalisation has also increased. The Health Ministry said that one infected patient has been placed on a ventilator, 14 others have been receiving intensive care, and 23 have been hospitalised on Thursday.
There was no one on ventilator support on Wednesday and the number of people receiving intensive care was only 10.
Despite a rapid surge in new cases, authorities seem indifferent to taking preventive measures, increasing testing, starting contact testing, and enforcing safety measures, among others. Tests are being carried out only on foreign-bound healthy people who seek tests voluntarily.
On Friday, no one from Karnali province underwent Covid-19 test.
Covid test data provided by the Ministry of Health and Population show that 22 people from Sudurpaschim Province underwent testing, which shows two people positive.
Twenty people underwent testing in Lumbini Province. Of them, four were tested positive.
In Province 1, polymerase chain reaction tests were carried out on 28 people, and 19, or around 70 percent, tested positive.
In Madhesh Province, swab samples of 20 people were tested and six were positive.
Similarly, in Gandaki Province 11 out of the 40 people tested were found positive.
And in Bagmati Province, 129 of the total 1,514 tests carried out turned positive. Bagmati had conducted the most number of tests among the provinces.
Officials at the Health Ministry concede that a new wave of the pandemic has already started in the country.
"The infection data suggests a new wave has started in the country," said Dr Samir Kumar Adhikari, joint spokesperson at the Health Ministry. "The risk of spread of infection has increased."
As the coverage of vaccination is high, the number of people getting severe will not increase much, which means there will be less pressure on hospitals, Adhikari claimed.
So far, 20,436,688 people or 70 percent of the total population have been fully immunised.
Experts, however, said that the complacency against the risk of the infection could prove too costly.
"Everybody, whether one is already infected and fully vaccinated, is at risk of reinfection," said Subedee. "What is serious is more children are getting infected and their hospitalisation rate has also increased."
Of the total infected people on Friday, 19 are under 20 years old.
Doctors say, to reduce hospitalisations, severity and death, the country should tame infections.
For that, positive cases need to be identified at the earliest, and infected persons and those in close contact of the infected should be isolated and quarantined.
If people get infected and are diagnosed early, they measure the oxygen level. If the blood oxygen declines, doctors call it a serious condition.
Doctors say if steroids are started soon after the oxygen level begins to decline, patients can be saved, but a late diagnosis can result in complications and such patients will need intensive care and ventilator support.
Of late BA.2.75, possibly a super contagious Omicron mutant that can evade immunity has been spreading rapidly in India. The subvariant has been detected in 14 other countries as the more transmissible BA.5 dominates the global caseload.
Last week, the Ministry of Health and Population confirmed the BA.5 subvariant of Omicron in Nepal, which is more transmissible than previous variants.
Although the Ministry of Health and Population has not yet confirmed detection of BA.2.75 in Nepal, experts say any variant discovered in any part of the globe has every chance of entering the country due to high global mobility.
Doctors say the BA.5 subvariant is concerning due to mutations that might evade the immune system even in fully vaccinated or previously infected people.
"We have assumed that the fourth wave of pandemic caused by the BA.5 subvariant of Omicron is going to be as worse as the third wave caused by the BA.1 variant," said Dr Prabhat Adhikari, an infectious disease and critical care expert.
"Hospitalisation and severity depends on how seriously we take the risks."
With the decline in new cases of coronavirus infection following the third wave of the pandemic that hit the country in January this year, both the general public and the authorities have become complacent. People gave up safety measures—wearing face masks, maintaining social distance and hand washing—and have been behaving as if there is no longer a pandemic in the country. Authorities too seem indifferent to enforcing safety measures.
They have not even shown urgency to increase testing, contact tracing and taking other measures to tame infections.
Doctors say that this is high time for officials to enforce safety measures strictly again.
---
---