Even as virus reaches rural Nepal, results of PCR tests take up to five days
The purpose is not served if reports are delayed and decline in cases needs to be taken with caution as there has not been enough testing since day one, doctors say.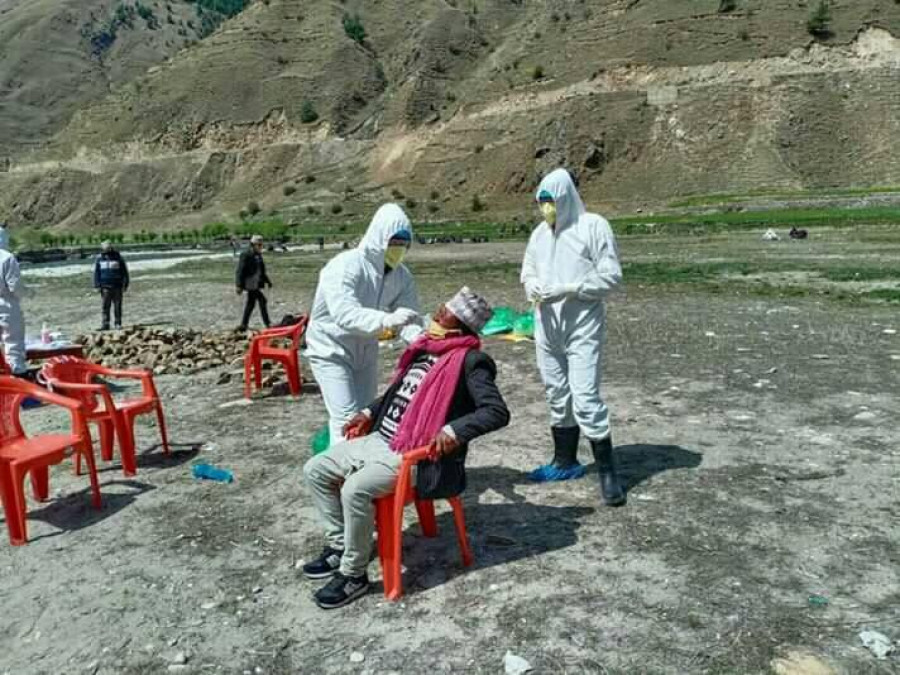 A health worker collects swab sample from a man for Covid-19 test at a village in Jumla. Post File Photo
bookmark
Published at : June 8, 2021
Updated at : June 8, 2021 03:36
Kathmandu
Yug Nath Adhikari, a resident of Dadathok of Bidur Municipality, Nuwakot had given swab samples for polymerase chain reaction tests on Thursday for Covid-19 tests. But he got the test report only on Sunday evening. It was positive.
"I have fever, sore throat, and body aches," Adhikari, who is 53 years old, told the Post over the phone from Nuwakot. "It takes several days to get the test report in our village."
Like Adhikari, there are patients with fever, sore throat, body aches and other Covid-19-like symptoms in almost every household in his village. But despite having given their swab samples, they have not been in home isolation and been moving around the village.
With such a situation in villages, doctors fear of coronavirus infections spreading in the rural region.
"The purpose of tests is not served if it takes several days to get the results," Dr Biraj Karmacharya, an epidemiologist, told the Post. "This is a very sensitive matter. Neither will the infection come under control nor can we lessen the loss."
Adhikari's swab had been sent to Trishuli Hospital for testing. But its testing capacity is limited. Besides Nuwakot, swabs collected in neighbouring Dhading and Rasuwa districts are also tested at the hospital.
As tests in villages are not widespread, no one knows about the actual extent of the spread of infections in the villages and doctors warn that a huge human toll can occur in the coming days in rural places.
"Infections have started to spread rampantly in the villages of hills in recent days," Dr Anup Subedee, an infectious disease expert, told the Post. "A huge human toll can occur there, as tests are not being performed in sufficient numbers and health facilities and health workers are scarce there."
Adhikari said that a positive test report of his neighbour came back only after five days and the infected got himself isolated from his family members only after he got his report.
"I had been doing my regular chores like cooking food, going to the fields to chase away monkeys and elsewhere as the need arises," Adhikari said. "I know most of the symptoms I have match with the symptoms of those tested positive to coronavirus."
Adhikari's wife has not got herself tested for the coronavirus yet.
According to him, both of them could not leave their homestead to give samples at the same time.
"There is the menace of the monkeys and someone has to be home to look after the cattles," he said.
The situation is similar in the neighbouring district of Rasuwa.
"I had given swab samples on Thursday but I am told that I tested positive only on Sunday night," Keshav Devkota, a resident of Katunje in Kalika Rural Municipality, told the Post.
Devkota too had a fever. He is worried about the transmission of the virus to other family members but he continues to live with them.
"Coronavirus test reports must be provided within 24 hours," said Karmacharya. "If the infected person does not get a report even in five days, the report will have no meaning. Infections will have spread in wider communities until the report comes."
Doctors say that even if the infected people do not meet other people, if those who come in close contact with the infected keep moving freely, the chance of infections spreading in villages is high.
"It will be very difficult to control the pandemic the way we are working now," Dr Arun Kumar Koirala, a public health expert, told the Post. "Every minute has meaning in the pandemic. Taking too long in providing test reports means an increased chance of infections spreading in society."
With Nepal's countrywide capacity to conduct polymerase chain reaction tests limited to about 20,000, the Ministry of Health and Population began to increase antigen tests in villages on May 27 with 1.7 million test kits received from donors.
Officials claimed that around 25,000 antigen tests, results for which take about an hour, would be performed every day.
But in the 12 days since May 27, only a total of 36,768 tests have been conducted of which 9,411 were positive—a positivity rate of 26 percent. The highest number of tests was reported on June 4 with 6,631 tests of which 2,029 were positive.
On Monday, 5,901 antigen tests were performed throughout the country of which 1,102 tested positive.
Health Ministry officials, however, claim that much more antigen tests are being performed than being reported as there are problems in data collection.
"Thousands of antigen tests are being performed every day but we are not getting reports from the local units," Mahendra Prasad Shrestha, chief specialist at the Health Ministry, told the Post. "Reports of polymerase chain reaction tests come in time, but it takes time for health workers deployed in villages to send reports in case of antigen tests."
But if the positivity rate of antigen testing—which in itself is not considered as reliable as polymerase chain reaction tests— is anything to go by, the virus has spread in villages and doctors warn that the situation could get out of control.
"Testing also means knowing the infection status based on which containment measures can be taken," said Koirala, who is also a professor at Pokhara University. "Authorities should help the infected people get isolated and deploy mechanisms already in existence up to village levels to monitor the movement of the infected people, their health conditions and other related issues."
As rural Nepal lacks health facilities, health workers and other infrastructure, doctors warn that loss of lives will increase for lack of timely care.
On Monday, 3,370 new infections were reported from 12,002 polymerase chain reaction tests. Likewise, the Ministry of Health and Population said 92 had died of Covid-19 complications, taking the country's total death toll to 7,990.
From a high of 9,317 cases a day on May 11, the number of daily new infections has come down significantly but this is no reason for complacency.
"It is not the time to be happy for the decline in new cases," said Subedee. "It is natural for new cases to decline in big cities, where infection spreads early, but that does not mean the risk is over and people are not getting infected."
Although the number of patients in cities like Kathmandu has been coming down with the lockdown in place since April 29, more hospital beds are being occupied by village residents.
"Even as the number of new cases has declined in recent days, all the intensive care unit beds, ventilators and emergency beds of our hospital are packed with seriously ailing patients," Dr Sagar Rajbhandari, director at the Sukraraj Tropical and Infectious Disease Hospital, told the Post. "Seriously ailing patients are being brought from Makwanpur, Gorkha and other districts, which is proof of infection penetrating deep in the rural areas."
The hospital has 28 intensive care unit beds, including 21 ventilators and 20 emergency beds in the emergency ward.
"What is worse is that patients are seeking treatment only when they become seriously ill," said Rajbhandari.
The situation is similar at Bir Hospital.
"The number of seriously ailing coronavirus patients at Bir Hospital had reached 198 to 200 at one time and declined to 116 some four days ago," said Karki of Bir Hospital. "But in the last four days, the number of serious cases has been rising steadily. We have 139 critical patients at the hospital at present."
Doctors warn that there must be preparations in place as prohibitory orders will be lifted.
"Authorities should start preparations to deal with the new surge after the relaxation of the prohibitory orders and lessen the loss from the infection being spread in remote villages," said Subedee. "A massive testing campaign should be launched, which has not happened since day one."
---
---