Fewer tests mean reported cases in rural Nepal could just be tip of the iceberg
Immediate measures like training health workers to treat mild Covid-19 cases and getting the infected to isolate at institutions are needed to lessen severity, doctors say.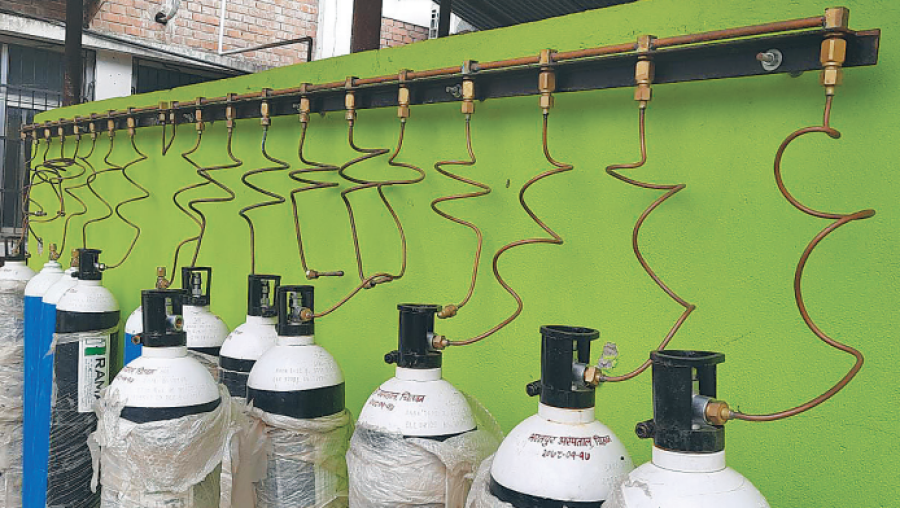 An oxygen plant at Bharatpur Hospital. Hospitals are turning away patients not only because they lack enough beds but also they have insufficient oxygen supply. Photo courtesy: Bharatpur Hospital
bookmark
Published at : May 17, 2021
Updated at : May 17, 2021 01:32
Kathmandu
Of the 92 swab samples collected randomly in Devitar of Dhulikhel Municipality, Kavrepalanchok district on Saturday, 56 tested positive. That is a positivity rate of more than 60 percent.
Health workers in Dhulikhel Municipality said that almost all the households of Devitar have people with Covid-19-like symptoms but, alarmingly, only those with severe symptoms like breathing difficulties are seeking tests.
"This is a clear indication that Covid-19 is spreading rapidly in villages of late," Sandip KC, health coordinator at Dhulikhel Municipality, told the Post. "The situation is getting serious in our municipality, as six people died on Friday and on Saturday alone from Covid-19-related complications."
Children below the age of five have also tested positive in the municipality.
Of the 48 swab samples collected in Kanchanrup Municipality, Saptari district on Thursday, 38 tested positive, a positivity rate of nearly 80 percent. The majority of the cases in the municipality is seen in just ward 8, according to Raj Kumar Sah, the ward chair.
Public health experts say that coronavirus infections could reach a peak in villages across the country this week but with weak health infrastructure in the villages, both in terms of equipment and human resources, this could only mean a looming disaster.
"The coming days, especially this week, are very critical as the new cases could reach a peak," Dr Biraj Karmacharya, a public epidemiologist who is also the chief of the Department of Community Programme at the Dhulikhel Hospital, told the Post. "While people do not seem to be taking the potential risks seriously, authorities concerned do not seem to be using the available resources."
But in some places like remote villages of Kalikot district there are no resources readily available.
Dinesh Shahi of Daha of Khandacharka Municipality was bedridden for 11 days with high fever before he was taken to Daha Health Post for treatment last week.
Shahi's antigen test for Covid-19 came back positive. Polymerase chain reaction tests cannot be conducted in the district.
Shahi was advised to self-isolate at home but as his condition worsened, his family had to take him to the district hospital in Manma, the district headquarters, two days' walk away.
But like elsewhere in the country, the hospital is struggling to treat patients due to lack of oxygen.
"The hospital needs at least eight full oxygen cylinders every day. But we have only two full cylinders left," Katak Bahadur Mahat, acting health manager at the District Public Health Office, told the Post on Friday. "The hospital cannot admit more Covid-19 patients because we don't have the necessary manpower, medical equipment and medicines to treat them."
Such a situation has arisen because of the failures of the past, experts say.
"This is a result of ignoring investment in health infrastructure not only by the incumbent government but also by previous ones and all are responsible for this," Dr Baburam Marasini, former director at the Epidemiology and Disease Control Division, told the Post. "The country is ill-prepared to handle the pandemic of this scale."
Workers returning to their homes from India and cities like Kathmandu brought the virus with them to the villages.
As the second wave gripped India, people returned in thousands, especially to Karnali and Sudurpaschim, and cases continue to rise there. They were allowed to go to their villages directly without having to spend time in quarantine in border areas like in the case of the first wave of the pandemic last year.
Local governments, which were active during the first wave of the pandemic, did not bother to place those returning to their villages in quarantine either.
Authorities in the Kathmandu Valley enforced prohibitory orders only after new cases started to spike. With two days' notice given before prohibitory orders first came into force on 29 April many left Kathmandu for their villages.
Of the 28 swab samples collected by the Benighat Rorang Rural Municipality of Dhading for polymerase chain reaction tests recently, 12 tested positive.
The rural municipality has set up 28 isolation beds but only six people are using them as people prefer home isolation to institutional isolations.
"Infection has already spread in the communities of our rural municipality," Shankar Duwadi, health coordinator at the municipality, told the Post over the phone from Dhading. "Infection has already reached the communities but severity is yet to be seen."
Nepal on Sunday recorded 7,316 new cases in the polymerase chain reaction tests and an additional 52 people tested positive in antigen tests.
The country recorded 145 deaths in the last 24 hours. Death toll now stands at 5,001 and active cases 110,263.
Public health experts, however, say daily positive case numbers being disclosed by the Health Ministry is only the tip of the iceberg, as hundreds of people in the villages are not being tested despite showing symptoms or having come in contact with the infected.
"Everyone is talking about the problems of big cities and big hospitals," Dr Tulsi Ram Bhandari, a public health expert, told the Post. "A lot of people in the villages have been suffering from the infections and some are also dying."
They have warned that coronavirus infection could hit the villages hard, as they lack everything—health facilities, health workers, budget, testing and oxygen.
"What can happen in the villages, when the entire health infrastructure of the big cities have been overwhelmed and patients on hospital premises are pleading for oxygen and treatment?" said Marasini.
But doctors working in the field argue that talking about the weaknesses and blunders of the past is meaningless and the focus should instead be on what can be done immediately.
"We have schools in every village, those schools should be converted into quarantine and symptomatic people should be isolated," said Karmacharya, of the Dhulikhel Hospital. "Health facilities at the local level should be trained and asked to treat infected people at local level and refer only serious cases to hospitals."
Nepal Medical Council recently issued guidelines for health workers for the treatment of Covid-19 patients and recommended use of steroids in certain conditions.
Karmacharya said that a lot of severity of cases and deaths can be prevented by following the council's guidelines and administering steroids.
The Dhulikhel Hospital, which has been operating 18 outreach clinics at various local units of the district, said that health workers serving in those outreach clinics are trained and ask for steroids in certain conditions.
An analysis encompassing seven different clinical trials conducted by the World Health Organization found that use of readily available steroid drugs to treat hospitalized patients infected with the coronavirus can reduce risk of death by a third.
Karmacharya, however, warned that haphazard use of steroids can have side effects like increased blood sugar levels and other complications.
But, on the other hand, with the pandemic not ending anytime soon, this must also be taken as an opportunity to strengthen the system, according to Marasini, the former government official.
"As the ongoing pandemic is neither the first and nor the last, long-term investment is required to strengthen the existing health care system of the country," he said.
Tularam Pandey in Kalikot and Abdesh Kumar Jha in Saptari contributed reporting.
---
---