When governance took a backseat, second wave took hold
At border points, authorities are failing to conduct tests and quarantine people, just as health facilities are on the verge of buckling under the caseload.

Number of cases since October 21, when Nepal recorded the highest daily count Source: Ministry of Health and Population
bookmark
Published at : April 23, 2021
Updated at : April 23, 2021 13:01
Kathmandu
On Thursday, Hindustan Times, one of India's leading English papers, came out with a screaming headline: WORLD'S WORST OUTBREAK. The country's tally of 314,835 Covid-19 cases on Wednesday was the highest ever daily total recorded by any country.

India is scrambling to battle the second wave of the coronavirus and its health system has collapsed, media reported.
That comes as a warning call for Nepal.
Nepal and India share an around 1,800-kilometre-long porous border and thousands of people cross into each other's territories almost every day. The health desks that were set up at various border points have been revived, but there are concerns if they are functioning in order.
Narainapur Rural Municipality in Nepalgunj of Banke borders the Indian state of Uttar Pradesh. There are three points along the border—Suiya, Ghoddauriya and Hulashpurwa. The rural municipality has set up health desks at these entry points and supplied antigen test kits to perform coronavirus tests. Apart from these, people also use Jamunaha to cross over.
However, no test is being performed at the health desks, as health workers have been asked to perform tests only on those who have symptoms, according to officials stationed there. Nepali migrant workers returning from Maharashtra and Delhi, among other Indian states, which have reported a high number of cases, use the Jamunaha border point to enter Nepal.
Officials say it's impossible to completely stop Nepalis living in India from returning home and the number of people is so massive that conducting tests on everyone is a Herculean task.
"It is not possible to carry out antigen tests on all, as hundreds of people cross through the bordering districts every day," Laxmi Kanta Mishra, an information officer at the rural municipality, told the Post over the phone from Banke. "As authorities in India have stopped train services, migrant workers are not coming these days from Maharashtra and Delhi."
New coronavirus cases started to swell in Nepal around three weeks after India encountered the stark reality of the second wave of virus taking hold in society.
The daily count on Thursday hit 2,365, with five deaths.
Intensive care unit beds are filling up. Hospitals are now gasping for oxygen, as a majority of hospitals do not have their own oxygen plants and at a few hospitals which have, the plants are not in operation. The data provided by the Health Ministry shows that most of the hospitals lack ready oxygen supply.
According to a Health Ministry projection, by July 15 , the country's coronavirus tally could reach 600,000 and the new variant of the virus could increase new cases more than the estimation.
Doctors say performing tests on people returning from disease-hit areas is the first step towards containing a possible outbreak. However, authorities did not consider it necessary to perform tests on those returning from Uttar Pradesh, the most populous state in India which has been hit hard by the second wave of the pandemic and become the second worst-hit state in India.
"We have been repeating the same mistake that we committed in the past," Dr Keshav Deuba, a public health epidemiologist, told the Post. "Do authorities still need advice on what should be done and what should not."
Narainapur is the same rural municipality that was worst affected by the first wave of coronavirus outbreak last year, when even the infected people fled from quarantine facilities and the facilities themselves had turned into virus breeding grounds.
Mishra, the information officer, said that the rural municipality has converted three schools into quarantine centres, which can accommodate at least 75 people but no one has been quarantined as of Thursday.
According to Bishnu Giri, a sub-inspector in charge of the Jamunaha Police Post in Nepalgunj, 10,000 people have entered from India through the border point in the last two days alone.
"The number of people going to India through this border point is also the same. Most go to India for medical treatment," said Giri.
But there's no holding centre at Jamunaha border point.
"Only 10 security personnel have been deployed to manage the flow of returnees," said Giri. Out of the total 259 antigen tests conducted at the border point since March 24, 34 were positive.
Those returning to various districts say mismanagement at the border point has made their journey home difficult.
"We have had a narrow escape. The situation in India is dire so we decided to return," said Kabiraj Soni, who was spotted at Jamunaha border while returning from India. "The mismanagement at the border has put us at a bigger risk of being exposed to Covid-19. We wish our district administration had made arrangements for returnees like us to reach our home districts safely."
The local administration in Banke has enforced a lockdown in Nepalgunj Sub-metropolitan City, which abuts Narainapur, from Thursday, following a spike in new cases and the health facilities in the district becoming overwhelmed.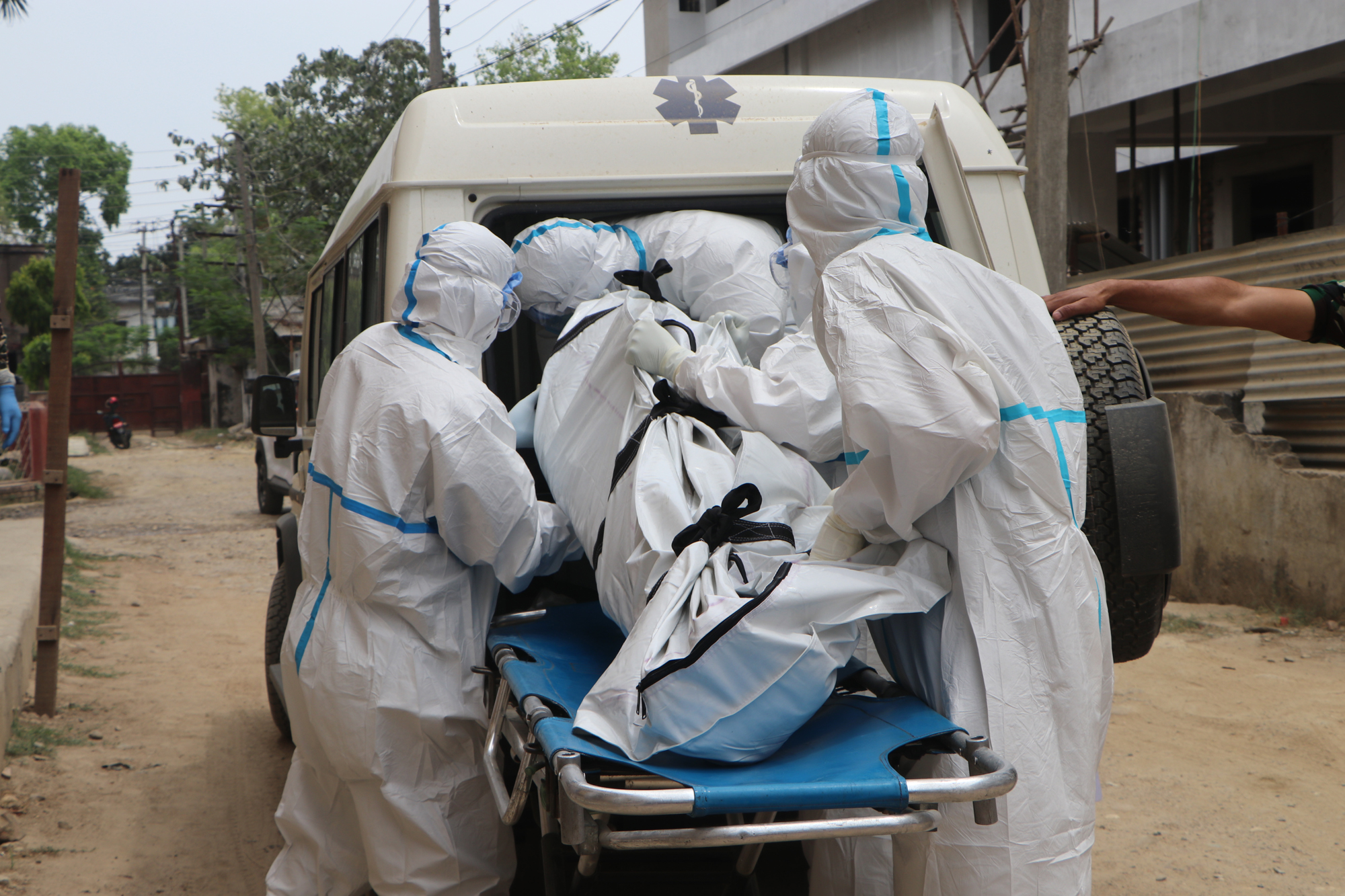 Medical workers load a body of a Covid-19 victim in an ambulance in Nepalgunj, Banke. Madhu Shahi/TKP
After the second wave threat started to loom large, the Health Ministry earlier this week issued a slew of orders, including asking people not to step out of home "unless they have extremely important work". The ministry has also directed provincial and local governments to "take different measures" to check the spread of the virus.
The new restrictions also include shutting down schools and other public places. People have been asked to avoid gatherings of more than 25 people at festivals, weddings, other rituals and funerals, as well as in meetings that must be held face to face if they can't be held virtually.
Public health experts say such instructions do not work unless the authorities themselves abide by the instructions they issue for the public.
"Officials in the authorities should contemplate what went wrong and what could possibly go wrong in the coming days," said Deuba. "People will not be convinced when ministers issue some rules for the public and violate those rules by themselves the next day."
On Tuesday, Prime Minister KP Sharma Oli organised special worship in Baluwatar, images of which showed there were more than 25 people, to unveil the statues of Ram, Sita and Hanuman.
The statues were then taken to Ayodhyapuri in Madi of Chitwan under the leadership of Minister for Culture Tourism and Civil Aviation Bhanubhakta Dhakal. Hundreds of people had gathered at the ceremony organised to install the statues.
When confronted by the media, Dhakal said that the government orders were not applicable until they were published in the Nepal Gazette. It was later revealed that the notice was already published in the gazette. Social media was quick to react if the virus would wait for the notice to be published in the gazette, ridiculing the people in power.
Public health experts say despite making a massive bungling last year, the government has failed to learn any lesson, just while government ministers and officials are peddling rumours and making excuses.
Nepal's health facilities were on the verge of buckling under the pressure of coronavirus cases last year when the country saw a sharp rise in numbers. The country reported its highest daily count of 5,743, on October 21, four months after the four-month lockdown was lifted.
But there was a dramatic decline in cases. Even public health experts were surprised. But they continued to ring alarm bells about the possible second wave.
There was complacency all around. Governance took a backseat after Prime Minister Oli dissolved the House on December 20. The season of protests and demonstrations returned. Amid political bickering, the government and agencies concerned ignored health experts' warnings. Members of the public happily threw away masks.
Only 338 intensive care unit beds and 192 ventilators were added to the public health facilities after the first wave of the coronavirus. The number of general beds which could be allocated for Covid-19 patients was increased by 4,021.
Currently, there are 1,486 intensive care unit beds and 634 ventilators in operation throughout the country. The number of general beds, which can be allocated for coronavirus patients, stands at 18,917.
When the number of cases declined, the government acted as if the country had triumphed over the virus.
In January, India provided 1 million doses of vaccine under grant assistance, with which Nepal launched its vaccination drive. In February, Nepal signed a deal with the Serum Institute of India for 2 million doses of vaccine and paid 80 percent of the total amount. Half of the order arrived on February 21.
Prime Minister Oli declared all Nepalis would be inoculated within three months, only to correct his statements a few days later.
So far around over 1.9 million people have been vaccinated. Nepal has just a little less than 300,000 doses of Chinese Sinopharm vaccine at present. There is no certainty when the government will receive the remaining 1 million doses of Covishield for which it has already paid.
A fall in new infections coupled with the vaccination drive, however, made people even more carefree. Pubs started operating without physical distancing while the government gave its tacit support for festivals. Government ministers themselves never hesitated to organise big gatherings.
"Without the help of the general public, a pandemic like this cannot be controlled," Dr Sher Bahadur Pun, chief of the Clinical Research Unit at the Sukraraj hospital, told the Post. "Public behaviour is also responsible for the recent surge in new cases. We not only stopped wearing face masks, but also started behaving as if there was no coronavirus and neglected the risks."
A stark difference that has been seen in the recent surge of cases compared to last year is more young people are being affected. The positivity rate which hovered around less than 10 percent has shot up to over 23 percent.
Officials have attributed the United Kingdom variant for the rise in the number of cases lately. The UK variant, known as B.1.1.7, was first confirmed in Nepal in January.
The government has not made efforts to equip laboratories to perform genome-sequencing, the only way to ascertain the virus variant. That the "double mutant" is circulating in India is also a cause for concern.
But authorities were too slow to recognize the risk. They did not bother to take the warings of the public health experts seriously and launch effective awareness drives, start active case findings and necessary preparations for the worst case scenario, according to Pun.
Prime Minister Oli, who is known for peddling unproven treatments for the coronavirus, continued to use his bully pulpit to spread rumours like Nepal has already beaten the virus and that guava leaves could easily chase the virus away.
Even as the virus is surging, Oli has been busy fixing the cracks in his party, just as health facilities are cracking under the strain of Covid-19 cases. Amid the fluid political situation, he is scrambling to save his government and in doing so, governance is nowhere in picture, as many say, including those from his orbit, that it's Oli who solely calls the shots.
Many health facilities in Kathmandu Valley, where a majority of population resides, are currently occupied by seriously infected people. This, doctors say, is because most people are seeking treatment only after their conditions deteriorated.
"We do not have any beds vacant for new patients," said Dr Sagar Rajbhandari, director at the Sukraraj tropical and infectious Disease Hospital, which has 60 beds.
Doctors say authorities waited until health facilities were fully occupied to issue directives to set up quarantines, isolation facilities and holding centers, which should have been maintained even as the caseload was going down.
"The entire approach is wrong and reactive," said Deuba, the public health epidemiologist. "How do we expect the spread to lessen when the basic things like safety measures, mobility control, testing and contact tracing are not being followed.
Infectious disease experts say the number of new cases could rise more than threefold during the ongoing second wave, with more severity and deaths.
According to Dr Janak Koirala, an infectious disease expert, preventive measures are a must to stop the spread and save lives.
"People entering the country from India must be tested and they must be quarantined before they are sent home," said Koirala. "For this, the government must arrange holding centres and quarantine facilities. Authorities should also pay attention to quarantine management so as to prevent the repetition of what we saw last year."
Last year, quarantine centres at border points were poorly managed, with some of the centres accommodating more people than capacity, thereby raising fears of them becoming new hotspots.
Dr Mingmar Gyelgen Sherpa, former director general of the Department of Health Services, says a holistic approach is needed and all, including officials and the media, must take into account the entire country while dealing with the virus.
"While arranging the facilities, authorities should not forget the people residing out of the Valley," Sherpa told the Post. "Even if intensive care unit beds cannot be set up overnight, authorities should increase the number of beds so that patients who visit the hospitals can get treatment. There is an immediate need to ensure sufficient oxygen supply."
---
---